The day started at Baker with jazz and mimosas ,( BTW Audrey Hieb a big thank you for sending the Dwell feature on me.) followed by a kick-off,  keynote address discussing the New Face of Affluence. Something I've never seen before is Charles Cohen, owner of the PDC, welcoming everyone and introducing the day's events.  I felt honored, but had to wonder if business is suffering somewhat for him to make an appearance to a less than standing room only crowd.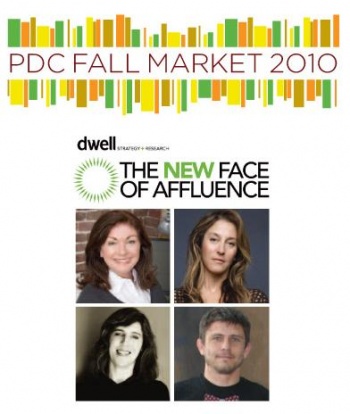 Michela O'Conner, Dwell Media President;Frances Anderton, wunderkind reporter KCRW- — P.S. Frances I will not stop bugging you until you interview me on your show;  Jennifer Siegal, Office Of Mobile Design and Funky Williard Ford, Ford and Ching told us all about their experiences with the new affluent.  Basically they love Apple, the environment and will place  Ikea directly next to a rare antique.  MY PEOPLE!  I also got confirmation that my efforts on Facebook were worth the while, as 87% of "them" are using it.  Now, I liken the FB experience to having a phone number.  You're simply out of touch without one.  Perhaps the most provoking part of the presentation was the comment from a woman in the audience who reminded us not to forget the design loving,  Chinese consumer, attending the EXPO in Shanghai to the tune of 46 million visitors.  Michela O' Conner wholeheartedly agreed.  I owe a lot to that lady in the audience- my big public relations meeting the following day took on a whole new direction focusing also on China- NI HAO!
When the keynote ended, I was minding my own business when I walked down the hall by the new ASID office.  There sat the  past president, president and president elect who summonsed me in and told me I had been appointed Editor in Chief of LA Design Magazine, the chapters' Quarterly. WTF?  So, now I'm an editor of a design magazine -pretty cool.  First order of business: CALLING ALL WRITERS: anyone who thinks they have something to contribute- – Hollah Back at me!
Other things at market that inspired me were the exhibit at Mya Stark's pop up gallery featuring a massive collection of other people's old photos.  I seriously wish I had a few hours to really look at all of them (there had to be thousands) because they really told a story of American history without saying a word- although some had some did have informative comments written on the back ranging from racy to ridiculous.  Greg Gorman's A Distinct Vision was also among my favorites with striking, larger than life (literally) photography displayed along glass walls.   Get over there and take a look before they're gone.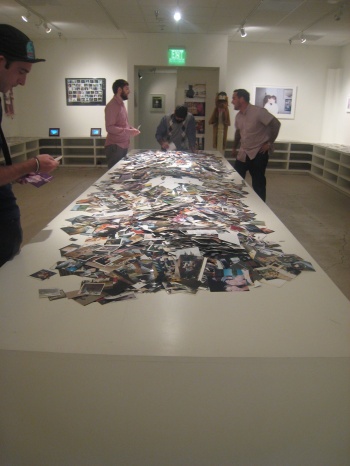 After a day full of informative programs Janus Et Cie threw… yet another fab party with killer appies, a stocked bar and hip deejay.  Unfortunately for them 3/4 of the regular crowd was gone.  Margaret Russell was up on the third floor throwin' down one hell of a shin dig for Thomas Lavin's  10th Anniversary. The SoCal Contractorwas VERY impressed with the Scotch selection, not an easy fete for a man who bar-tended in Scotland. I saw people I haven't seen in ages including Keith Granet and Lloyd Princeton. I've known and loved Thomas from way back and was delighted to see all stars aligning for this wonderful man. Congrats TL, you really deserve it.