This morning I will be speaking at Legends of La Cienega on the topic of creating mood boards.  Here's a simple 5 step approach that's an efficient and impressive way to convey your designs to your clients: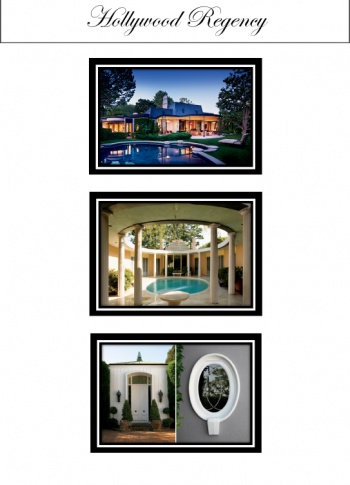 There are many benefits of creating a digital Mood Board.  It's incredibly fast to search online and simply copy/paste images onto a page, or create a visually compelling and exciting presentation using other graphics programs.  Now you won't have to shlep a big board with you from place to place – just email it.  This conveys your ideas to your clients, and with their reply you'll have an idea of the direction they'd like to go.  It speeds up the design process so the project can start moving right along.
Let's say you want to evoke the feeling of a Bali style resort and need a little inspiration.  There are many places you can search for your style: HGTV, online Magazines (Elle Décor, Traditional Home, Veranda, Architectural Digest, Luxe – or Google "Interior Decorating Magazines" and a list will pop up).  Blogs are also a fantastic way to find inspiration and see what trends people are writing about.  Some of my favorite blogs include So Haute, All The Best, Apartment Therapy, Tobi Fairly, Remodelista, Design Sponge, Inhabitat, Decorati, 1st Dibs, or Desire to Inspire.
There are simple and effective ways to do an image search on Google using keywords, quotes and (+) signs.  For example (Bali+Style+Design) picks up all 3 words listed on websites or images.  Quotes make sure that the entire phrase – in that order – will pop up ("Balinese Design").  Don't forget to save each image that inspires you.
If you know the piece you'd like to use in your design (sofa, drapery, rug, tassel, etc.), or just have a general idea, search for the item on a vendor or Industry Partner's website, online catalogue, or again on Google Images.  Most of your favorite showrooms or stores will have plenty of items for you to skim through.  Once you've found what you're looking for, again save your image under an informative name (vendor + item+description, ie: Scalamandre Wallcovering Stripes).
A program like Photoshop or InDesign would be ideal for creating your mood board, but don't worry if these aren't available to you.  Simply insert your images into a Word Document, organize and title each image for an easy presentation and voila!