Inside the Designer Home Tour
Today on the blog we're taking you with us on a fabulous modern Designer Home Tour. Strap in because we're sharing all the beautiful designer details our team was drooling over!
Andrea, seen here with husband Marc
We had a wonderful opportunity to tour the stunning home of Andrea Michaelson – an unbelievably talented designer of interiors, metal tile, furniture and fashion.  Her eye is exquisite with no detail left unattended, and she is incredibly down to earth, kind and humble.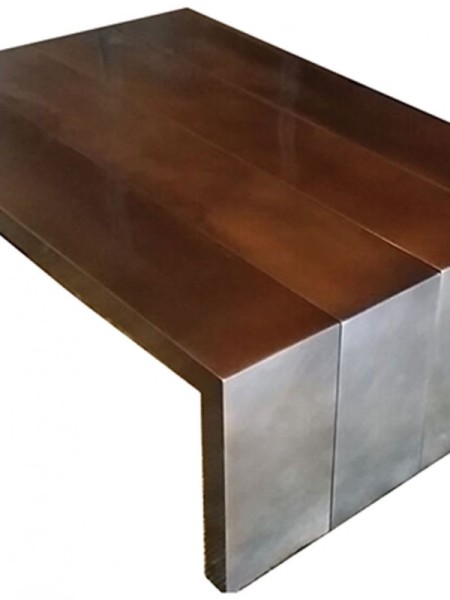 Andrea's Coffee Table Plank finished dark burnished brass plated aluminum.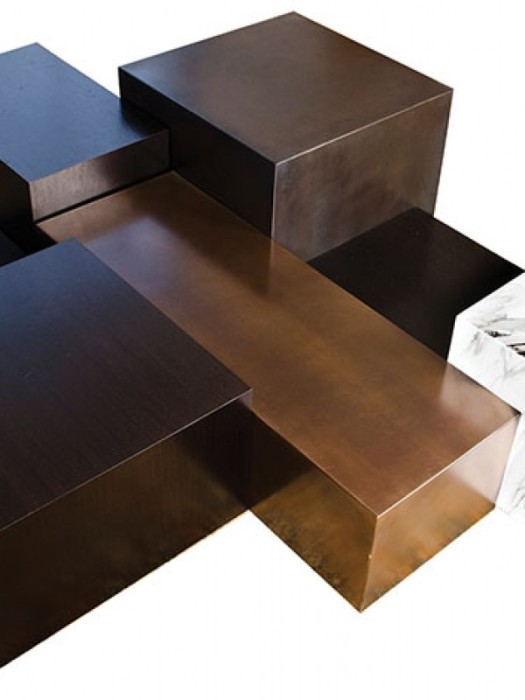 Her Coffee Cube Tables made of metal, wood, marble – fully customizable.
Although these next images of her personal home don't do her space justice, we were so thoroughly enthralled and had to share.  It's a perfect blend of casual comfort and rich sophistication, without any pretense.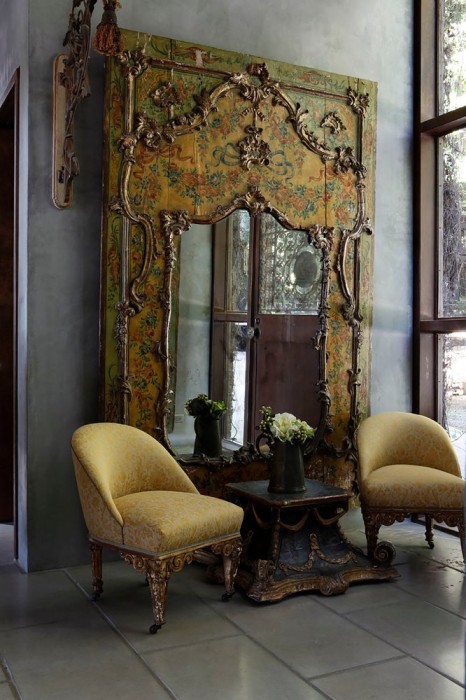 At the entry, sweet little delicate chairs flank a stunning overscale and ornate mirror.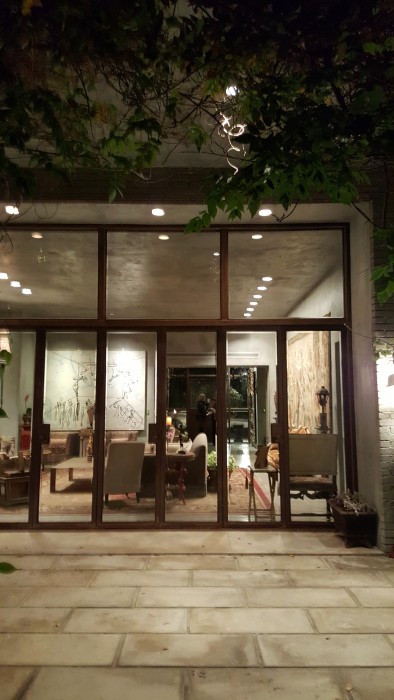 The structure of her home is architecturally modern with clean lines, concrete and metal finishes, but she adds in rich layers of antique furniture, modern art and perimeter lighting which makes the space completely unique and other worldly.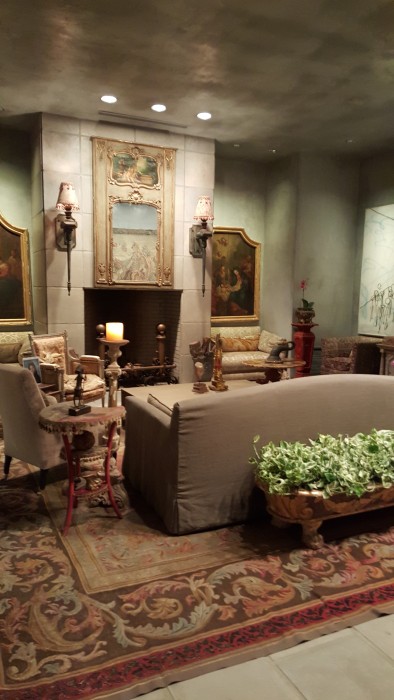 Traditional furniture warms up the modern home, and a slip-covered sofa adds a contemporary feeling.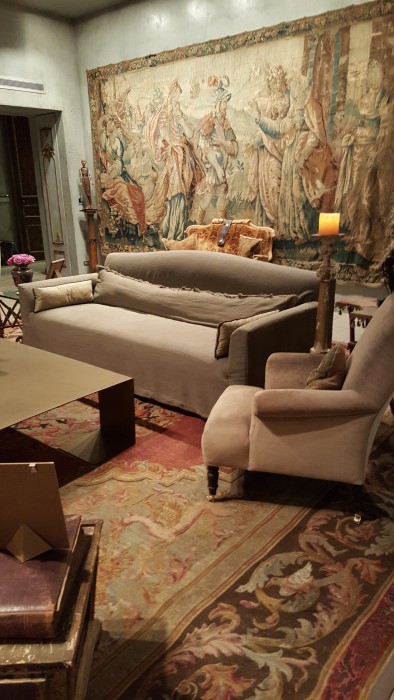 A sleek metal coffee table designed by Andrea and laid back sofa sit among vintage and antique furniture rugs and tapestries.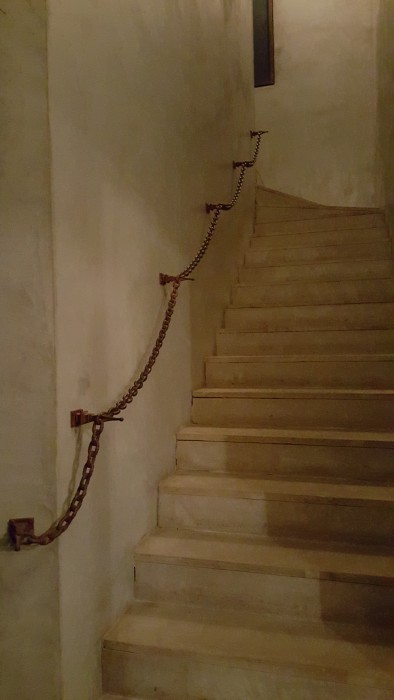 Staircase railing made with a metal chain and finials add texture.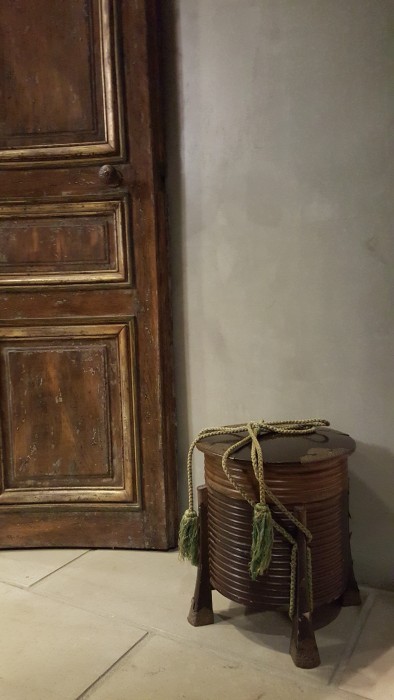 Curved wooden doors and old world decor.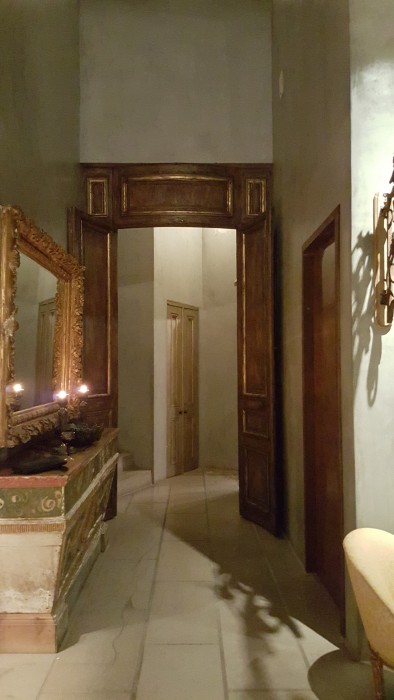 Curved doors fit perfectly into the straight edge detail of the wall structure.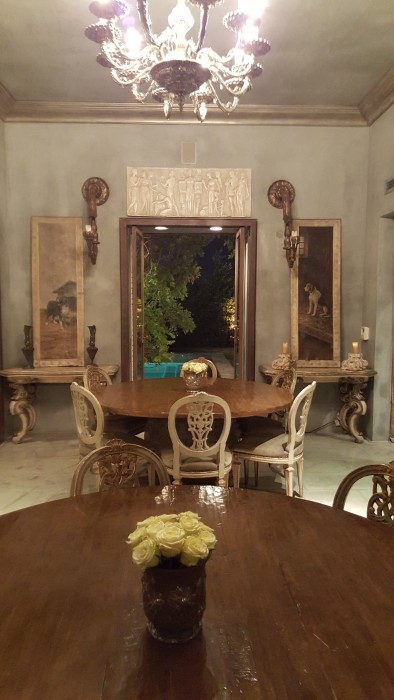 Who says you need one big dining table?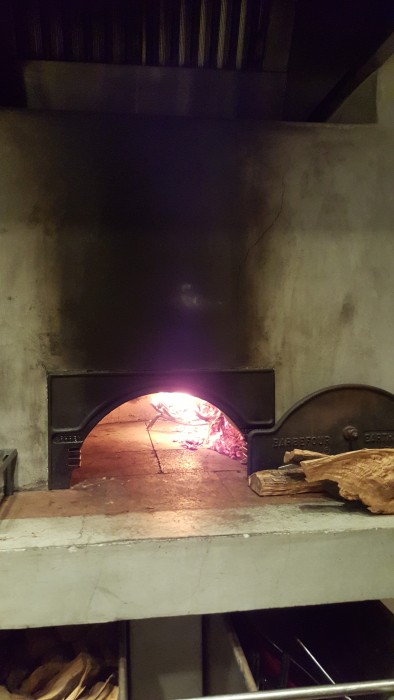 The pizza oven in the professional chef's kitchen made the most authentic pizza.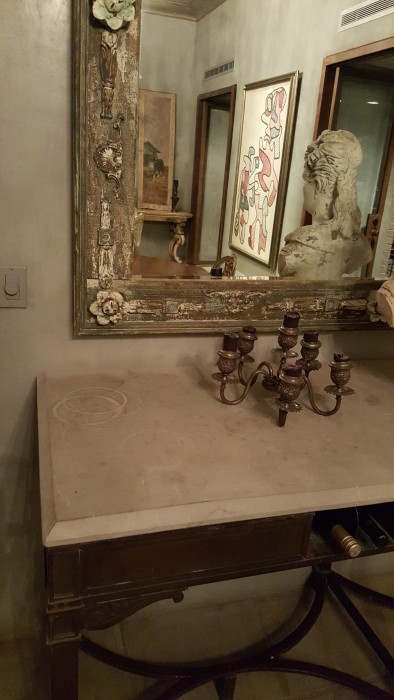 Don't worry so much about marks, stains or rings on your furniture.
Nothing is perfect and this is a great example of something that has been lived in.  So relax, enjoy your home and make your memories.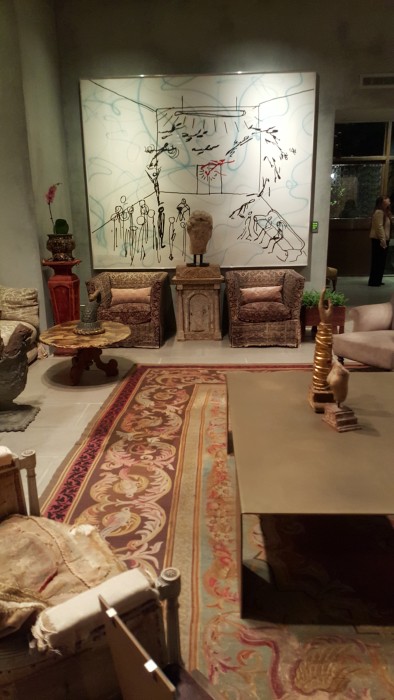 Modern art and a metal coffee table contrasts with the worn and aged furniture.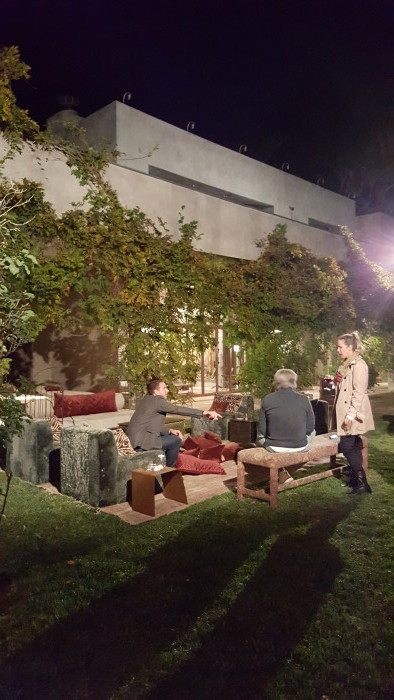 The outdoor lounge space in between the structure of the home covered in vines and her Design Studio.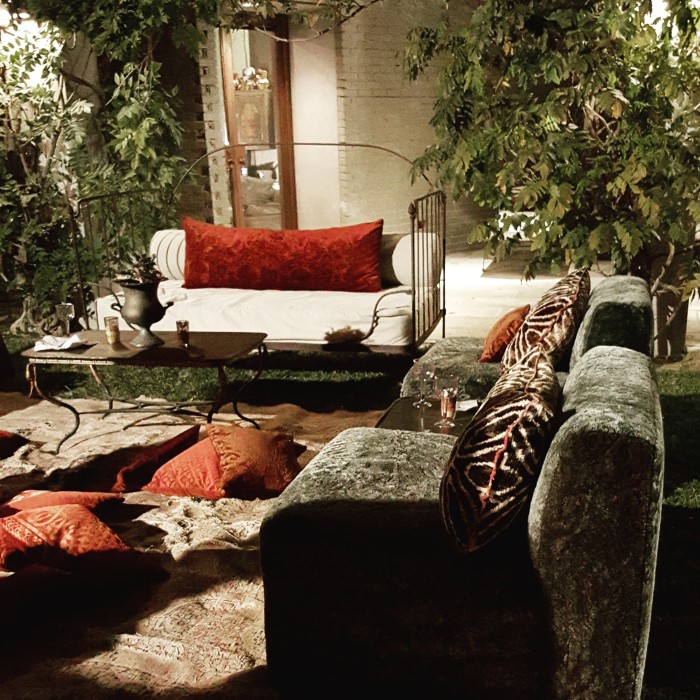 We could've hung out here all night.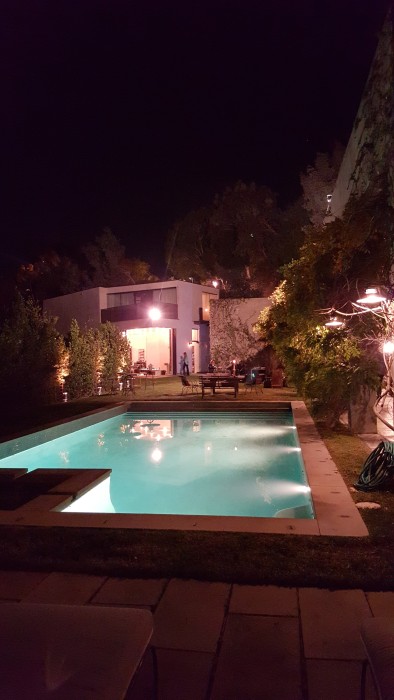 Overlooking the pool on to the Design Studio in the background.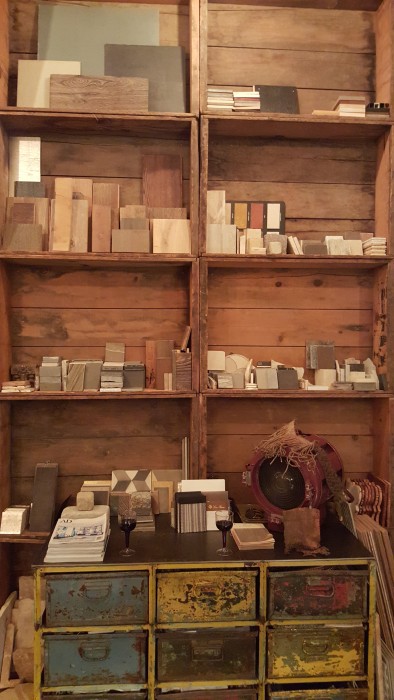 Samples displayed on reclaimed wooden crates.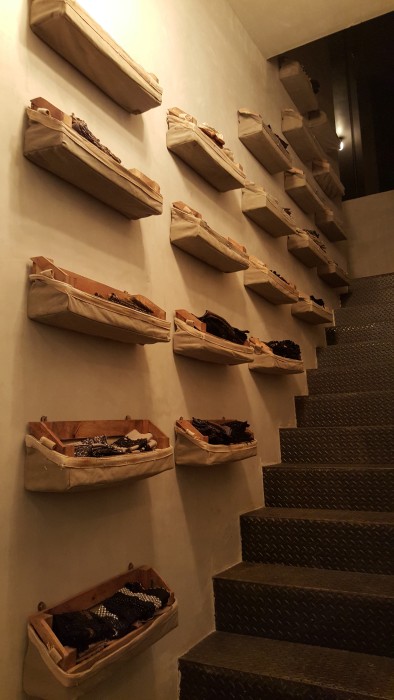 A creative way to display and store her inventory of delicate wrist sleeves.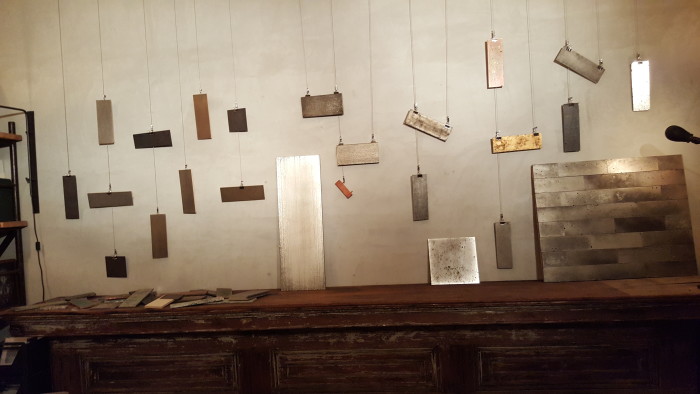 Her metal tile samples hung casually by clips.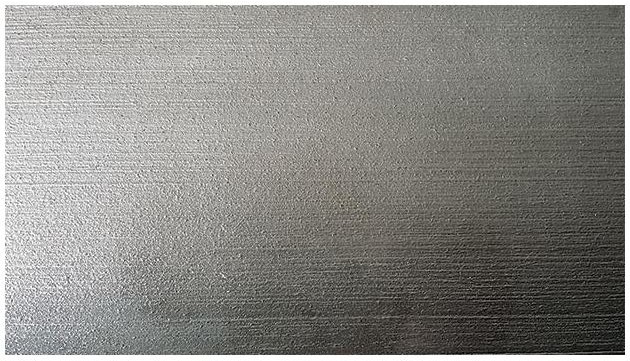 One of our favorites was the Deck Composite Tile in a Dark Nickel Finish.
We couldn't be more impressed with the taste and quality of her designs and want to thank her for her warm hospitality.