Do you Love Wine and Want More of It?
3 Wine Coolers to the Rescue!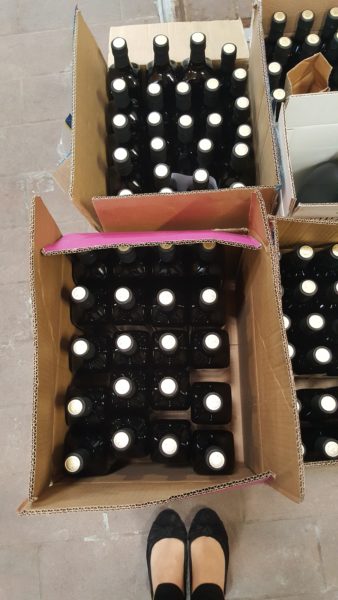 Sr. Designer Sara Plaisted, on a recent Design and Wine Italian tour with Adam Japko (of Wine Zag),
about to bring home cases filled with her favorite wines.  

As wine continues to increase in popularity and our tastes become more refined, it makes sense to want to save your favorite wine for a special occasion without it spoiling.
Sorry to say, your regular refrigerator just won't cut it.
But maybe you don't have the space in your home (or the budget!) to bring home cases of wine to store in your own wine cellar.
Except this this lucky client who has a refrigerated whole room wine cellar: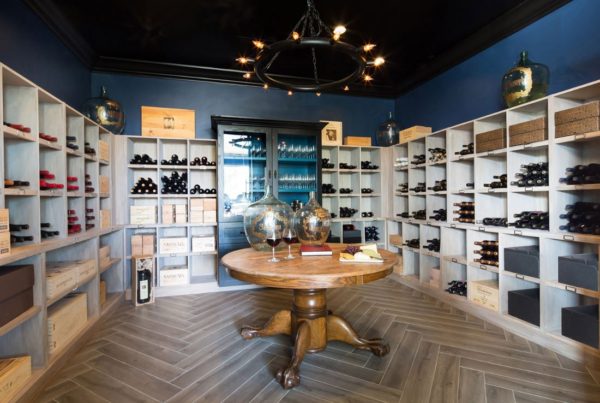 Lori Dennis Interior Design Project: Villa del Sur
Construction: SoCal Contractor
Before you start…
Top 3 Things to Look For in a Wine Cooler
1. Single or Dual Temperature
The ideal temperature to store sparkling wines, white and red wine is somewhere between 45º and 60º.  Coolers are available in either single or dual temperature compartments to keep them in their own zone.  Your regular home refrigerator is about 40º, which will be too cold for wine and will also dry up the cork.
2.  Noise and Vibration

Nobody wants to have a constant humming appliance in any room in the house.  Another reason your refrigerator won't work for wine storage is because the vibration disrupts the maturation process of the wines.  Think of your wine like a precious sleeping baby – it's best if she sleeps in a dark quiet room with nobody fussing with her.
3.  Racks

We all like a little flexibility.  Having adjustable or removable shelves allows you to store big bottles along with regular size bottles.  We also love the seamlessly smooth and fully extendable racks with separate slats that keep the bottles from rolling into each other.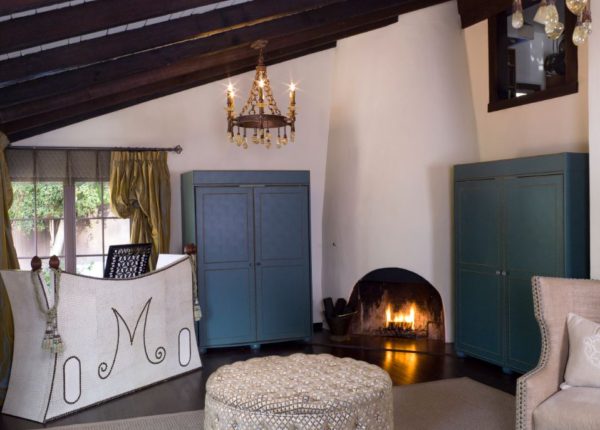 No room in your kitchen for a wine cooler?
Just build a custom Armoire Bar!
And Voila!
Let's find you the best bang for your buck!
In working with client's budgets big and small, we've compiled a quick list of our 3 favorite wine refrigerators (or wine coolers) for any size and any budget.
1.  Whirlpool Under-counter Wine Cooler for a Modest Budget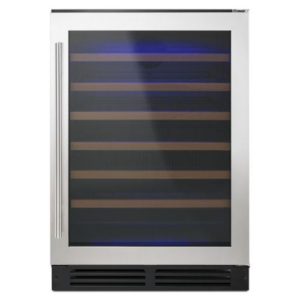 Surprise!  You can store up to 51 bottles in this 24″ wine cooler!
Whirlpool offers sizes starting at 15″ wide (storing up to 34 bottles) with a single temperature controlled zone – great for those of you who only love either red or white wine.
Check out Whirlpool Wine Centers here.
2. Viking:  Under Counter or Full Height Wine Cooler for a Mid to High Range Budget
 The Viking Pro Dual Cooling Wine Cellars come in sizes between the undercounter 15″-24″ wide  (storing between 25 and 40 bottles), or larger units at 30″wide full height which can store up to 150 bottles.  With soft close hinges, heavy-gauge full extension and smooth glide shelf racks, and alarms when the door is left ajar, Viking offers high value with multiple options.
Check out the many options of Viking Wine Cellars here.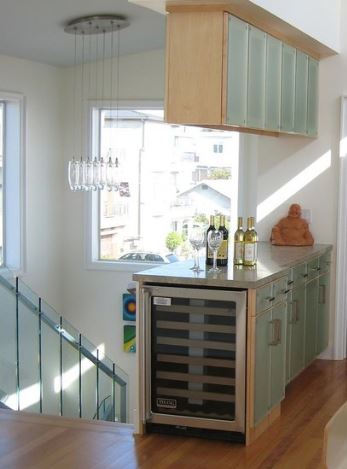 We added this compact 24″ Viking undercounter wine cooler at the end of an island in our a small beach condo kitchen.  These fit great in any lower cabinetry space, or as shown in the armoire above.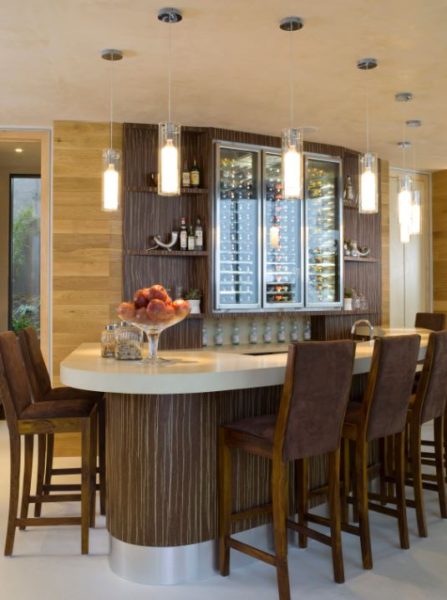 Using 3 narrow wine coolers, we created this chic home bar in Hollywood Hills on Blue Jay Way.
3. Sub-Zero:  Built In Full Height Wine Cooler for a Larger Budget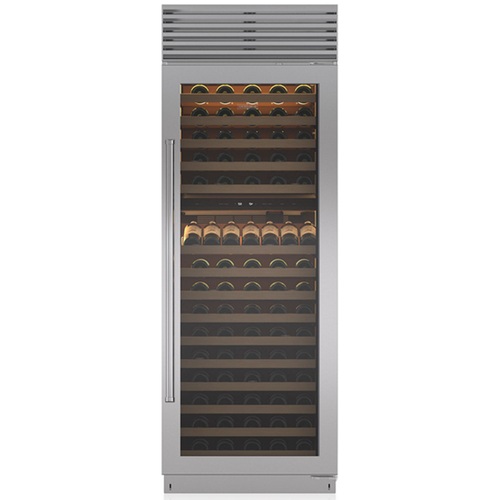 The Big Daddy of Wine Coolers.
It's a close race between the Viking and Sub-Zero wine refrigerators.  However, Sub Zero was the first company to build a storage system for wine and are considered the top of the line in manufacturing of quality and durable products.  These coolers also have two temperature control systems and low vibration,
They also have undercounter sizes between 15 and 24 inches wide and full height coolers between 27 and 30 inches wide.  See all Sub-Zero Wine Cooler options here.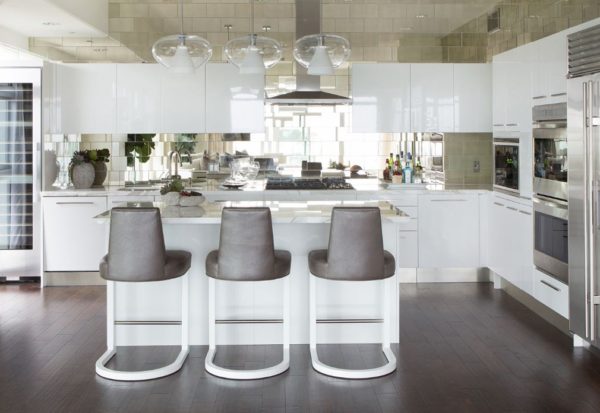 Works great in our modern kitchen design with stainless steel exposed finish.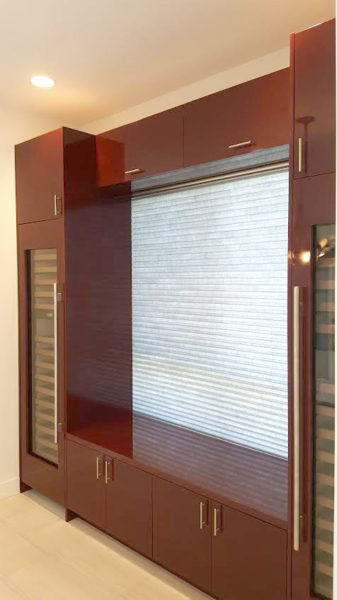 Or as a double unit with custom panel doors.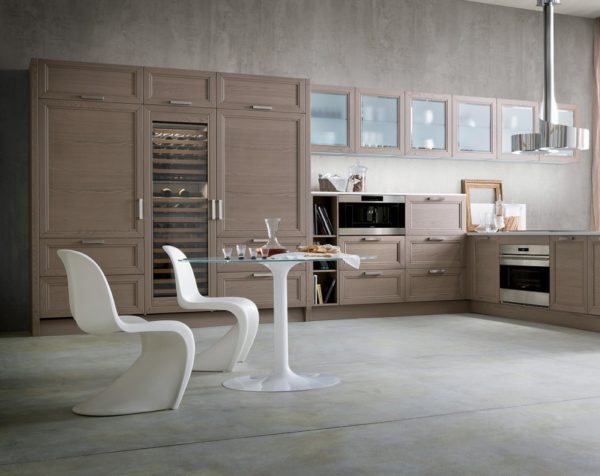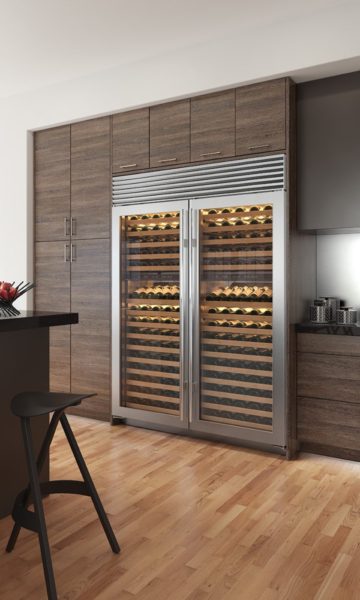 Who needs milk when you have wine?
 Many thanks to our friends at Ferguson who specialize in all ranges of wine coolers, along with appliances, plumbing and lighting!

 Don't forget your wine glass!
We've tested all the unbreakable wine glasses on the market and have found these to be the best.  They're perfect to take on a picnic, camping or to have around the pool.  Also great for all the clutzes out there who often break a glass simply by washing them in the sink.  (You know who you are.)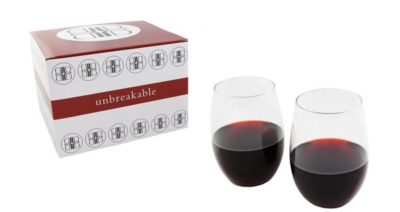 Purchase here.
If you're interested in any of these wine coolers, we'd be happy to help you find the perfect fit for your home.