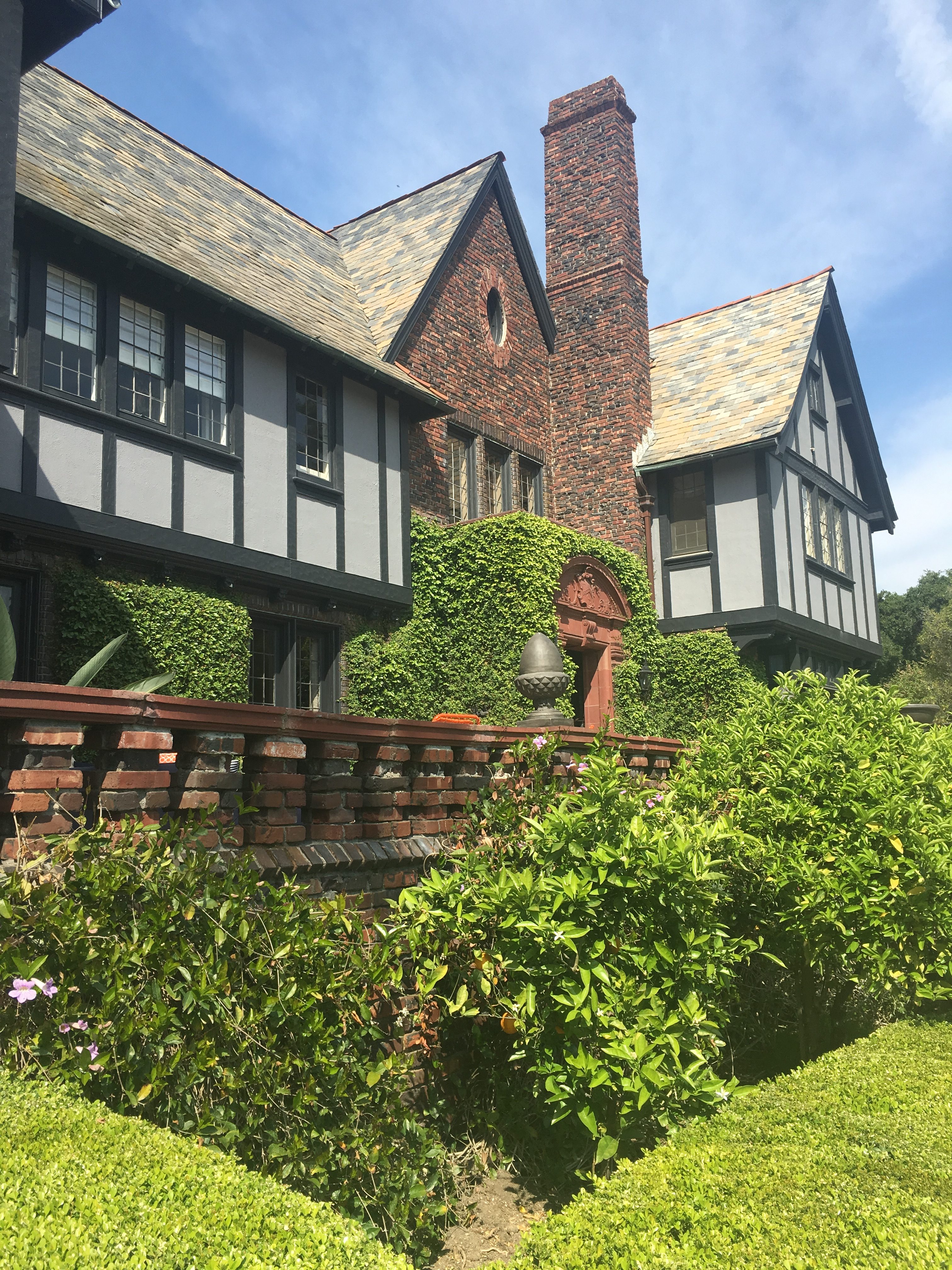 2017 Pasadena Showcase House
We were honored to be invited to a special Blogger's Breakfast and private tour of this year's Pasadena Showcase House, set in a historic 1916 English Estate.  This annual event which re-imagines a different home each year, always holds a special place for us in Los Angeles.  And this year's designers didn't disappoint.  We noticed ongoing themes of global styles and rich colors, along with the classic neutrals and old-world touches, and keep your eyes peeled for the gorgeous Walker Zanger tiles in the kitchen and baths.
But first, let's start with all the buzzzzzzzzzzzzzzzzzzz.
Bee's Bliss Gardner's Retreat at the Pasadena Showcase House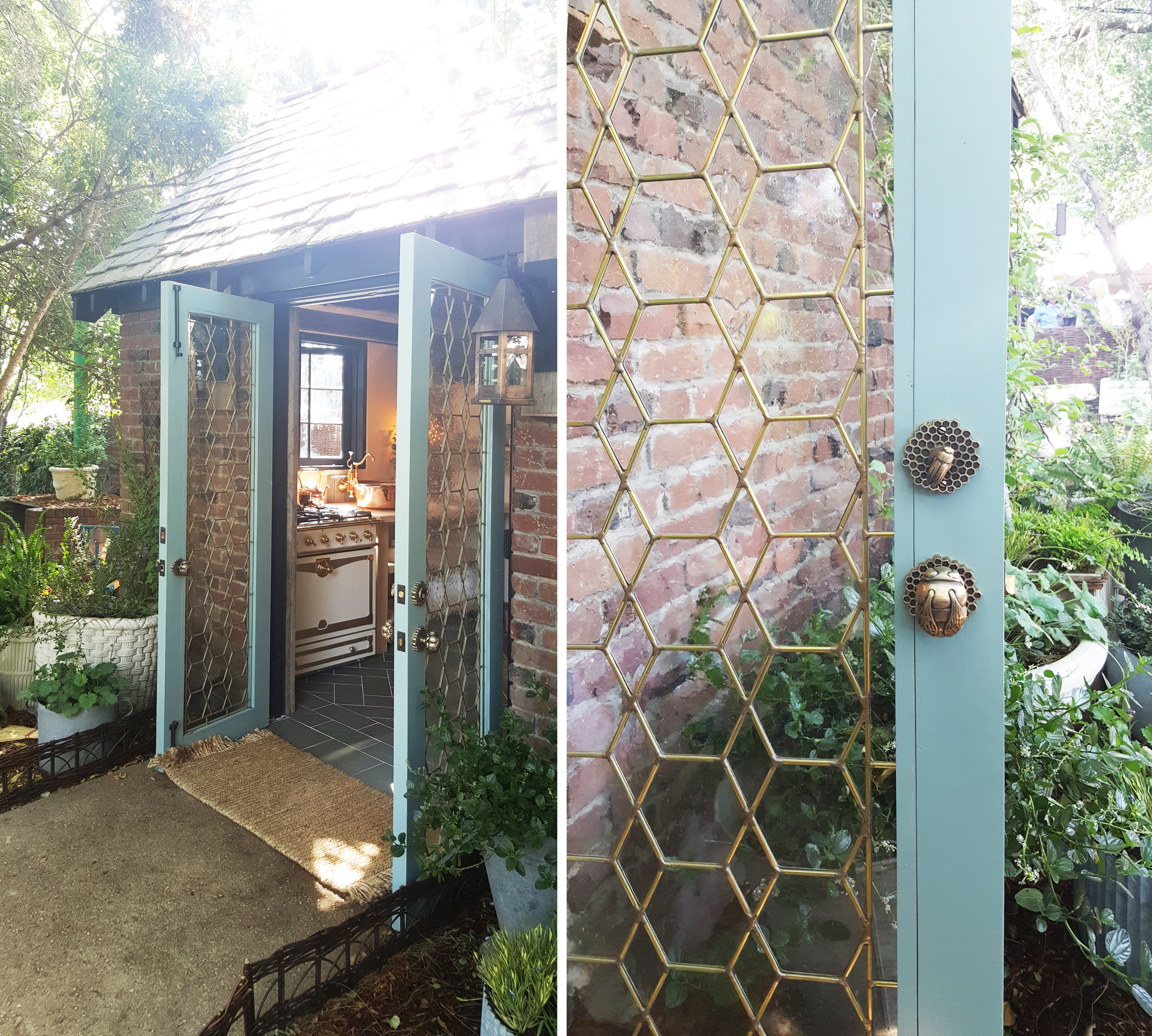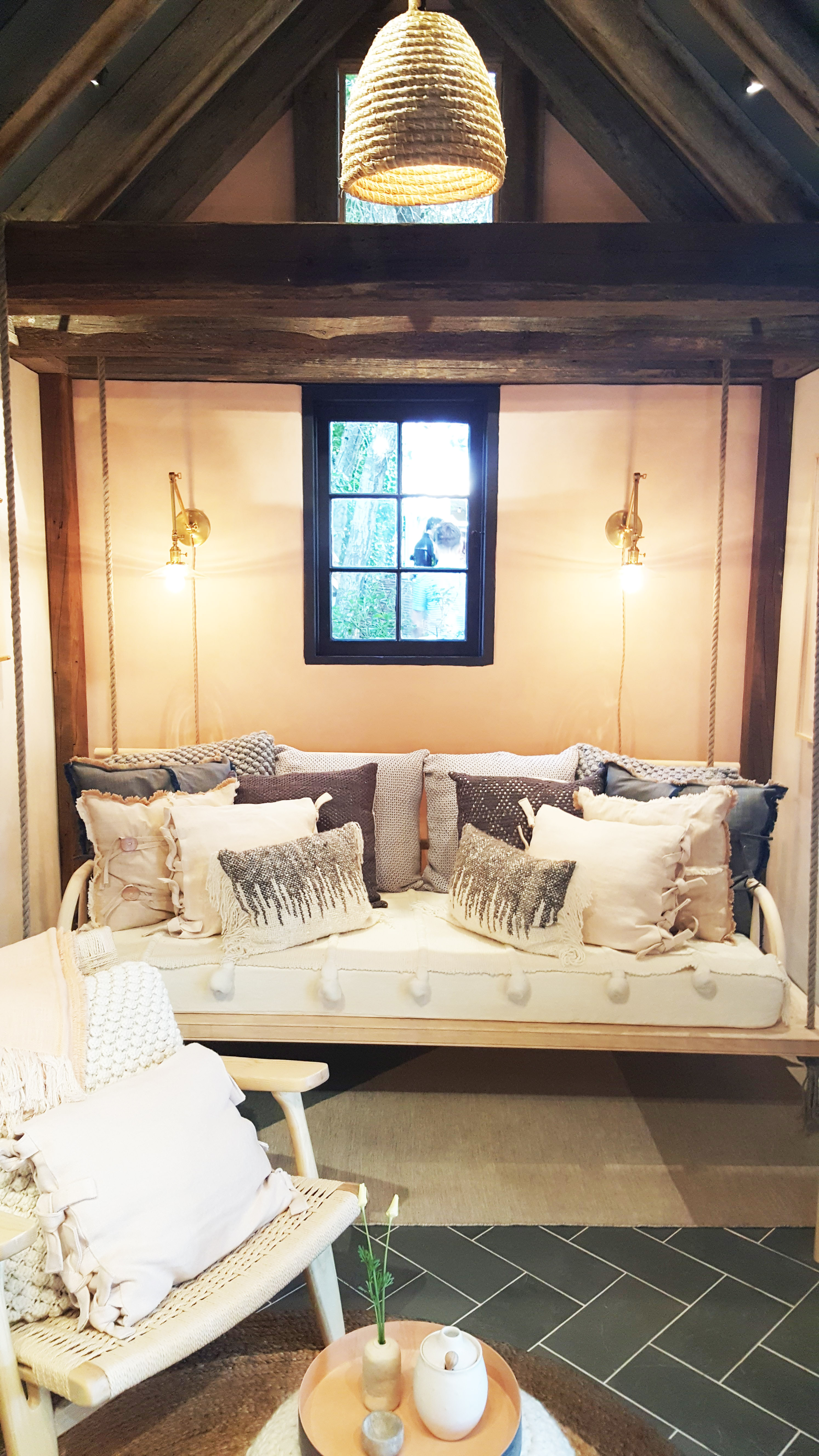 We started our tour at this sweet little 114 square foot cottage housed so many special detailed moments with bee-hive and honeycomb motif's.
Favorite Elements:  The doors.  Look at the leaded glass and cute little door knob and lock set.  We almost died!
Loggia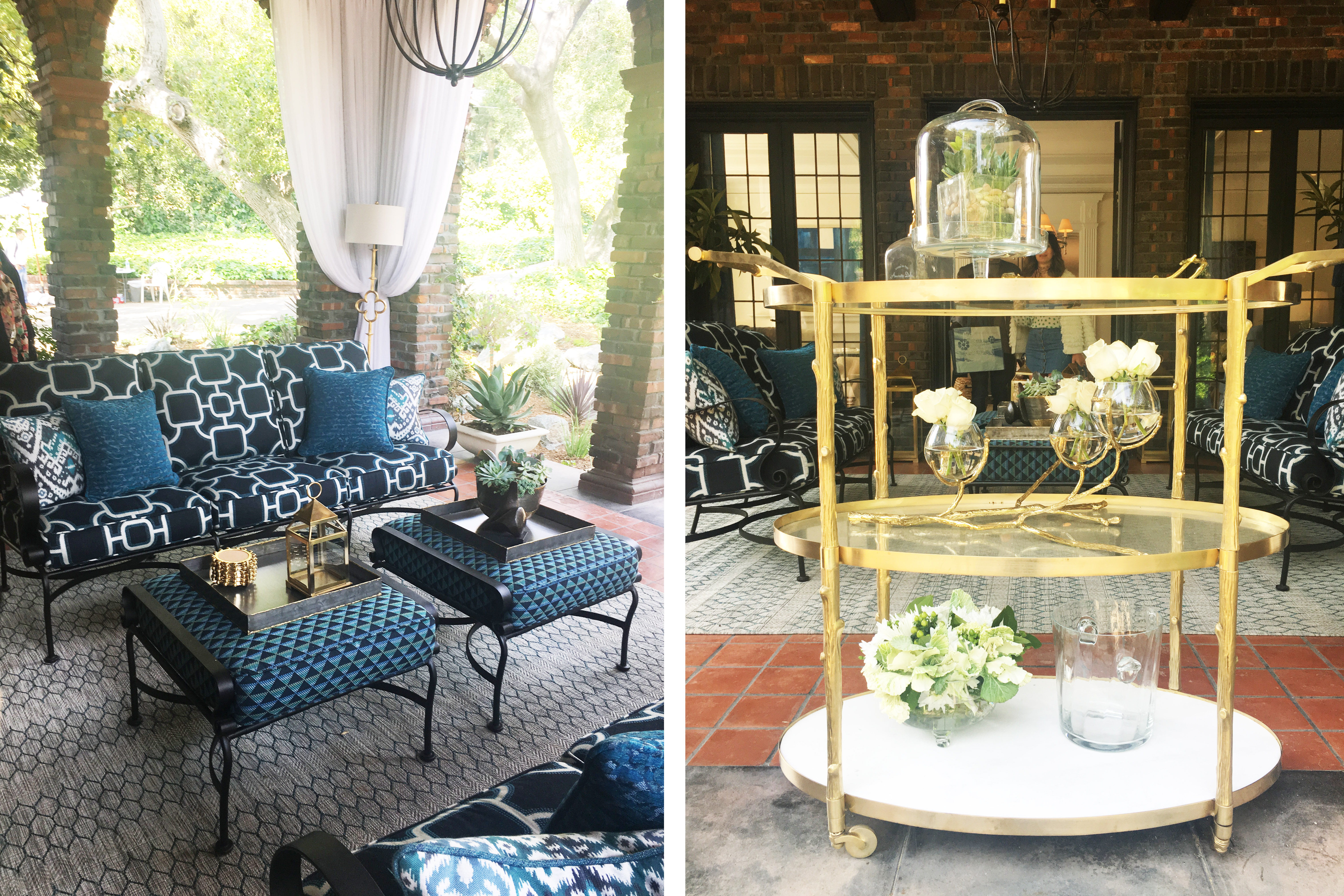 This picturesque loggia was the set for the famous garden party scene in La La Land.  Do you see it?
Favorite Elements: Indoor Outdoor Lifestyle featuring one of our favorite color schemes: peacock blue, indigo and gold.  Sheers blowing in the wind softened the brick columns, giving it a touch of romance.  And of course, the bar cart.  Everyone's gotta have a bar cart.
Pool Garden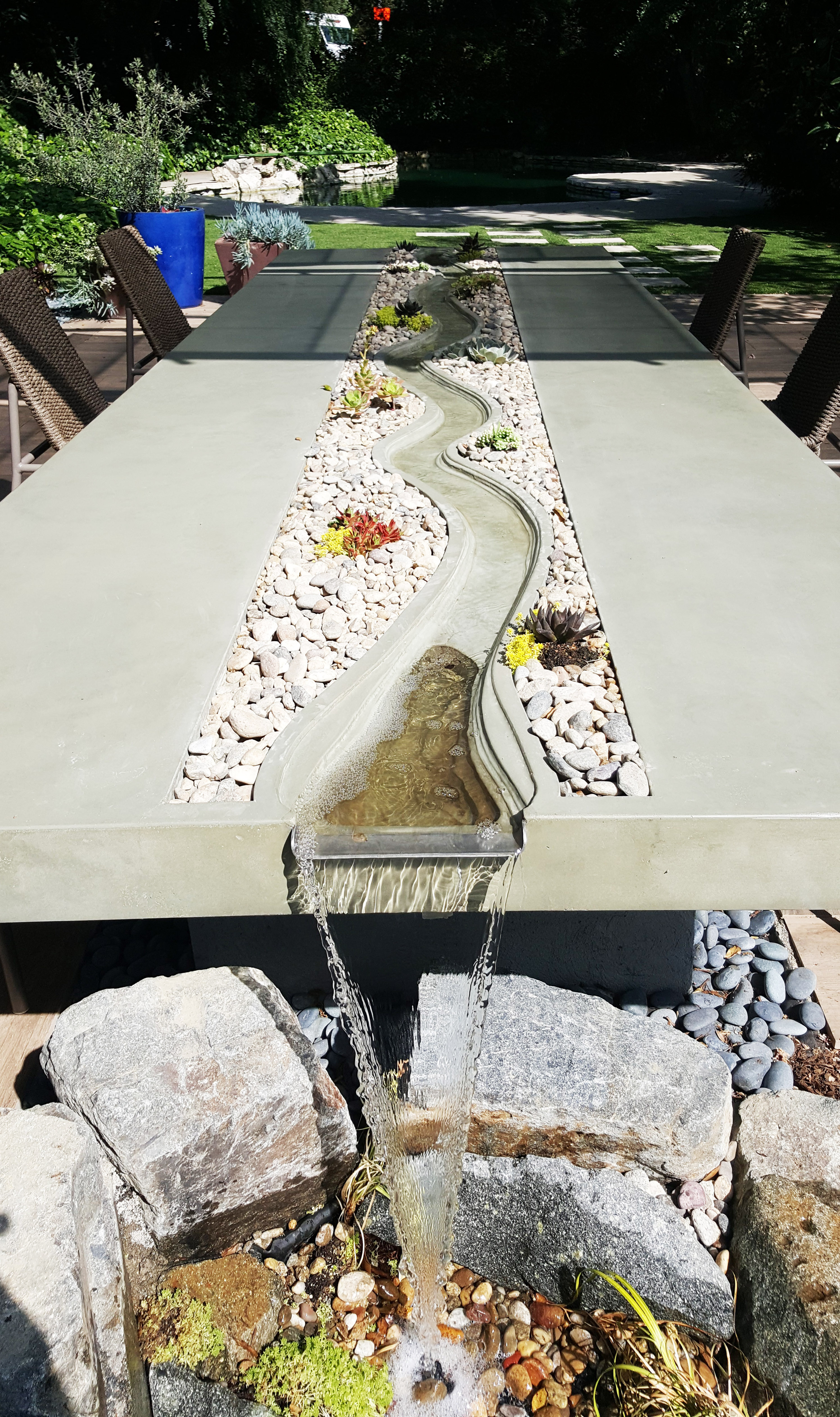 A serene retreat just outside the loggia featuring a shaded organic shaped pool and lush California plantings.
Favorite Elements: This stunning custom concrete centerpiece with a delicate meandering stream running through a landscape of rock and succulents.
Let's take a peak inside . . .
Foyer & Staircase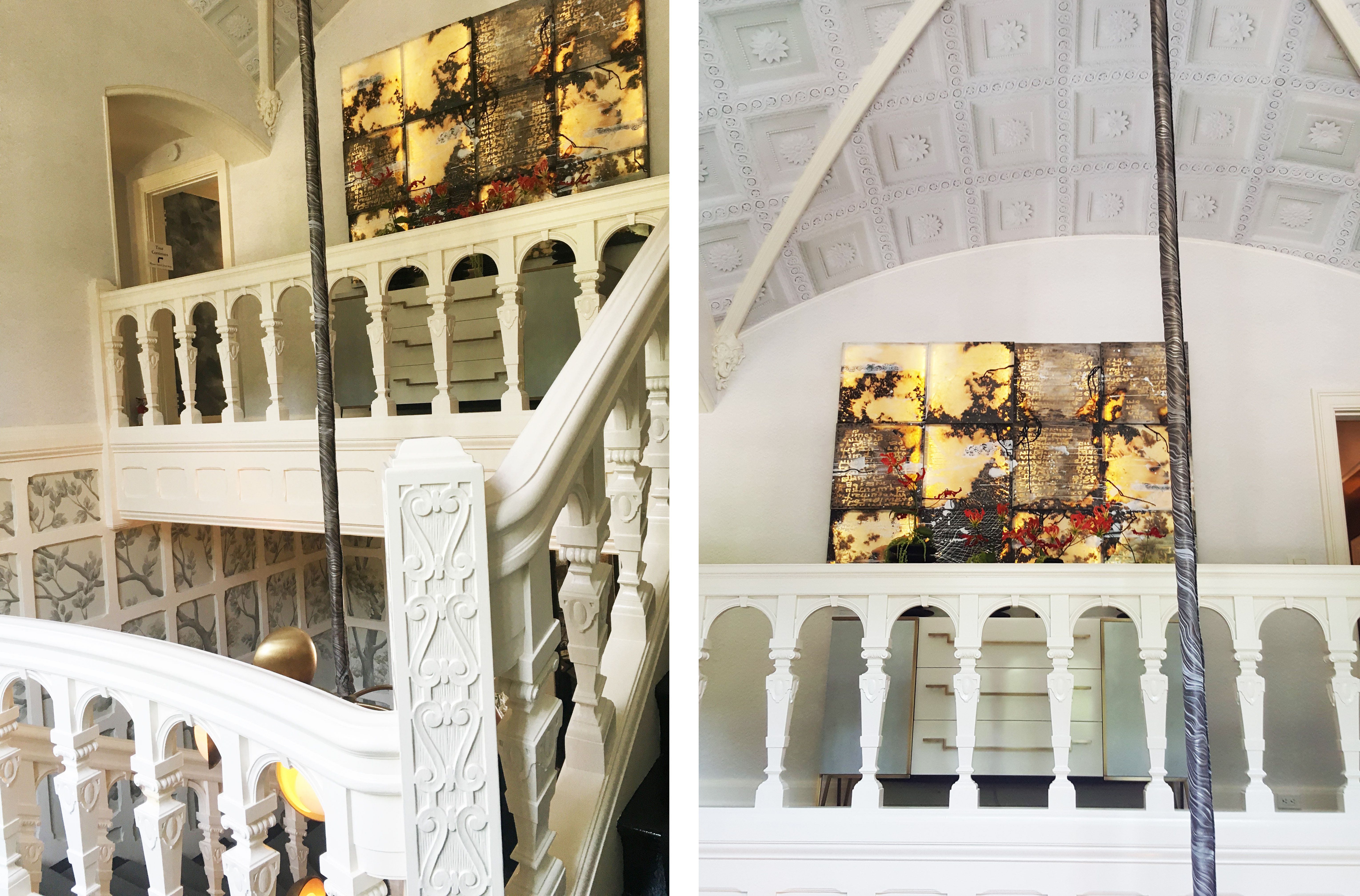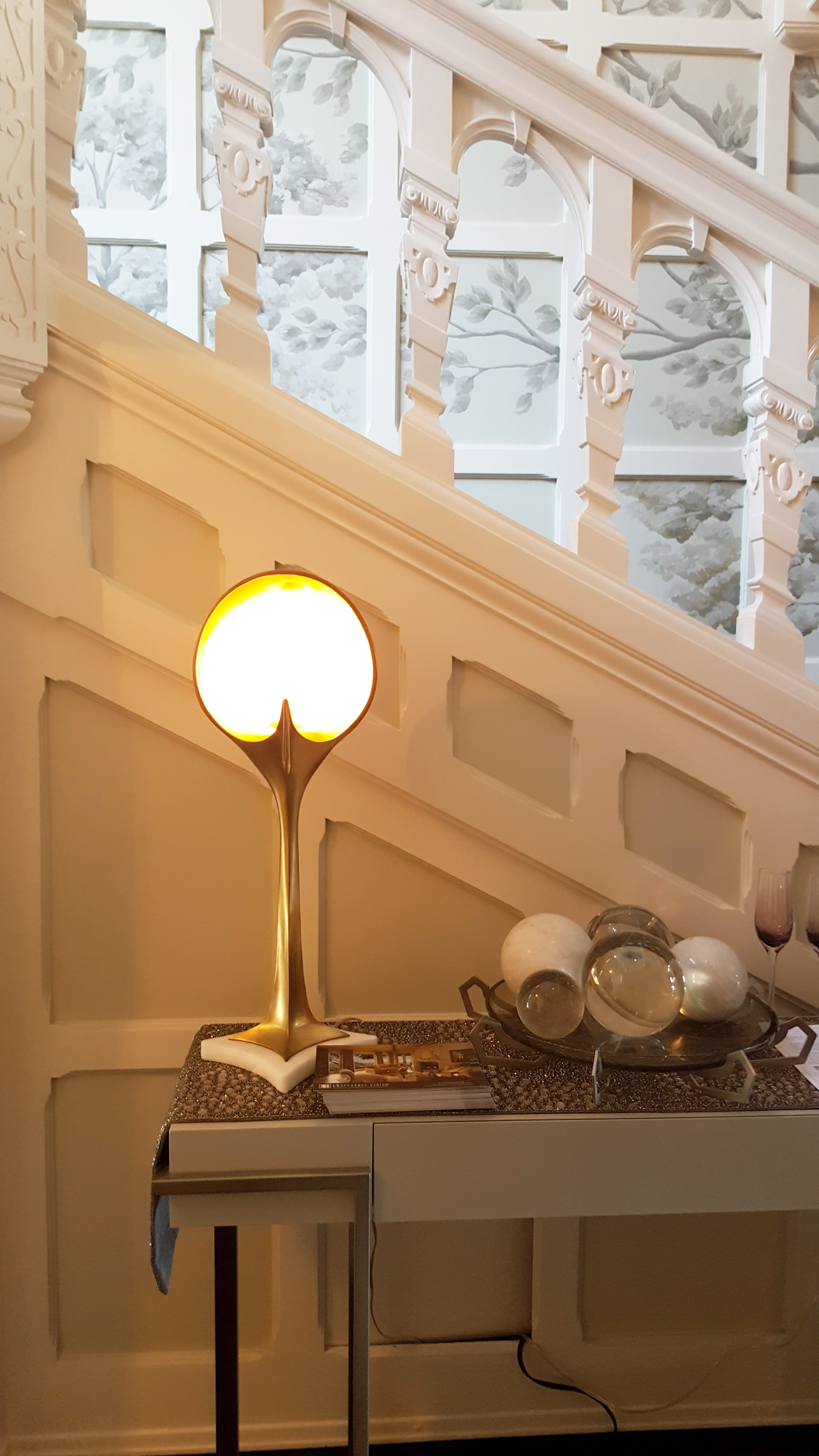 The Entry and grand Staircase were filled with detailed carving guiding your eye up toward the vaulted ceiling.  Magnificent!
Favorite Elements:  The Trompe-l'oeil printed fabric on the ceiling and hand painted panels between the wooden wainscoting.
Conservatory & Dining Room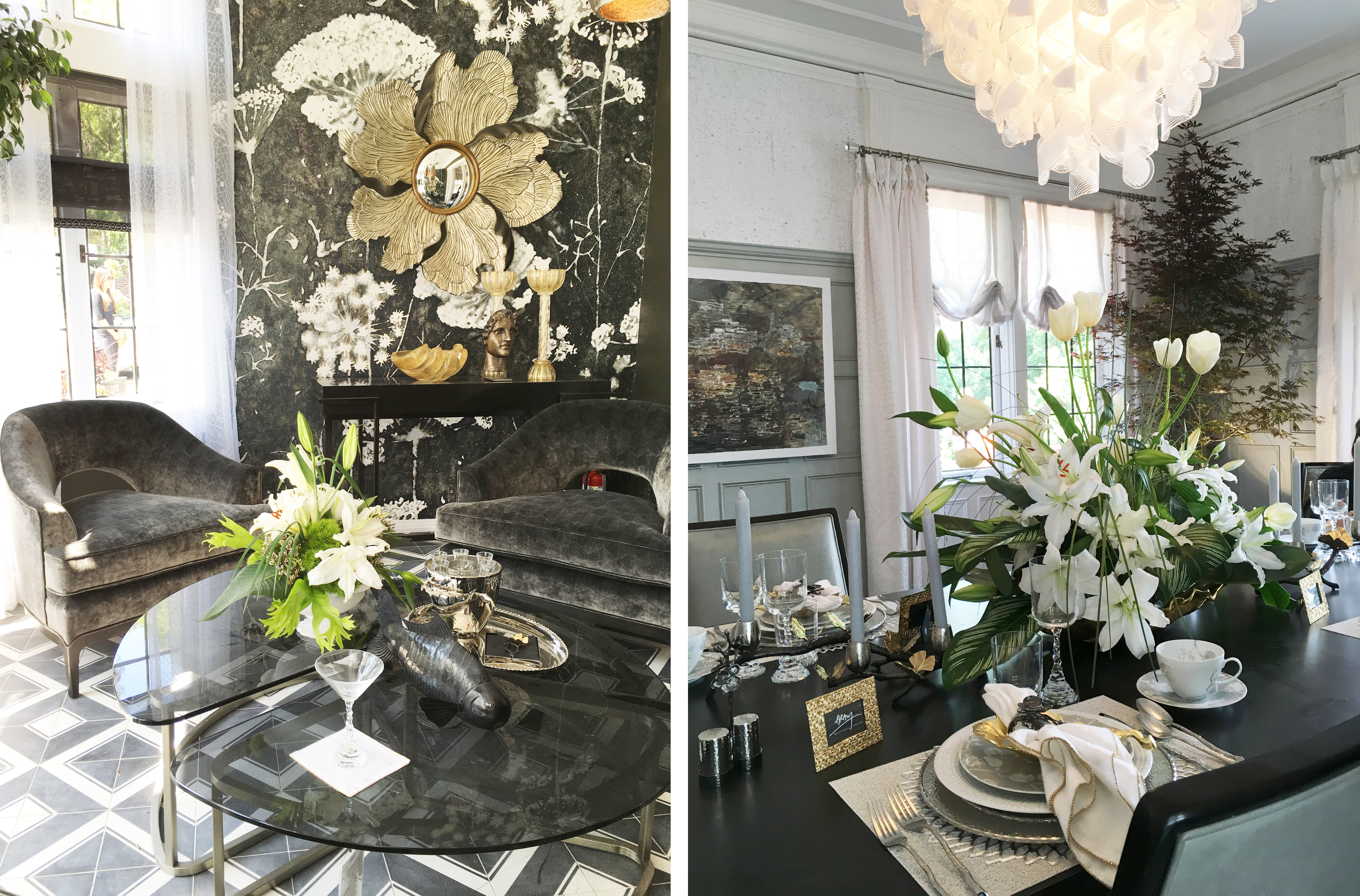 We loved this mix of vintage elegance in these high contrast rooms, set on top of classic geometric encaustic floor tiles.
Favorite Elements: Large scale black and white botanical wallcovering and the petal mirror.
Living Room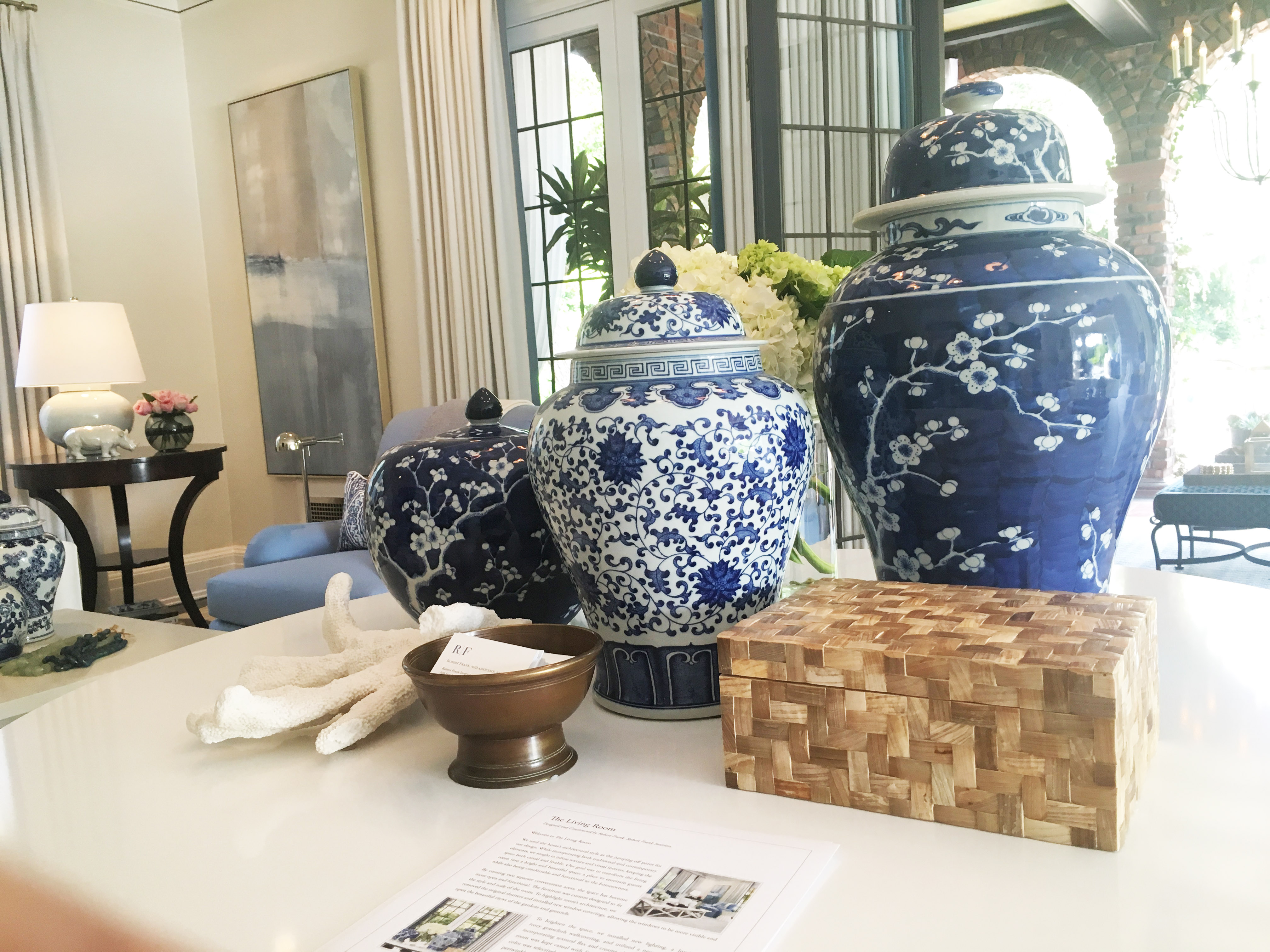 A casual and peaceful setting filled with textural elements of linen, cotton and raw silk throughout the room.
Favorite Elements: You can never go wrong with a set of blue and white ginger jars.
Kitchen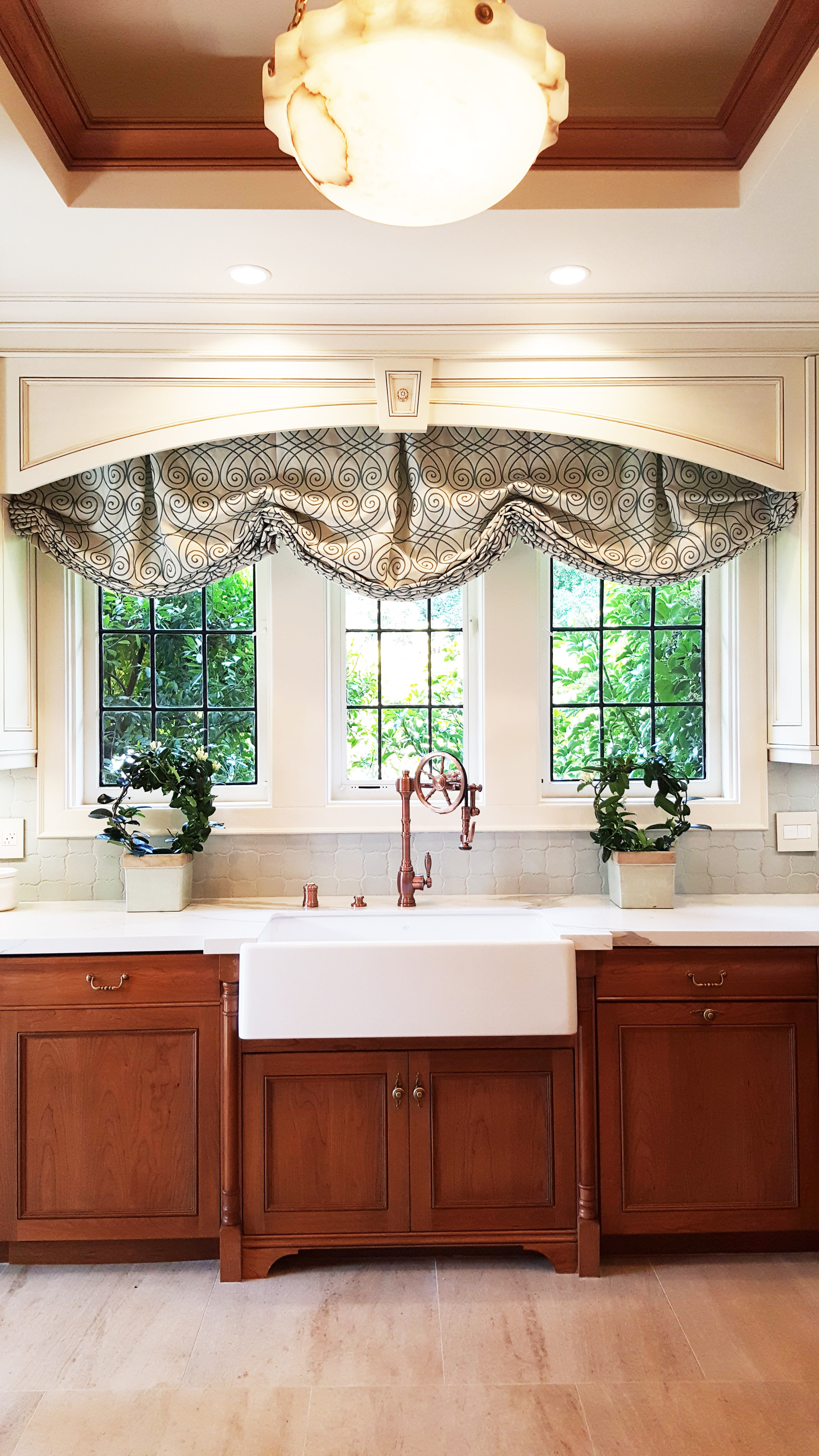 A simply stunning mix of finishes and materials: white faux marble porcelain counters, cherry cabinets with a brown sugar stain, delicately designed wall tiles and limestone porcelain floor tile work together to create a charming old world kitchen.
Favorite Elements: Check out that faucet!
Library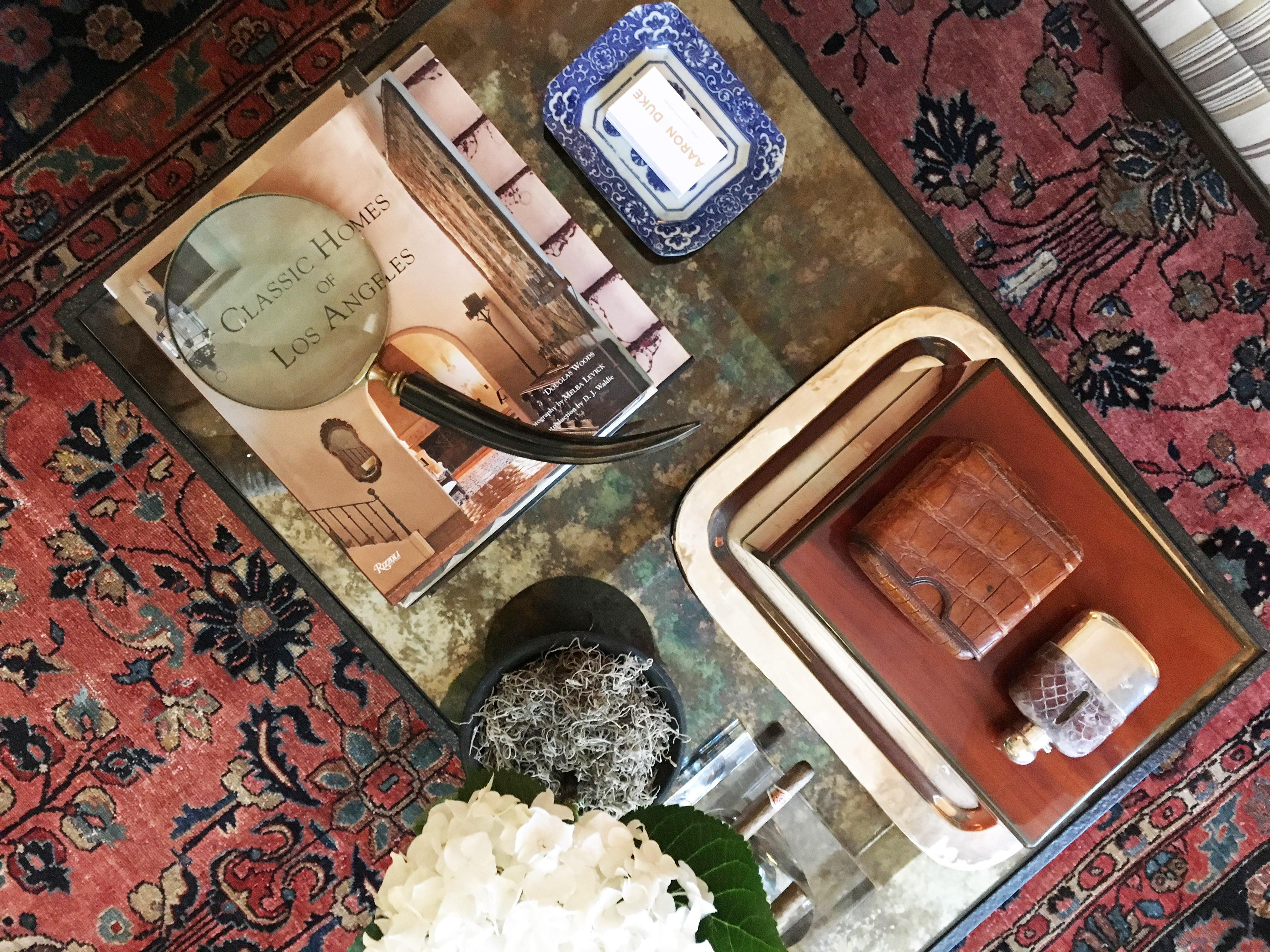 Inspired by the lifestyle of the iconic designer, Ralph Lauren, this library blended timeless design with modern luxury. We love the warmth of crackled leather, creamy neutrals, luscious velvets grounded in black and tan.
Favorite Elements: The Vintage Rug. Hands down.
Master Suite in the Pasadena Showcase House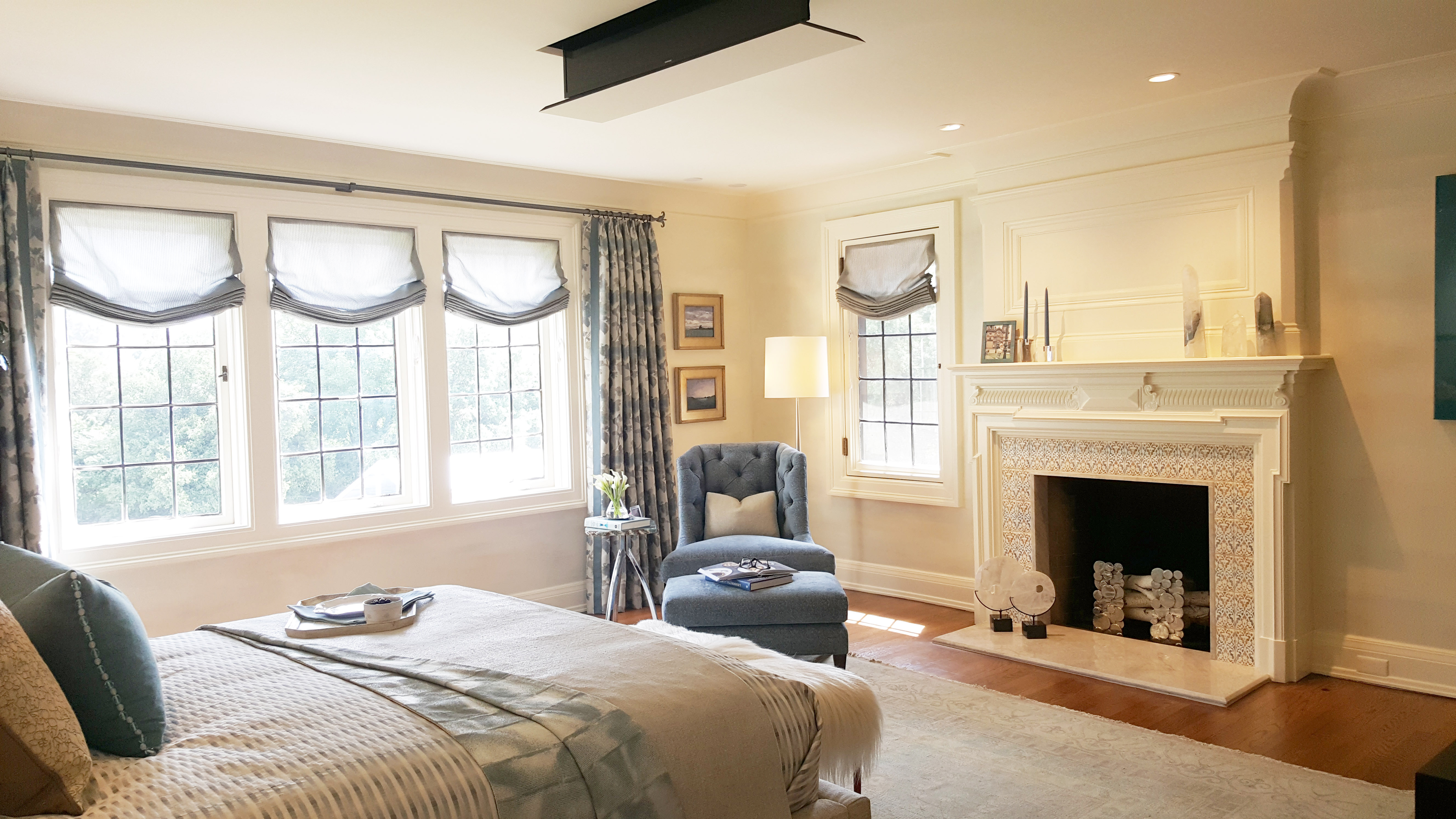 The calming color palette in muted blues and neutrals makes this bedroom a perfect retreat at the end of the day.
Favorite Elements: If you have room in the ceiling, hide the TV in the attic space.
Master Bathroom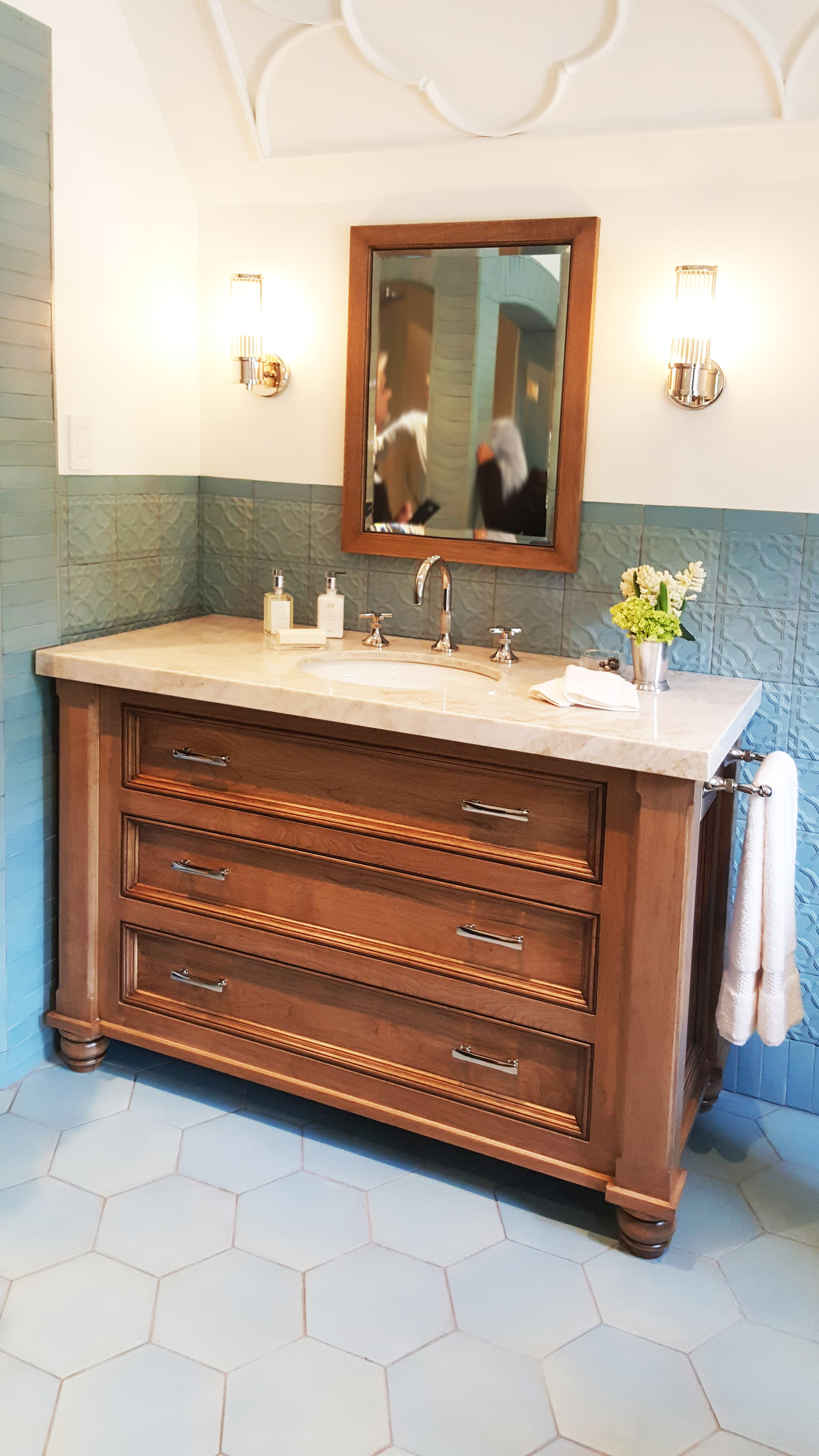 Tying together the Seaside Escape theme, the Master Bath brings in soft soothing blues with hex floor tiles and 3-D textured wall tile wainscot, grounded with an earthy warm wood vanity and sandy quartz counter.
Favorite Elements: The delicate tracery work on the ceiling overhead.
Guest Bedroom
We absolutely loved this eclectic global funk of a room.  Everywhere you look there's something interesting, collected, and detailed.
Favorite Elements: Mix of patterns and embellishments.  And let's be honest, the crystals.
Nanny's Room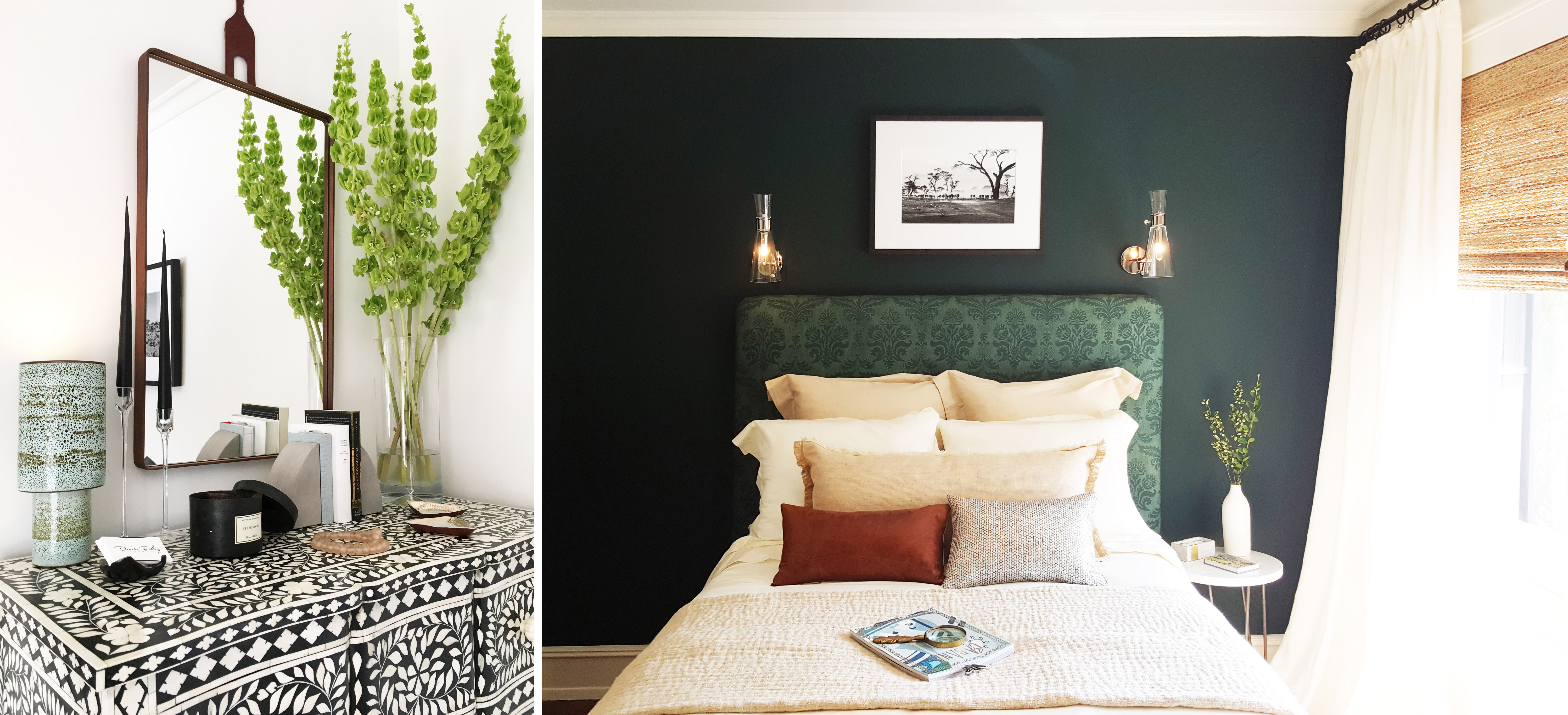 Casual elegance envelopes this earthy room, featuring a custom headboard covered in a beautiful damask hemp linen.  Yes please!  And don't forget that inlayed black and white dresser.
Favorite Elements: That rich dark green accent wall.  All. Day. Long.
Nanny + Nursery Bathroom
I could kick myself, because this photo doesn't give this room justice.  It's so fresh and soft with shades of salmon and teal.  The teal and white arabesque encaustic tile, freestanding tub with aged brass fittings and grasscloth wallcovering were splendid.
Favorite Elements: The peach shower drapes with natural beaded trim.
Nursery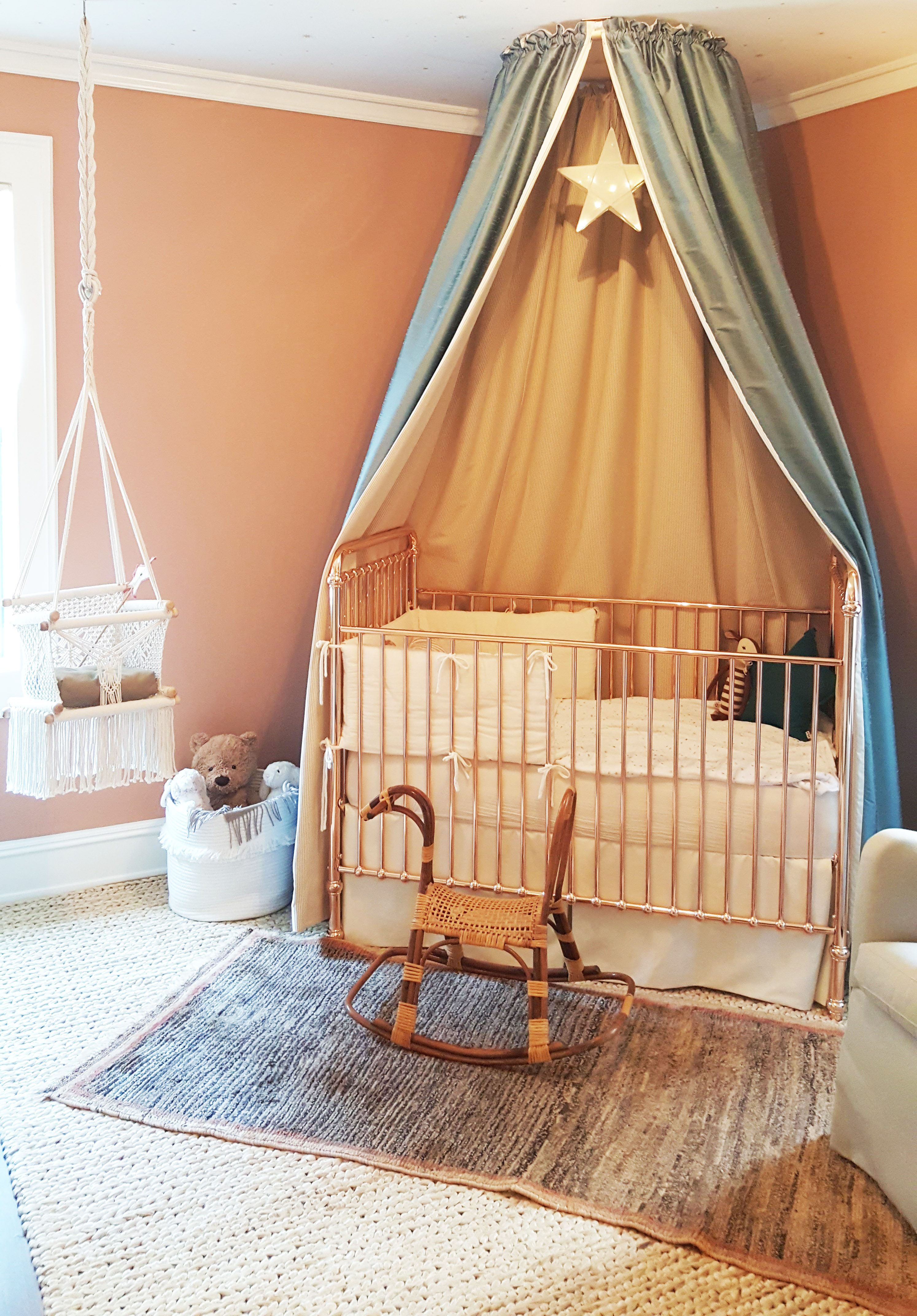 We couldn't get enough of this little nursery.  How CUTE!  With the mix of vintage toys, rose gold crib and star filled silk canopy, we were in baby heaven.
Favorite Elements: The handmade macrame baby swing.
Teen Room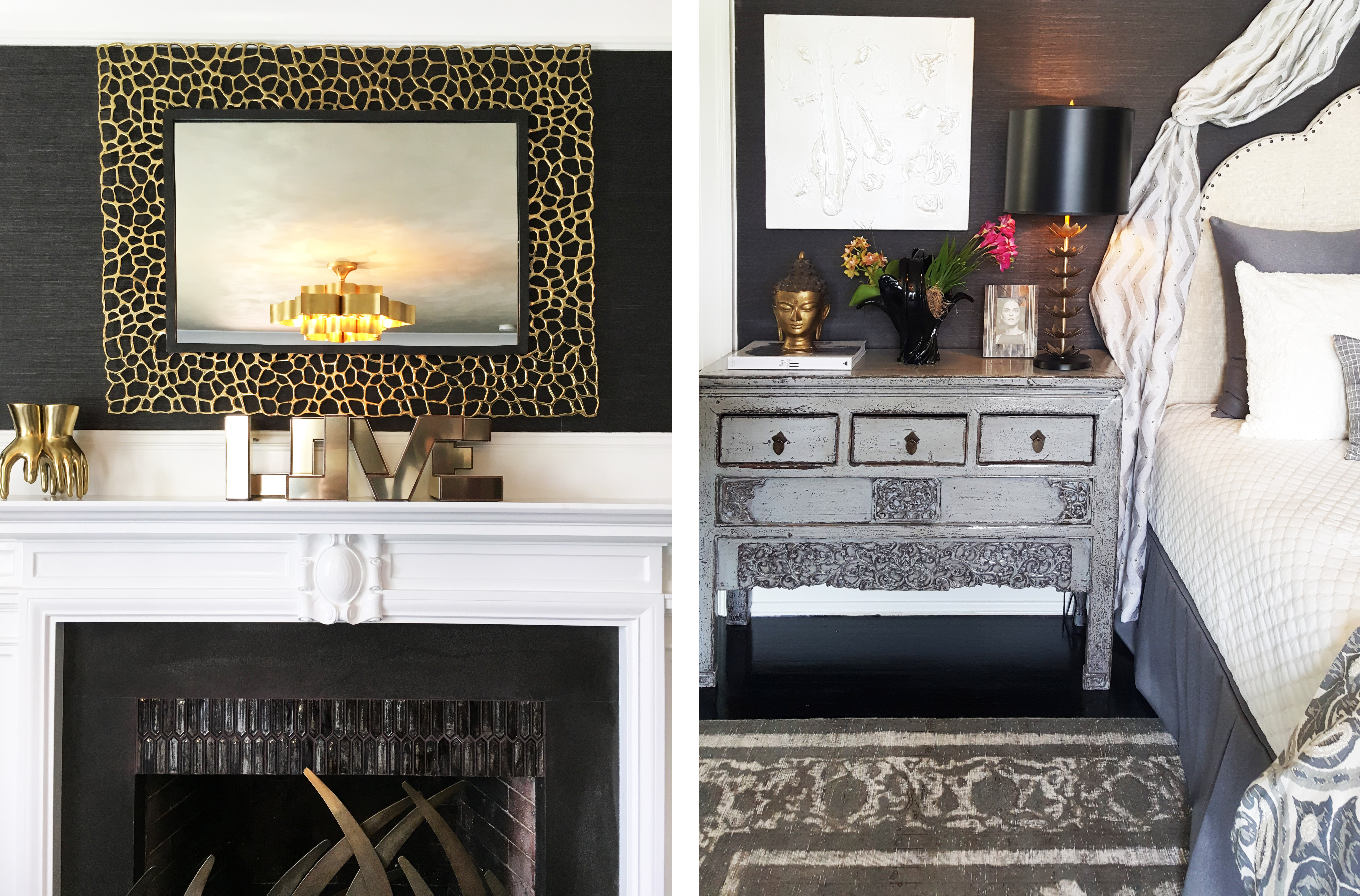 This room was filled with a rich blend of textures, from the fireplace updated with geometric glass tiles and matte black stone, to the hand carved wooden furniture, charcoal and gold accents throughout.
Favorite Elements: Mix of materials in metals, woods and linen.
Laundry Room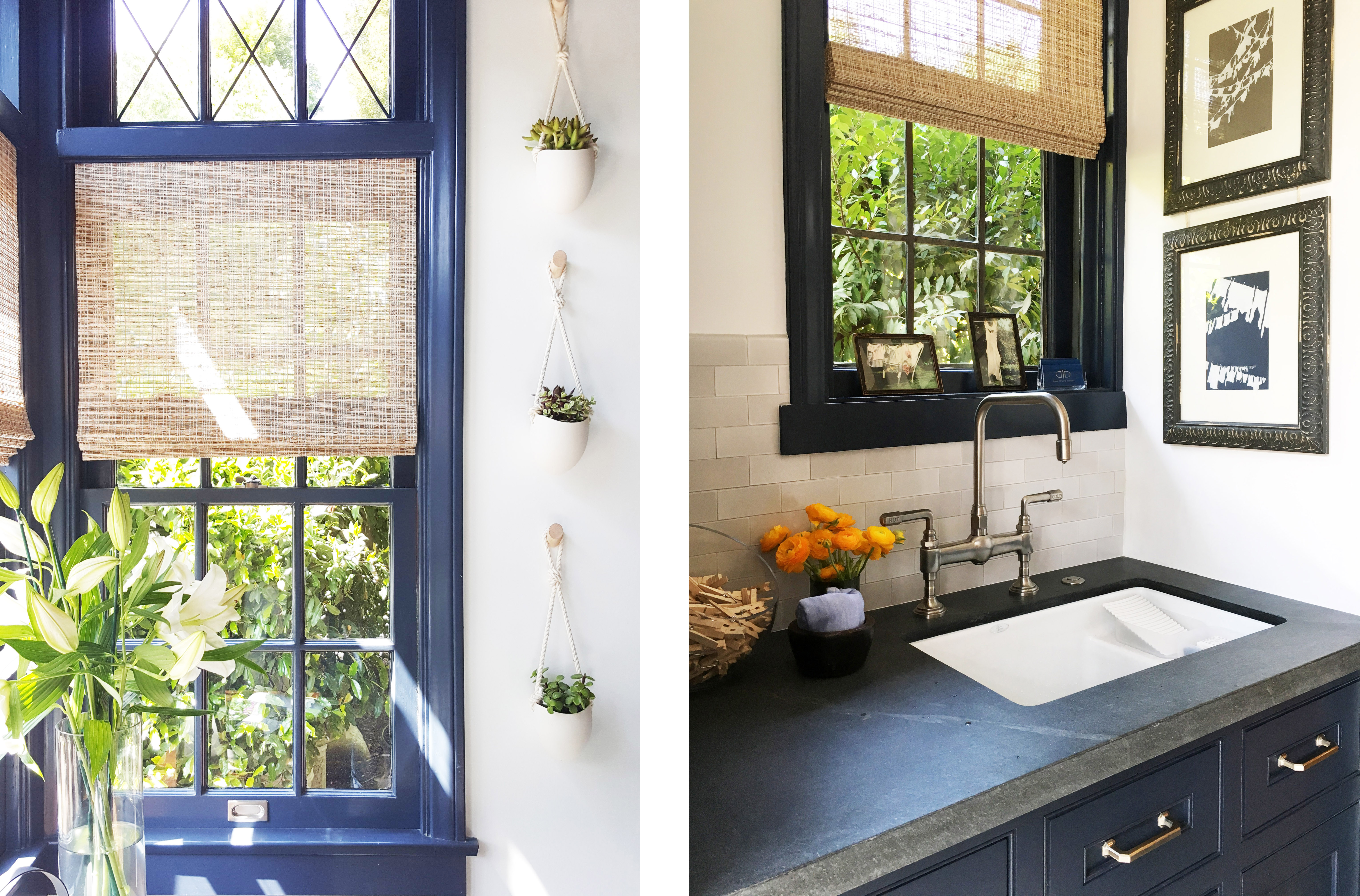 This is a multi-tasking masterpiece of a room.  Complete as a mudroom, laundry room, potting room, gift wrapping area, prep station and office.
Favorite Elements: A must have is the deep utility sink with an air circulation mode for washing delicates.  Brilliant!
Terrace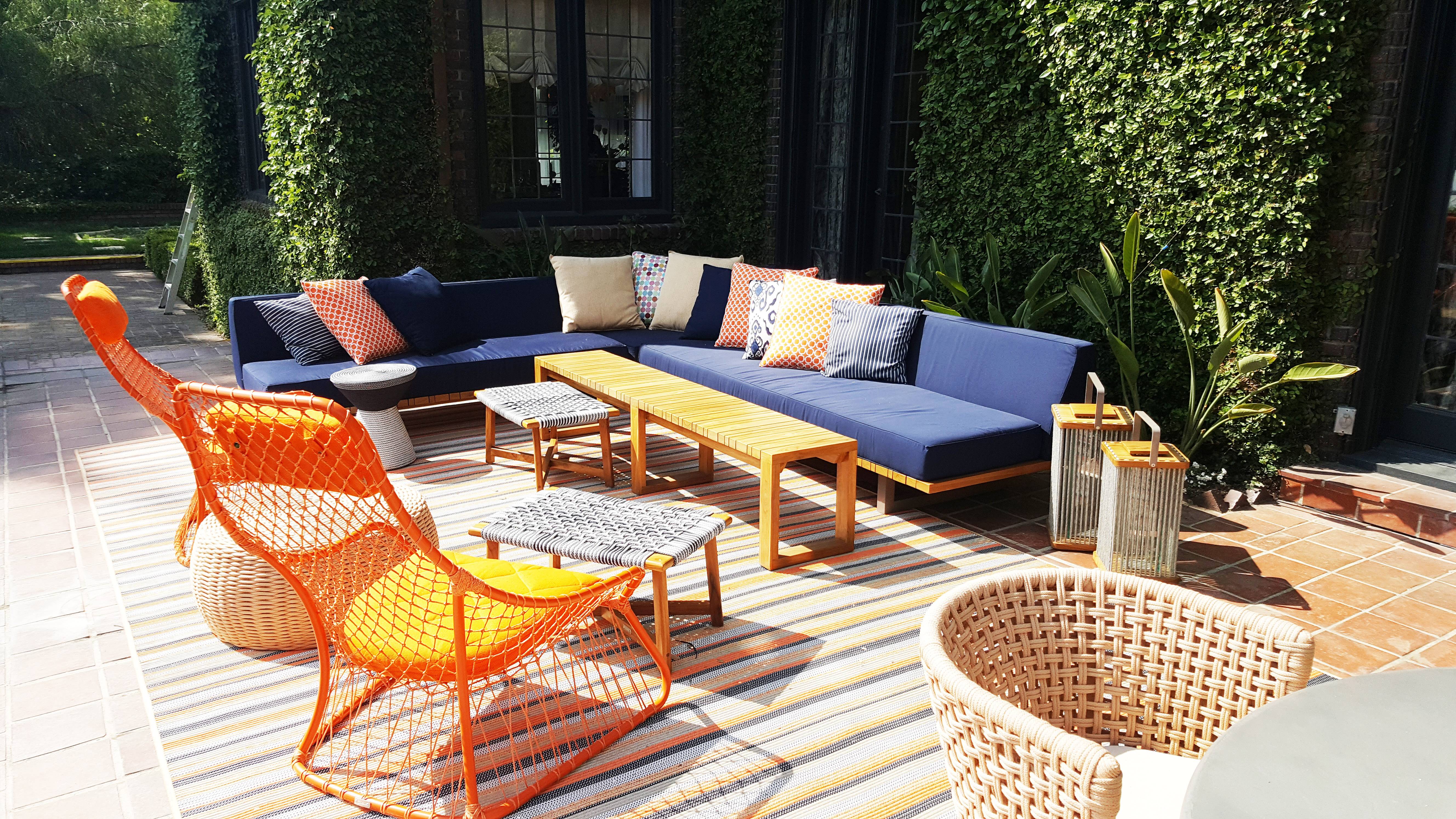 Definitely a modern contrast to a traditional English style home, and it worked great.  Contemporary and Traditional CAN co-exist.  The live green wall was a great backdrop to this setting.
Favorite Elements: You had me a pop of orange.
We hope you have a chance to check out the Pasadena Showcase House before it closes on May 21.
You won't be disappointed!
Get your tickets here.