Dining rooms are some of the most rewarding rooms to design, but they are often underutilized rooms in the home. When we design a dining room for a client, we're generally working with sizable budgets to create ornate spaces–we want encourage homeowners to invest in their dining room design and create a space everyone actually wants to dine in all the time the way we see people investing in their kitchen remodels and making it the heart of their home. But that doesn't mean getting the most expensive version of every item, all the time. With these tips, we're going to show you where to allocate your renovation budget in the dining room and get that designer style in your dining room on a dime.
Designing Dining Rooms on a Dime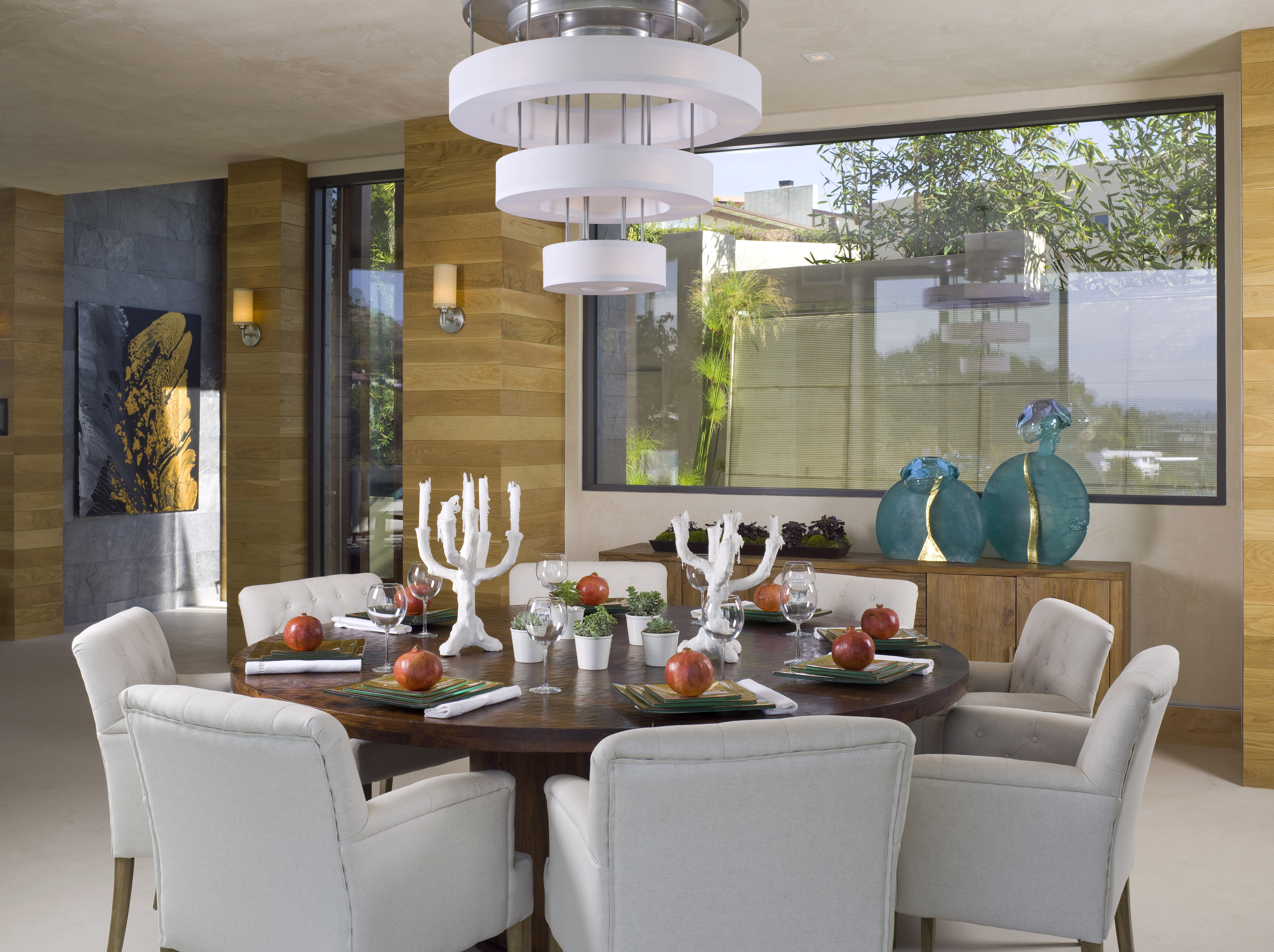 But you don't need a celebrity budget to customize your dining room and make it the entertaining epicenter of your home. Here are the 5 essential elements of an entertainer's dining room and how you can get the look for less:
---
5. Custom Table Linens
A custom tablecloth, runner, or linen napkins can be a great way to get a one-of-a-kind look for less. They're a great way to include a luxury fabric in your space without breaking the bank because for a runner or tablecloth, you don't need a ton of material. Custom linens are always a great way to elevate your space and get a designer dining room on a dime!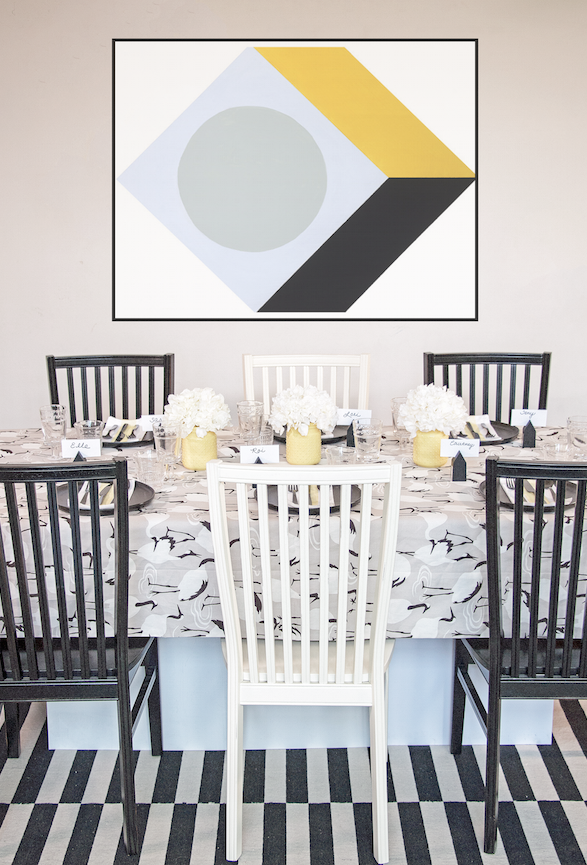 When you hear the word custom, you might assume it's going to cost a lot, but that's just not so– you just need to know the right place to look! This tablecloth we had fabricated for a client using Calico Corners Dwell Studio Winter Cranes fabric 
available at CalicoCorners.com.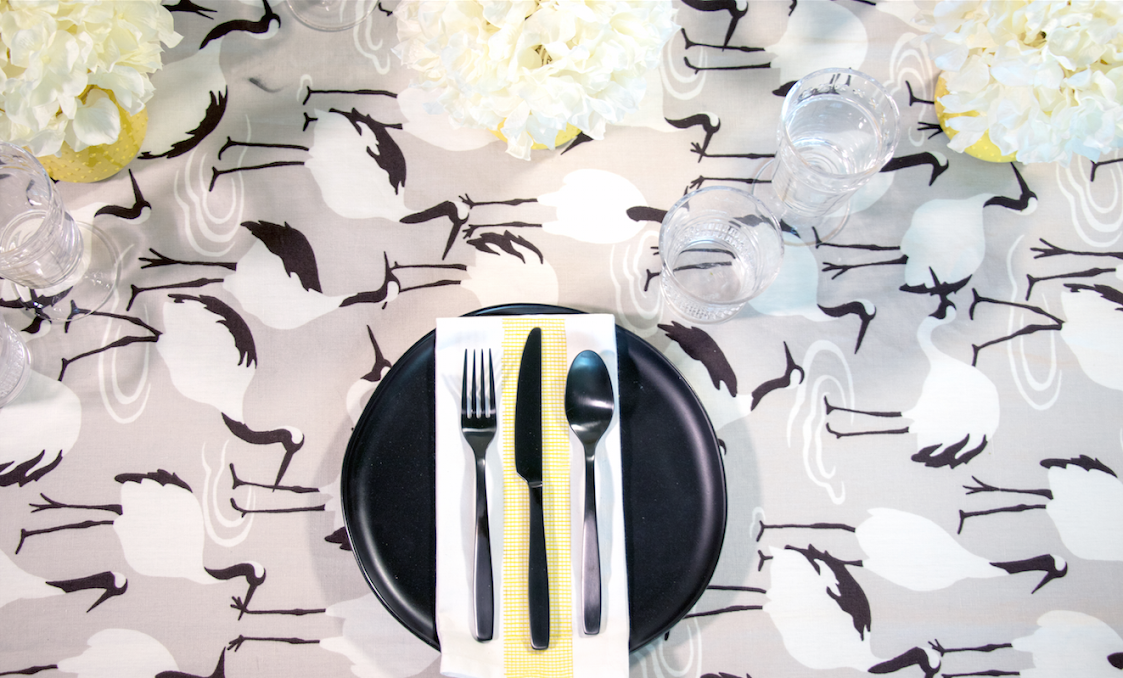 4. Comfy and Varied Seating Gives Dining Rooms a Designer Look on Dime
A great set of dining chairs are one of the reasons dining rooms can be so expensive to design, but this is where you can get a little creative: Maybe you want to try bench seating on one side and a mad hatter's tea party variety of seating on the other. (Designer Tip: try an array of the same simple chairs in different colors for an eclectic aesthetic)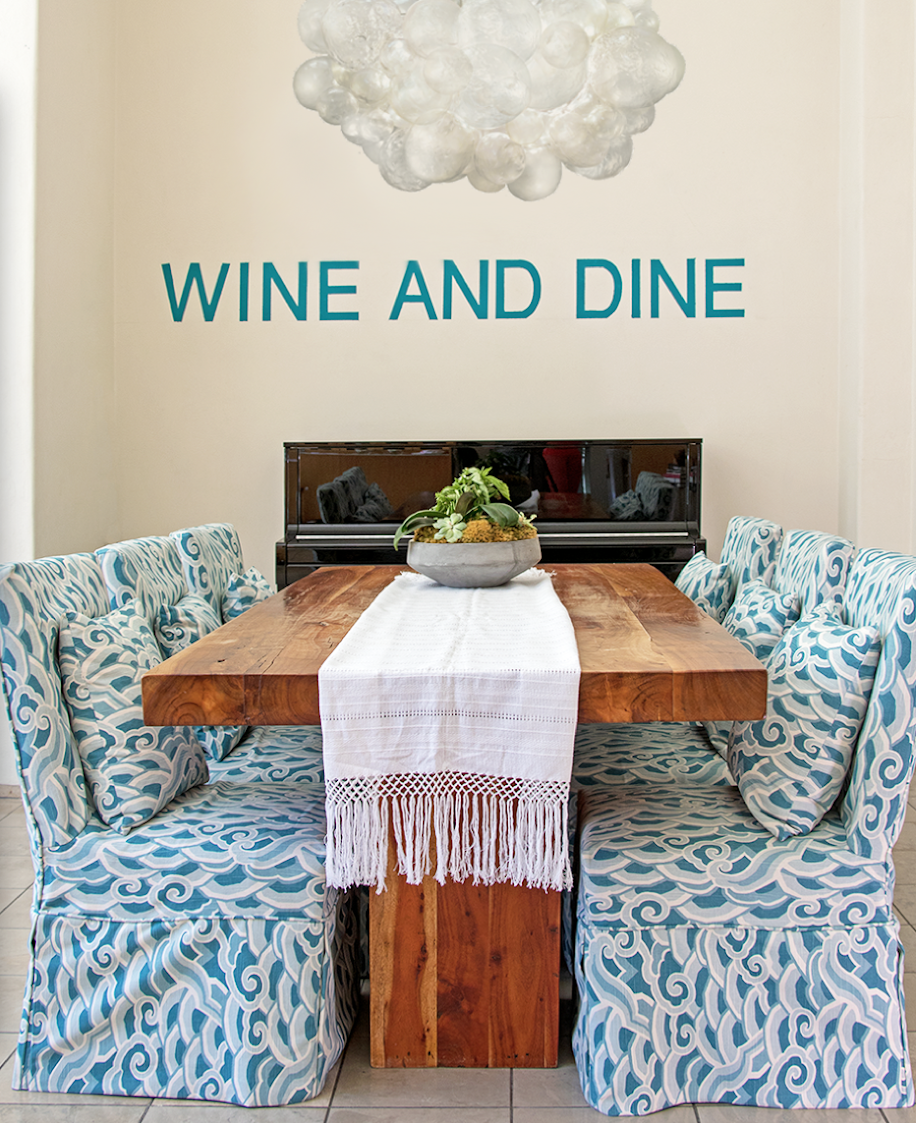 Another great way to customize is with seat covers that you can change seasonally (this also makes for easy laundering if anything spills) or choose a less expensive fabric for the chair seat and a more expensive, bespoke option for the chair backs– Custom and Thrifty! These dining chairs are covered in Sarah Richardson's Waves Peacock fabric from Calico Corners available at CalicoCorners.com.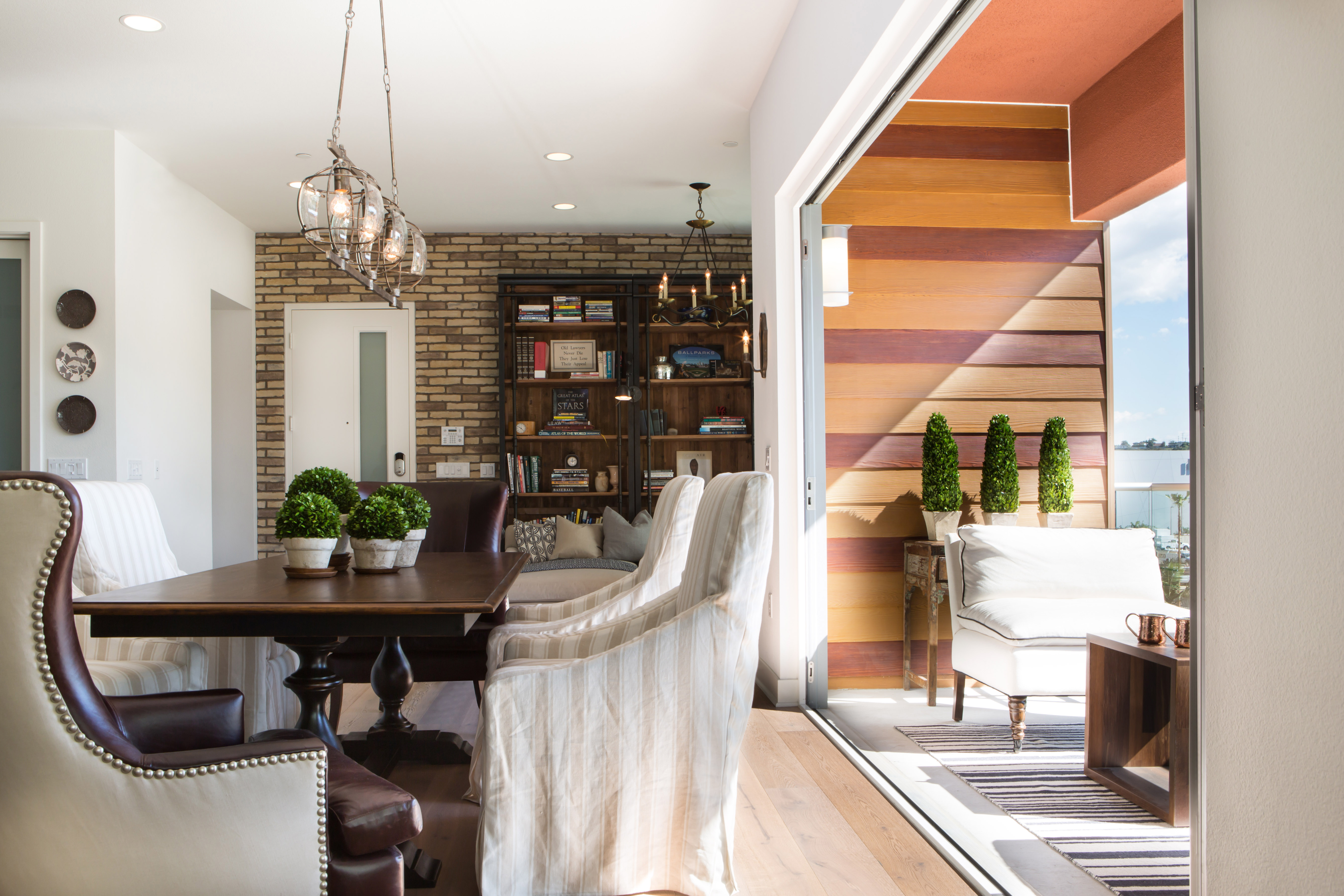 3. Great Artwork and Mirrors Look Gorgeous on Dining Room Walls
Dining rooms, especially those that tend to be formal, are great spaces to showcase an art collection. There are more ways to start building your art collection than ever before, no matter what your price point is.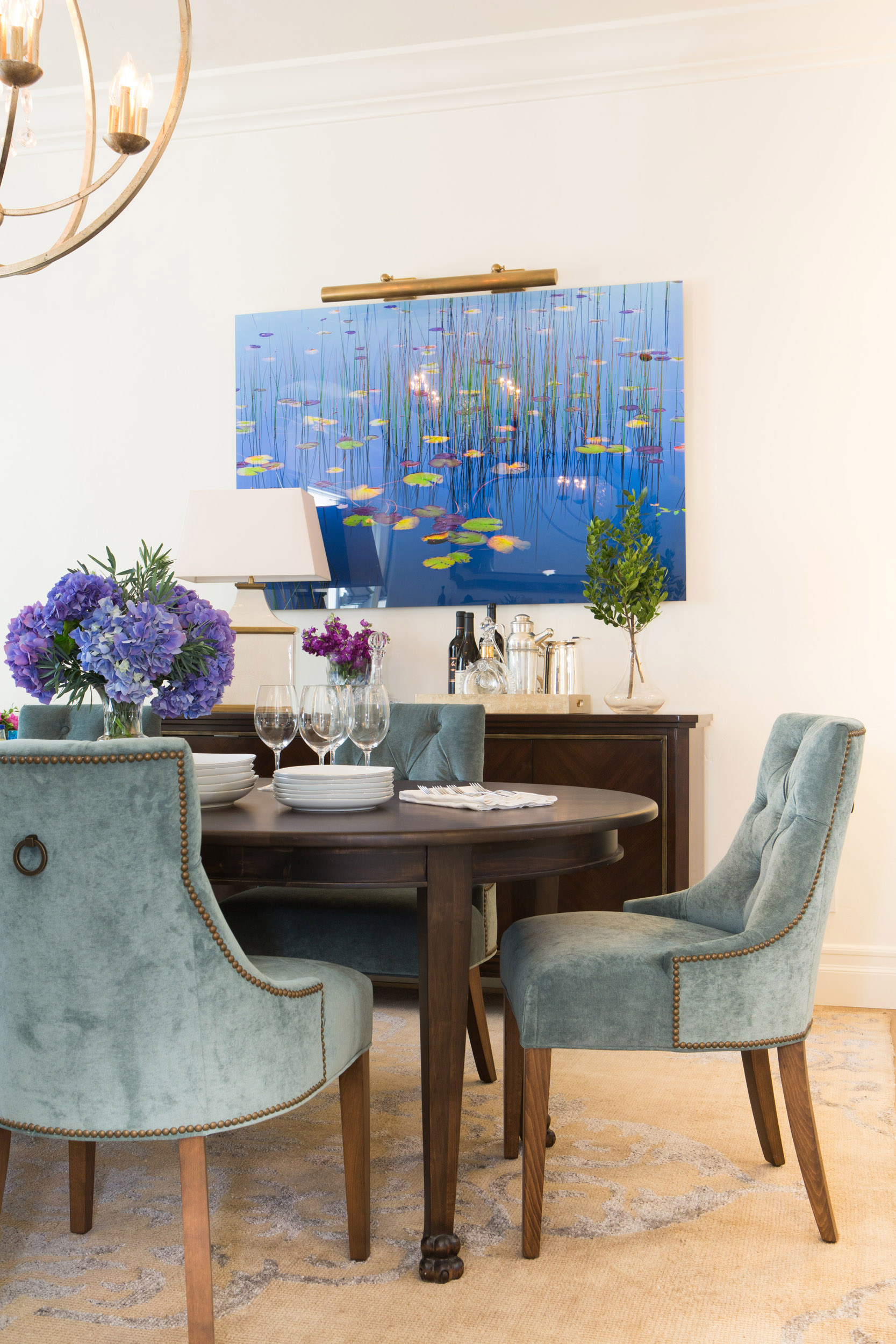 One of our favorite resources is Minted.com, which has an incredible selection of art and photography prints from emerging artists all over the world. Check out our curated selection of Minted art here.
Paint or Wallpaper – Take Risks in the Dining Room!
Take a risk with a bold color or print. An economical way to add a luxe, designer element is to choose a bold print for a ceiling–it may be the toughest wall to wallpaper, but at least it's only one!

Lighting Your Dining Room on a Budget
Shopping for lighting can be overwhelming, but finding a stellar chandelier to serve as a dining room's centerpiece is often a great starting off point to designing a dining room.

Lamps Plus has some gorgeous options at a variety of price points and their Mid-century-inspired, Color Plus collection is an effective way to add a simple pop of color to a space and get a gorgeous designer dining room on a dime!
For more design inspiration, check out our backyard inspiration blogs here.
---