DIY TIME: Custom Dip-Dyed Throw Pillows
I am so excited my episode of Home Made Simple with Laila Ali is airing this Saturday, April 28
th
at 9am ET (
6am PT
) on OWN: Oprah Winfrey Network.  On the show, we completely make over two overworked dads' bedroom and bring them in on the design process. I show them two ways to create their own custom boho chic dip-dyed ombre throw pillows. Watch the video for a DIY tutorial and try it yourself!
What You'll Need for DIY Dip-Dyed Throw Pillows
White Pillow Cases,  1Cup Salt,  1Bin Hot Water,  Container of Dye,  Bleach,  Paint Brushes,  Rubber Gloves,  Cardboard (To Insert)
DIY TIME: How To Make Your Own Dip Dyed Pillows
When you buy these dip-dyed pillows in the store, they can sometimes be $200+ so on the show, I decided to share two simple versions of creating your own custom pillows. The first involves holding your pillowcase in a bucket of dye and hot water and repeatedly dipping, submerging  a bit more of the pillow case each time to create an ombre (fade) effect. The second part involves taking your dyed pillow cases and painting with bleach to remove the dye. You can use any  color and paint any pattern you want. For this project we opt'd for a calming, natural indigo and created a tribal, bohemian splatter pattern to keep the pillows on-trend!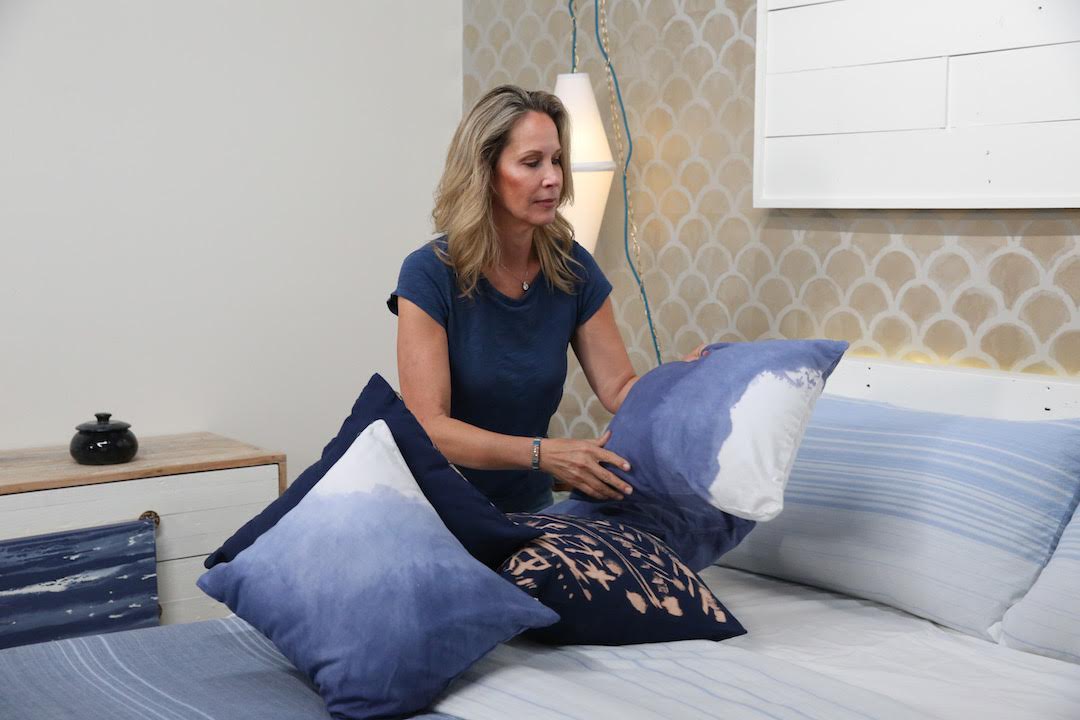 Lori Dennis on Home Made Simple with Laila Ali on OWN
Catch a sneak peek of what's to come here:
Behind the Scenes: Home Made Simple
Laila Ali truly leads an A-Team! (For a show on Oprah's network, would you really expect any less?) In addition to everyone working together wonderfully, we all had such a blast making over the home of such a deserving family.