What Is California Cool Style?
California Cool is light and breezy: It's citrus, salted air and faint beach waves crashing in the distance. The aesthetic is minimal, but still warm. It's not necessarily modern, but you wouldn't describe it as 'timeless' either: that would feel too formal. We wanted to reach peak California Cool when we renovated a Lemon Ranch property in sunny Southern California. Read on for the best design tips to get the look in your home. You can even shop our sources for this project so you can get the look yourself:
---
1. Keep Fabrics Clean and Organic
We'll talk in greater detail about color palette in a second, but first we'll focus on the feeling of California Cool, rather than the look of it. Lean towards linens and other soft, breezy, organic fibers that resemble what you'd find outdoors, in nature, near the beach.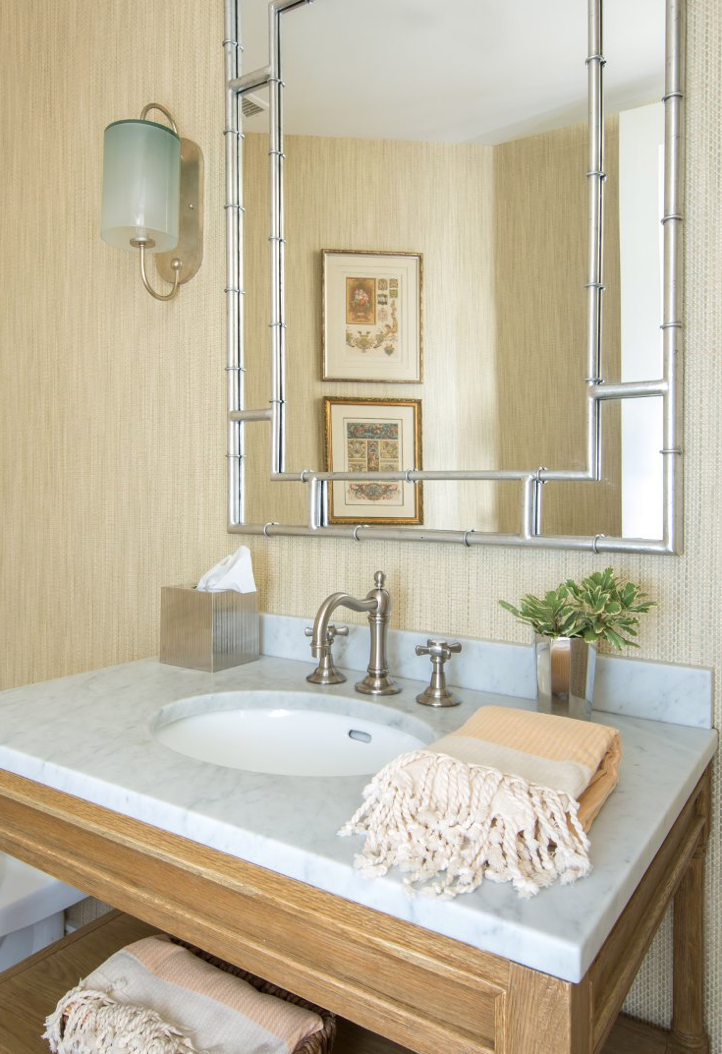 2. Keep Palettes Light And/Or Monochrome
The home's color scheme of creamy whites and warm wood lets the lush outdoor backdrop pull the focus. Having a variety of hues and various textures is important so your monochrome doesn't begin to look like you're lost in a snowstorm — including some browns and beiges in natural textures is a surefire way to make sure your monochromatic palette leans more towards Spring/Summer than Winter Whites.
3. Warm Woods
Wooden furnishings give this otherwise soft style a strong spine and still maintains its earthy, naturalistic atmosphere. By mixing and matching wood finishes you can achieve various effects that all play within California Cool: for a vintage, lived-in, or more industrial look perhaps you'll want some reclaimed pieces. In this home, we used the wood furnishings to add a sturdy, masculine touch and opt'd for clean, well-polished, pieces.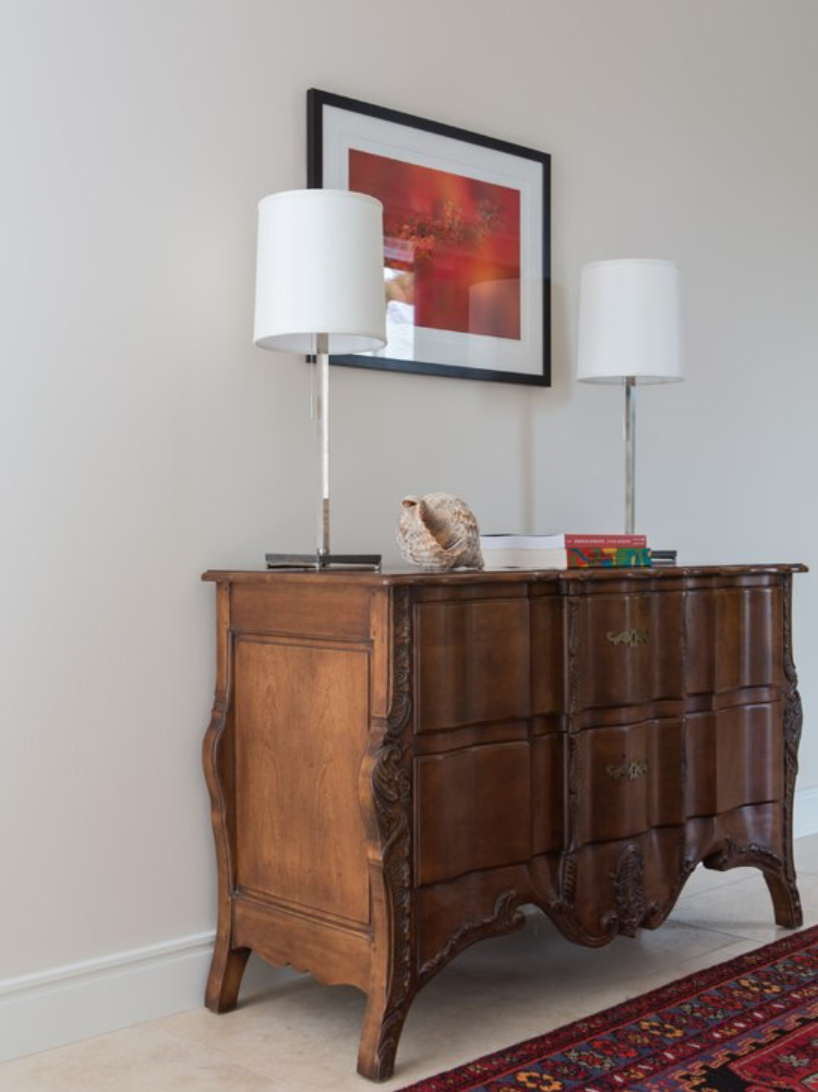 4. Window Treatments Should be Breezy
As we've mentioned, this is a style that places the focus on feeling first, before the aesthetic: When in doubt, focus on how breezy you can make a room: How easily air can flow from the outdoors through the space. When it comes to window treatments, that means lots of sheers! Speaking of indoor-outdoor flow…
5. Indoor Outdoor Flow
Lush outdoor landscape is integral to a luxurious indoor-outdoor living experience. Working with a landscape architect while you're designing the home to optimize views and flow is extremely helpful. This is one area we'd recommend investing in properly rather than trying to DIY.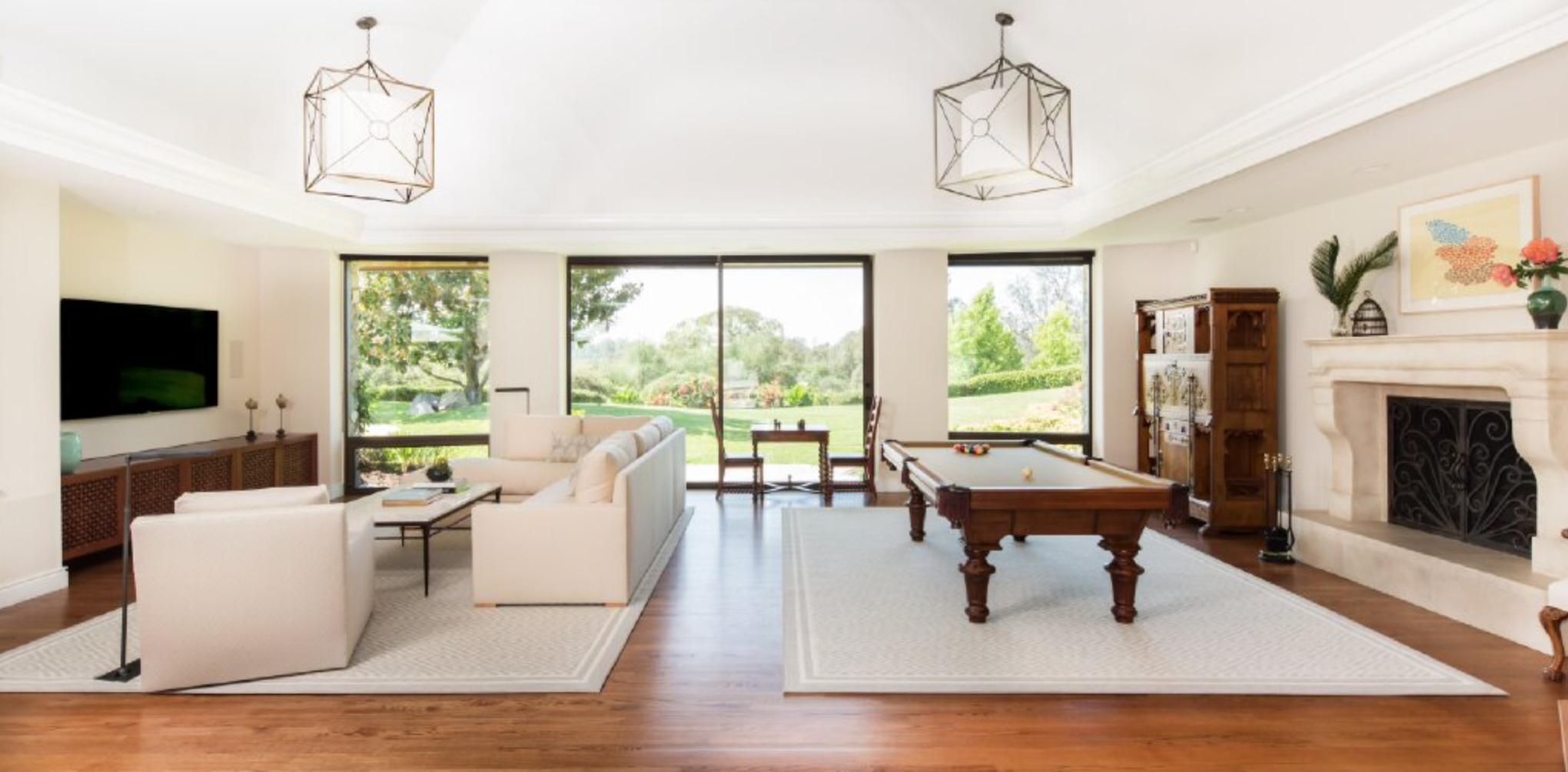 Choose a durable tile flooring that can carry you from indoors to out, and doors and windows that allow a generous breeze. One element of this process that often gets neglected is the outdoor lighting: A focus on outdoor lighting is going to elevate your space and take you seamlessly from day to night. The outdoors should remain as much as part of the home even at night.
6. Keep Lines Relaxed
Relaxing and casual are two of the first words that come to mind when you begin to describe California Cool style: This isn't a space for curling chesterfields and stiff, traditional upholstery. You should want to lounge in these spaces and spend some time: one measure of a good chair, after all, is how many different ways you can lounge in it, and for how long.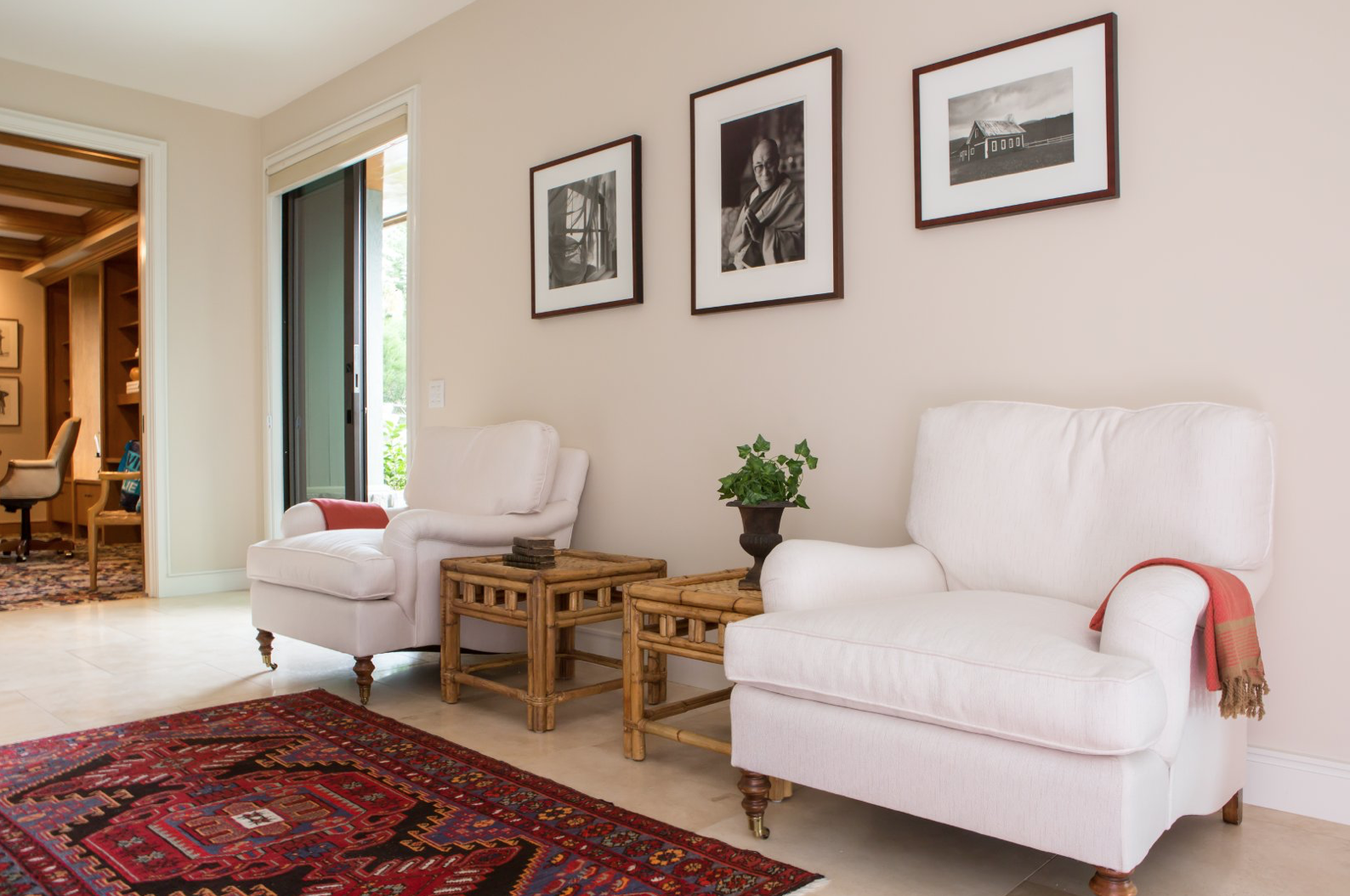 7. Outdoor Lounge
We had so much outdoor space to run wild with on this property, from the marshy orchard to the poolside patios to the outdoor dining and kitchen areas.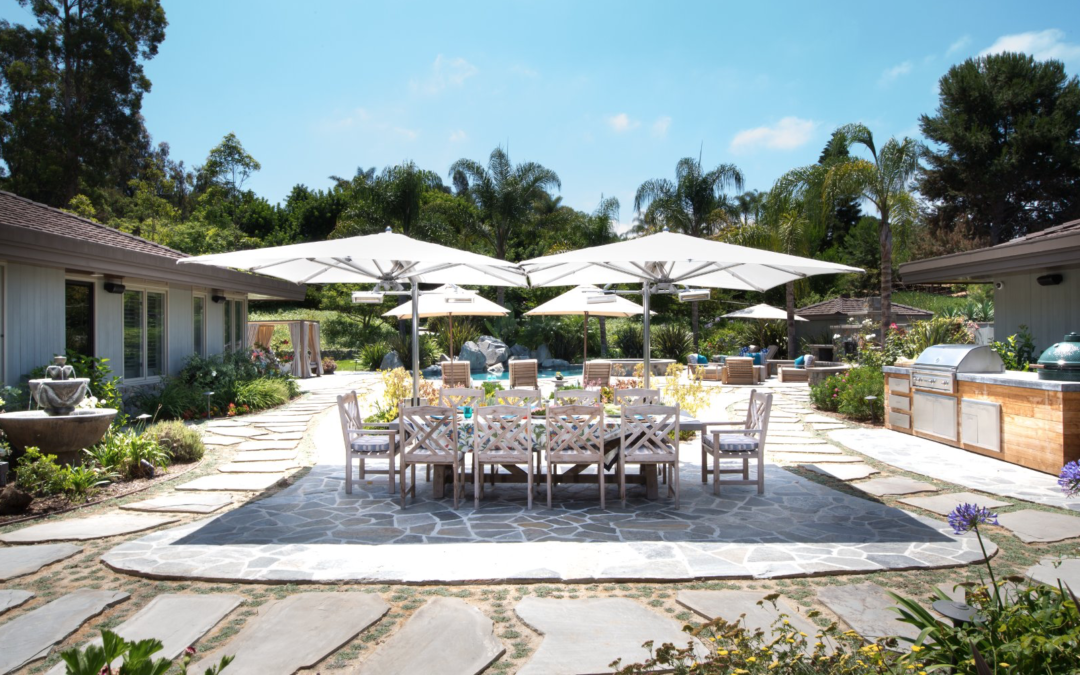 In the garden area, amongst the palm fronds and pink and green foliage, you'll find water features and wrought iron benches to elicit a sense of 'Secret Garden' isolation.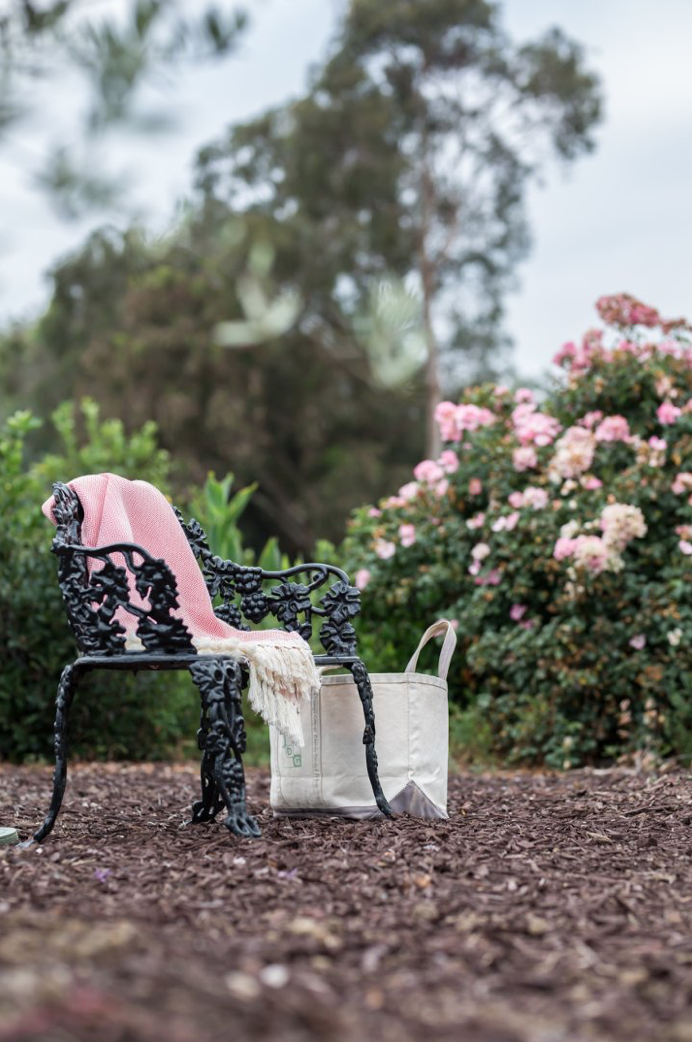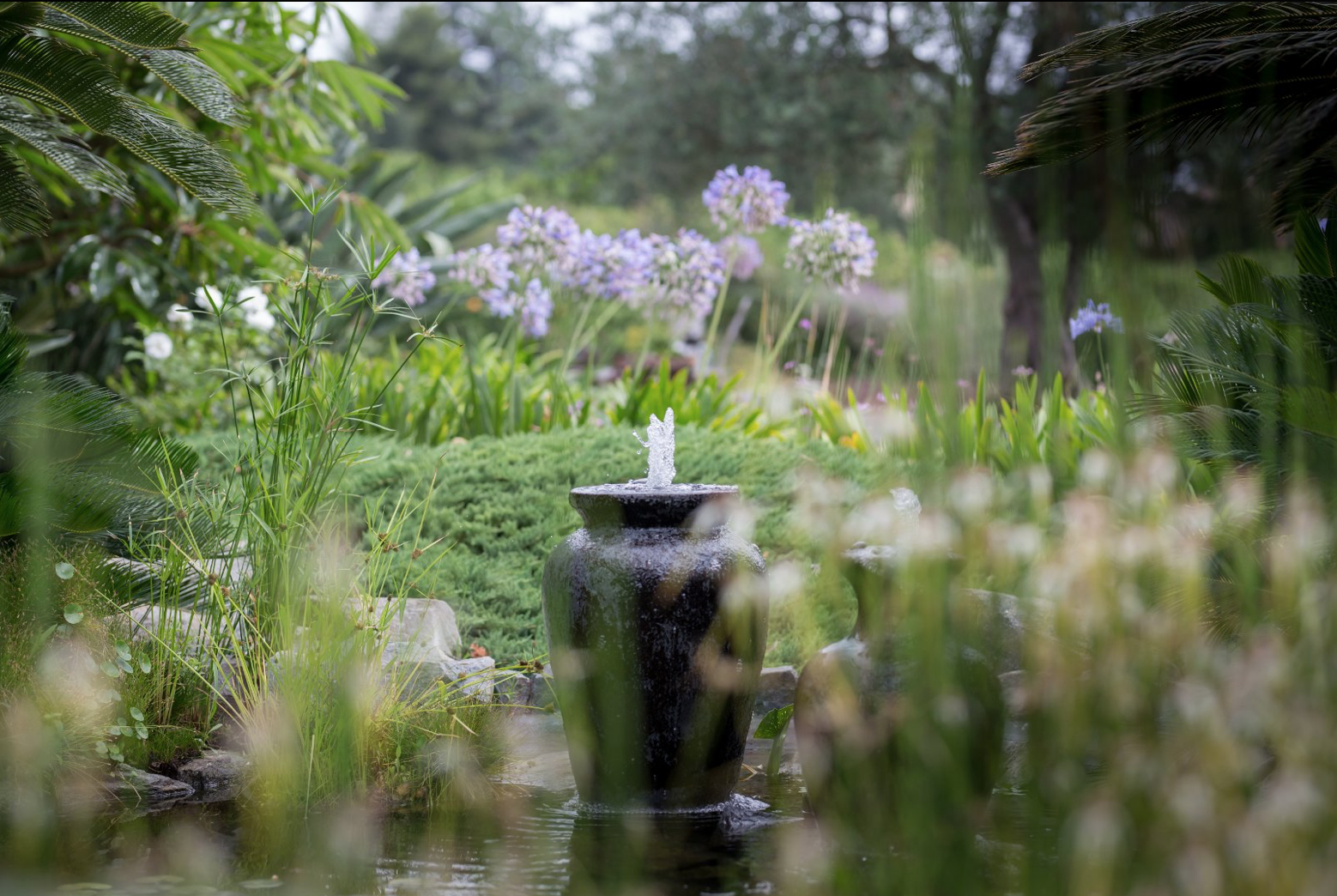 The patios and pool area were optimized for entertaining, complete with poolside chaise loungers and cabanas, side tables and baskets well-stocked with towels for guests. We brought fine dining outdoors with elegant outdoor dining sets in wood finishes around the built-in grill.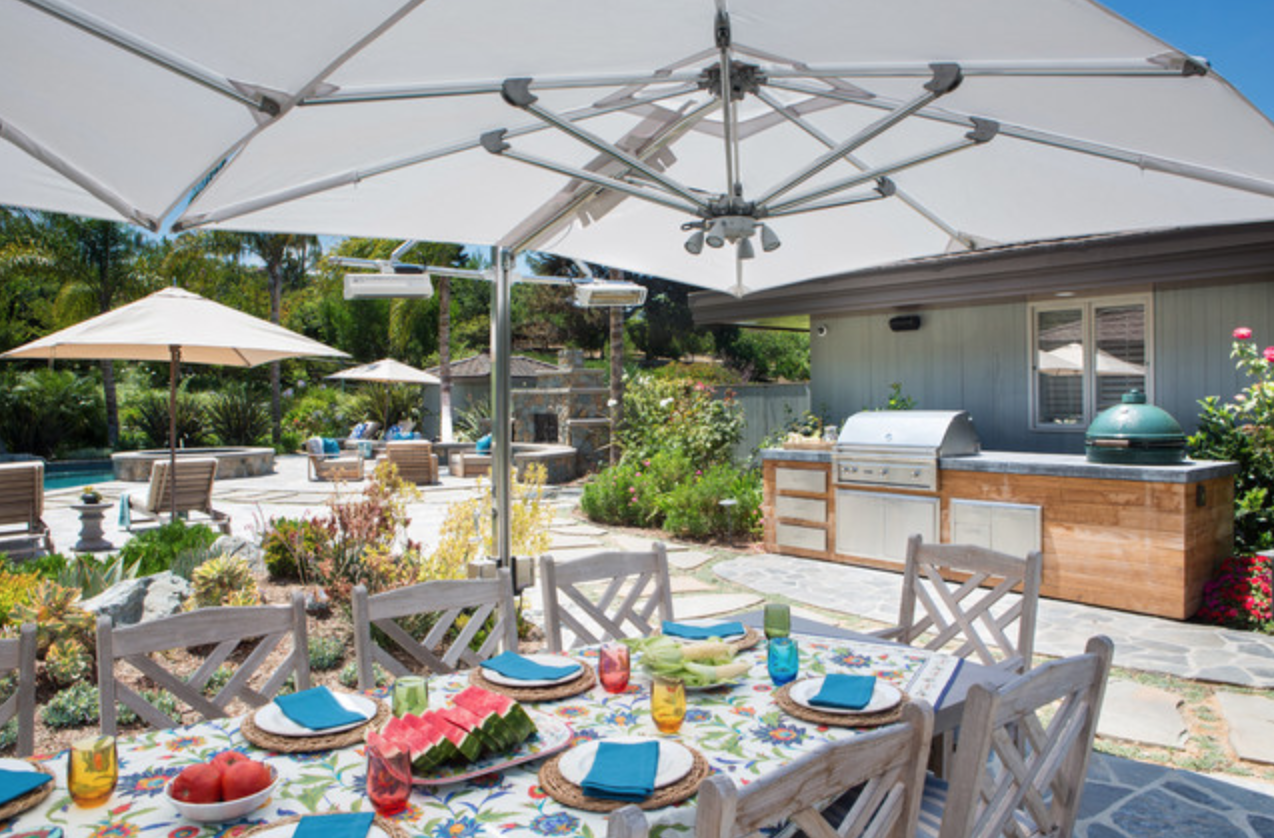 Beside lounge chairs with their wavy-printed throw pillows, we installed modular, concrete cocktail tables that will hold up whatever the weather and are sure to match everything and blend in with their surroundings.
And last but not least, what better way to entertain into the wee hours of the night than around an outdoor fireplace?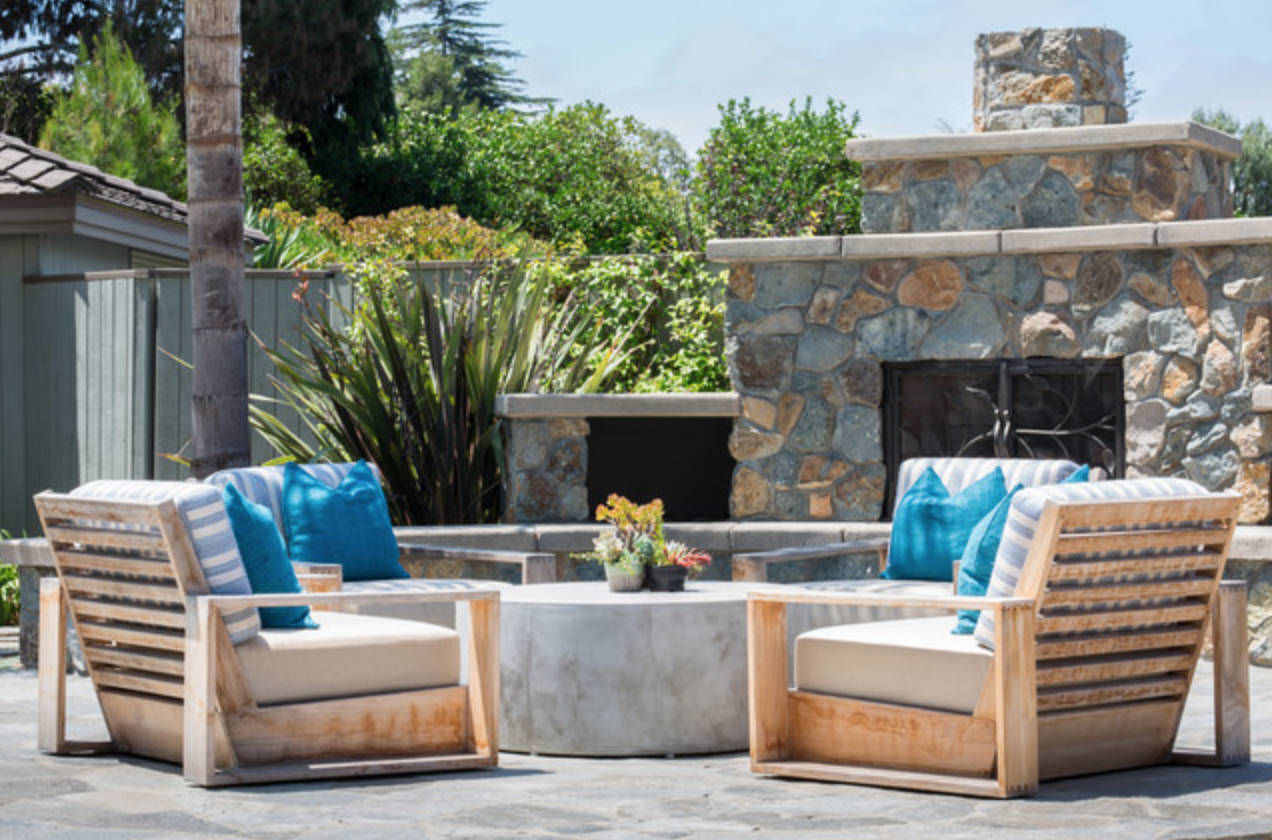 8. Rugs & Art
Rugs and art are a great way to introduce pops of color to an otherwise neutral color palette. They're also great ways to marry bucolic elements with the material world. Many designers might suggest black and white photography of oceanic elements in this type of space, which we certainly included some of to drive the motif home. But we opted for more vintage, global fine art throughout the home instead to give it a sophistication, traveled feel.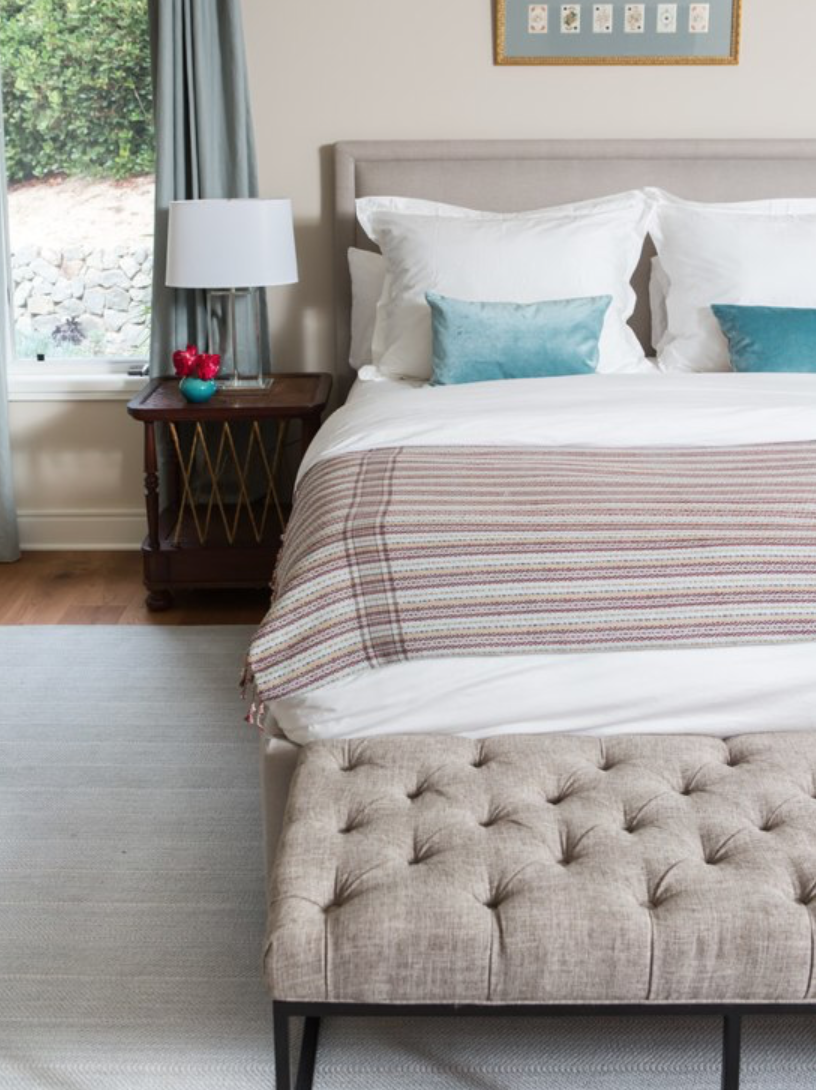 9. Something Old, Something New
Lemon Ranch is a contemporary home mixed with antique furniture to create a classic combo of old and new. You'll find antique desks and chairs throughout, maybe something you'd find in Indiana Jones' den.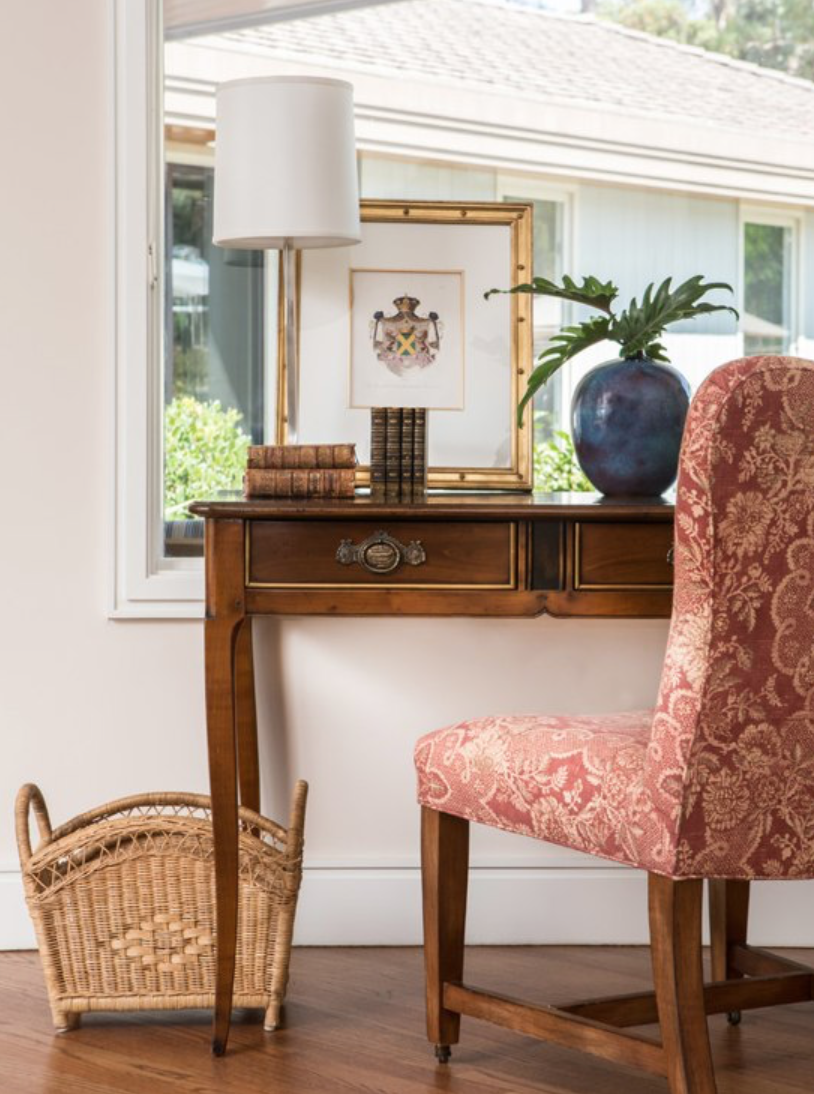 10. "Boho Vibes" Not Necessary
It's incredibly trendy to associate the California Cool aesthetic with rattan and macrame, an abundance of indoor plants, and layers of jute rugs, but you don't need these elements to get the California Cool look. Instead, before over-accessorizing, take a tailored approach and pare back as much as possible. Add only what you need. Focus on the flow of the space from indoors to out, from one room to another, and focus on investment pieces: furnishings that will hold up from prolonged sun and salt-air exposure and that will actually be utilized. As you can tell, this home is many things, but 'bohemian' isn't the first descriptor that comes to mind…
Read more about how to and how NOT to do boho chic.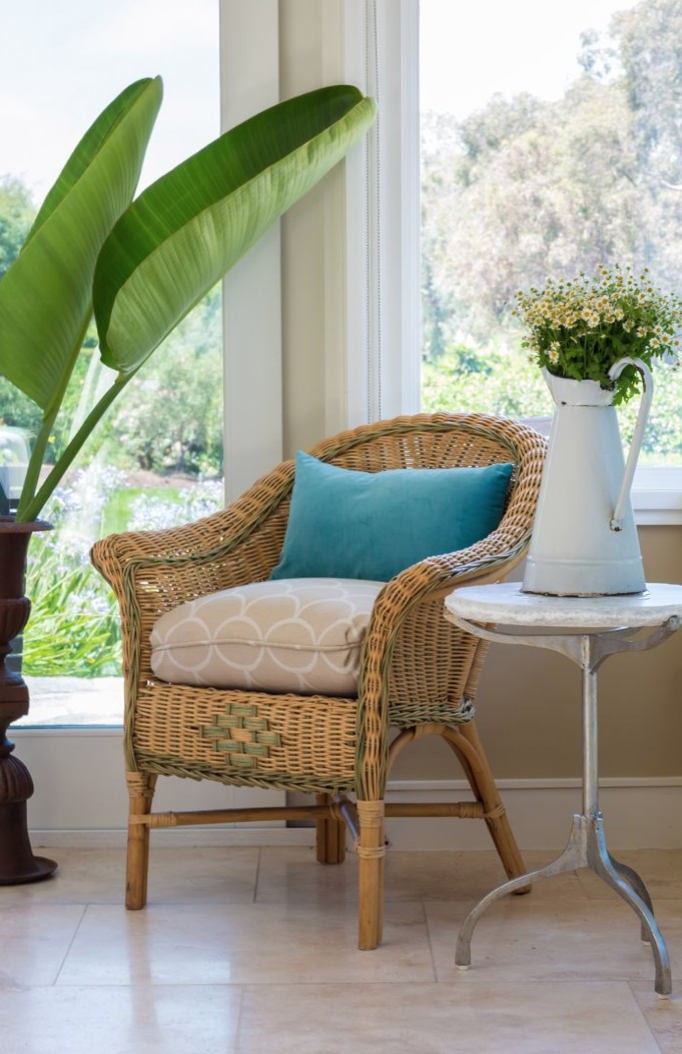 SaveSave
SaveSave
Shop The Post: California Cool Home Decor