If you like to keep busy like us at Lori Dennis Inc., I'm sure you can relate to being exhausted from time to time. We've all gone through bouts of being overworked and sleep deprived, so we thought we'd share some of our best tips to beat the midday slump without immediately turning for that extra cup of coffee. Without further ado, here are our 10 Tips for a Better Night's Sleep: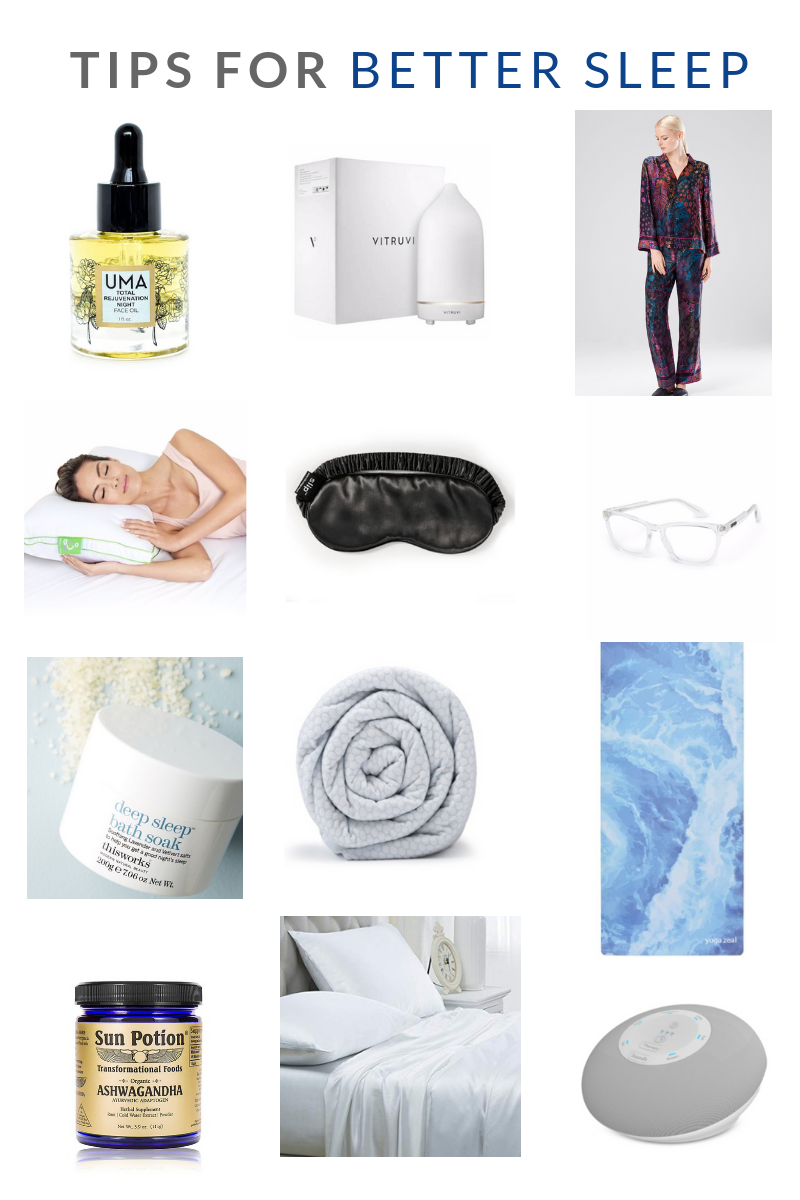 If You Have Trouble Falling Asleep…
We spend all day long staring at our phone and computer screens and the blue light the screens emit is wreaking havoc on our eyes and brains. If you can't outright avoid screen time (let's be honest – who can these days?) the next best thing you can do is minimize exposure to it and using blue-light blocking glasses or screen films when you're on your device is a great way to help.

We love a simple, silk sleep mask. One you can warm up or cool down as a compress is an added bonus. We also love one with lavender for its soothing aromatic quality. But sometimes all you need a light layer blocking out any extra light that's creeping in.

Wind Down Before Bed…
Or really any decaffeinated tea! A pinch of Sun Potion Ashwagandha in our tea is a favorite nighttime ritual among our team. It has an earthy taste, and an incredibly calming effect. Another great thing about Ashwagandha is that.you need so little of it to feel its effects so a jar like this lasts forever!

Winding down before bed with a nigh time vinyasa in jammies is a great way to prepare your body for sleep. Relax your muscles from the workday, increase blood flow, and focus on your breathing and you might just fall asleep on the mat. 😉

Light a candle and soak in some salts. A detox bath before bed is a great way to get zenned out before bed.  We love the 'This Works' line of bath and skin products from Kathy Phillips because it's all natural, chemical-free, and vitamin rich.

Set the Mood for Sleep…
Sometimes it helps to be warmly swaddled by the perfect amount of weight of a good weighted blanket.

And sometimes you want to start with that, but it becomes too much – then you need the option shed a layer and switch over to some light, breathable bed sheets.

7. Be Sure You're Sleeping on Clean, Breathable Pillows
Along the same lines,  if you find yourself tossing and turning throughout the night. Your pillow might be to blame. Find some good, breathable pillows that are ergonomic and have well-ventilated cushions. (Ditto for your mattress, but that's a more expensive swap. Try new pillows first and see if that helps.)

Hydrate, relax, and make your space smell good? Yes, please! A diffuser and essential oils are such a simple addition to the bedroom that work triple duty. You don't see designers raving about them on Instagram so much, because they don't always make the pretty portfolio picture, although this one from Vitruvi might.

We're always looking to try out new essential oils and scents. So be sure to let us know your favorites in the comments below. These Uma Oils make our list because they're vegan, free of any synthetic ingredients, and cruelty free. They're always potent and fresh as they're produced in small batches on a family-run estate in India.

If you love to fall asleep to white noise or the sound of the ocean, find a good sound machine that works for you. This one because is great because it's small enough to keep on a nightstand or hide away in a bedside drawer during the day.

Think of them as your 'sleep uniform,' and slipping into silky PJs can become part of your pre-sleep regiment. Notori is a great brand to turn to for the emphasis they place on comfort as much as on the aesthetics. How cute are these?

Shop the Entire Post Here: Our Favorites for a Better Night Sleep: