Tons of tiny details at went into making this kitchen perfect for our client in Bel Air, but there were three major things that drastically transformed the space. Watch this latest episode of Renovation Inspiration to find out:
Kitchen Renovation Tips for Any Budget
This is something you can do on nearly any budget to give a room a massive facelift. We took this kitchen from drab to fab with the help of a bright white paint. We even white-washed the existing brick by mixing the white paint with 20% paint thinner and a light application so the brick could still show through. When it goes on too heavily, it loses that great texture that contributes to the space so nicely.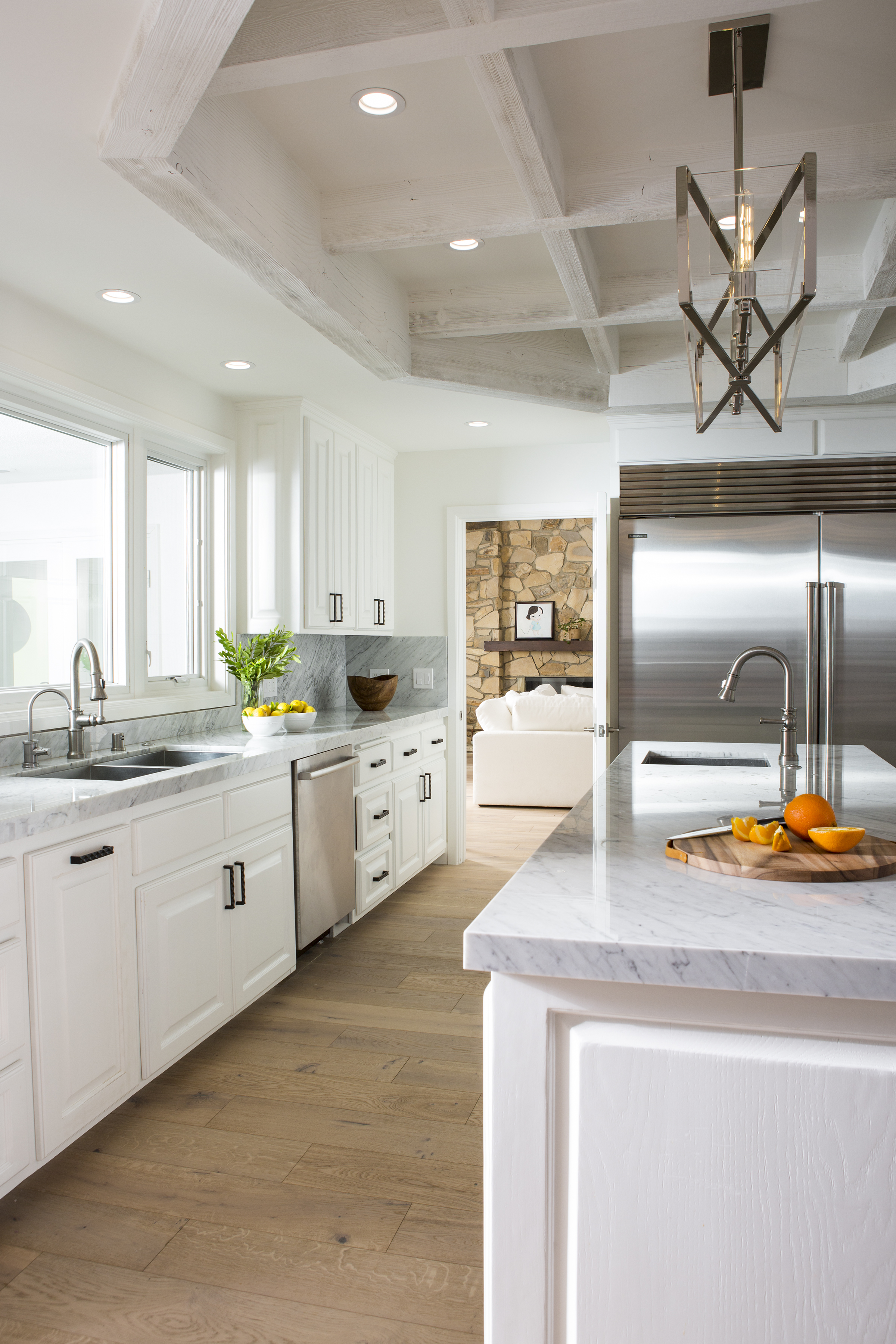 By brightening up the kitchen, we opened up the space and made it more airy and serene to match the rest of the home. Cohesion is incredibly important in the kitchen design. Because a kitchen renovation can be such a big and costly undertaking, many renovate kitchens independently of the rest of the home. When doing so, a common mistake homeowners make when they renovate their kitchen is not thinking about how it is going to flow with the rest of the home. We've all been in that Frankenstien McMansion with a futuristic kitchen that flows clunkily into a more traditional living or dining room. Avoid that by making simple, clean, timeless design choices.
Three-Tiered Lighting Plan
A great way to enhance your kitchen and completely transform the space without breaking the bank or an intrusive overhaul is with my three-tiered lighting approach. If you read my blog often, you know I am a big fan of layered lighting and the effect it has on a space.
First think about your task lighting…
This is any lighting that highlights specific activities: cooking, prep stations, sink, etc. In the Bel Air kitchen, the recessed canned lighting serves as our task lighting.
Next: Ambiance Lighting
This is going to glow and give the space a luminance, that extra oomph. In this kitchen, that's our under cabinet lighting. That's an easy install whether you're starting from scratch with a brand new kitchen or working with existing cabinets.
Lastly (and this is my favorite part!): Accent Lighting to Add Bling
While pendant lighting has been particularly popular the last few years (especially industrial vintage style farmhouse pendants), we opt'd for a single show-stopping, but still very functional chandelier over the island of this Bel Air kitchen that's proportional for the large center island. It's open-cage style mimmics the architecture and flow of the rest of the home. We installed edison bulbs –updated for the 21st century with LEDs that are sustainable and incredibly efficient.
---
Tour More Rooms of the Bel Air Road House on Renovation Inspiration: