Yesterday was incredible. We finally installed our Pen & Napkin project and made life a little brighter for a family in need. Pen & Napkin is a wonderful organization here in Los Angeles that connects well-deserving families transitioning out of homelessness with interior designers to furnish their first homes. We're ending homelessness with design! Watch the video to see behind the scenes of the installation process and stay tuned for the big reveal at the end!
Ending Homelessness with Design
When a family transitions out of homelessness and into an empty home, they are highly likely to return to homelessness soon after, but when that same home is furnished, the recidivism rate drops considerably.
NBC News features Lori Dennis and Pen & Napkin | Helping Family Transition Out of Homelessness
NBC News features Lori Dennis and Pen & Napkin | Helping Family Transition Out of Homelessness from Lori Dennis on Vimeo.
Meet our Pen & Napkin Family
Cristal is a single mother of four who has endured her fair share of hardships in relationships and finances, finding herself and her children housing-insecure. We jumped at the opportunity to help lighten her load and create a serene space for her and her children to come home to. Hearing her story was quite the heart-opener that left an impact on us all.
We Get By With a Little Help From Our Friends to End Homelessness
We couldn't have done it without the help of our friends. The home was designed entirely from donated product. Success in the design industry is highly predicated on relationships with makers and manufacturers, and after 20+ years of working in the design industry it was time to roll up our sleeves and put those connections to work. We were overwhelmed by the outpouring of support from some of our favorite vendors:
The Kitchen and Dining Room
The communal spaces like the kitchen and family room were extremely important – we wanted these to be spaces for the entire family to spend time together, laughing and cooking!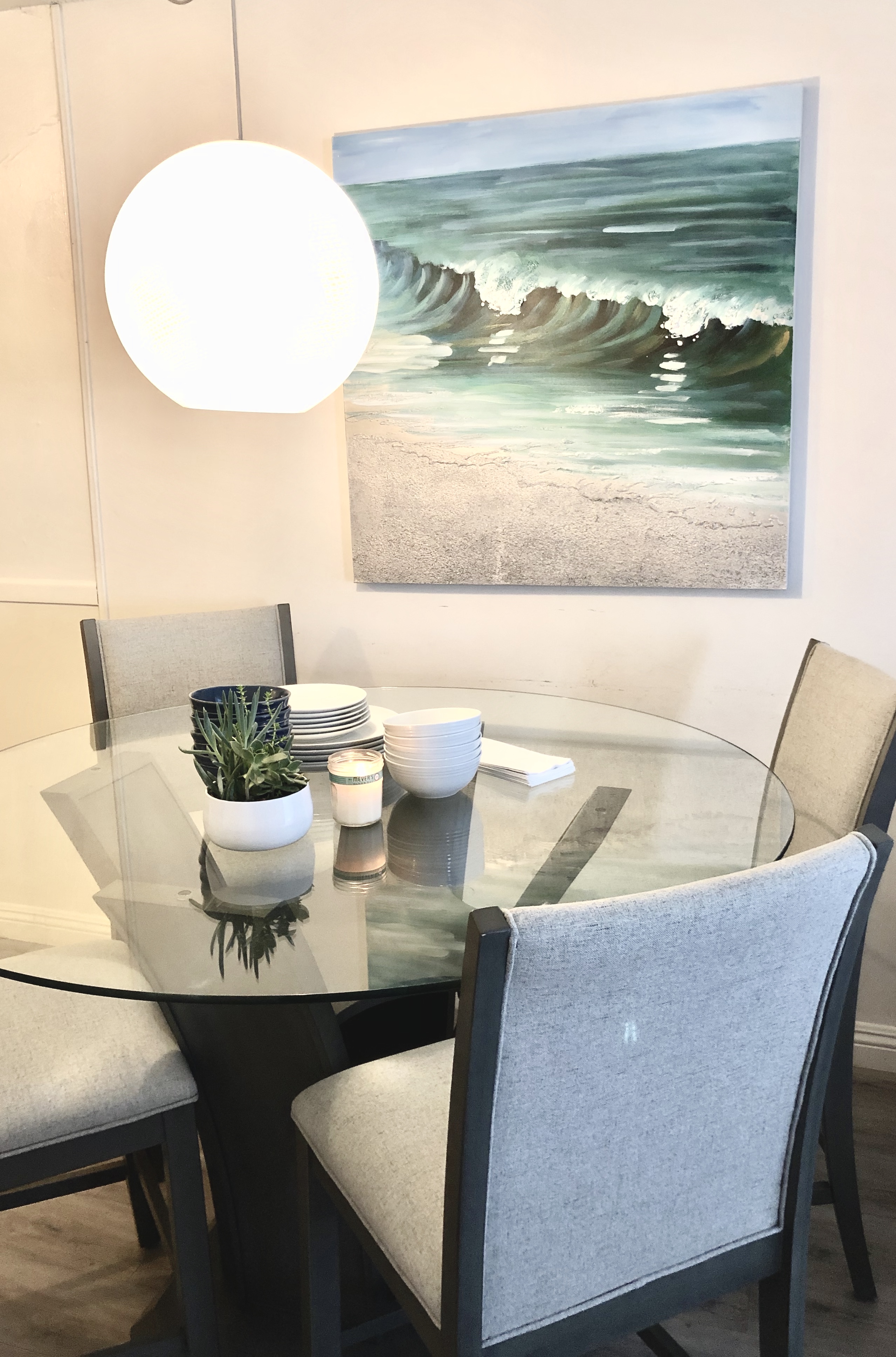 Ferguson showrooms donated the dining room chandelier above the dining table surrounded by Jerome's Furniture dining chairs. And dishware from Oh Joy was just the cheerful touch the tabletop needed! Their plates are biodegradable, phthalate-free, and child-safe.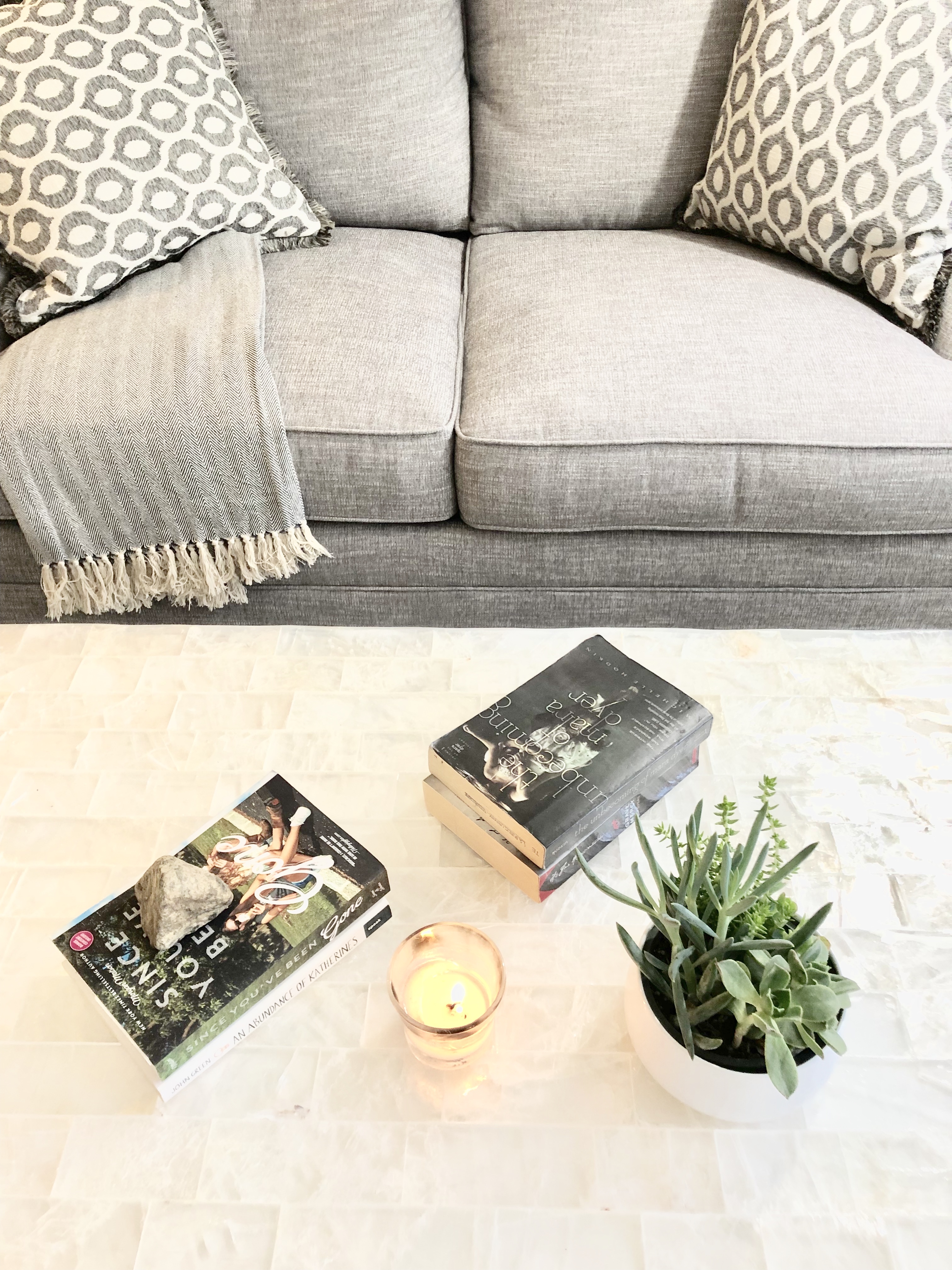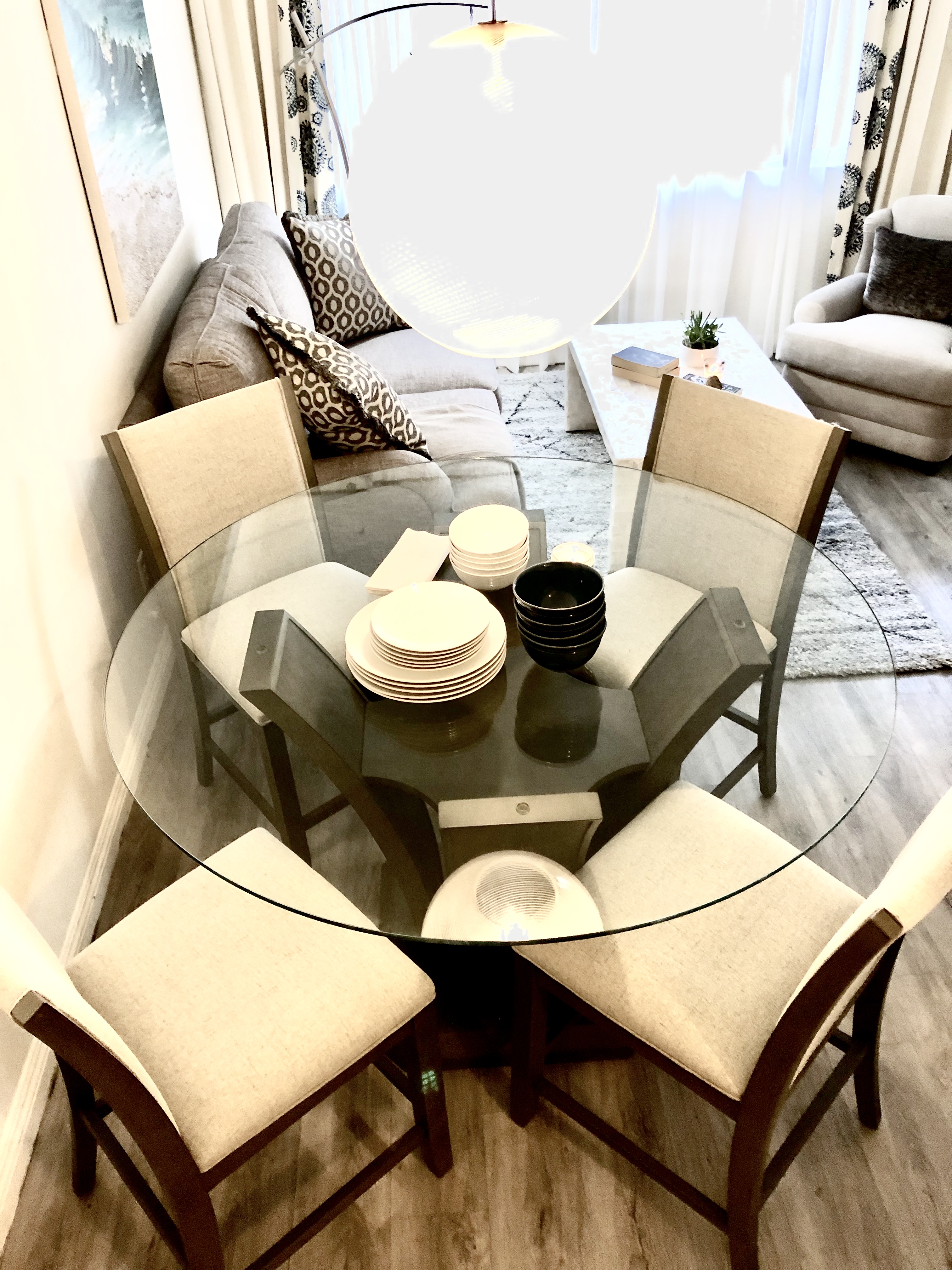 As an added touch, Trader Joe's generously donated plants to breathe a little life into the space! We love their plants and always have a few floating around our own homes!
The Family Room
A Bernhardt coffee table surrounded by a Bernhardt sofa and Gina Berschneider Furniture club chair give the family room a sleek, but cool and casual feel – The perfect place to curl up with a book!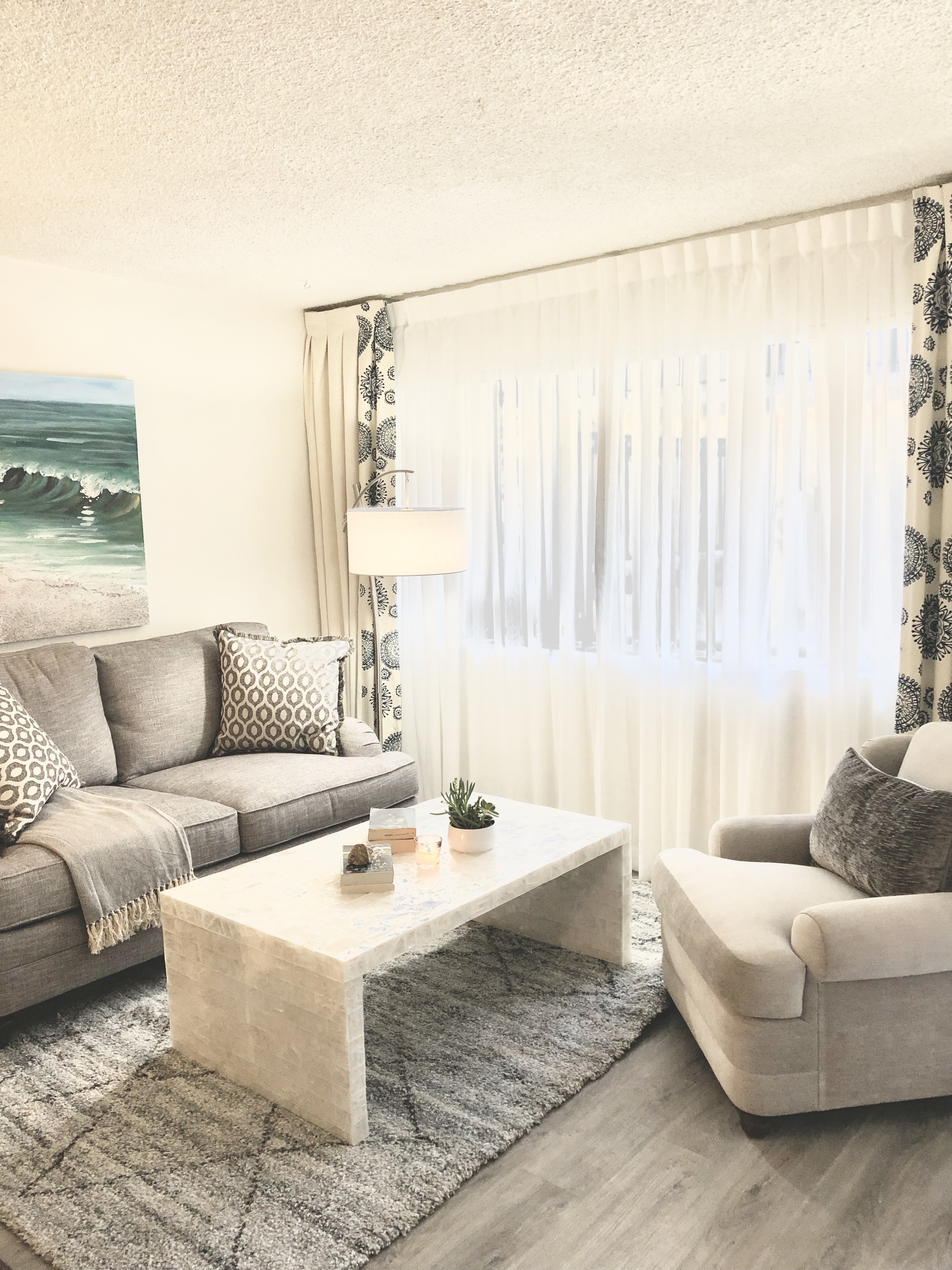 All the rugs came from Jaipur living. We love the organic, naturalistic way their rugs tied the spaces together. And we are so thrilled we were able to add an extra layer of comfort with custom drapery from Heritage Draperies Workroom.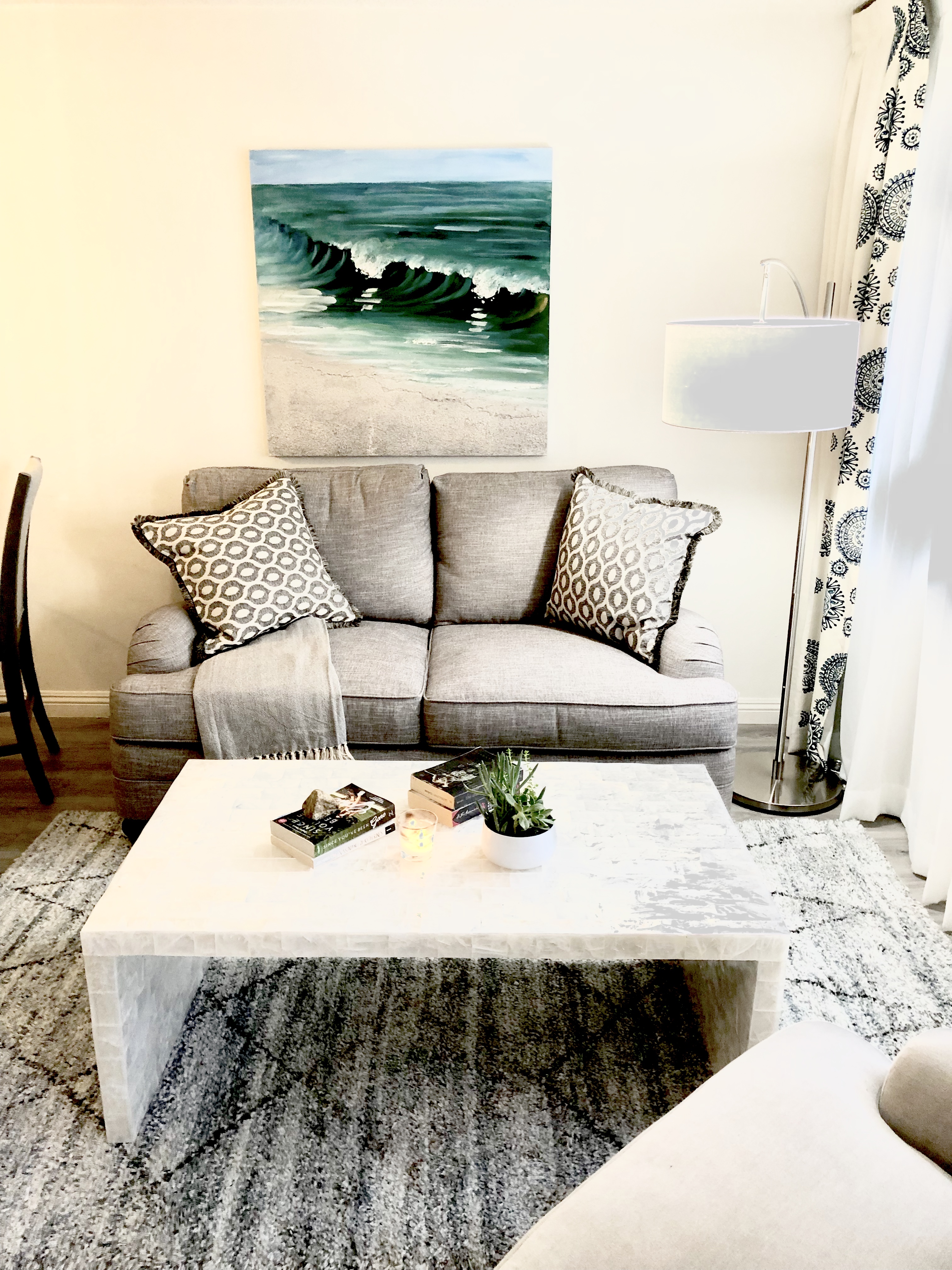 The Bedrooms & Bath Room
The beds are from Universal Furniture and all bedding and mattresses were provided by Nest Bedding Organics. If you're on the lookout for new bedding, be sure to check them out. They're soft and healthy and we're all getting them for our own beds now. 🙂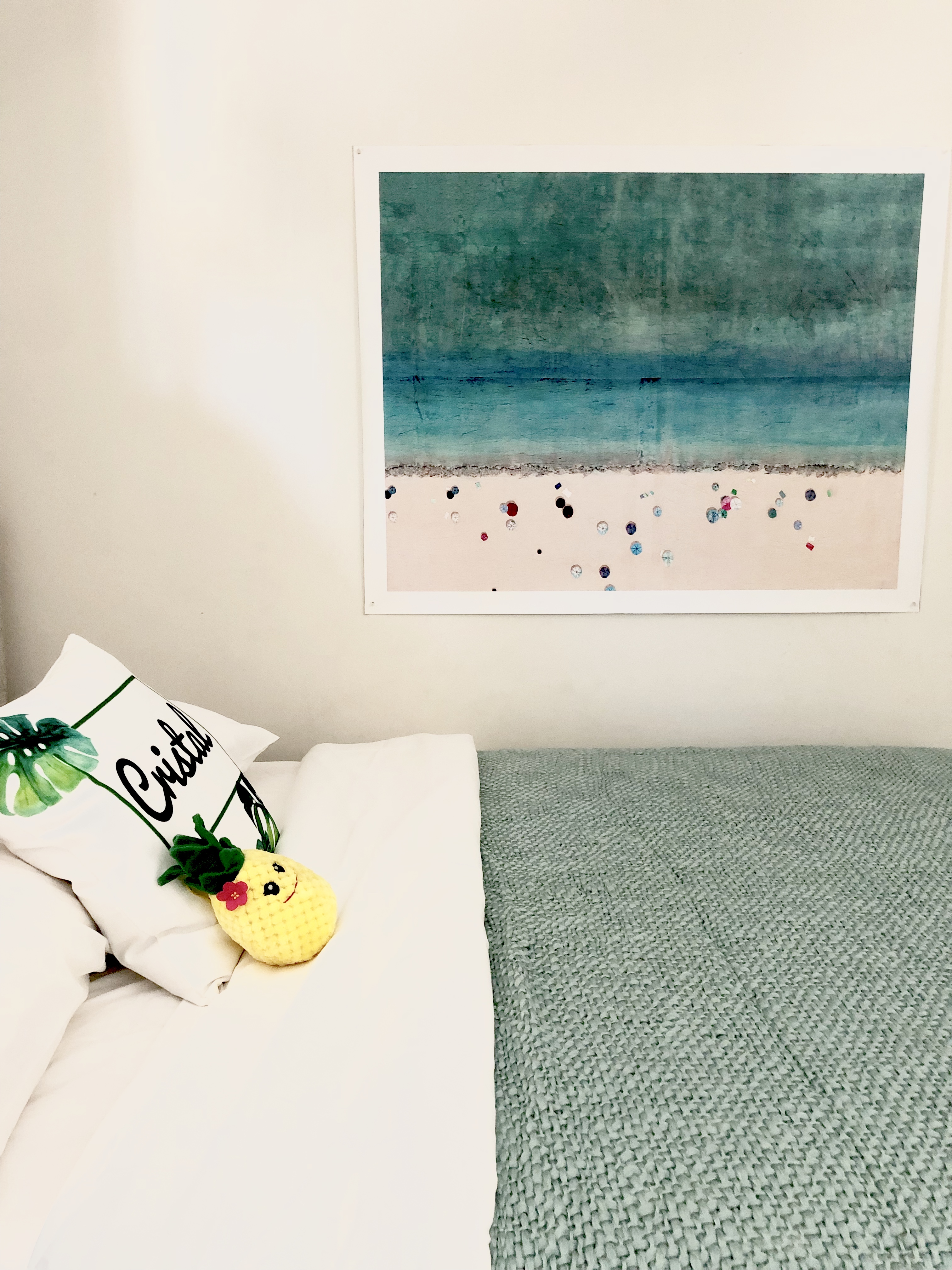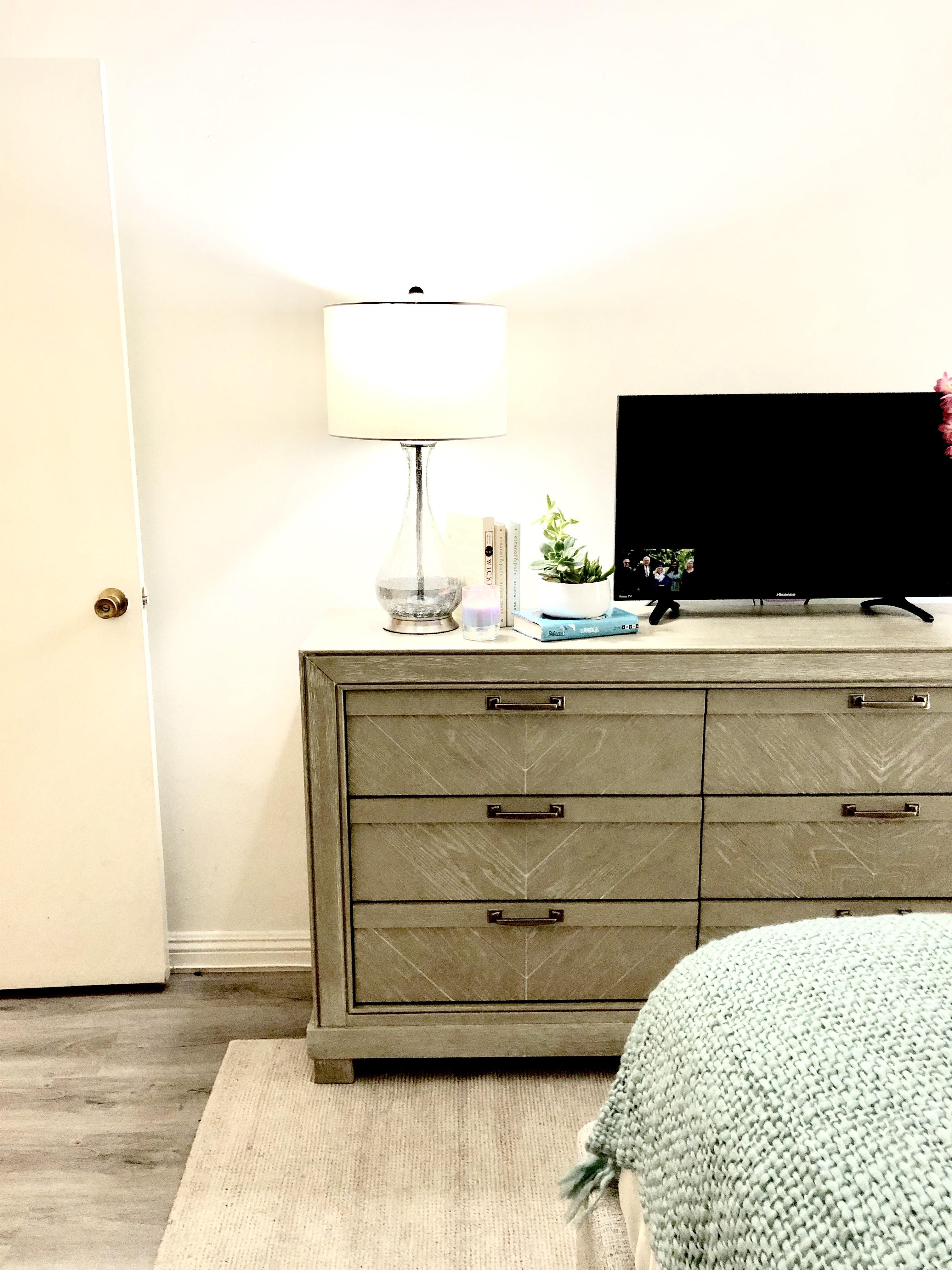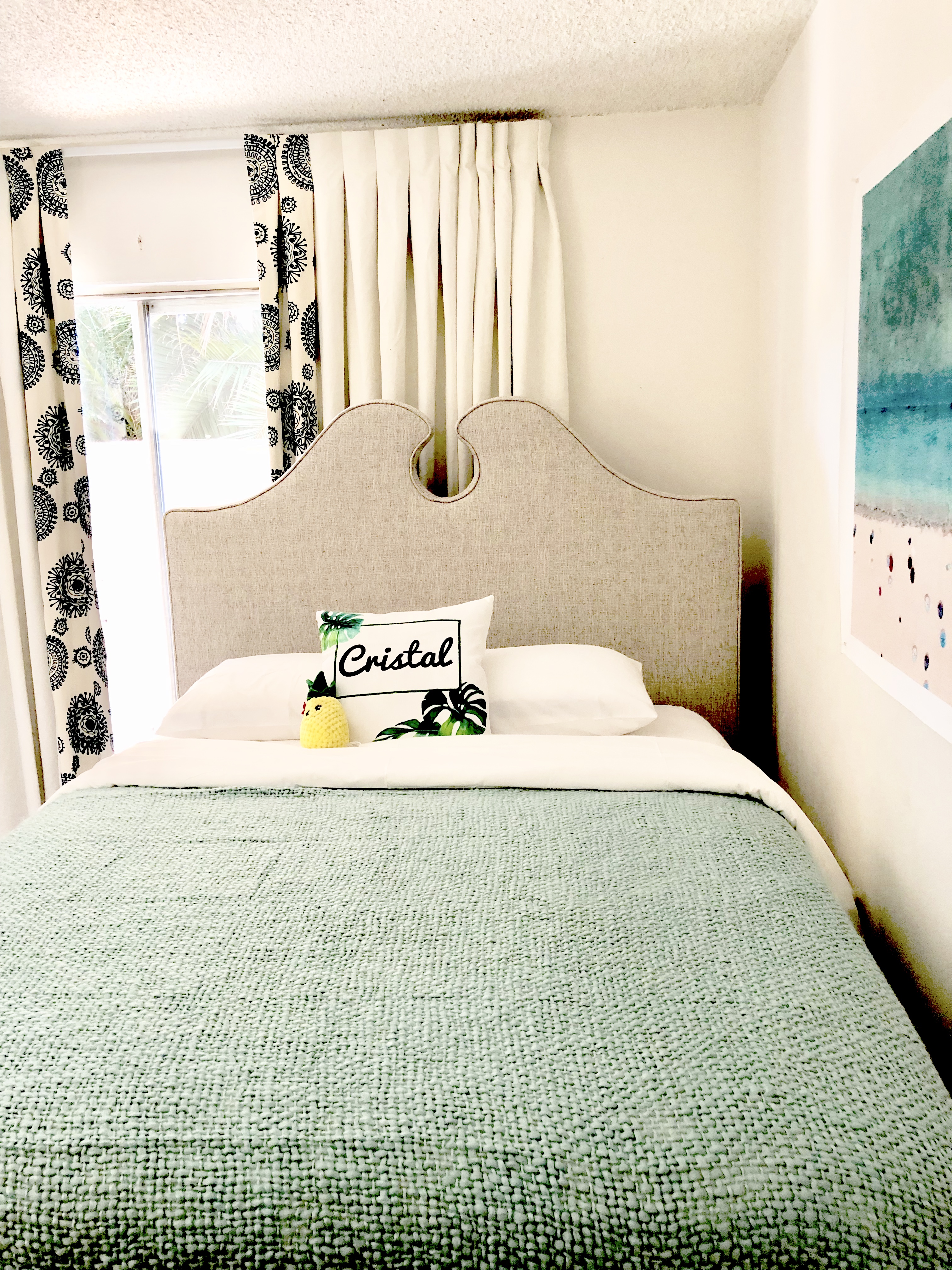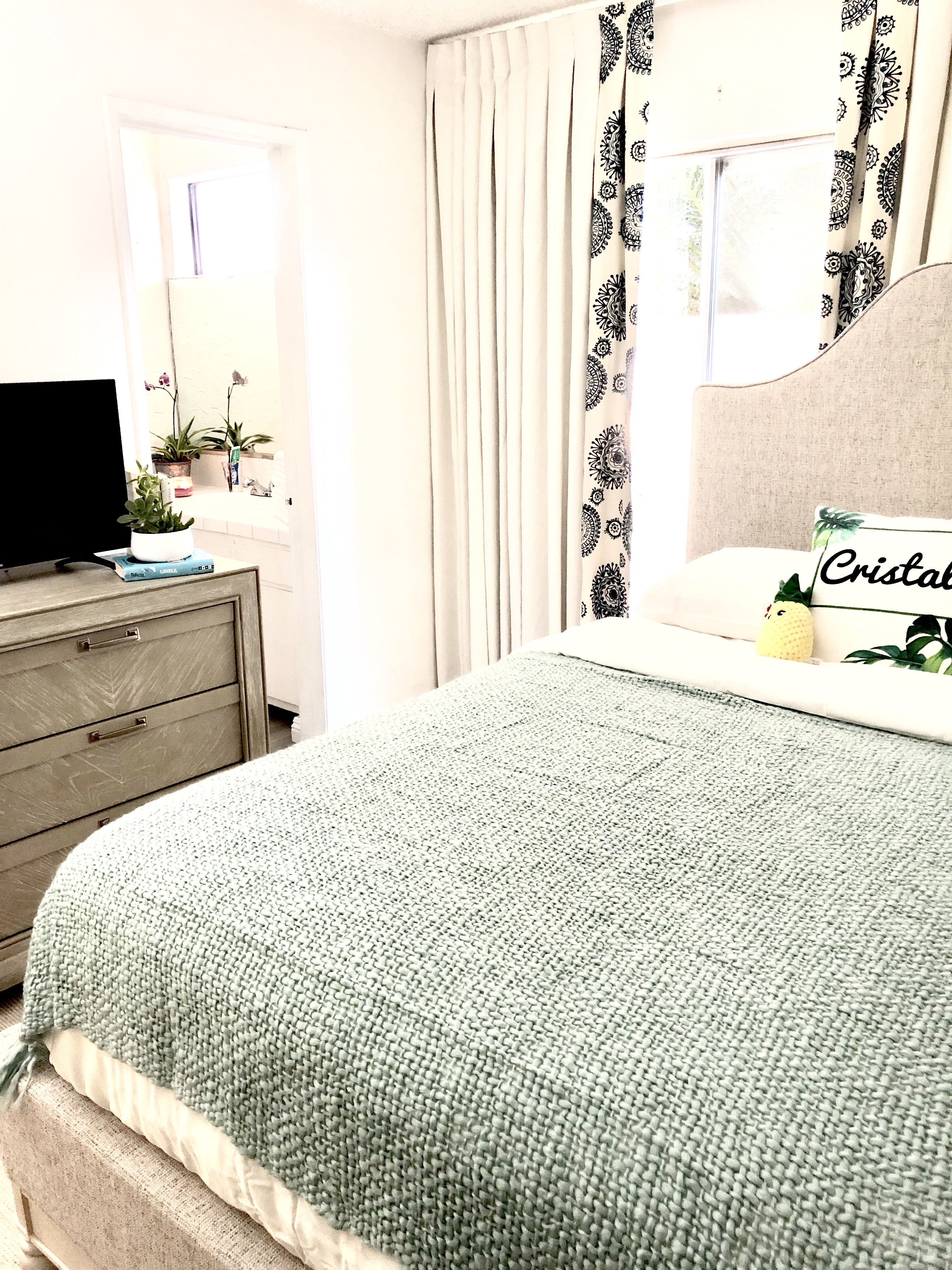 All the tables, wall sconces, floor lamps, bed pillows and throws were donated from our friends at Lamps Plus, including the custom pillows with their names on them. Wall art in bedrooms came from Daleno art for another personal touch.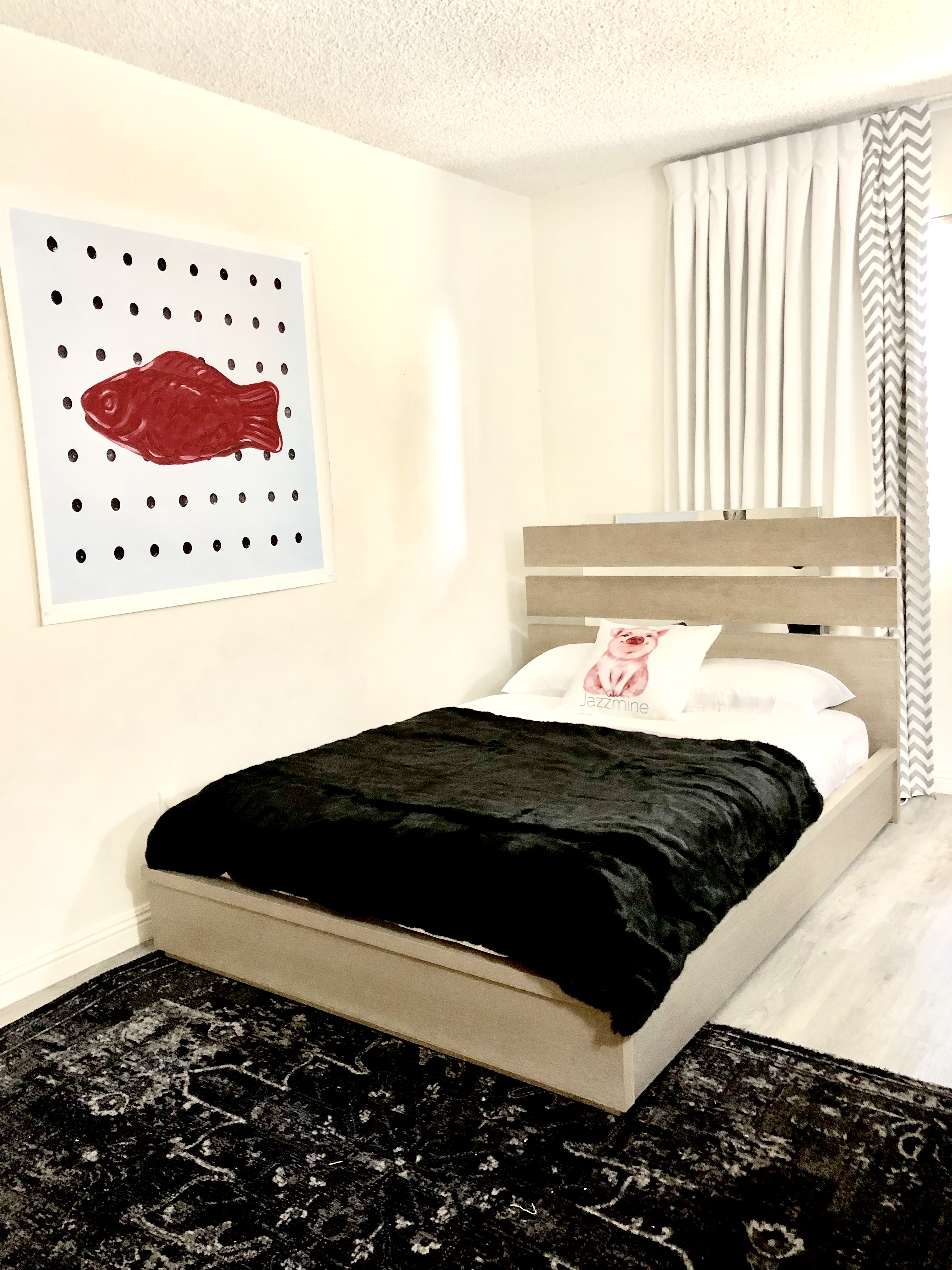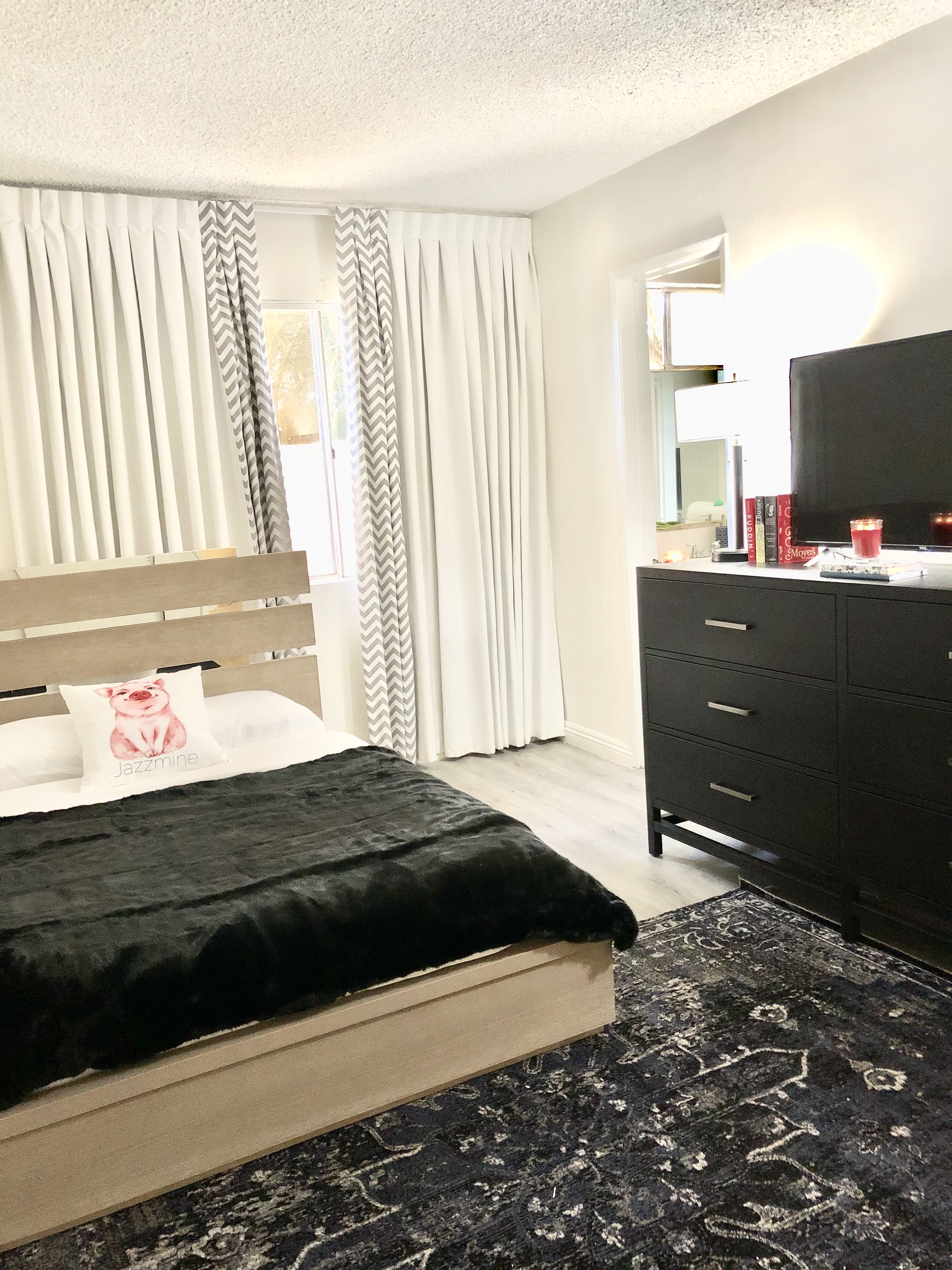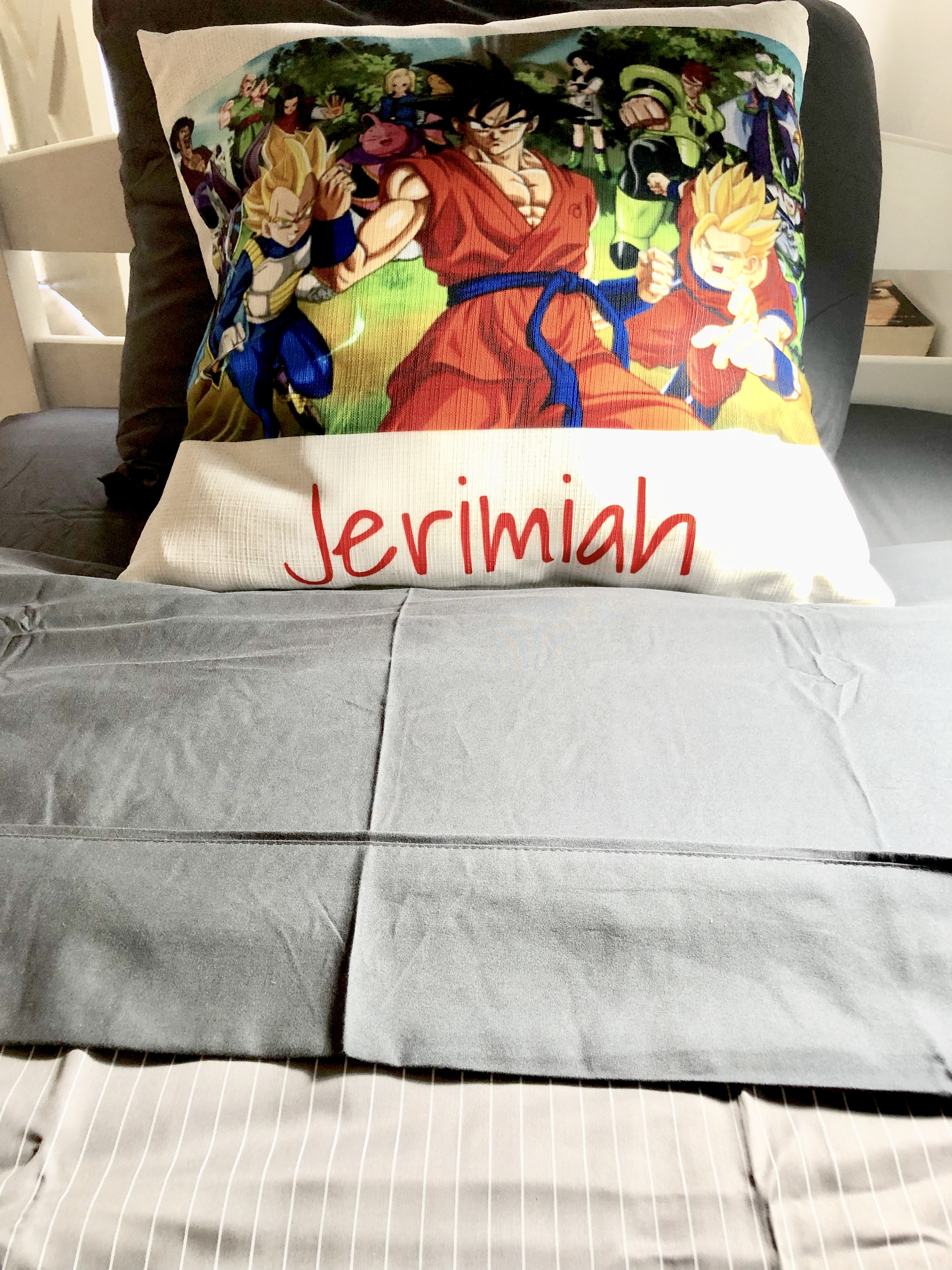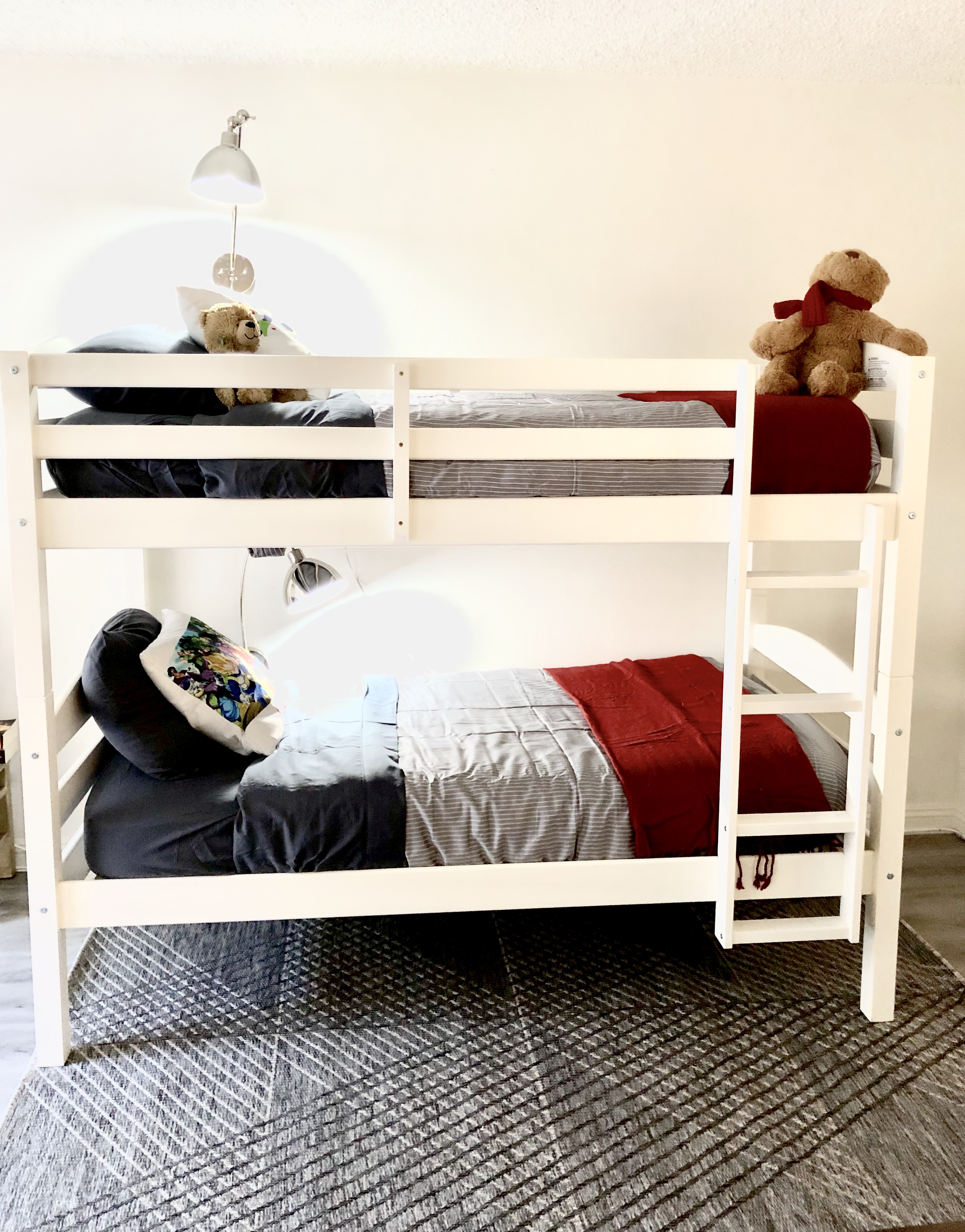 The desk in the kids' room, bedroom dressers, and the ocean art were all graciously donated from Jerome's furniture.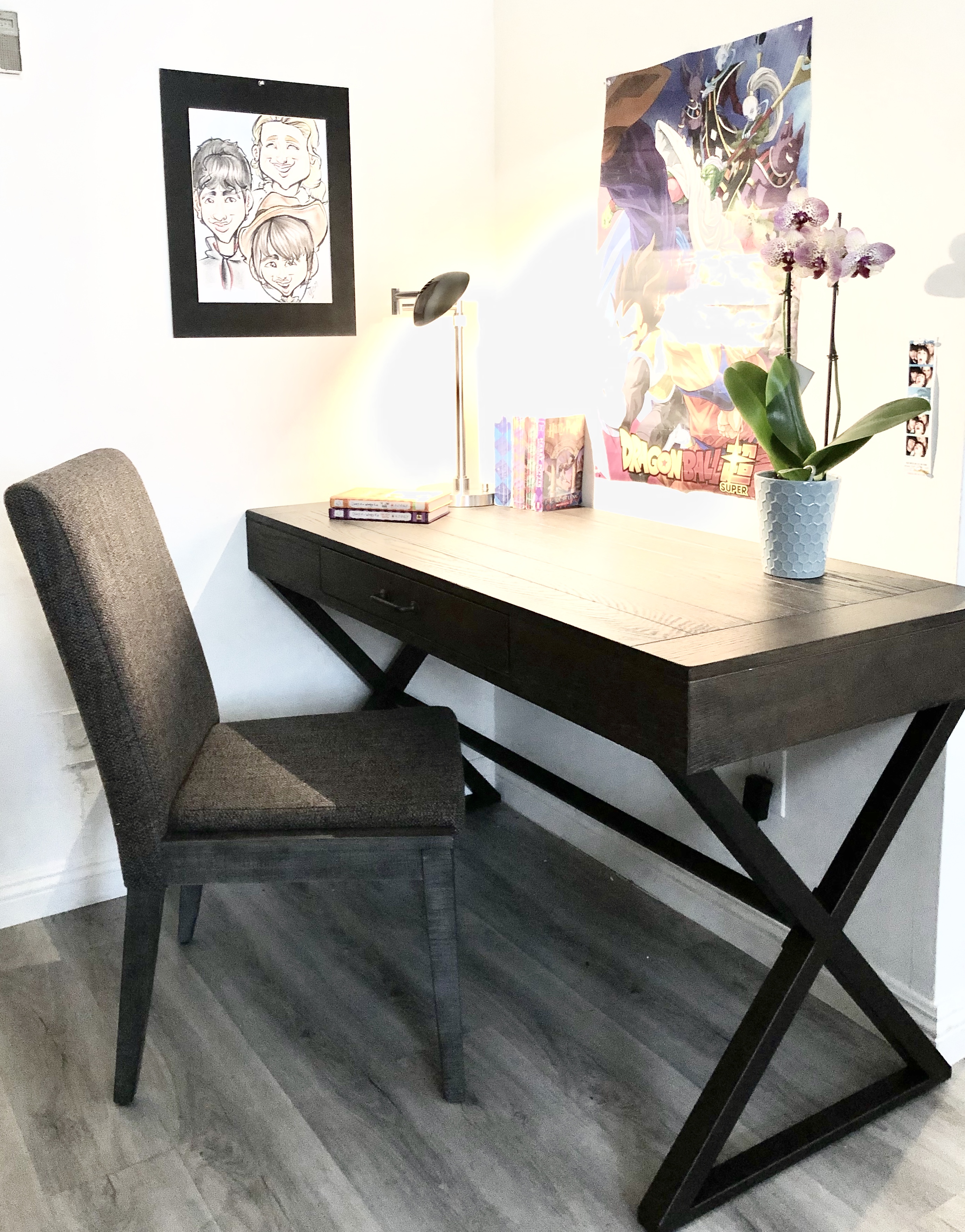 Bathroom towels were donated by Home Depot's The Company Store, which sells excellent household essential basics.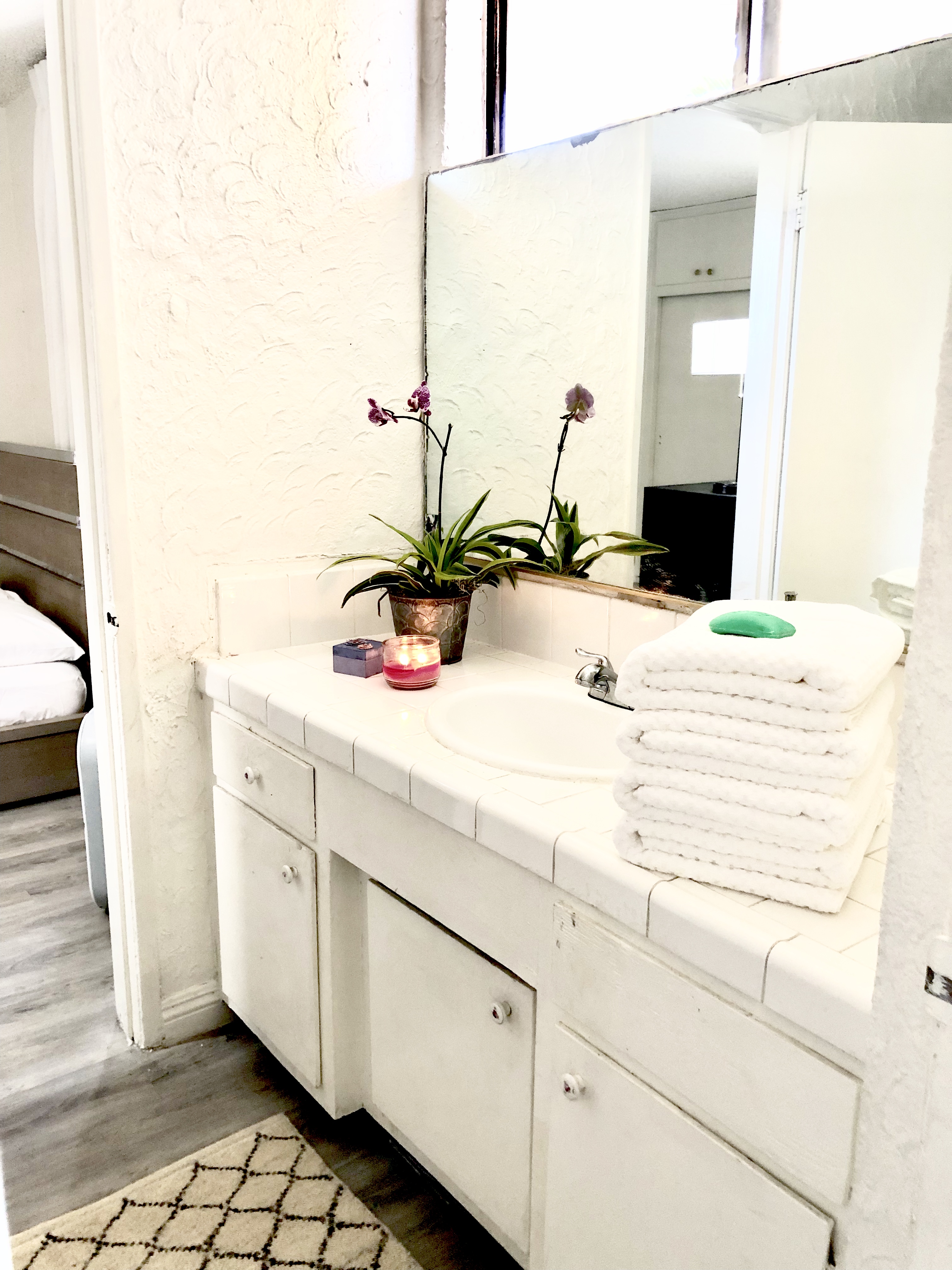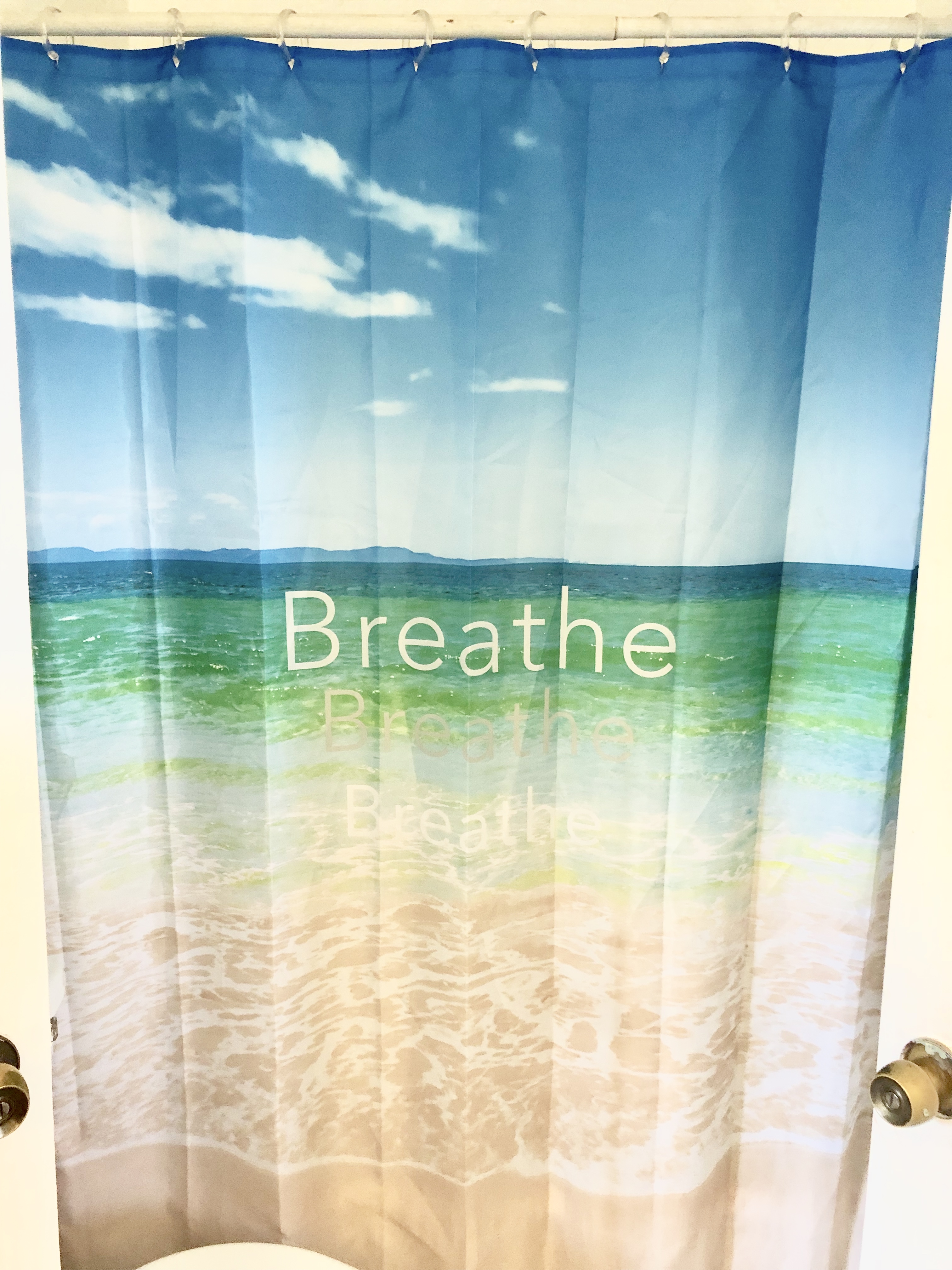 The Muscle
Black Label Logistics moving company and our partners at SoCal Contractor helped us load in and install everything! Never forget the muscle that makes it all work.
Here's What the Home Looked Like Before…
The small two-bedroom apartment had decent bones, but was pretty cold and bare. See more of where we started with this project here.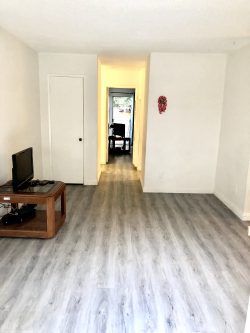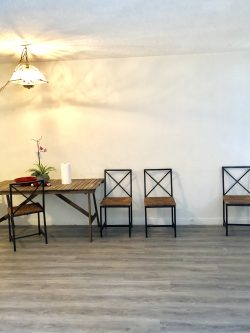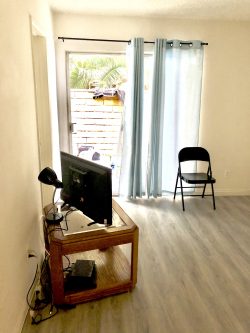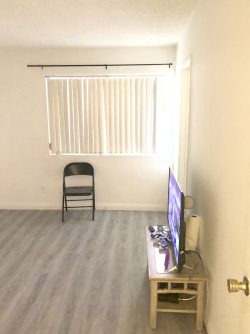 We wanted this home to be special and infused with personal touches for Crystal and her kids, and I think all the hard work paid off! We're looking forward to the next one. If you're interested in being part of the process, get in touch with us or visit PenAndNapkin.org for more info on how you can help.
A Radical Solution to Ending Homelessness
After we completed a couple of these projects, I was approached by Ted X Santa Barbara to give a talk about this "radical" solution to the homeless epidemic in Los Angeles and beyond. You can watch the Ted Talk here: