It's that time of year again: Time to meet the designers and bloggers who have partnered with Esteem Media on the High Point Design Bloggers Fall 2019 Tour! 
Where in the World is High Point Market?
In the Fall and Spring, titans and influencers of the design industry gathers in High Point, North Carolina to visit exclusive furniture, textile, and accessory vendors. We gather to source for projects, some source for their showrooms or retail spaces for the next year. And the Design Bloggers tour organizes a fabulous line-up of design influencers and bloggers to bring you a preview of the trends you're about to see blow up!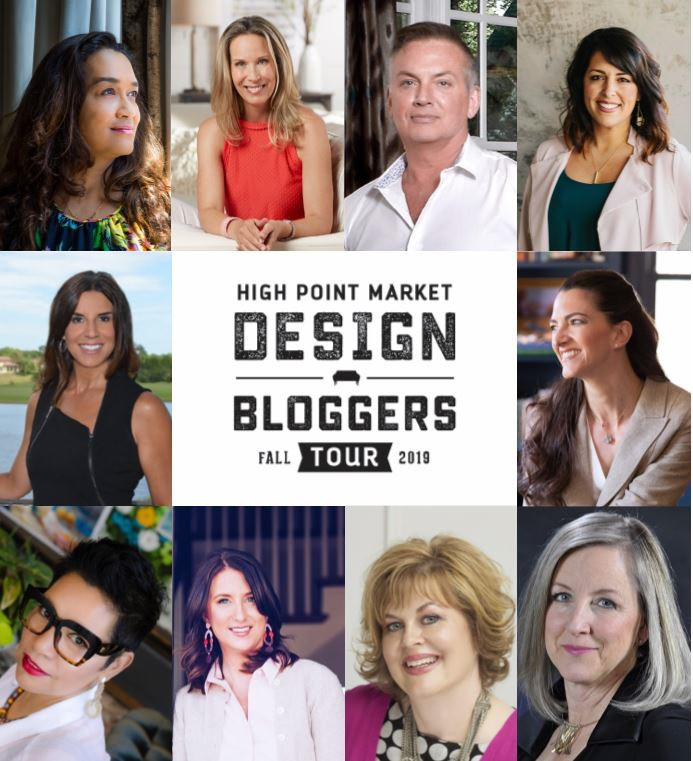 She's an Austin native and has spent lots of time in California. A playful, clean, contemporary aesthetic runs throughout her beautiful portfolio.  Her blog is awesome to frequent for quick tips to frequently asked design questions and on-trend furniture round ups.
Laurence is my kinda gal – She understands that how you feel in your home environment takes priority when it comes to design. Look good, feel good – that's how I feel when I peruse her blog, which offers some great sustainability tips and offers insights into exclusive interior design industry events. 
Tim Green is all Atlanta glam, all day long! His style is fresh and sparkling with a dash of Southern charm. His blog is a great place to find modern design quick-tips to update your home and it's an excellent resource focused specifically on the Atlanta metro area.
Located in Northeast Florida, Donna boasts a full service interior design firm as well as a retail space. And you all know how much I love the Florida coast! I love all of her blogs featuring that signature coastal style.
Talk about a tastemaker! Located in Kansas City, Sara Noble brings her timeless elegance to the midwest. Her blog provides glimpses into everything that inspires her designs – interviews with her favorite artists and bloggers. It's a great place to get inside the mind of a designer.
Amy Mitchell is laser focused on transforming your new home into your forever home. Her focus on longevity is inspiring! Her Saturday Blog is full of reflective musings and focused on realistic design solutions. She also gets into the weeds with lots of design details. 
Rachel's presence at design events is hard to miss: her radiant style lights up the room when she walks in. She's a renaissance woman of sorts: podcasting, authoring, designing, home staging- She does it all! On her blog you'll get lots of peeks behind the scenes. I love seeing how she's out and about, living and breathing her brand everywhere she goes. 
One of the best parts about the LiLu design blog is the showcasing of works-in-progress. So often designers are hesitant to let anyone peek behind the curtain, preferring to only show an impressive final reveal. It's so refreshing to see another designer bold enough to share progress shots and, truthfully, it makes the final reveal all the more impressive! 
Located in Greenwich, Connecticut, Deborah designs lots of those beautiful east coast homes, especially kitchens, that make me nostalgic about my east coast roots! Her blog has some really helpful instructional videos and design shopping guides.
And that's me! 😉 You've made it this far on the page, you know what my blog is all about. Looking forward to seeing you on the tour. Stay tuned because I'll be coming back at you with updates on the tour and what you can expect to see from all of the influencers above!