This High Point Market, the Design Bloggers Tour and Esteem Media, took us on an exclusive tour through Market's most exclusive and glamorous furniture, lighting, and decor showrooms. The past few years we've seen a gravitation towards the minimal, clean Japanese and Danish-inspired aesthetics, but it seems the trends are snapping back in the other direction — at least according to what we saw on our tour. 
Bedding with a Bit of Sheen from Daniel Stuart
One of the biggest surprises of this year's tour was the incredible Daniel Stuart Studio Bedding. Based in Canada, this boutique line wasn't previously on our radar and now it's hard to miss! Daniel, himself, is an incredible showman with an undeniable approachability, who clearly loves what he does. As designers do, we couldn't keep our hands off the plush pillows and comforters. His fabrics are fabulous and have just the right amount of sheen to them to glam up any bedroom — as an added bonus they're all machine washable, which is nearly unheard of for fabrics this plush! We could totally see this bedding in the rooms of our Hollywood Hills or Bond at the Beach projects. 
Accessorize with Moody Accents from Dome Deco
Belgian decor collection, Dome Deco is brand new to the US with showrooms in Atlanta and High Point. Their sexy, moody decor, rugs, art, and furniture is curated immaculately every season to stay on trend and is perfect for cosmopolitan living. As a bonus – everything is covered in commercial-grade performance fabrics! Their source countries are all abnormal for us in the US (their case goods are from Serbia, for example) which makes this an awesome, unique line to accessorize with. Everything Dome Deco reminds us of our Brand New Bachelor project we recently completed.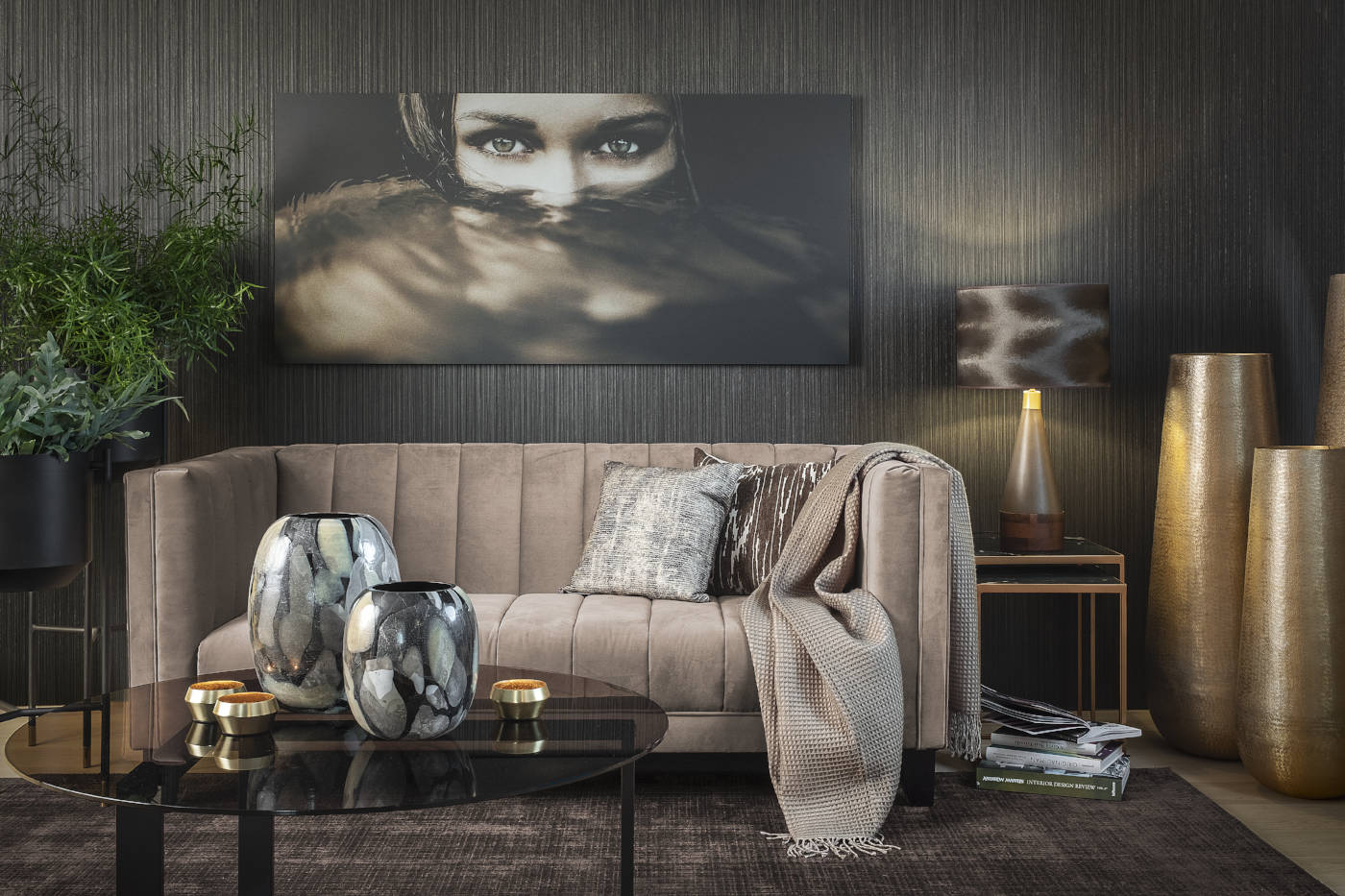 Statement-Making Chandeliers and Sconces from Hudson Valley Lighting
Hudson Valley's showroom is always one of the must-sees at High Point. From their cutesy Mitzi brand to the high-gloss glamour of Martyn Lawerence Bullard's collections, they have something for every style. It's incredible to experience how they continue to evolve their brand. This year, the lighting that best caught our eyes were the moody, masculine, glamorous sconces, desk lamps, and chandeliers. We see this being used in a wood-paneled home office, or a man-cave meditation space like those you'll find in our Lemon Ranch or Bond at the Beach projects. 
Glam Lighting Installations at High Point Market from Hubbardton Forge
What's more glamorous than a cascading chandelier? A waterfalling light installation from ceiling to floor, of course… Hubbardton Forge was another surprise showstopper! They elegantly defined less is more with a showroom that couldn't have been more than 200 square feet (compare that to the massive furniture showrooms at market, some of which are 15,000+) but was the perfect showcase of their incredible offerings. The sconces and chandeliers were exquisite, but the real scene-stealer was the cascading floating bulbs on wires that are completely adjustable and customizable. They had our imaginations running wild with installation ideas! Can't wait to find the perfect project for these. For this kind of statement making installation, you'll need some high ceilings – like those in the entry of our Bel Air Road project, recently completed. 

Head Over Heels for Hooker Furniture
Hooker Furniture's sprawling High Point showroom was full of furniture of all styles, but front and center were the stand out pieces: Their gorgeous mirrors complete with hidden jewelry storage – what could be more glam? We could see one of these going in the bedroom of our Lake Sherwood project or the home of the Brand New Bachelor for some fabulous watch storage.
Extra Glamorous with Jimmy by Jimmy DeLaurentis
When we spotted the Ultimate Toys for Men book prominently featured, we knew this was our kind of guy! Jimmy DeLaurentis is a big personality and that shows through his vibrant designs, including the most glamorous doggy bed you'll ever find! His showroom was a colorful explosion that really packed a punch. His pieces are whimsical and it's clear he values play. As an added bonus, everything is made in LA! A  few of his pieces could fit beautifully into our Brand New Bachelor project.