We're working from home a lot more than we used to, and this temporary situation might just be glimpse into the new normal.  Have you been looking around your place, wondering How Do I Set Up a Functional Home Office? or How Can I Make My Desk Better?  With a few adjustments to your office area (wherever that may be), you'll be able to feel more comfortable, stay organized and look presentable on those video conference calls with these simple tips that will Dress Your Desk for Success.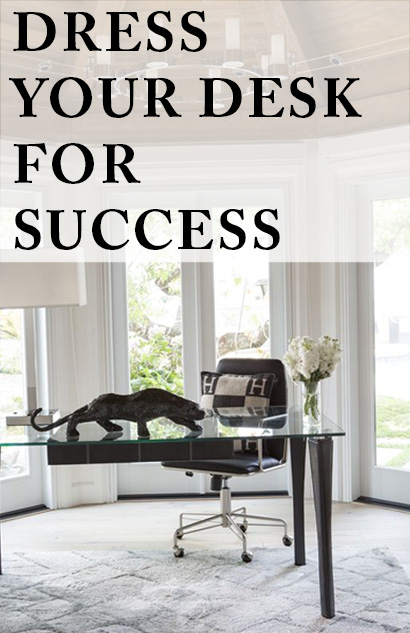 Do you feel like your desk was thrown together at the last minute and you haven't had the time to figure out how to make it work for you?   We're happy to help, and with a few touches here and there you'll be working efficiently in no time so that you and your family will be more happy and productive during the day.
Awhile back, we wrote about HOW TO CREATE THE BEST HOME OFFICE and we've had so many follow up questions lately that we thought we'd expand on a few more topics.
How Can I Make My Home Office Better?
Dress Your Desk Like You'd Dress Your Body.
1. GET COMFORTABLE
Make it comfortable so you feel your best.  You wouldn't walk around all day in shoes that are too small, only to realize they gave you a painful blister the next day.  It's surprising what repetitive movements can do to cause you extreme pain down the road.  Selecting office furniture and equipment that are the right size and scale will help you avoid developing pain in your eyes, neck, wrists, legs or back, and can even cause emotional discomfort and frustration without you even realizing why.
Set Your Desk and Your Body Up for Success with These Home Office Essentials:
WORK AT A COMFORTABLE DESK
Whether you're working at an actual desk, or making use of a kitchen island or the dining table, creating a dedicated and comfortable work space is key to staying focused and productive throughout the day.
Pay attention to your arm height while sitting at your work area.  If the counter is even an inch or so too high, this may cause your shoulders to bunch up and stay contracted all day.
COMPUTER SCREEN AT EYE LEVEL
The best position of your computer screen is directly in front of you, rather than off to one side.  To cure a stiff neck, lift your monitor up by using a monitor stand, monitor mount, or computer riser.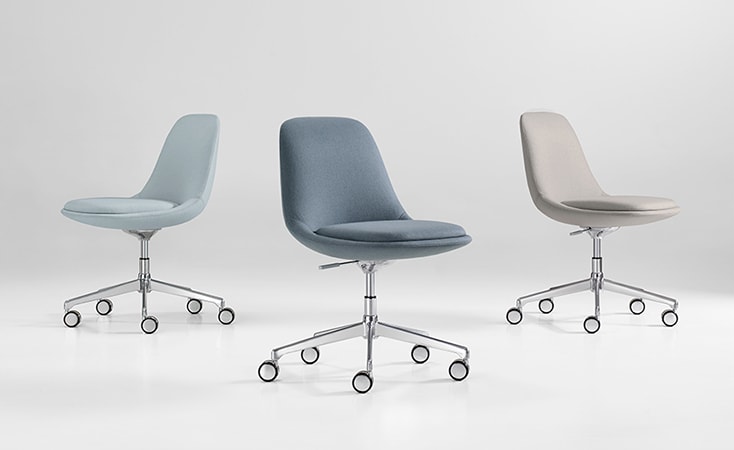 Your body is sitting on this one piece of furniture for about 8 hours a day.  Please don't sit on a hard, backless stool where you're hunched over a lower table all day.  Just like a mattress, a desk chair is one of the most important pieces of furniture for your body.
For optimal support, make sure your desk chair is comfortable and supportive so that you're able to sit up straight without your body going numb in areas.
Do a sit test to check to make sure the cushion is thick enough so that you don't feel the frame of of the chair beneath your thighs.
A chair with adjustable height is ideal so that your arms rest comfortably on the desk and your feet are firmly on the ground (not dangling, which will cut off circulation in the back of your legs).
Place your desk near outlets to avoid any potential tripping hazards when you get up and move around.  Not only is that embarrassing but really annoying if you keep catching yourself.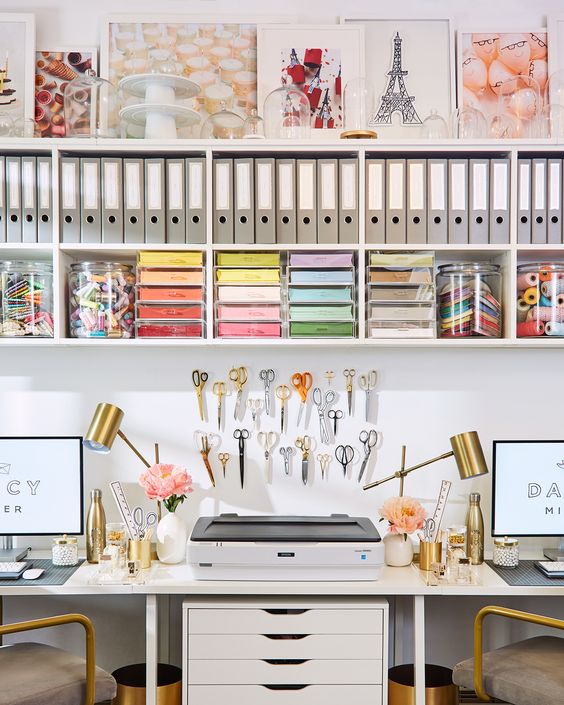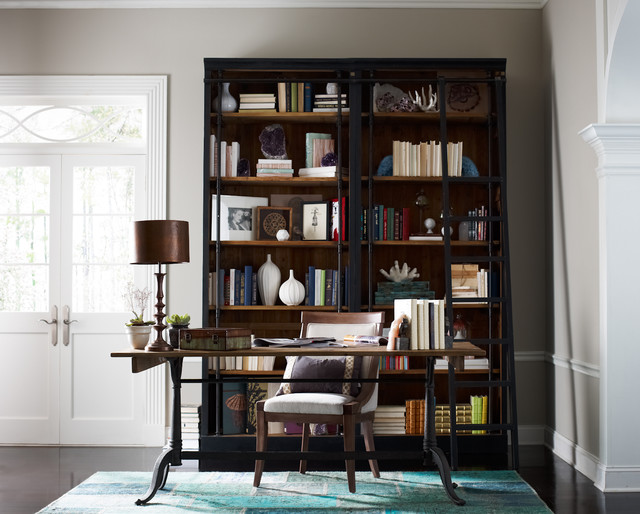 What Do I Need for a Home Office?  
Dress Your Desk Like You'd Pack Your Bag.
2. GET ORGANIZED
In order to keep your work area clean and clutter-free, only keep out what you use most often.  There is a place for everything, whether items are neatly displayed in a desktop organizer or stashed away in a closet or drawer. If you don't have a lot of surface space, think vertically with wall shelves, and group items together on your desk to allow for more clear surface areas.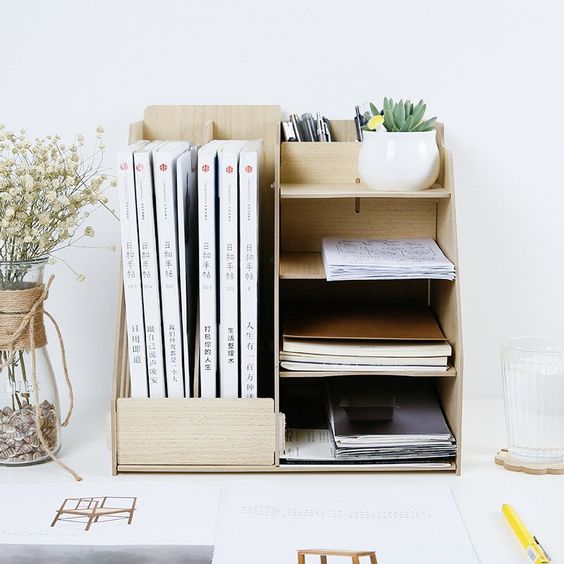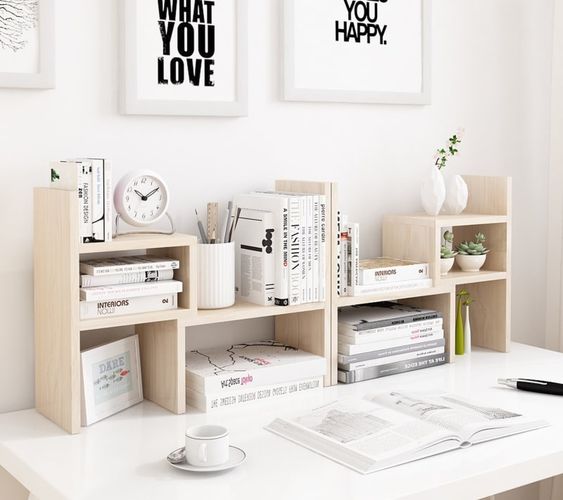 Work from home essentials are now supplied by you.  Guess you can't pilfer the supply closet at work, so it's time to build your own office arsenal.
Items to Keep Handy Near Your Desk:  
Calendar – Either a book, an online calendar app, or a bulletin board to keep you on track and organized.
Headphones to cancel out distracting noises, or to listen to music without disturbing people around you.  We highly suggest the plug in headphones rather than bluetooth.
Paper + Pens.
Notebook or Computer To-Do List.
Trash Can + Reused Printed Paper for Scratch.
Water Bottle.
Charger for Phone and/or Computer.
Lip Balm.
Scissors, Tape, Paper Clips, Binder Clips.
Envelopes + Stamps.
Hand Lotion.
Mints.
Personal Style Accessories like photos or items that you love.  Head over to our previous post for more tips on HOME OFFICE DESIGN GOALS.
Essential Oil Diffuser or Candle, meaning something that smells attractive.  Energizing oil scents include Lemon, Rosemary, Eucalyptus, Orange, Mint or Lemongrass.
A Plant.  Bring in life from the outside.  Plants help you think better, feel better and breathe better, and add an organic element to any room.
MORE PRODUCTIVITY TIPS FOR WORKING FROM HOME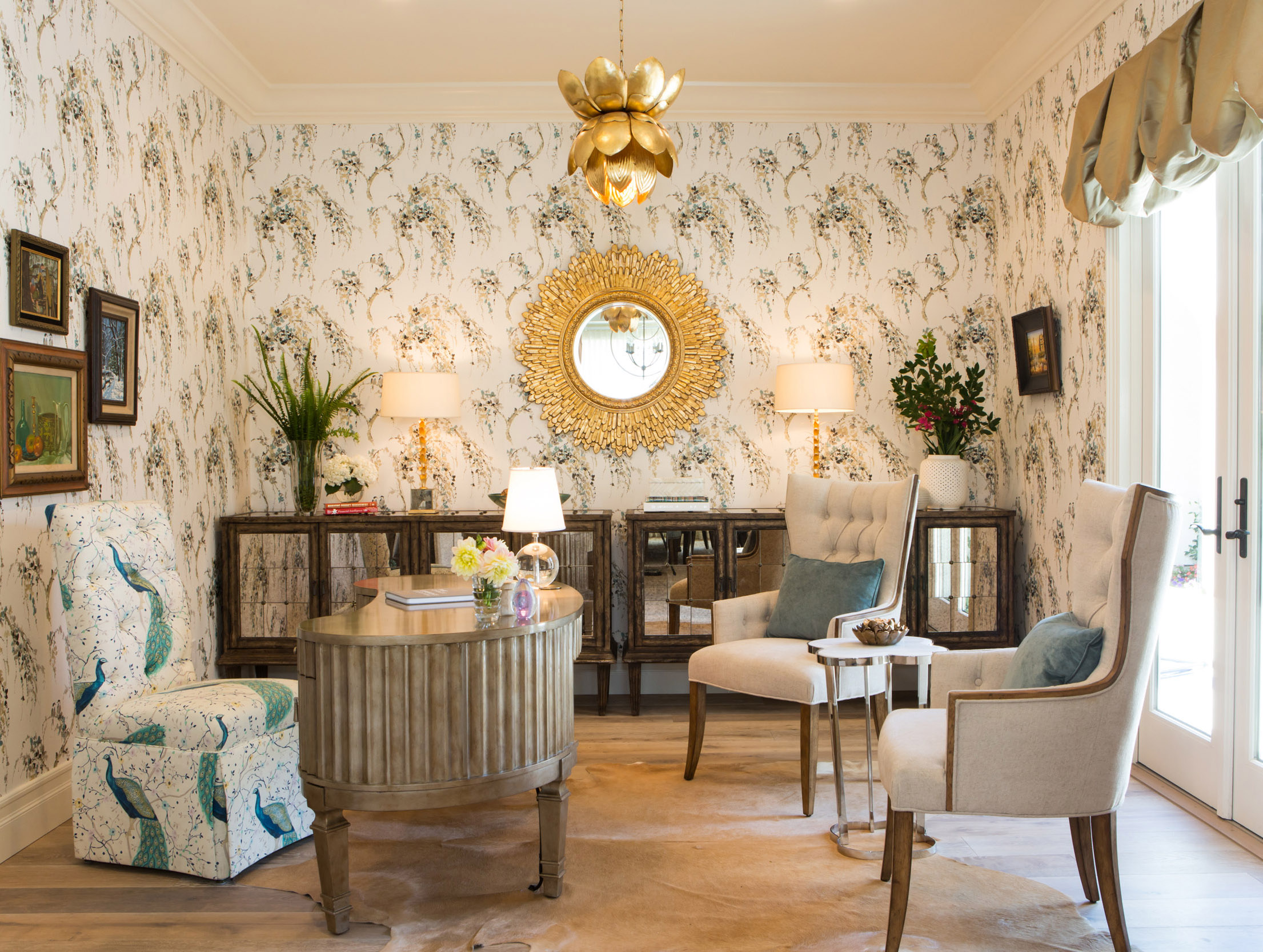 How Can I Improve My Work From Home?
Dress Your Desk Like You're Getting Ready To Go Out.
3.  GOOD LIGHTING
It's almost impossible to put yourself together without proper lighting.  The same goes for trying to work in the dark.
 What is the Best Lighting for a Home Office?
Windows.  Natural light has been shown to improve focus, mood and sleep. Windows are also great because they offer a visual break when you need to look away from your screen.  To reduce eye strain and fatigue, place your desk near a window and take eye breaks.
Try the 20-20-20 rule, which means: Every 20 Minutes, Gaze at Something 20 Feet Away for 20 Seconds, and blink frequently.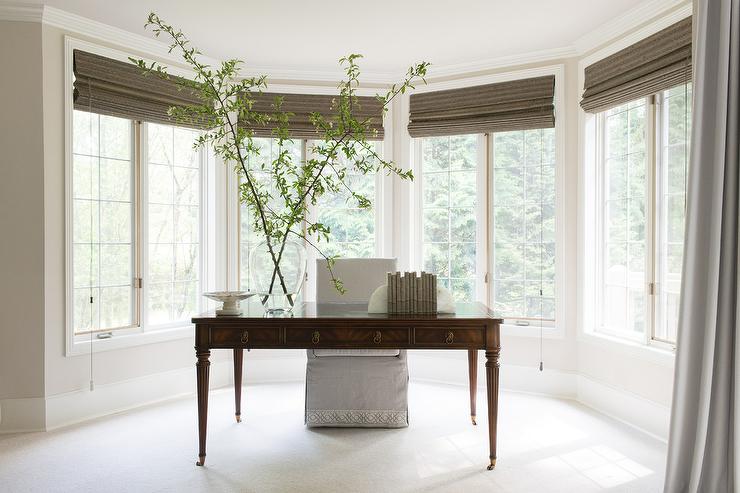 Layer Lighting with Decorative Fixtures. 
We always say that decorative light fixtures are the jewelry of the home, and this is one sure fire way to show off your design style and personality.
Light Fixtures

Chandelier or Pendant Lights will provide ambiance overhead lighting and add visual height to the room.
Desk Lamps for task lighting will help you to see what you're doing.
Wall Sconces or Buffet Lamps are your decorative lighting, drawing the attention to items like art, plants or mirrors.
Floor Lamp.
Design Tip: Place the light source in front of you or to the side of where you're working, rather than behind you. If you are sitting in a position that is blocking any light, it will cast a shadow on your desk surface.
If you're looking for more information on home office lighting, head over to one of SoCal Contractor's most popular blog posts on HOW TO LIGHT ANY ROOM.
Light Bulbs.  Instead of working under excessive lighting from fluorescent bulbs, opt for warm white bulbs that are softer and easier on the eyes.  Look for bulbs that are between 2,700-3,000K.  Bulbs higher than 3,000K have an artificial blue light which can cause eye strain, headaches and increased stress.
BluBlox Glasses.  While we're on the subject of blue light, do yourself a favor and invest in a pair of glasses that filter out the harmful blue light emitting from screens and light bulbs. Not only will you look smart and feel better, but you might even get less wrinkles from squinting.  (That last part is my personal theory and I'm sticking to it.  Ha!)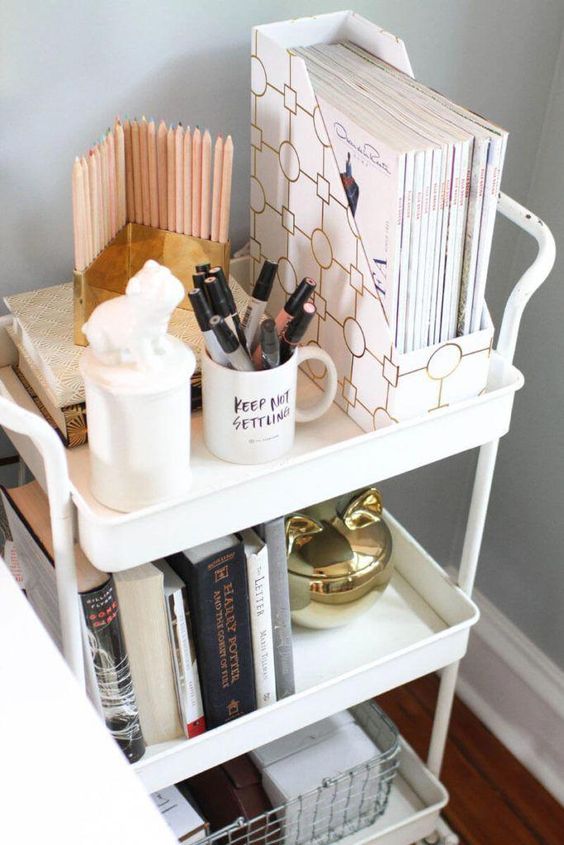 How Can I Make a Home Office with No Space?
Dress Your Desk Like You Dress For Travel on the Go.
4.  SMALL OR SHARED OFFICE SPACE
If you work in different locations every day, have limited space in your home, or are sharing a work area with your partner and kids, it's crucial to keep everything contained, modular and portable.
Determine Your Dedicated Work Area and Create a Routine Work Day.
Own Your Desk Area and Be Respectful of Other's.  It can be frustrating to try and work while the person next to you has their stuff all over the place.  (Head back up to our #2 tip on organizing to keep everything in it's place.)
Headphones to cancel out distracting noises, or to listen to music without disturbing people around you.  Again, we highly suggest the plug in headphones rather than bluetooth.
Storage Boxes or a Utility Cart.  If you're short on storage options, a utility cart is a budget friendly option for small storage items.
Portable Office Tote.  Think of it like a professional school backpack.  A bag that has everything you need for the day, and can be put away when you're finished with work.  Out of sight, out of mind.
How Can I Make My Video Call Look Good?
Dress Your Desk Like You'd Dress for the Ultimate Work Selfie. 
5.  VIDEO CONFERENCE CALL IN STYLE
Think of your office location as a TV set and you are the star.  What does the background look like behind you?  Is it distracting with a mess of clothes and papers thrown all over the place, or does it look interesting and pleasant to look at?  Are you WEARING PANTS?  (Triple check your camera angle friends!)
You might like to believe that people are only staring at your gorgeous face, but the eyes will wander.  People are curious by nature and this is a sneak peak into how you live at home.  Even more, this is a reflection on you, and an opportunity to present yourself in the most professional and tasteful way.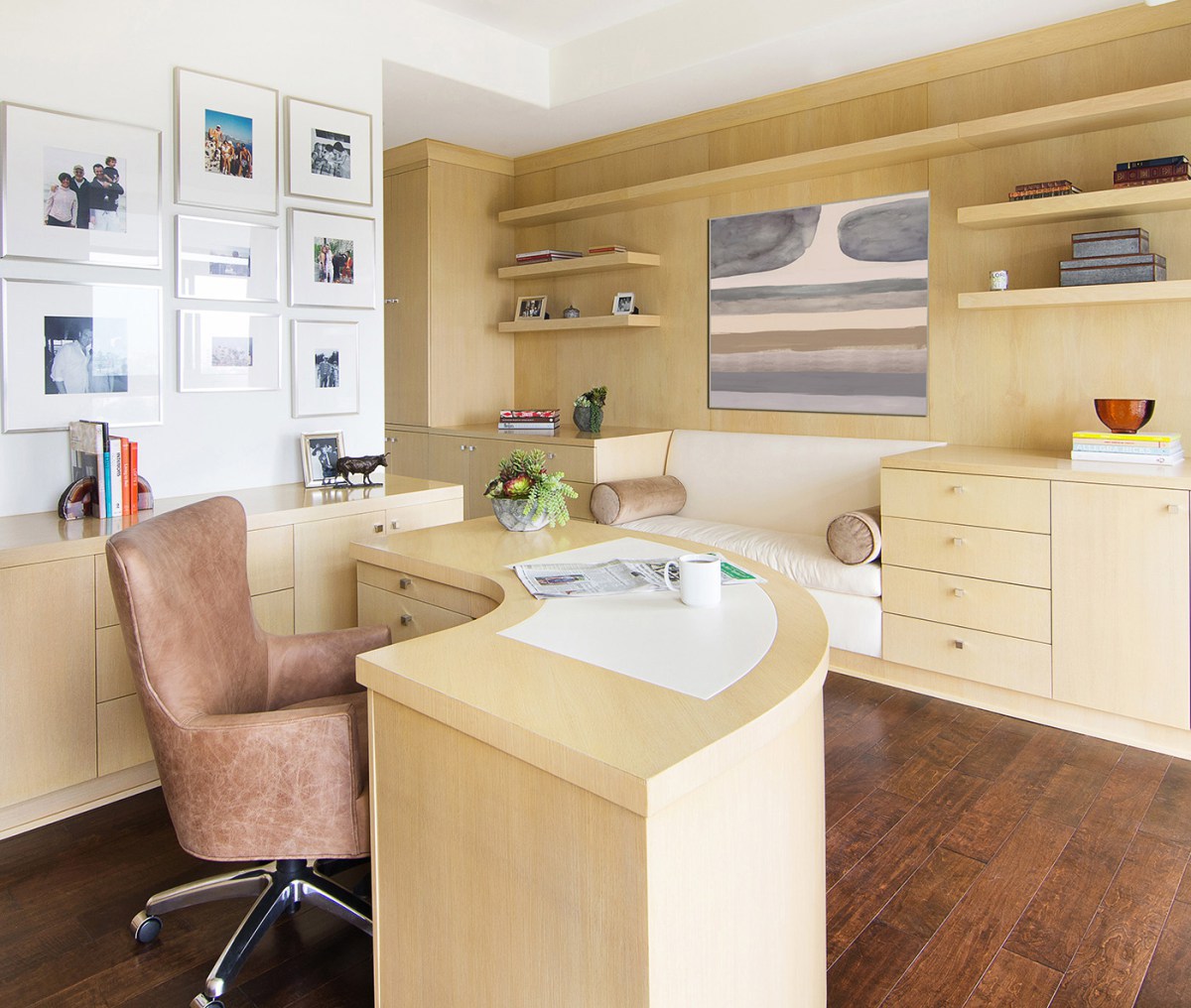 How Do I Make A Good Video Backdrop?
Room with a View.  Begin with cleaning and clearing the space directly behind you.  If your desk doesn't have a great view and you're able to change locations, move to a different room like the Living Room or an Outdoor Space.  The bigger the space behind you, the better, because it will feel more expansive and offer better light.
Focal Wall.  Create a simple yet styled backdrop for your video call by staging a bookshelf, hanging art or adding wallpaper.  Avoid views of open doors, the blinding glare of a window, or bathrooms with the toilet up.  (Guys, you know who you are.)  For more tips, check out THESE 3 TIPS.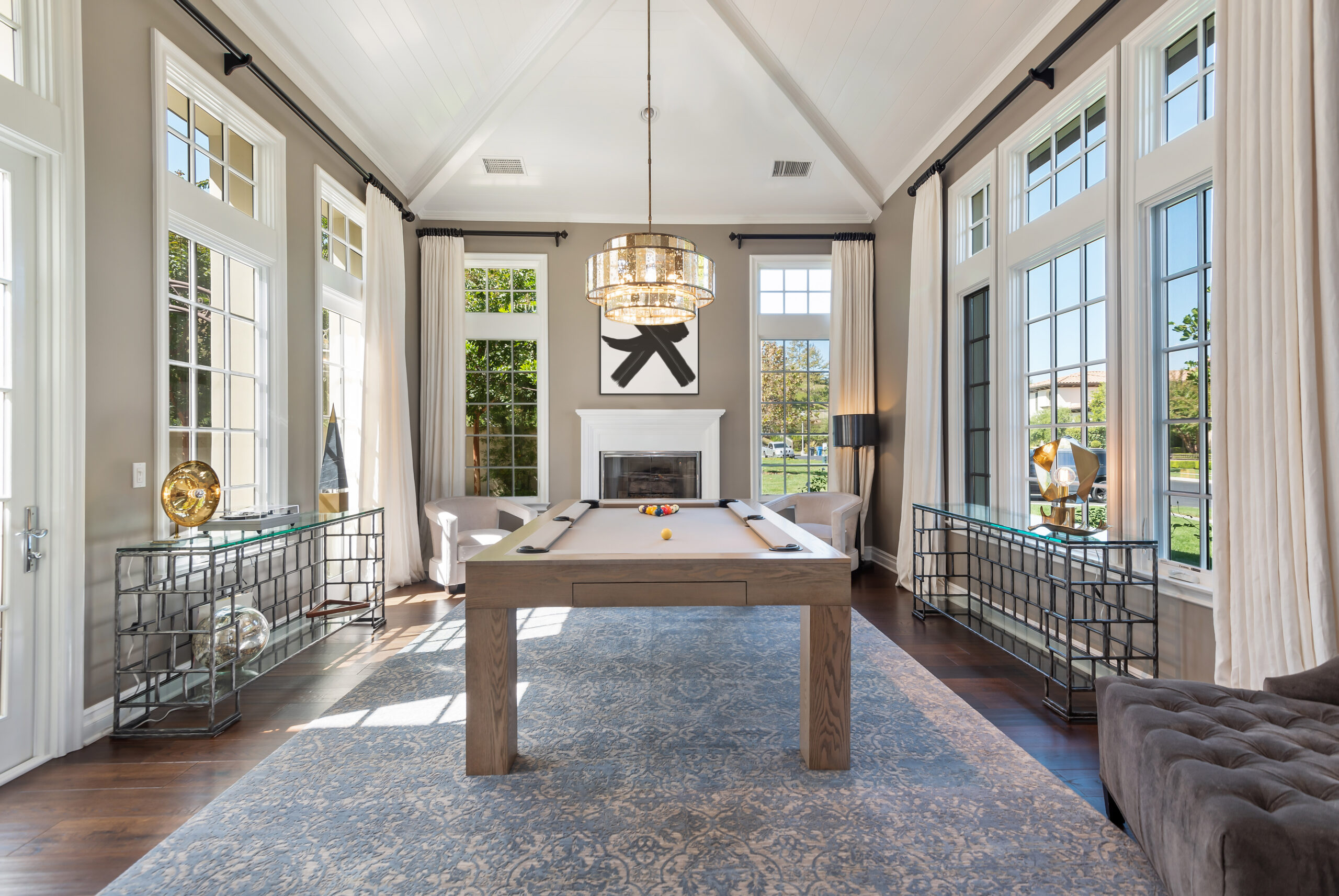 Customized Virtual Background Sets.

Feel free to save any of your favorite interior photos as a JPEG to use as your virtual background so you never have to worry about what your room looks like.  Feel free to save any of our portfolio images!
When you're setting up for your next Zoom call, click the arrow (or 3 dots) next to the video icon, and select "virtual background."
Upload your image, and there you go!

Take it Easy & Go Hands Free with a Headset and Mic.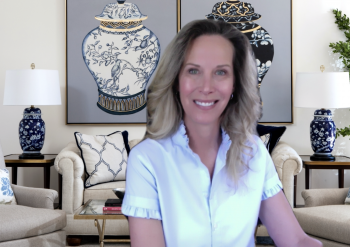 Look!  I'm working from the comfort of my own (er, my client's) home!
Lighting:  Place your camera in an area that has ample natural light that's directed at your face.  If a window seat is not an option, look into getting a Light Ring that you can place on your desk.  A light ring will totally change the way you look on camera because it will direct diffused soft light toward your face for the ultimate filtered look.  When you only have overhead light, it tends to cast a shadow on your face, making you look haggard and tired.  (Side note: The same idea goes for your bathroom lighting, which is why we always install wall sconces directly in front of your face.)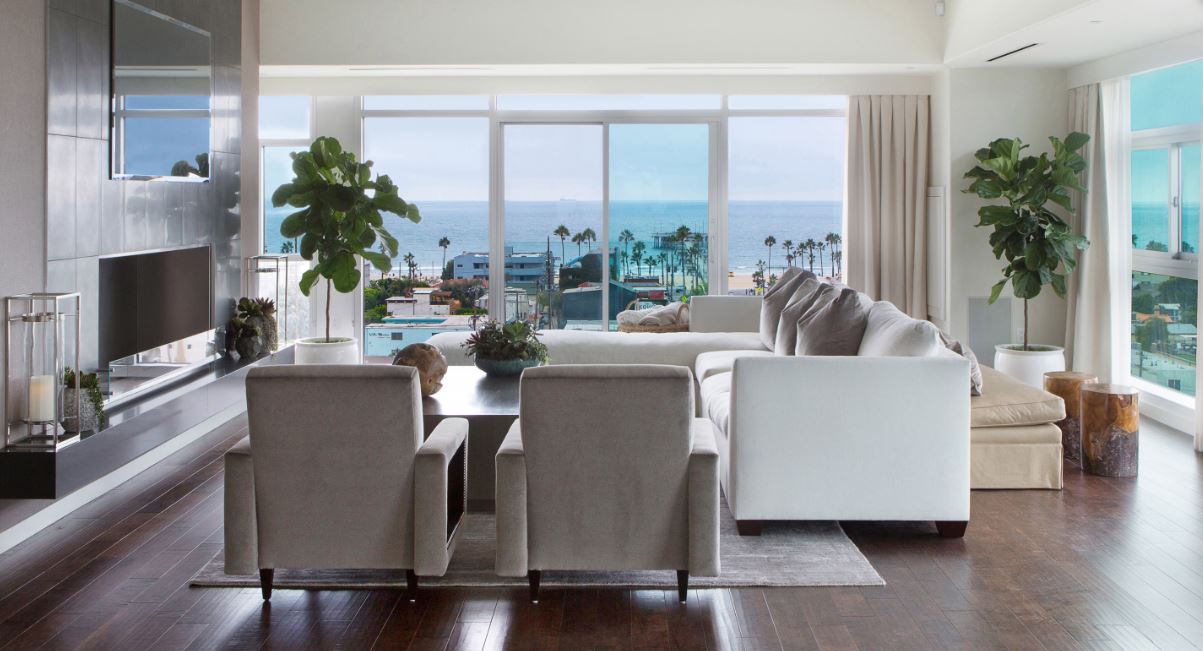 Feel free to use this image (or any) as your Virtual Backdrop!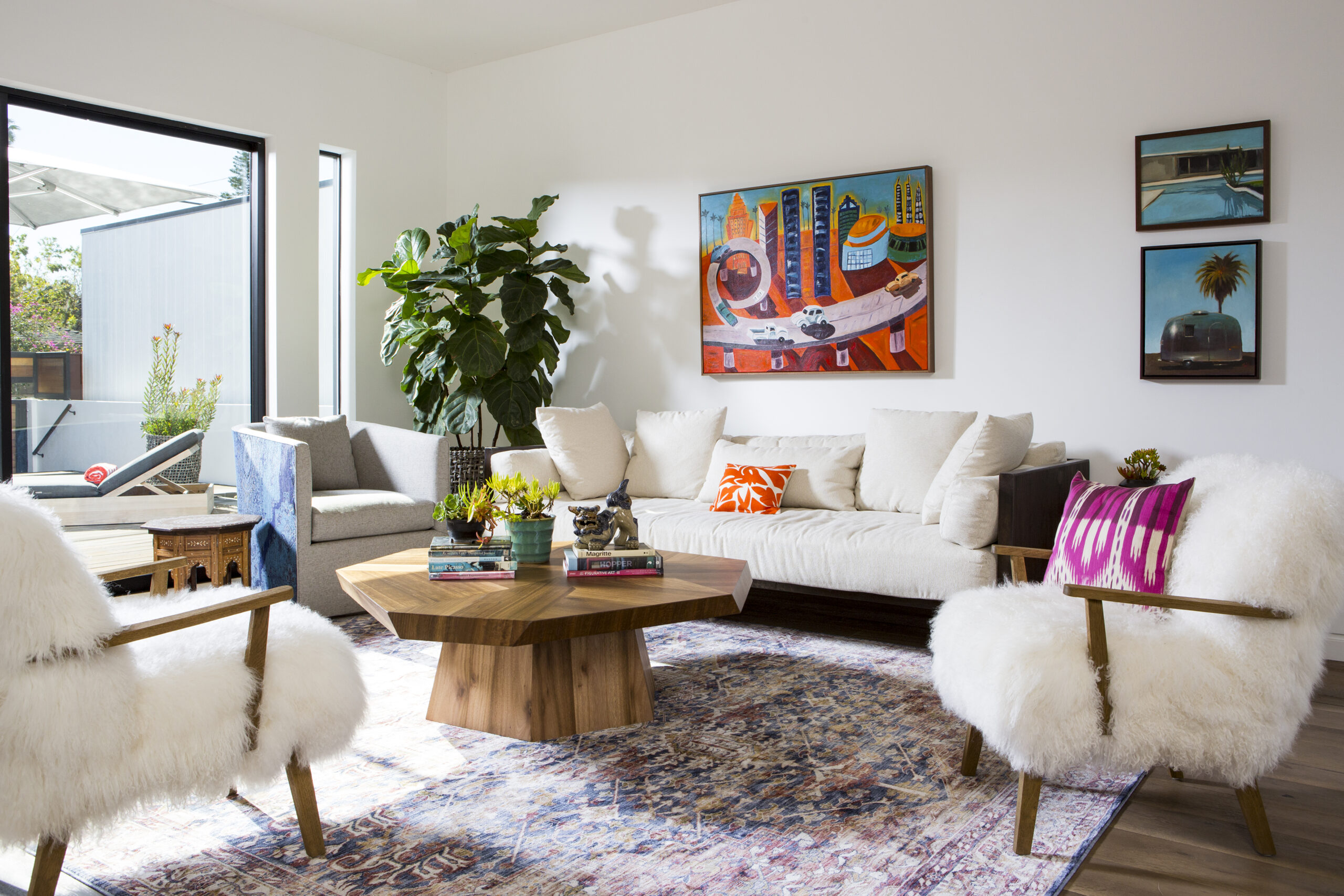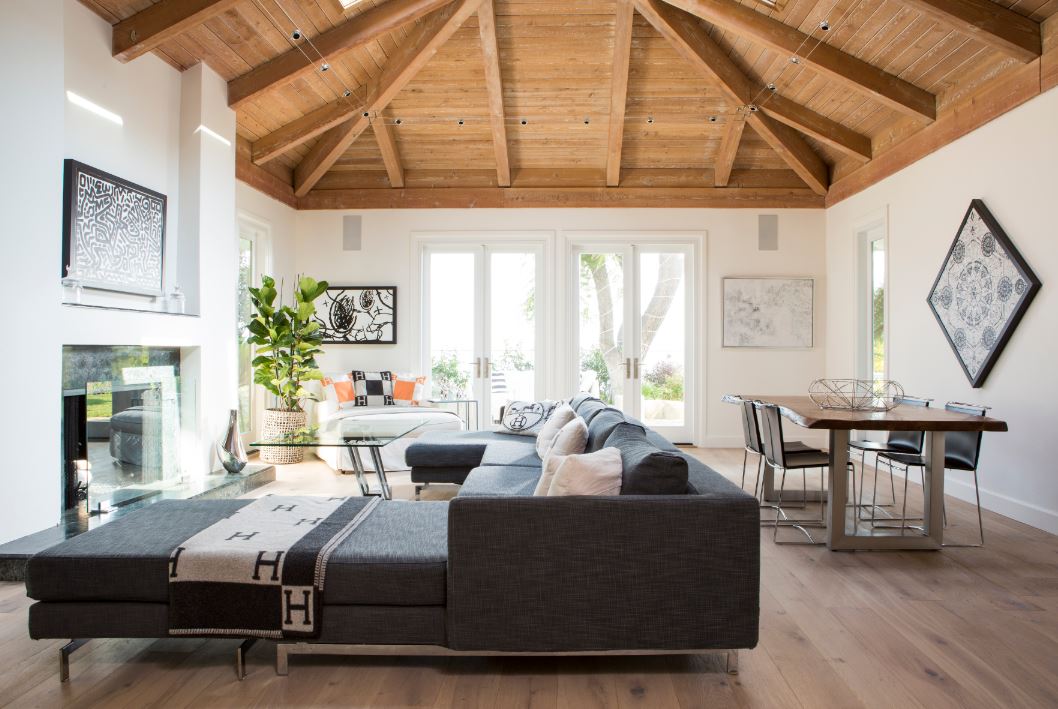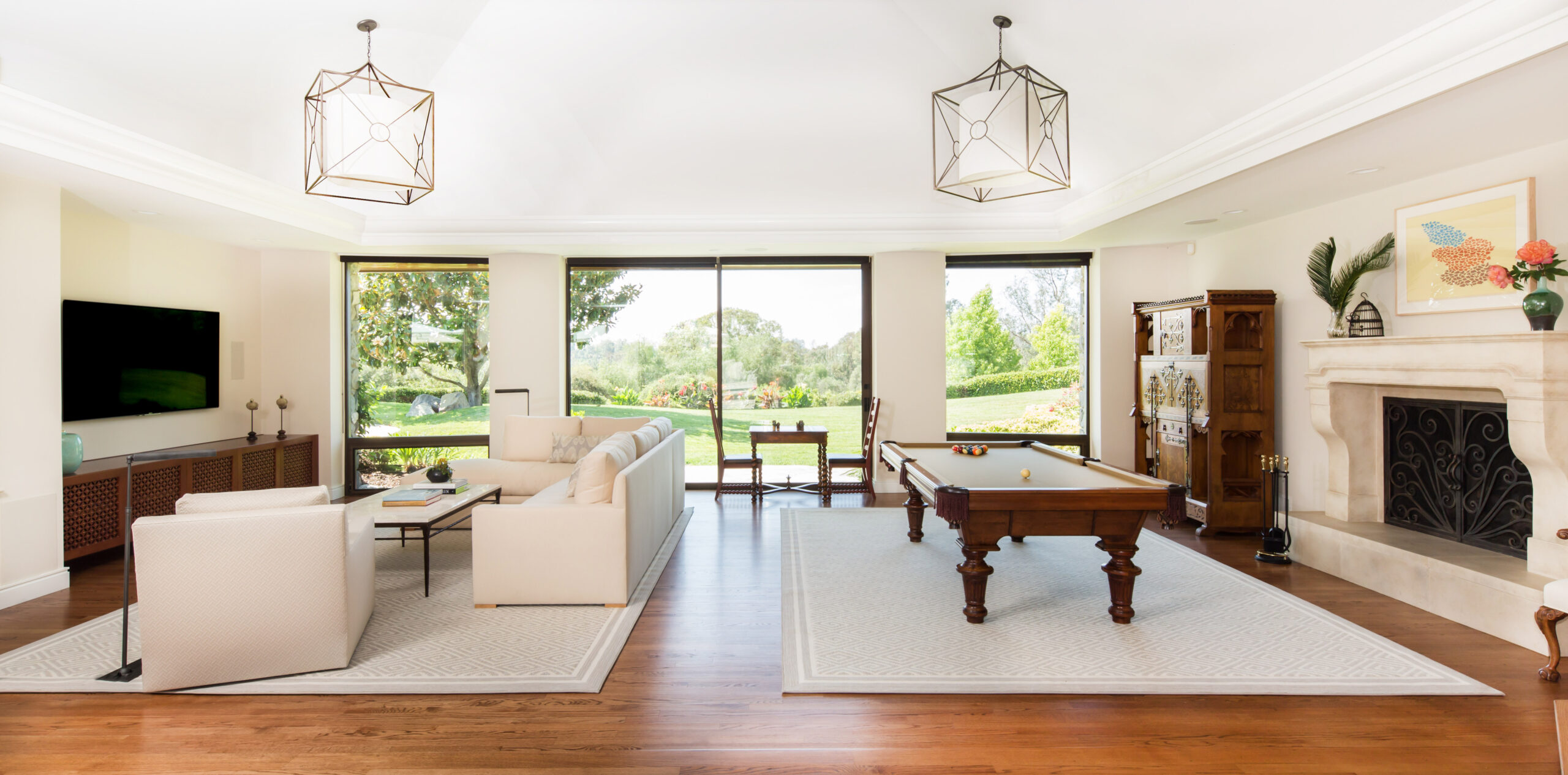 Final Tips on Creating a Routine as You Work From Home:
Create a morning routine.  It could be as simple as easing into the day by reviewing your To-Do List and planning your day, or reading industry news and checking emails.
Throughout the day, step away from the screen.  Get fresh air.   Stretch your body.  Stretch your face. It's important to stretch because we tend to hold tension in our body while we're concentrating on a task, especially for long periods of time.  And it's good for your brain to get some fresh air to help you think clearly and get a change of scenery.
At the end of the day, put everything away, so that you can start fresh and clean in the morning.
Throughout the day, get up, move around and stretch your body.
Looking for more ideas on HOW TO CREATE THE BEST HOME OFFICE, we wrote another great post awhile back.  We'd love hear some of the ways that you love to dress you desk for success.  Comment below and have a productive week!
DRESS YOUR DESK FOR SUCCESS  |  by Sara Plaisted