We're giving you the Rugs 101 on how to select the best rug for any room.  If you're wondering What Type of Rug Should I Buy? or How to Pick the Right Rug Size, and How to Care for your Rugs, we've got you covered in this week's lesson on Rugs 101.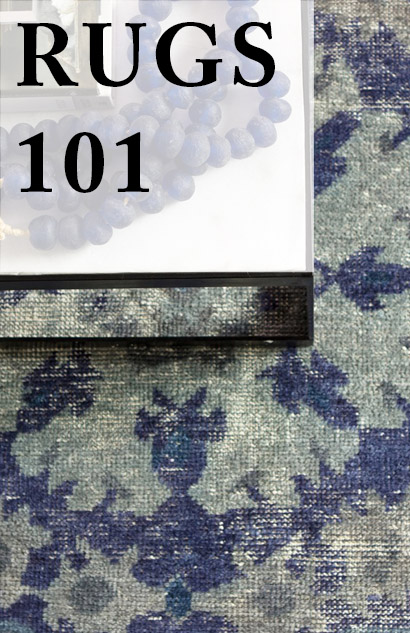 You may have seen our previous posts on RUG SHOPPING and our suggestions to SKIP CARPETS, SHOP RUGS.  But many have asked us to get back to basics with a Rugs 101 rundown on how to tell the quality of a rug or how to select the right rug size for a room.  Follow along and let us be your guide.
How Can You Tell the Quality of a Rug?
What Is A Hand Knotted Rug?
HAND-KNOTTED $$$$
Hand-knotted rugs are where you will see true craftsmanship and artistry. On a specialized vertical loom, thousands of individual knots are hand tied, one by one, one row at a time.  As you can imagine, this takes an incredible amount of time, a process of around 240 days to complete.  The rugs display clear design with vivid color and beautiful textures, and are meticulously detailed with textured hand carving to create a beautiful high-low pile.  Because they are labor intensive, hand-knotted rugs are an investment and something timeless to can pass down through generations.
How Can You Tell if a Rug is Hand-Knotted?
If you check the back of the rug, you'll be able to tell if it's hand-knotted because you'll see the same design on the back.  Hand-knotted rugs are much thicker and heavier than other rugs, and soft underfoot.  Still unsure?  Try the Handkerchief Test: if you can fold the rug in both directions easily, you have a winner.  All other rug constructions can only be rolled.
What Does It Mean When A Rug Is Hand Tufted?
HAND-TUFTED  $$$$
Hand-tufted rugs are made by using a special tufted gun to hand punch strands of yarn through a pre-woven fabric sheet.  The designs are printed on the fabric in a beautifully detailed and precise layout, and come in a variety of designs including geometric, floral, modern and traditional.  Hand-tufted rugs are thick, highly durable, and are finished with a cotton latex backing which strengthens and holds the knots in place.  Because hand-tufted rugs take less time to make than hand-knotted rugs, they are more affordable and more bang for your buck, especially when looking for a soft, comfortable and luxurious rug.
What Does Handwoven Rug Mean?
HANDWOVEN $$$$
Handwoven rugs (or hand-loomed rugs) are made on a hand-operated traditional loom.  Fibers made of felts or twisted yarn and are attached to a wooden rod that the weavers shoot vertically across the length of the rug as it's being made.  The rug pile of handwoven rugs are usually low to medium pile. Flat weave rugs or natural fiber rugs are examples of handwoven rugs.
What is a Natural Fiber Rug?
NATURALS  $$
Natural rugs aren't so much about the construction of the rug, but more about the fibers the rugs are made of.  Think of natural rugs that consist of plant based fibers such as jute, sisal, hemp, cotton or seagrass.  They can be dyed, bleached, or left au natural.  These rugs work great in laid-back, comfortable rooms with an organic vibe like coastal or boho.  If you're looking for the softest natural fiber rug, you'll want to check out jute rugs, preferably in a wide basketweave design.  They have a smooth and soft finish and feel nice on bare feet.  Sisal rugs are the most durable and resilient of the natural rugs.
What is a Flat Weave Rug?
FLAT-WEAVE $$ 
Flat-weave rugs are just that – flat.  They don't have the thickness because they lack the knots and tufted construction, giving them a flat finish.  Incredibly versatile, flat-weave rugs are easy to maintain and are oftentimes reversible.  Layering a flat weave rug on top of a natural rug is a great way to add depth and texture to your room. Flat-weave rugs are light and airy because they're made with breathable material like cotton.  See tips on rug pads below to avoid any tripping hazards with these rugs.  Common flat-weave rugs are Dhurrie (most often seen in pastel colors) or Kilim (with bold colors and geometric patterns).
What is a Power Loomed Rug?
POWER-LOOMED $
Power-loomed rugs are the most affordable and technically advanced of the rugs.  They are electrically powered by machined and controlled by computers. You can select from a wide variety of designs, colors and fiber content, but mostly made from synthetic fibers like polyester, polypropylene, acrylic or PET (made of recycled plastic bottles).  Synthetic fibers are great for stain-resistance and durability, however they can be toxic and contain plastics and petroleum, among other not so earth and human friendly ingredients.
How Can You Tell if a Rug is Power Loomed?
It can be tricky to tell the difference at first, because like hand-knotted rugs, the pattern can often be seen on the back side of the rug.  However power-loomed rugs are not as thick or soft as hand-knotted rugs.
How Do You Choose a Rug Size?
What Size Rug Do I Need?
RUG SIZE
Trust me when I say this: Bigger is better, in this situation!  Select a larger rug to ground the room, rather than a smaller rug which will dwarf a room and make the furniture look odd.
Standard rug sizes tend to come in 5×8, 8×10 or 9×12.  Anything larger than a 9×12 rug would be considered custom.  If you have a large room with multiple seating arrangements, it's perfectly fine to have 2 large rugs either nested side by side or grounding each section of furniture.  We recommend all furniture to rest completely on the rug for a cohesive look, or at the very least set the front legs of each piece of furniture so they rest on the outer edge of the rug, which will ground the room and connect the furniture.
LIVING ROOM RUG LAYOUT:

DINING ROOM RUG LAYOUT:

BEDROOM RUG LAYOUT:
If a large rug is selected, leave at least 18" of bare floor around the edges of the rug.
DESIGN TIP:  Pay attention to where a door might swing into the room, and if there will be enough clearance to go over the rug.  A thicker rug might block the door from opening fully.
How Do You Get a Rug to Stay In Place?
Use a rug pad to keep your rugs (and you) from slipping.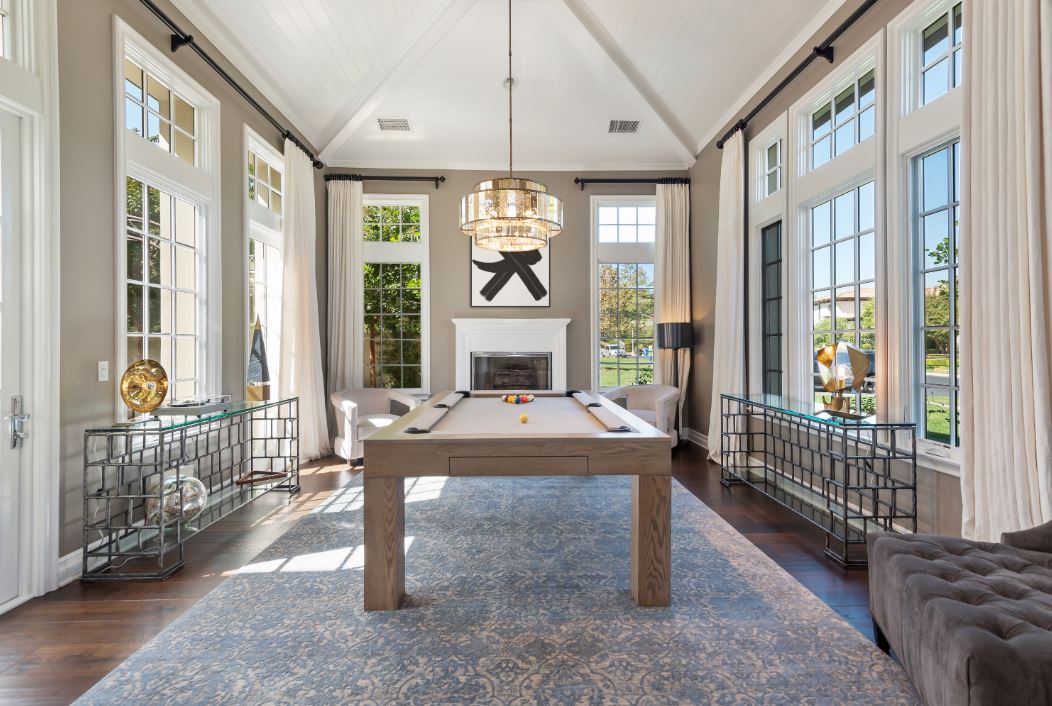 Why Do I Need a Rug Pad?
Rug Pads will not only keep you from slipping or tripping, but they'll prolong the life of your rug, protect the floor from scratches and scuffs, and will add extra support and comfort for your feet.  Essentially, they act as a barrier between the rug and the floor, which will prevent the fibers from being crushed.
RUG PAD MATERIALS:
It's best to choose a rug pad made from natural materials, like rubber or felt.  Felt rug pads are thick and are great for noise reduction and soft support.  Rubber rug pads are fantastic at sticking the rug to the floor to prevent any slipping or sliding.
Synthetic rug pads are more affordable than natural pads. But remember – synthetic ingredients have toxic chemicals, and depending on the level of petroleum, they can cause damage to vinyl, hardwood or carpeted floors (and your health).
RUG PAD SIZE:
To anchor the rug in place, a rug pad should be smaller than the size of the rug, which will give the rug a cascading look at the edges and a slight slope.  For any standard size rug pad, trim off 2" from the length and width so that the rug hangs 1" over each side of the rug pad.
HOW TO CARE FOR RUGS
Now that you've had your rug for awhile, it may need cleaning, repair or restoration.  Most of the time, rugs are able to be spot cleaned if you catch a stain early enough.  Just Remember to Dab Dab Dab, never wipe a spill.
But often times there are stains or damages that just won't come up and you need a professional rug master.
The best place we've found and our #1 go to for Rug Cleaning, Rug Protection, Rug Repair and Rug Restoration is Rug Renew in San Diego.  We have had clients send their rugs here from all over Southern California, from Santa Barbara, Los Angeles and Orange County.   From color restoration to pet odor or urine removal, stain removal and protection to fringe repair – they do it all and they do it well.
Rug Renew owner, Dave Nichols, is incredibly enthusiastic and passionate about rugs and takes great pride in the work he does.   And he's NICE!  We love working with good people.
Watch How Rug Renew Cleans, Repairs and Cares for Your Rug: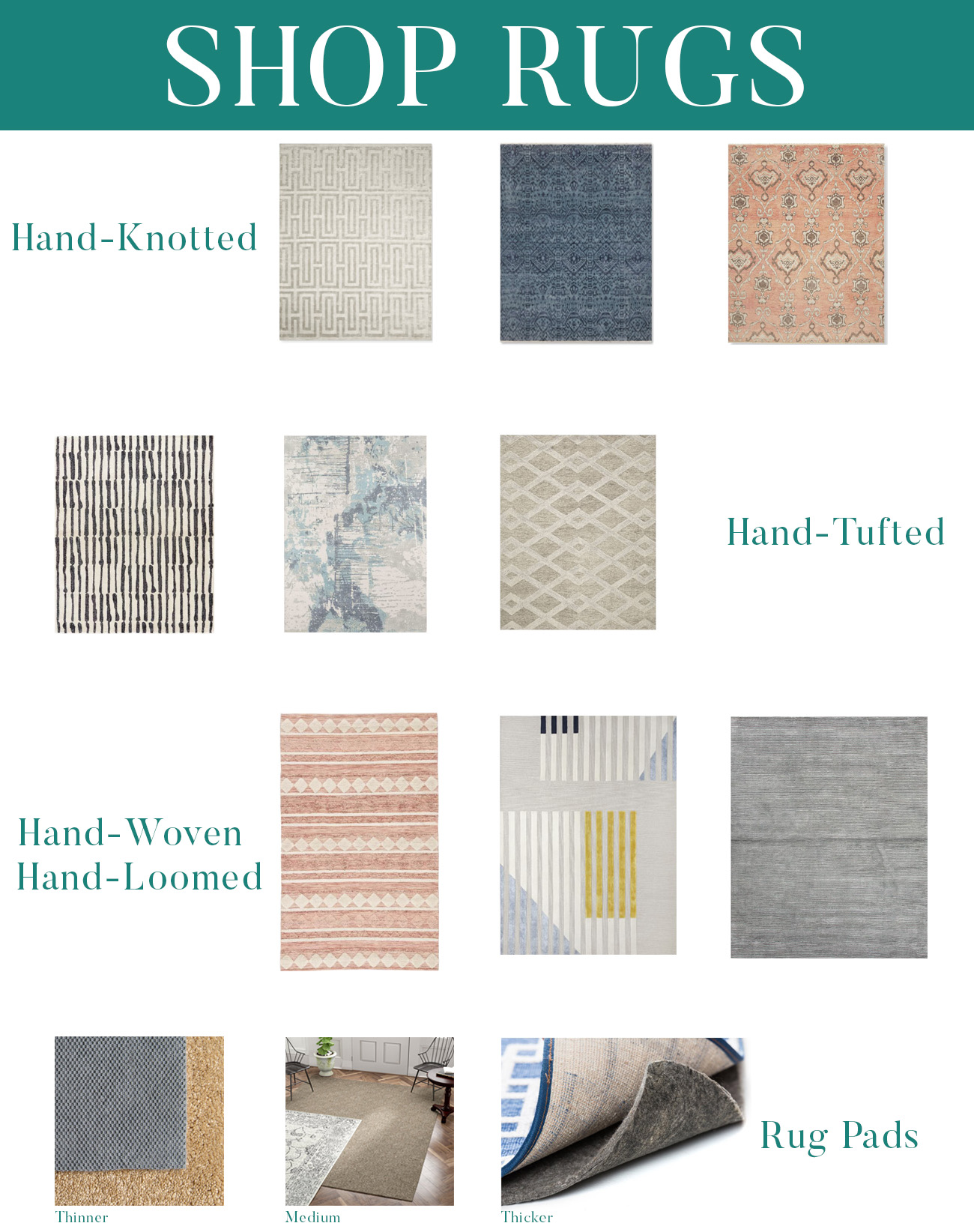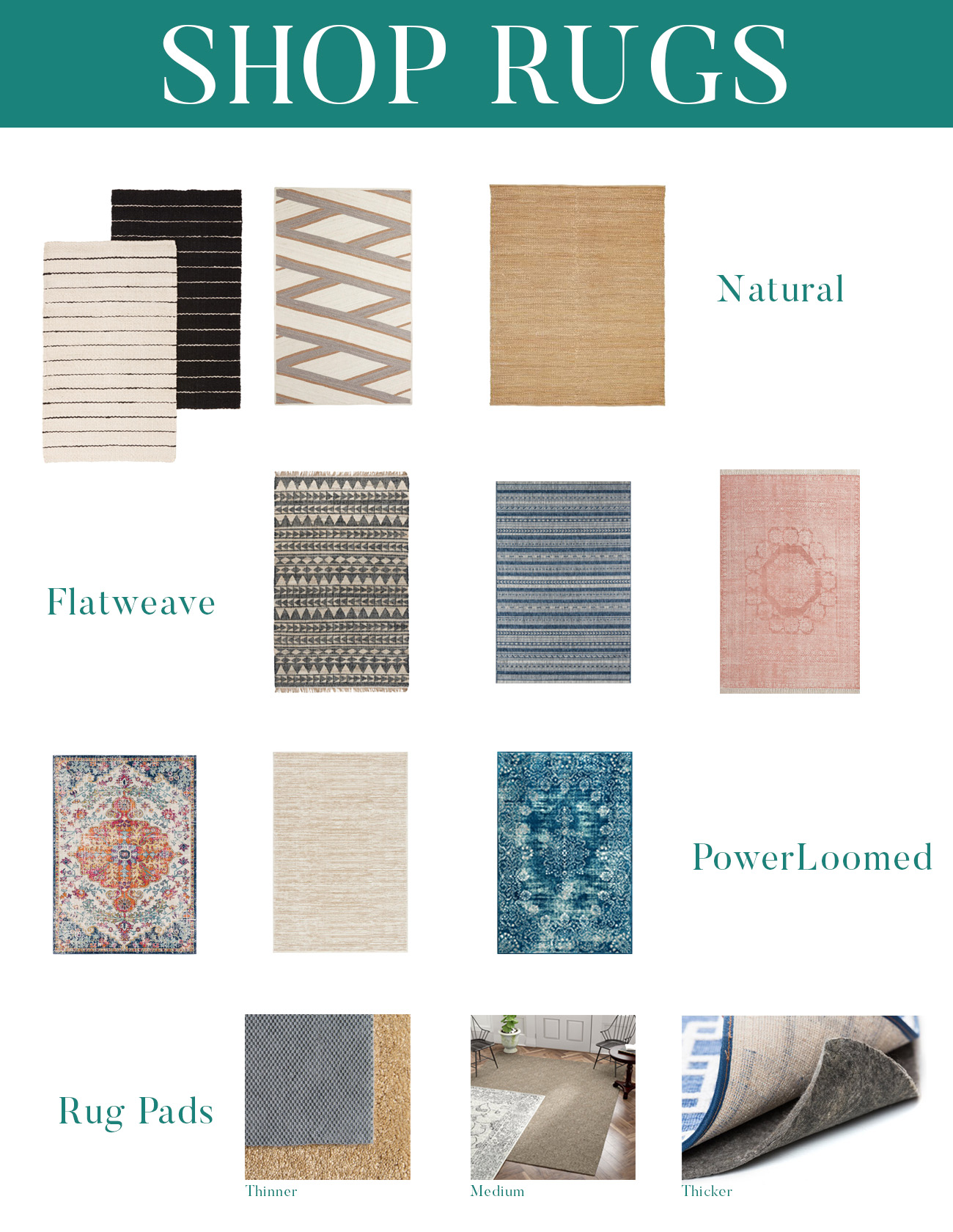 RUGS 101  |  by Sara Plaisted