Saunas are having their moment again, and we're loving it!  With so many health benefits, we know why more people are asking us to create this lifestyle for them in their own home.  There plenty of options, styles and materials to choose from, we break it down for you here and give our expert advise with the best Home Sauna Design Tips.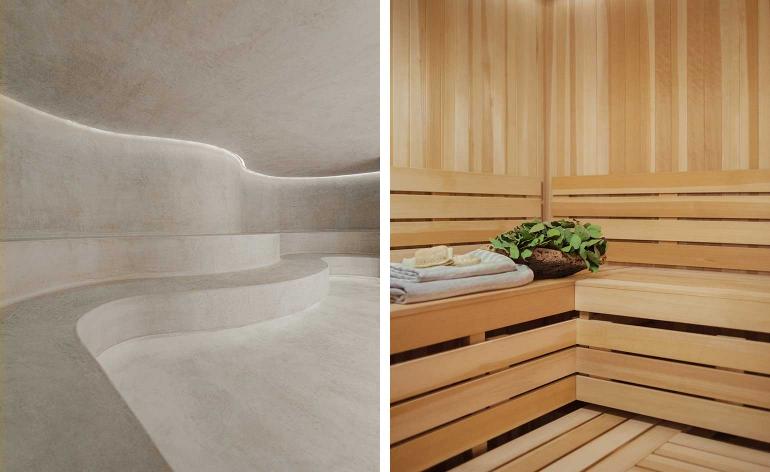 Wet and Dry Saunas at The Well in NYC
 HISTORY OF THE SAUNA
Saunas are continuing to grow in popularity over the years, and it's interesting to think about their history.  For centuries, people from around the world have used the sauna for overall health, relaxation and social happiness.  Now through studies, we can show all the benefits that range anywhere from glowing skin and major detox to better sleep and giving your immune system a boost.
Cultures from Scandinavia, the Ottoman Empire, Asia, Europe and the Indigenous all have their own version of a hot sauna, whether it's a bath house, sweat-lodge or a wood hut.  The underlying goal was to sweat it out and get it clean, all in at least 15 minutes, 60 if you're serious.
The word Sauna comes from Finland, the Spa Capitol of the World, meaning simply "a small room or building designed as a place to experience dry or wet heat sessions."
We know what you're thinking – Why not use one of the small rooms in your home and turn it into your very own sauna?  Don't worry, we've got you covered.

WHAT ARE THE BENEFITS OF A SAUNA?
Saunas have so many health and wellness benefits that can be felt within just a few minutes.  If you can tolerate a room temperature of between 150-195 degrees, it'll be worth it, especially if you incorporate it into your weekly routine.
Rising the body's temperature will make you look and feel better because it increases your pulse rate to the pace of light jog and circulates the blood flow, which helps to burn calories and makes you feel fantastic.
Benefits of the Sauna:
Decrease Stress and Increase Relaxation

Detox

Lower Blood Pressure

Help with Weight Loss

Increase Energy

Promotes Brain Performance.  May Help Prevent Alzheimer's and Dementia

Improves Skin

Lowers Inflammation

Boosts Immune System

Improve Lung Function

Anti Depressant

Helps Sleep

Manages Joint Pain and Aids in Muscle Repair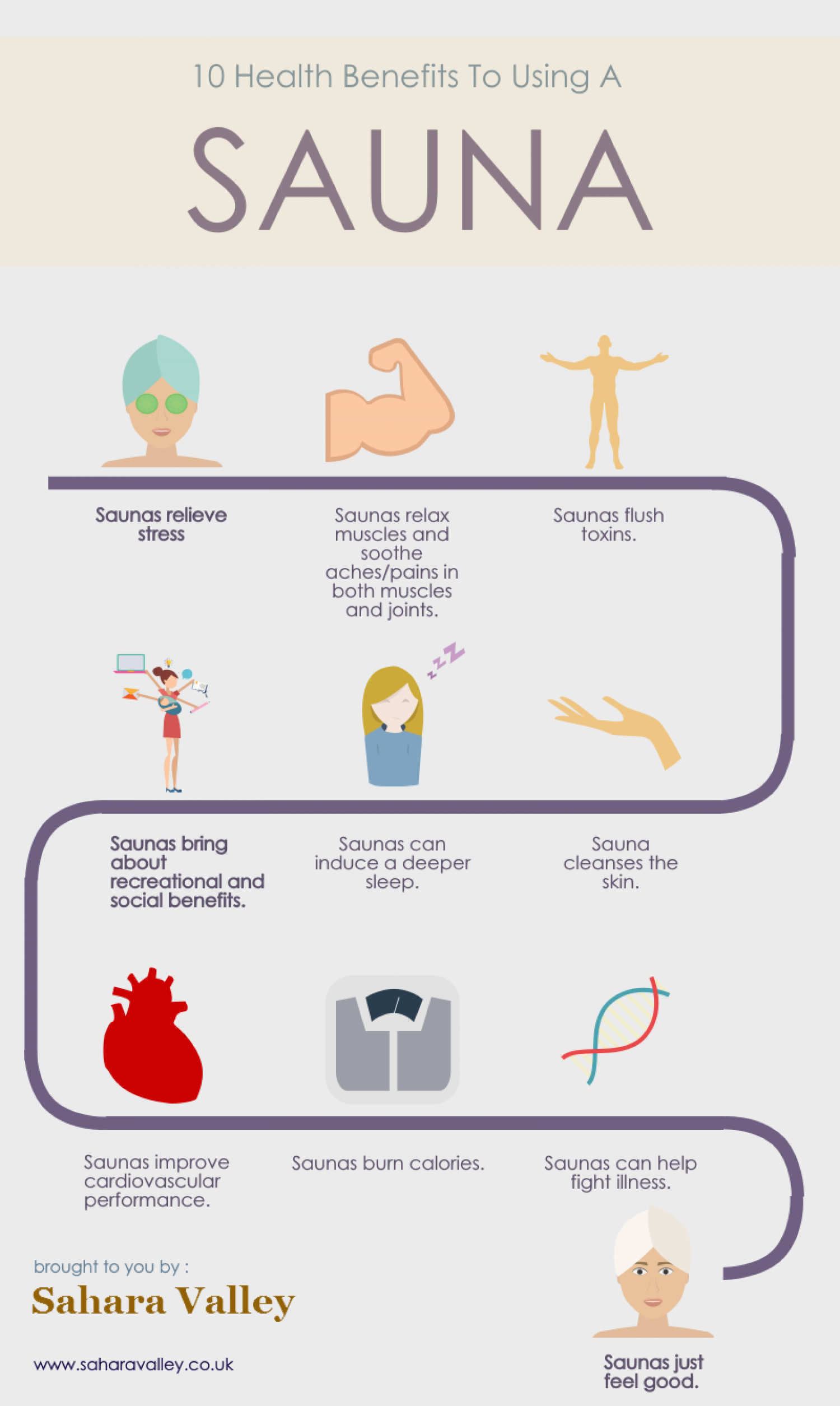 INTERNATIONAL SAUNA or NEIGHBORHOOD SPA
Some of our first experiences using a sauna may have been at a hotel while traveling or in our neighborhood spa.  Hospitality locations inspire so many incredible designs and often have the best views.  But why not bring this feeling of health and relaxation into your home?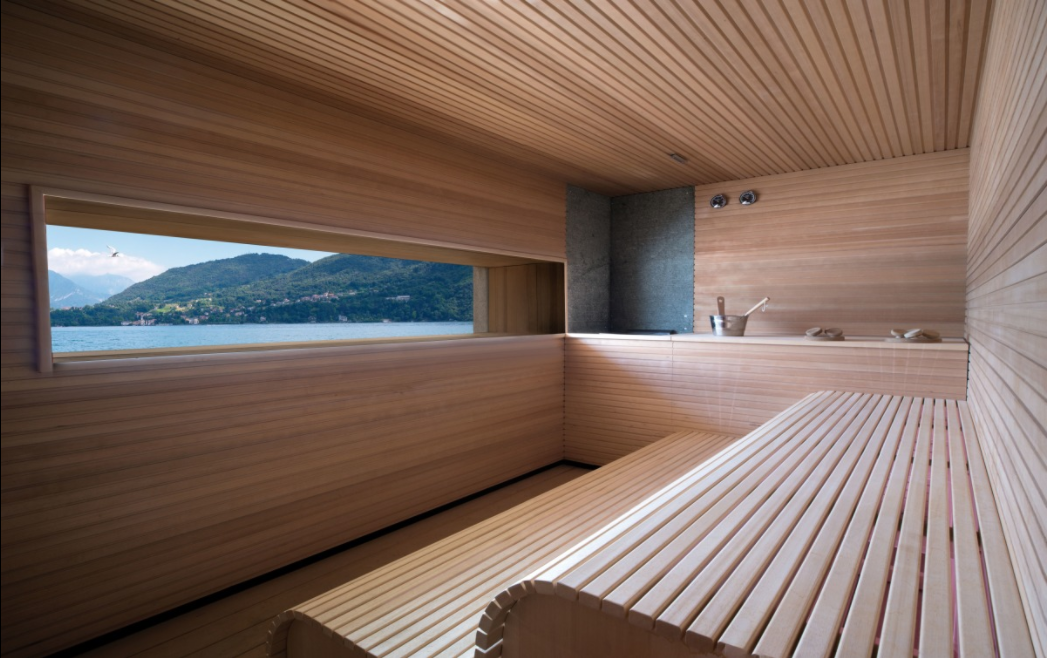 Grand Hotel Tremezzo, Lake Como, Italy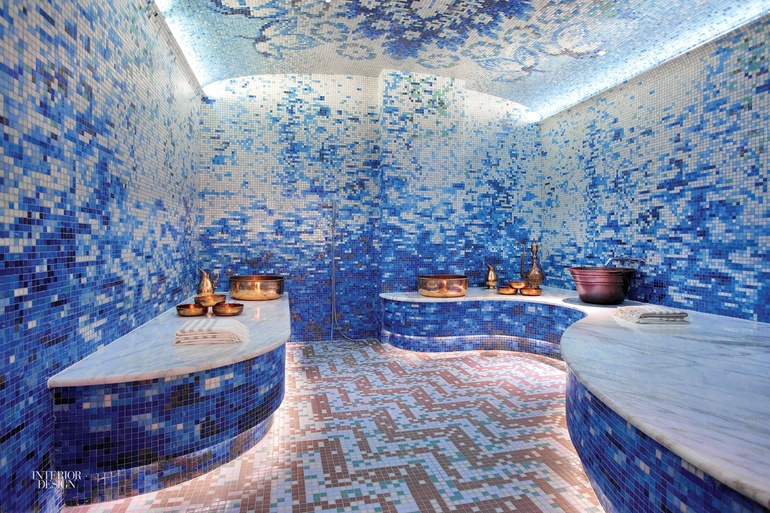 Kimpton Seafire Resort Spa via Inteior Design Magazine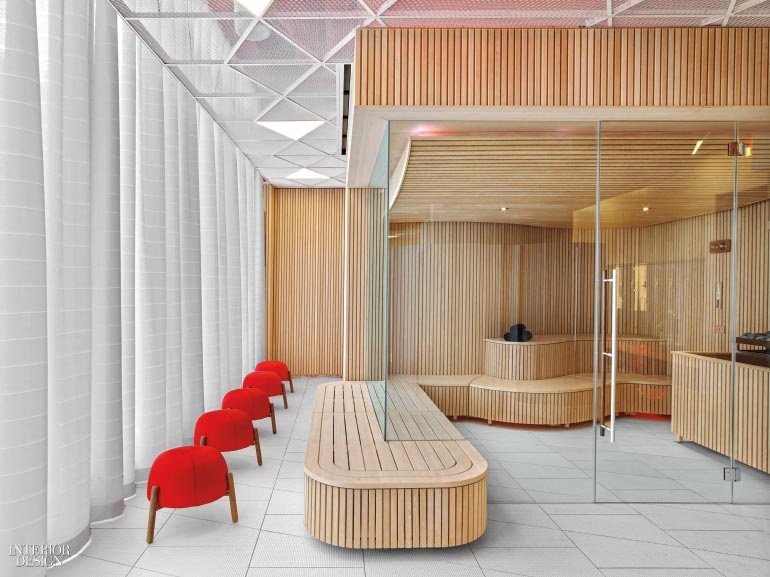 Intercontinental Los Angeles Downtown Sauna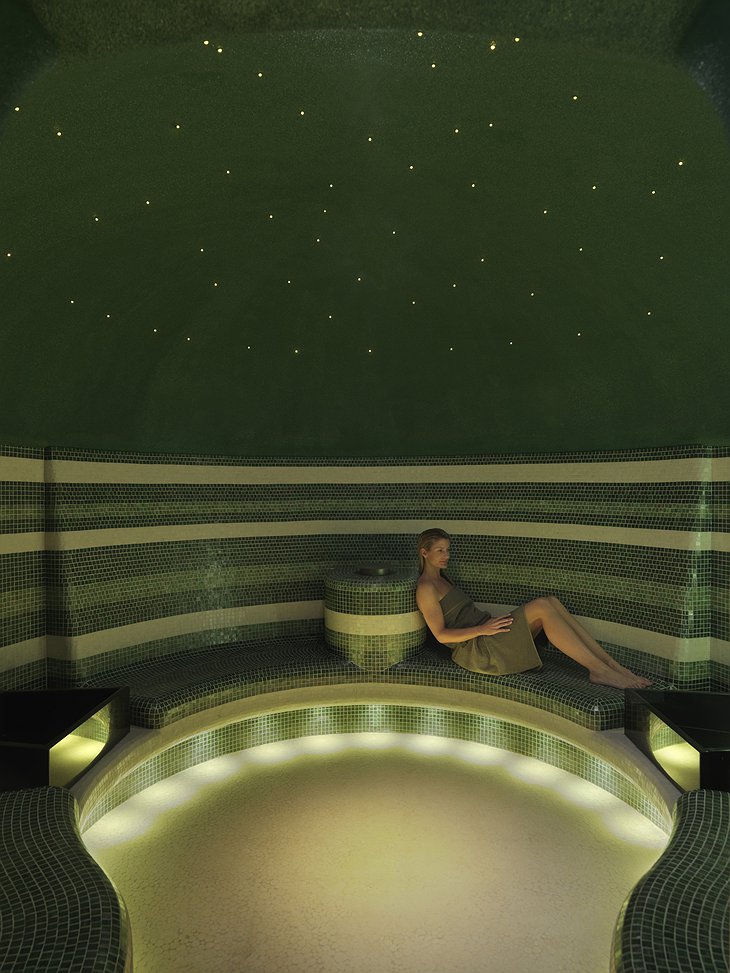 Jumeirah Port Soller – Dome Shaped Hammam in Mallorca, Spain.
BENEFITS OF A HOME SAUNA
Cut Down on Drive and Wait Time
Convenient When You're Crunched For Time – A Quick Escape of 15 min does the trick!
Comfort and Ease of Your Own Home
One Time Money Investment
HOME SAUNA DESIGN TIP:
HOW TO ADD A HOME SAUNA
WHERE SHOULD YOU PUT A SAUNA IN YOUR HOUSE?
LOCATION – LOCATION – LOCATION
Don't worry if you think you don't have the space. Depending on the size of your home or apartment, there are always options.
Designated Sauna Room – Build or remodel an empty room or extra bathroom into a sauna.
Home Gym or Yoga Studio – Designate a corner of the room to a sauna.
Partial Bathroom – Convert the tub or shower area into a sauna.
Walk-In Closet – As long as you have more than 5 feet by 5 feet, a sauna it's doable.
Outside – Install a sauna box on your patio deck, the side of the house, or build one in the backyard.
Garage – Can you spare a little room by cleaning up the donations pile or stored holiday decorations?
HOW MUCH DOES IT COST TO PUT A SAUNA IN YOUR HOME?
There are a couple of questions that will determine how much a home sauna may cost you, and that's . . .
What's Your Budget and How Much Room Do You Have for a Home Sauna?
A price for a custom built sauna room might be anywhere between $20,000 to over $100,000, depending on how many bells and whistles you opt for.  If you're looking for a pre-made unit that you can place in an area larger than 5×5, it might range anywhere from $1,500 to $10,000.
HOME SAUNA DESIGN TIP:
SELECTING A TYPE OF HOME SAUNAS
CUSTOM IN HOME SAUNA
Plan to build or convert an extra room or portion of a large bathroom in your home where you can dedicate space to a sauna.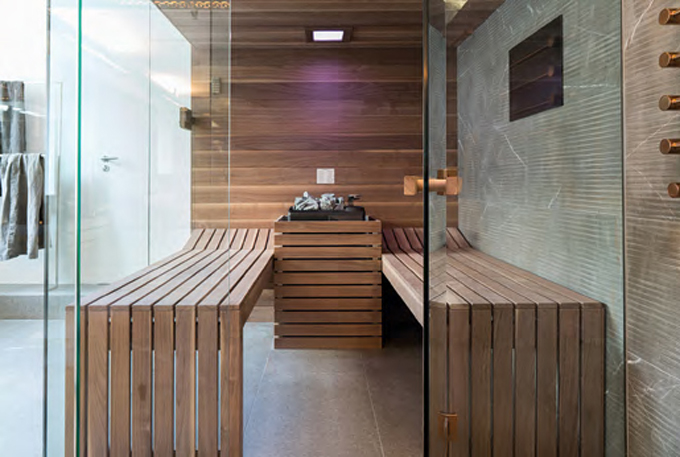 Replace the walls with glass to expand the space visually.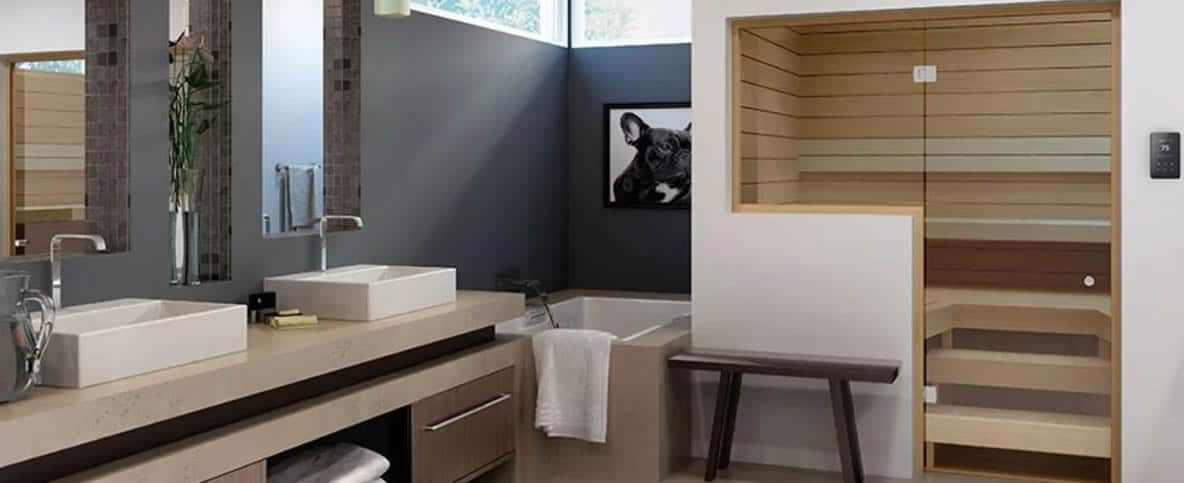 Convert either the shower or bathtub and replace it with a sauna.
PURCHASE A PRE-MADE SAUNA BOX
Feeling tight on space?  In this bathroom, we replaced the tub and shower combo with a pre-fab sauna box.  Even a large closet would be an optional space to tuck in a small unit.
HOW BIG IS A SAUNA BOX?
Sauna Box Units come in a variety of sizes.  1-Person Units are around 40″ x 44″ x 76″ high, and 5-Person Units are around 78″ x 42″ x 71″, where a corner unit is around 71″ x 47″ x 77″ high.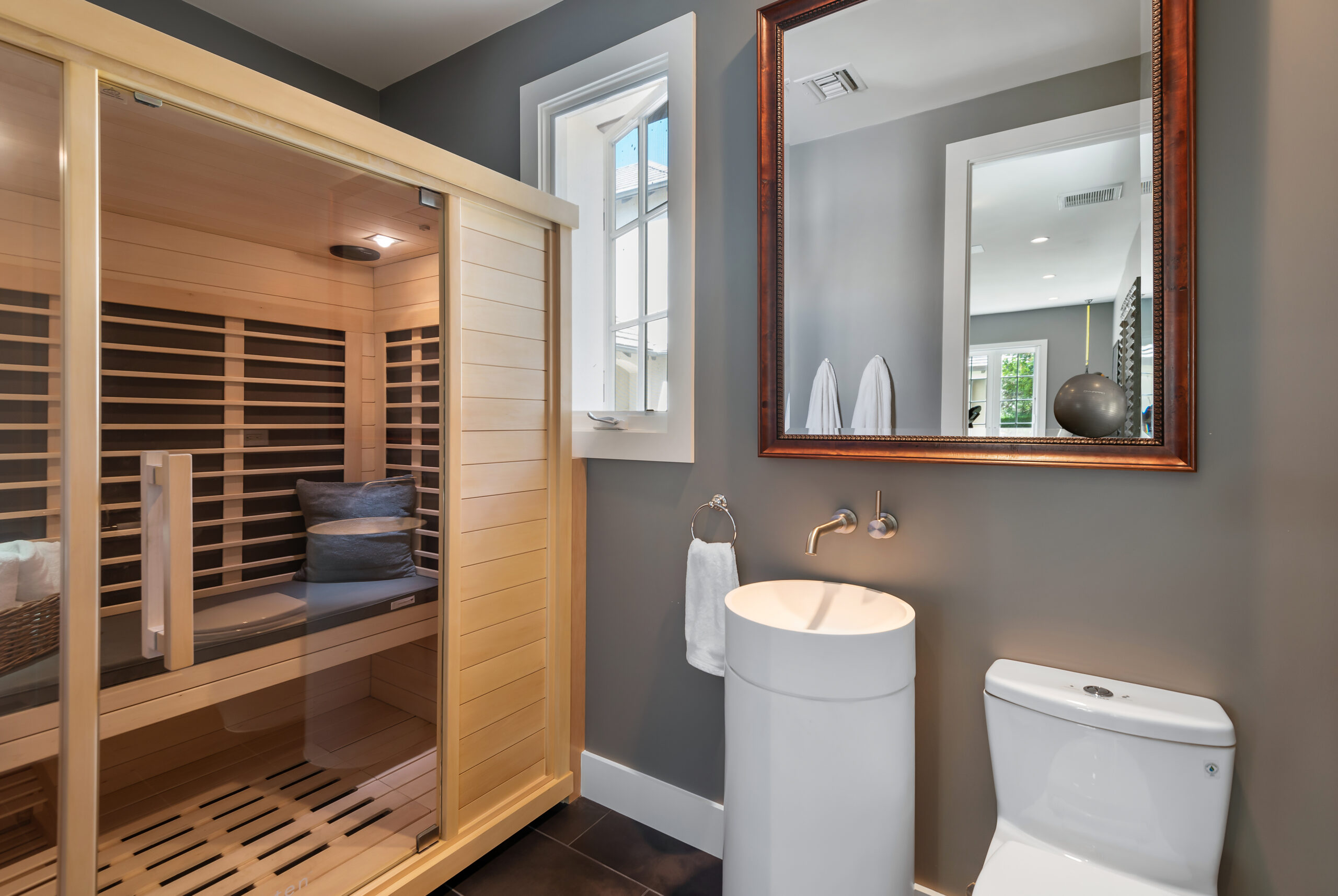 SAUNA BLANKET
A sauna blanket is the best alternative when you're either tight on space or low in cash flow.  We absolutely love this portable Higher DOSE far infrared sauna blanket.  It's easy to use, easy to clean and can easily store in the closet or under the bed.  And an added bonus is that this blanket is made with Magnetic Therapy, Charcoal, Clay, Amethyst and Tourmaline Crystals.
BUILD AN OUTDOOR SAUNA
An outdoor sauna is a great solution for those who are tight on interior space and have a little extra room in the backyard for a small oasis.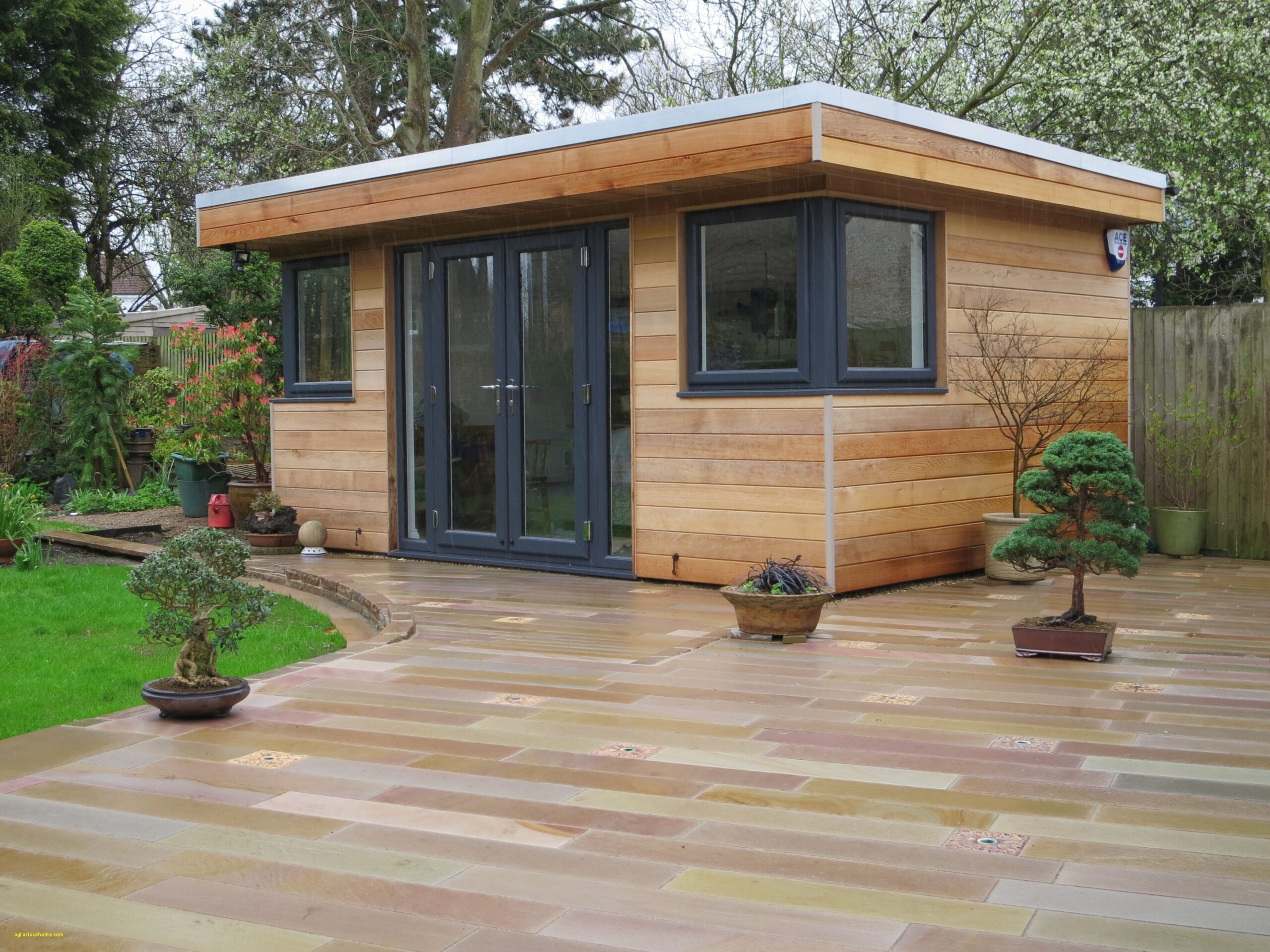 Build an outdoor sauna in the backyard.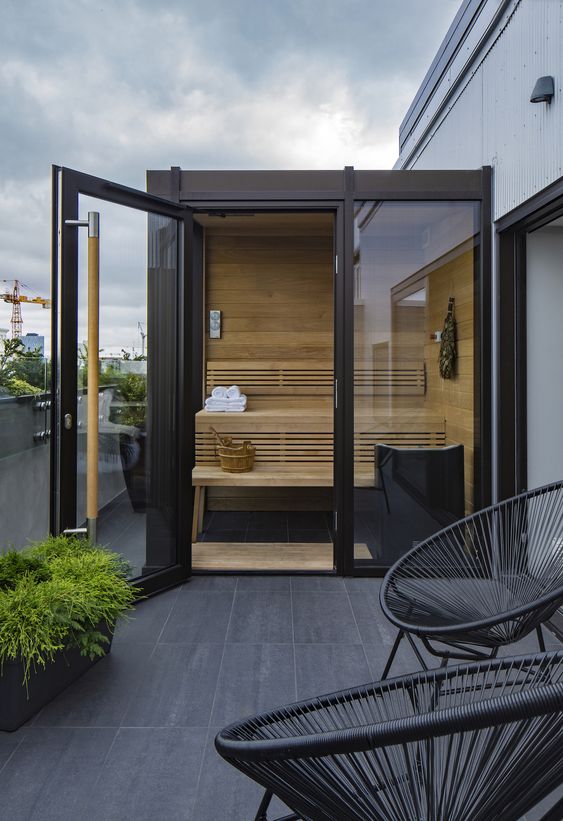 Place a pre-made sauna box on the patio.
HOME SAUNA DESIGN TIPS TO CONSIDER
TYPE OF HEAT
Dry Heat, using Wood Burning or Electric are more traditional sources of heat.
Wet (Steam) Sauna
Far Infrared – This 

deep detoxifying sweat allows your body to pull out 7 times the toxins and heavy metals and increase your heart rate for a healthy glow.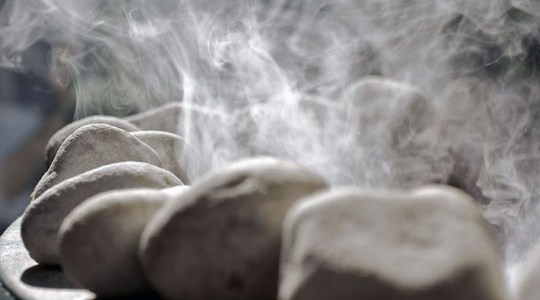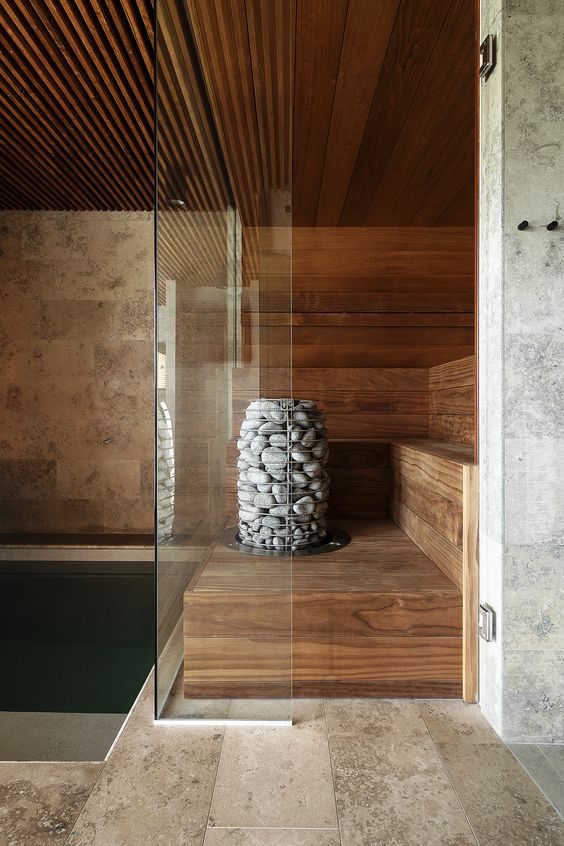 Minimalist Sauna Using a Hot Stone Basket
WOOD
There are many types of wood to select from when designing a sauna, including Cedar, Eucalyptus, Pine, Alder, Aspen or Spruce.  Although Eucalyptus would smell incredible, we prefer Cedar for it's high performance and durability.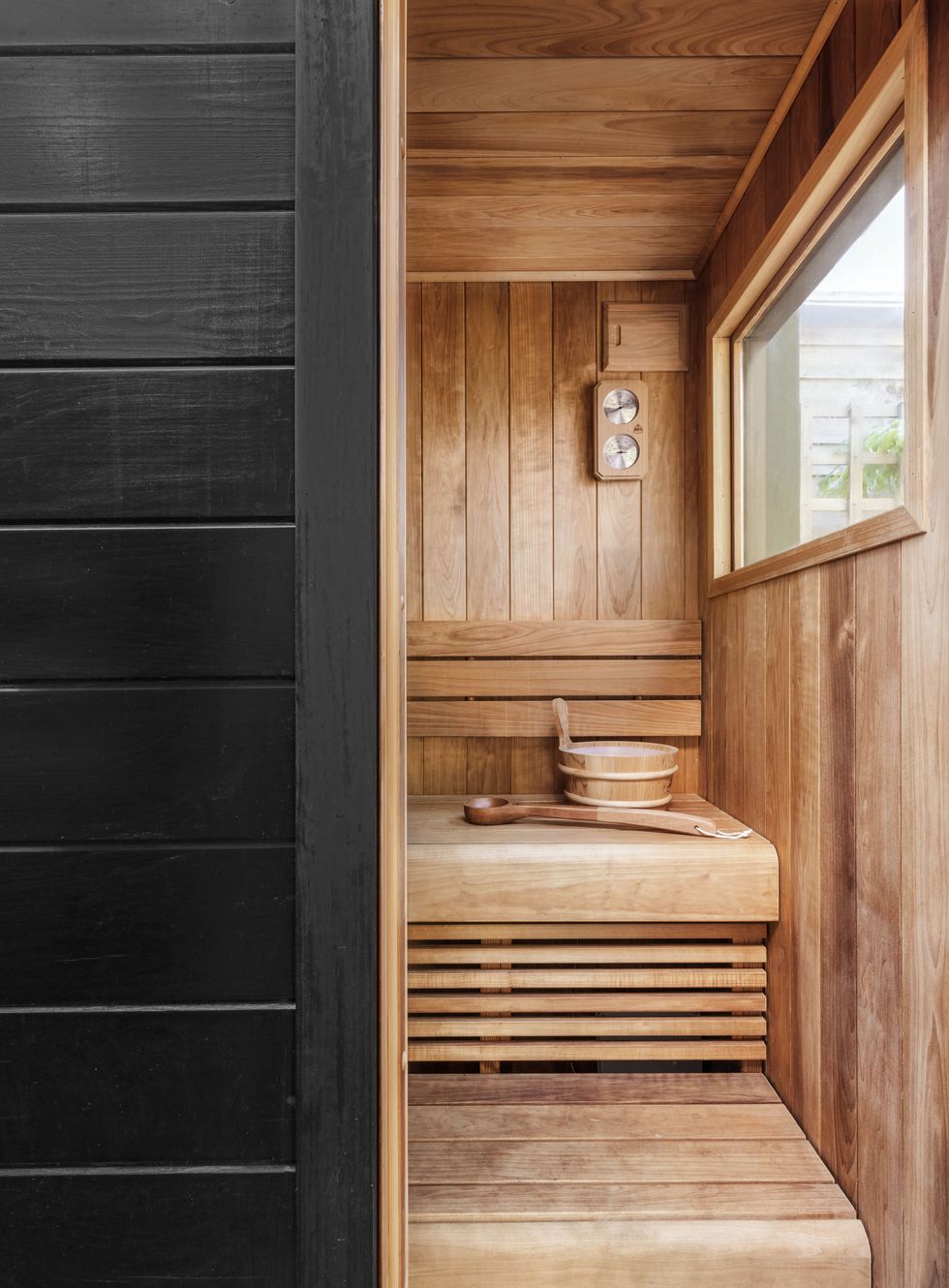 TILE
A Wet or Steam Sauna is best when using tile or stone.  Mosaic tiles are great for curved surfaces like benches or a sloped ceiling, as shown in one of our projects below. It's important to  tile the ceiling in a steam sauna to protect it from excess moisture.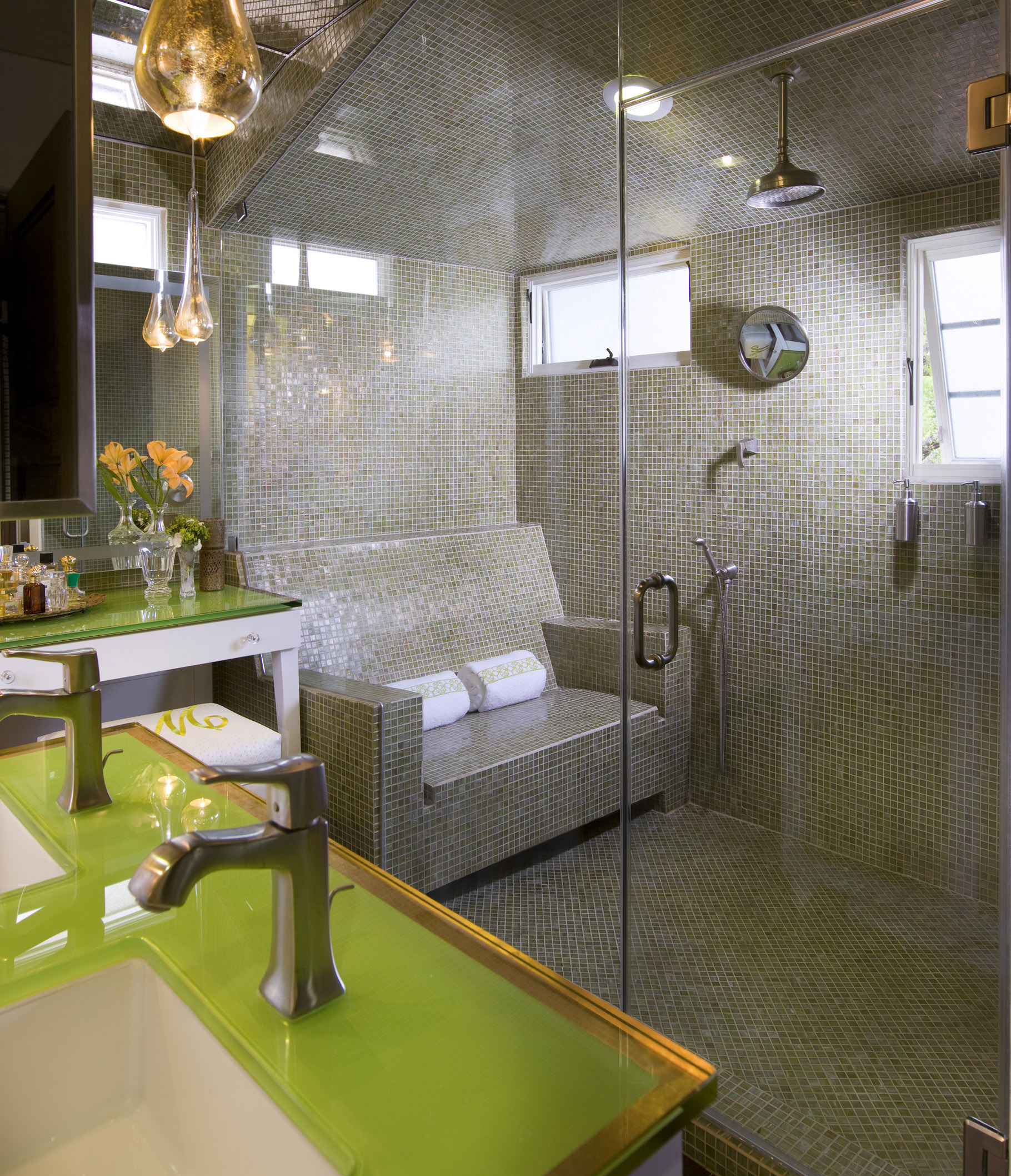 Built-In Steam Sofa inside a Shower Finished in Mosaic Tile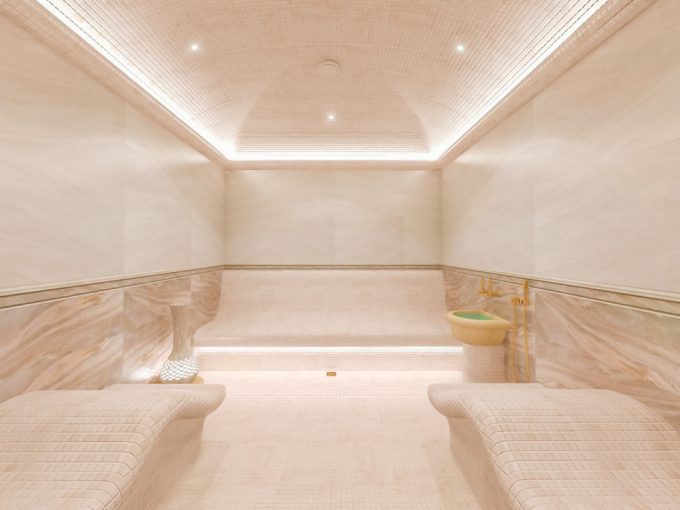 Tile Steam Shower with Curved Mosaic Covered Benches.
SALT
Salt has been used for hundreds of years to help maintain health and wellness.  Benefits include alleviating allergies, reducing lung inflammation, relieving skin issues and helping your body to heal faster, among many more.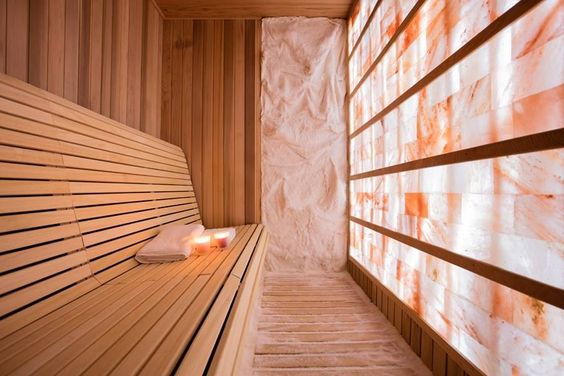 MILJKO / GETTY IMAGES
Pink Salt Wall
ROCK or STONE
Contrasting wood with a rough or raw stone adds a natural element to the style of the sauna.  Encorporate Lava Rock or Volcanic Stone for increased heat.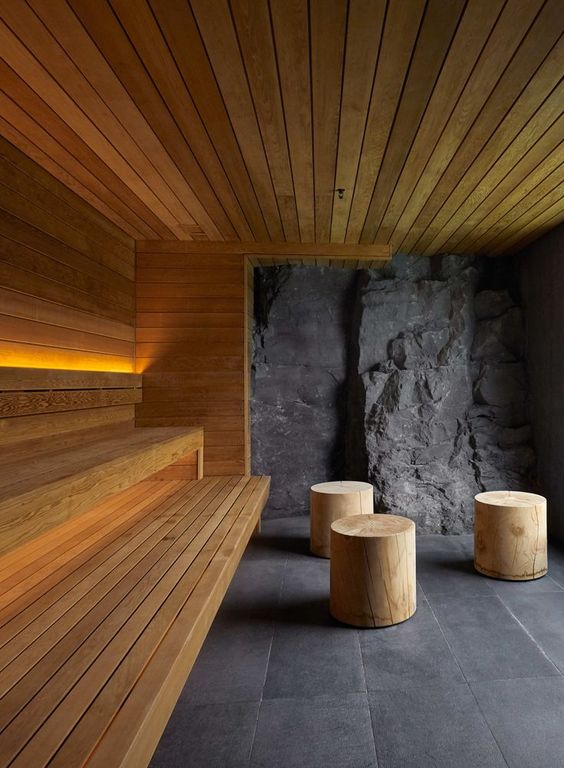 SHOWER
Place a shower inside or nearby a sauna for convenient pre and post rinse off.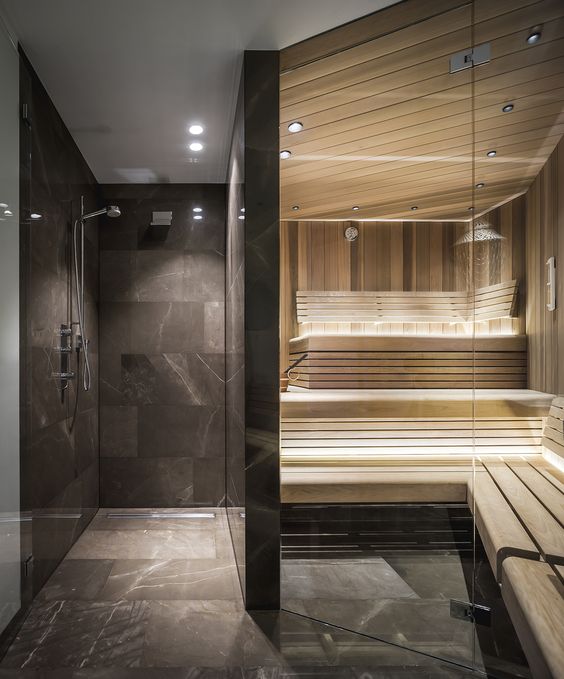 ACCESSORY SOUND + CHROMATHERAPY
To really kick your sauna experience up a few notches, add in a Sound System, along with a Chromatherapy light feature.  Set the mood lighting and your personal soundtrack to get you in the zone, indulge in your own yoga session or incorporate sauna treatments into your meditation practice.

HOME SAUNA DESIGN TIPS AND STYLES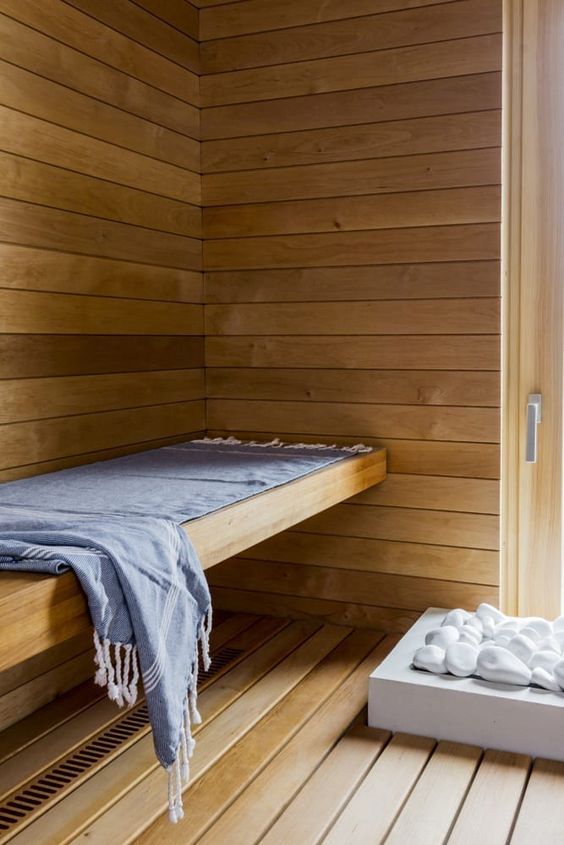 Clean design of light wood planks and white rock stones.
SEXY & SOPHISTICATED SAUNA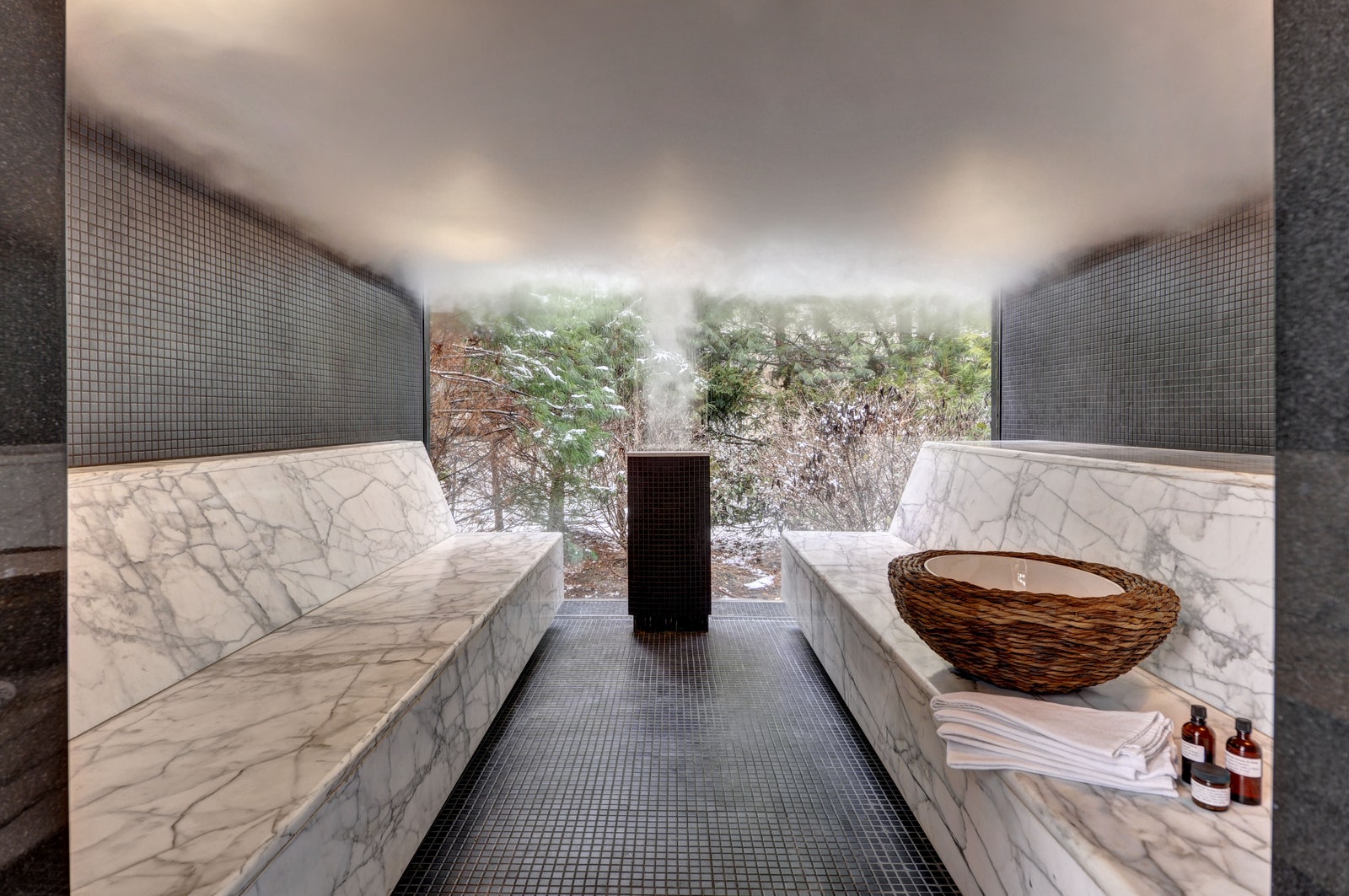 Luxurious Marble Slabs beneath Classic Grey Mosaic Tile.
Bench Seating feels more open than corner seats that wrap around.
FRESH & CLEAN STYLE SAUNA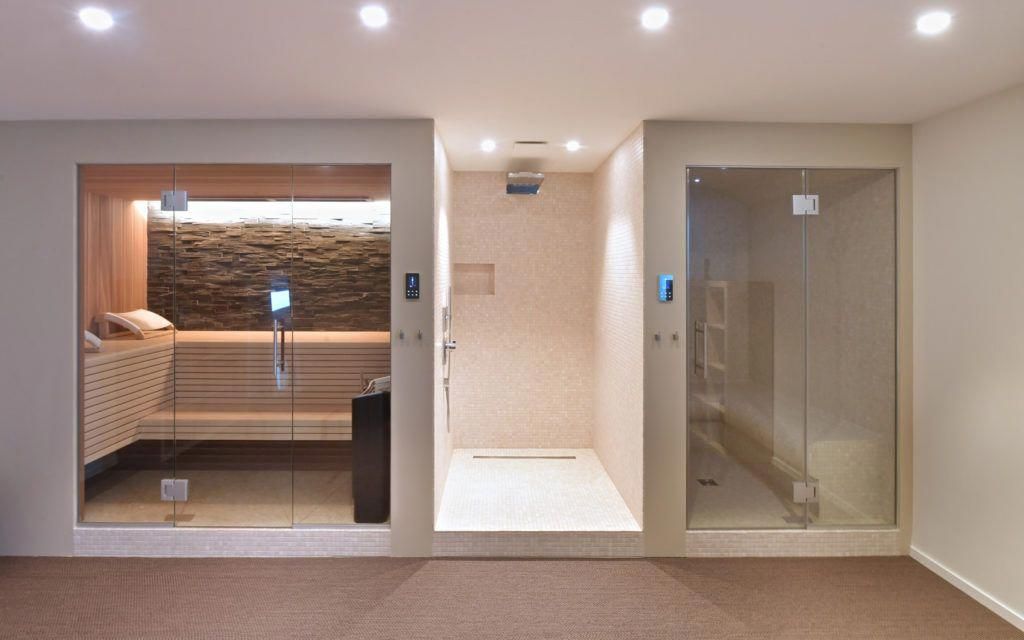 Sauna Wall with Dry, Shower and Wet Steam. Finished in White Mosaic Tile.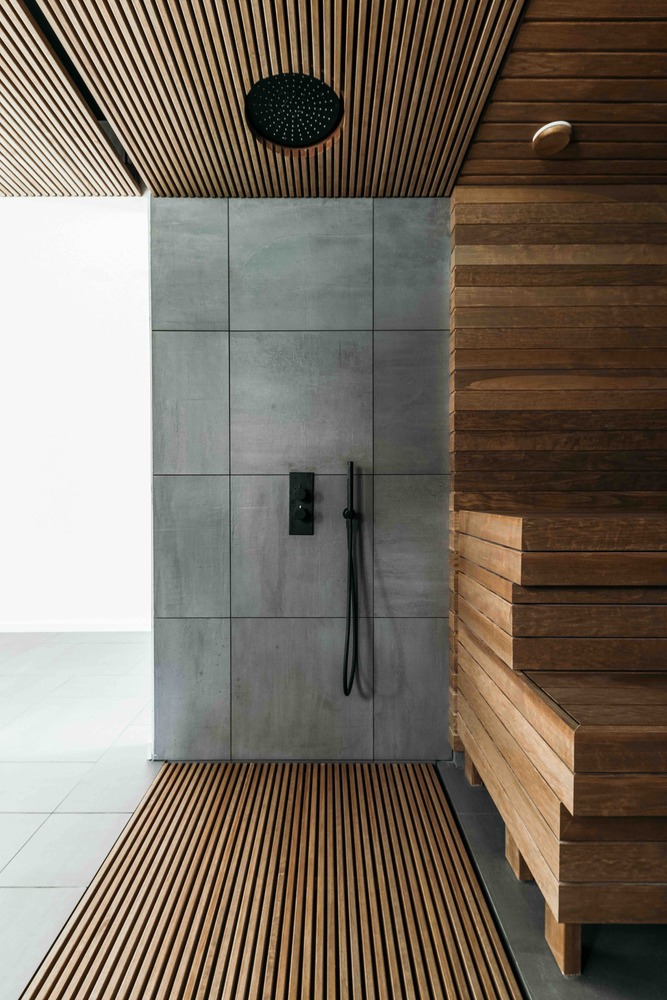 Slate Grey tiles give a concrete urban feel next to raw wood.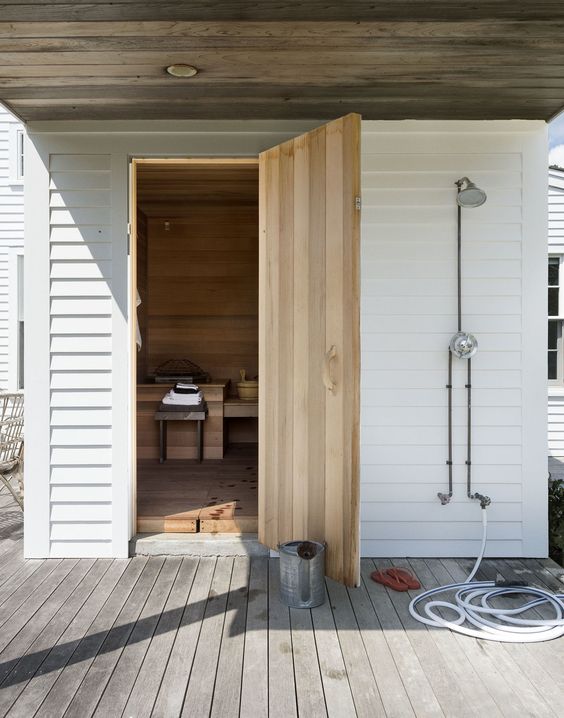 Even the smallest space outside has room for a sauna.
Which would you pick for your own home sauna design?  It's a tough call, because we want them all!
HOME SAUNA DESIGN TIPS | by Sara Plaisted