Make the most out of your space and create the ultimate closet layout solutions for your lifestyle needs.  Whether you have a small coat closet, a walk-in closet or a luxurious dressing room, we list the 10 Closet Must Haves to help maximize function and flow so that you look and feel your best, effortlessly.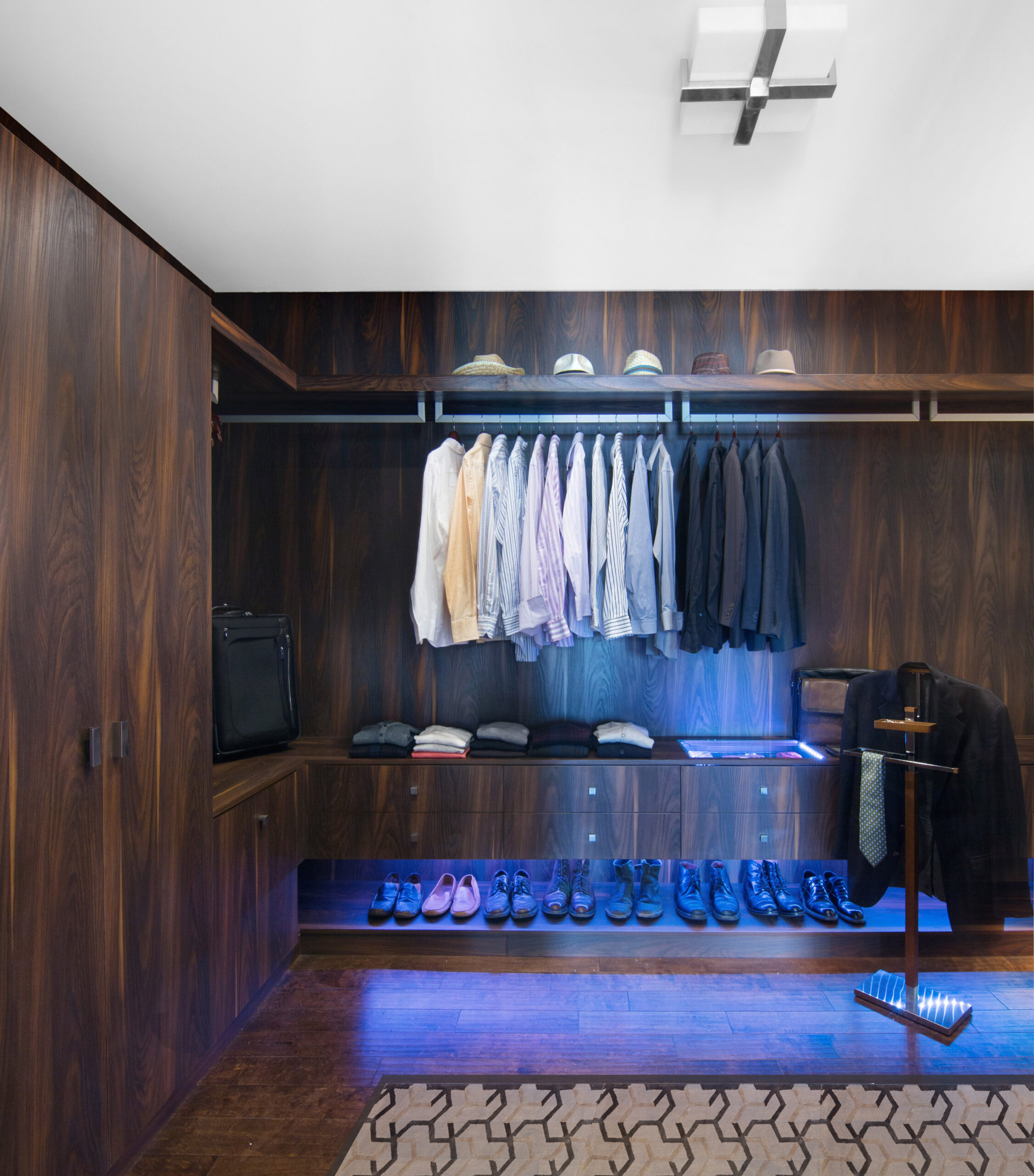 Floating drawers and shoe shelves make a closet feel lighter and more elevated.
Before you begin to plan out what you and and your closet needs, head back to one of our most popular posts about 
How to Organize Everything in Your Closet.
  You'll find the guidance you're looking for to help you identify your habits and lifestyle needs to simplify your wardrobe, plan your flow and function, and add personal touches as a nod to your personality.
HOW DO YOU LAYOUT A CLOSET?
No matter the size, there are basic closet storage and layout configurations to choose from:
Single Pole or Full Height for Dresses + Coats
Double Pole for Tops, Pants, Skirts, or Shirts
Shoe Racks or Shelves – For a great display, make it a tilted shelf with a curb or ledge to keep shoes from sliding.
Drawers
Open Shelves
HOW CAN I DECORATE MY CLOSET?
Decorating is like the jewelry of your closet and an extension of who you are.  For a personal touch, add:
Decorative Lighting, like a Pendant or Wall Sconce
A Soft Rug
A Comfortable Bench or Chair for Seating
Full Length Mirror
Art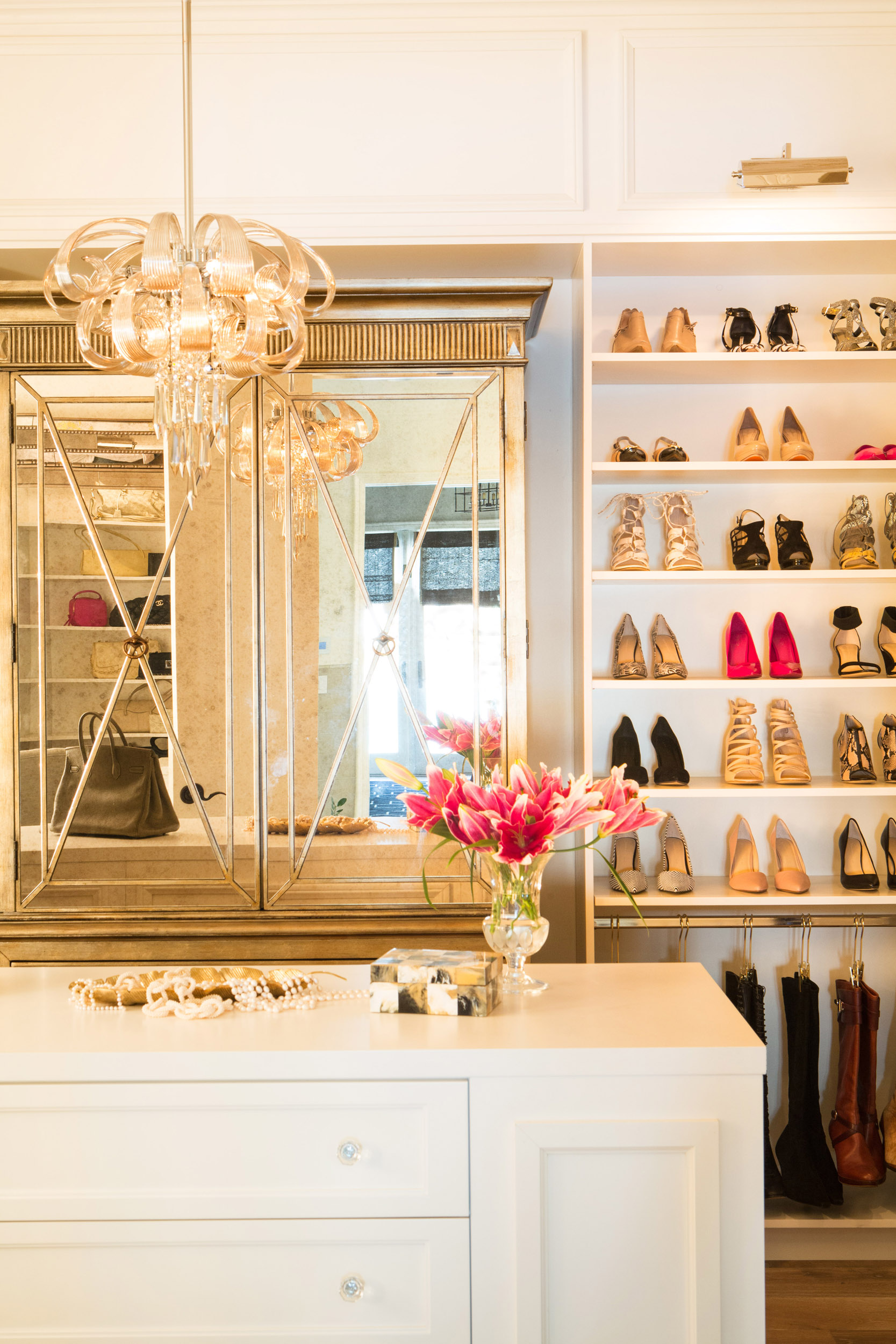 Mix decorative lighting, display shelves and furniture to make 
a walk-in closet feel collected and special.
1.  CLOSET VALET HOOK OR VALET ROD
A retractable garment rod is one of our favorite must haves when selecting closet accessories, no matter the size of your space.  It's a little detail that makes your wardrobe planning and organization run a little smoother.
What is a Valet Rod?
An extendable valet rod is your new best friend and personal assistant when you need an extra hand. Hardly taking up any space, the small pull out bar can be used as a place to display your clothes as you plan outfit.  When extended, a garment rod can also be used to store newly purchased or freshly laundered clothes as you wait to put them away.
Where Should You Install a Valet Rod?
The most popular places to mount a valet rod are either inside the closet box wall or on the outside face of the closet cabinetry.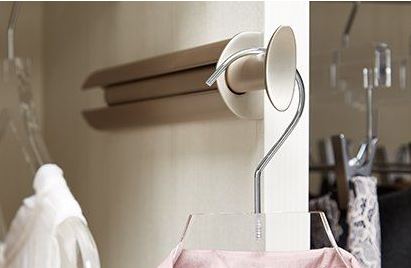 Image via Container Store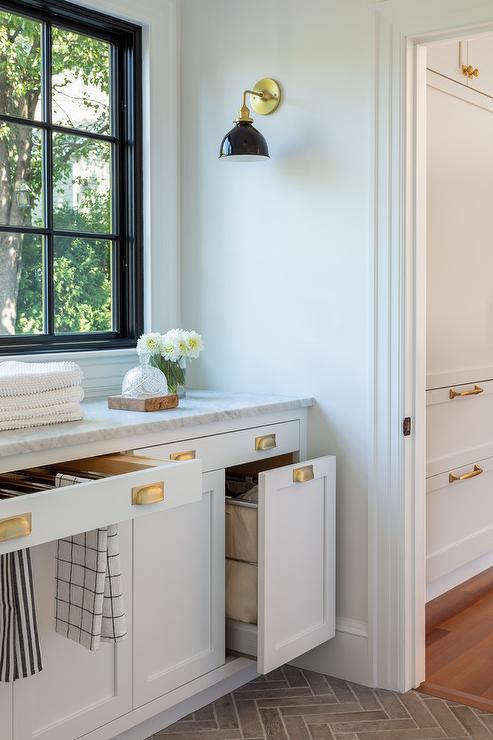 2.  HIDDEN HAMPER 
Rule #1 -Don't air your dirty laundry, and your bedroom, bathroom or closet is no exception.
Similar to the trash pull out in the Kitchen cabinets, a pull out laundry is your best kept secret.  Nobody likes to see clothes spilling out from an open laundry basket that's tossed into the corner of the room.
Keep those dirty clothes hidden behind closed cabinet doors so that your closet maintains it's clean and beautiful appearance.
A great place to install a tilt-out hamper would be near the entry of the walk-in closet.  Or, if your bathroom is big enough, use some of the lower cabinet or linen closet space for the concealed laundry.
3.  MIRRORS ON CLOSET DOORS
Make any closet feel more expansive, elegant and chic with the addition mirrors.
Whether your style is minimal and modern, or traditional and decorative, mirrors will help to make the closet space feel bigger and throw light around the room.  Plus it's nice to take one last glance before leaving the house.
If there's not enough room in the budget for mirrored cabinet doors, there are plenty of other affordable options. To help you look and feel your best while getting ready, add mirrored furniture, a full height leaning mirror, or a mirror above a set of drawers.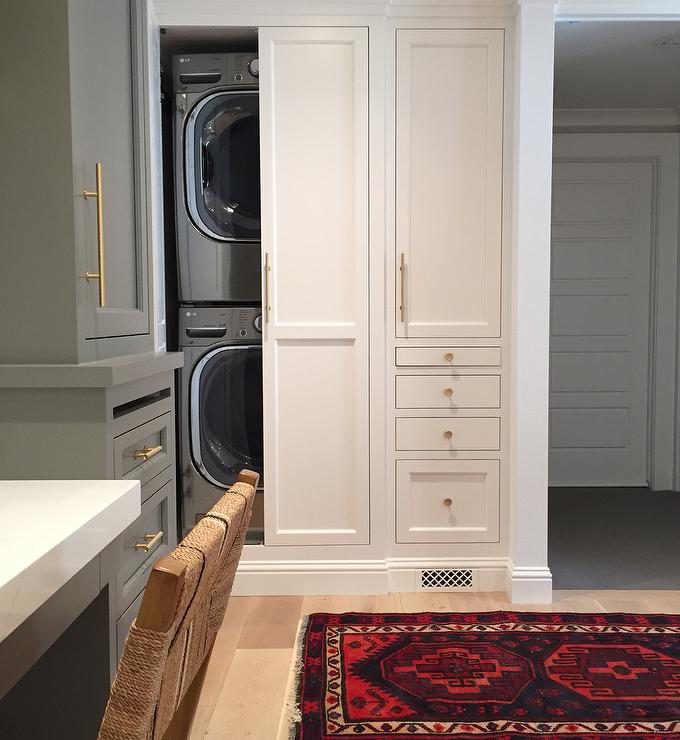 CONCEALED WASHER DRYER
There's nothing more convenient than having a washer and dryer inside of a walk-in closet.
Can You Put a Washer and Dryer in a Closet?
Yes!  You can install a washer and dryer in your closet if there's access to plumbing in the wall and plenty of ventilation.  A convenient place for a stacking washer dryer would be on the other side of the bathroom wall, if that's available.
Another space to tuck a washer and dryer out of site would be inside a hall or linen closet.
Design Tip:
Hide the units behind closed doors to keep the closet area beautiful and free of appliances in view.  If you don't have a ventless dryer, add an open weave decorative cabinet door, like cane, louvres or lattice.
5.  PULL-OUT IRONING BOARD
A ironing board is a must have in any closet.  If an iron isn't nearby, it's more likely you may walk out of the house looking like a wrinkled Shar-Pei.
Having a clean pressed wardrobe is now easily accessible, within arm's reach and at the perfect height.
Where do you hide an ironing board?
A classic storage trick as old as time is to hide the ironing board in a cabinet.  Mount on the wall as a drop down board, or tuck it away inside the top drawer of cabinetry.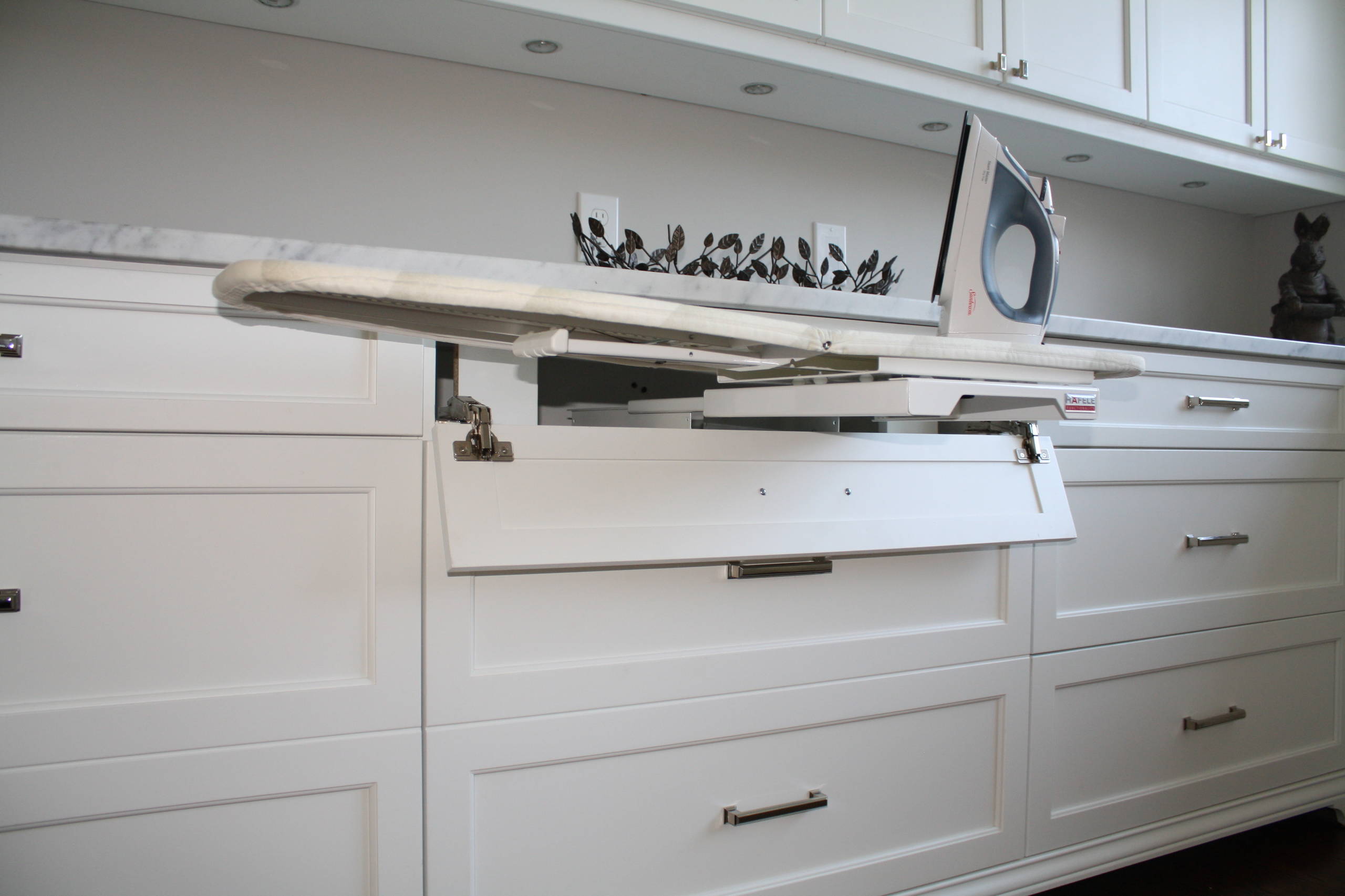 Image via Hardwood Creations
6.  WALLPAPER
Wallpaper is a great decorative addition to any closet and instantly creates an expressive wow-moment!
Set against clean closet cabinetry, install a bold design at the end of the room to draw you in, or add it to the ceiling for an extra special accent to keep you looking up.
Design Tip:
It's now more affordable and easier than ever to install wallpaper, especially with the peel and stick paper that's available from most stores.
Peel and Stick wallpaper is also perfect for renters!
7.  CLOSET DRAWER & SHELF DIVIDERS
Store items to be seen at a glance.  Rather than throwing lumped up socks and loose undies in a drawer, add a few dividers that compartmentalize items.
Shallow drawer dividers are also perfect for displaying jewelry, watches and sunglasses.
Fans of the hit show The Home Edit or Marie Kondo will be thrilled to see specially designed drawer and shelf organizers available at Container Store.  Each collection is not only incredibly useful, but also add to the decor and style of any space.
Not sure how to organize your open shelves?  Add a slip on and modular shelf divider that will keep neatly folded pants and sweaters in their own neat stacks, safe from tumbling over onto the floor.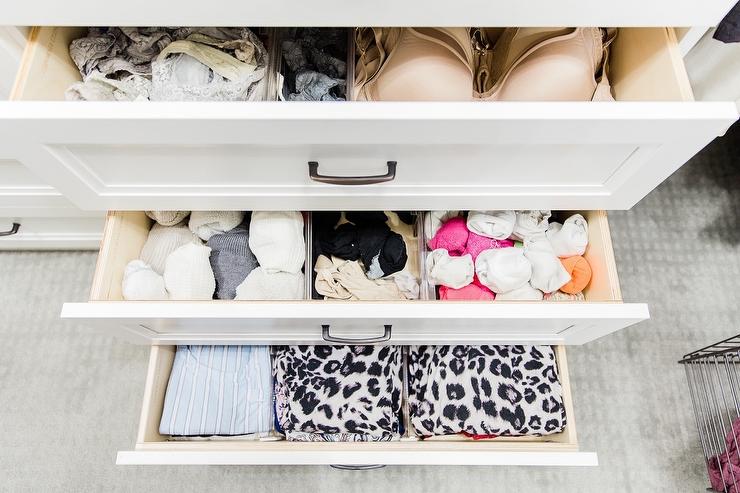 8.  INTEGRATED CLOSET LIGHTING
Lighting is an essential element in any closet and an absolute must have.  It's not only important to be able to see what you're looking for, but it's a great opportunity to make a statement.
Clean and minimal designs look stunning with a simple integrated light strip below each shelf and running up the sides to illuminate every time.
Add more decorative lighting like wall sconces or a ceiling pendant to bring another element of beauty to the room.
Design Tip:
Make sure that the light temperature is at an even 3000 kelvin to avoid misreading the color of your clothes.  If the bulbs are too warm (under 2700k) with a hint of yellow, you may think your blue clothes are green.  If the bulbs are too cold (over 3000k) with a hint of blue, you may think your red clothes are purple.
9. SECRET and SAFE STORAGE
Storing valuables in your closet is great because it's private and tucked away, but it might be a bit on the nose if you're looking for extra security.
Installing a high quality secret mirror door, or a hidden door behind bookcase, will keep snooping eyes at bay and your special items all to yourself.
Stash your safe or stash yourself!  This is the ultimate secret storage solution for precious items such as cash, hardware, jewelry, passports and paperwork.
In case of an emergency, a hidden room or panic room, is able to be locked from the inside to keep you out of site.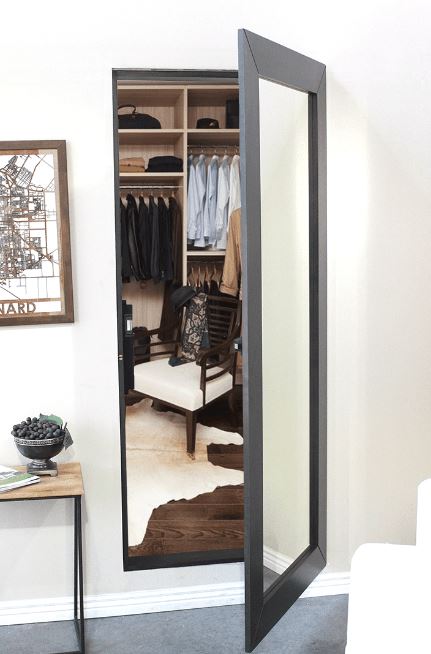 10. FULL LENGTH 3-PANELED MIRROR
Are your shoes matching?  Is the back of your dress wrinkled?  Are there strings or tags hanging?
A full height mirror in or near the closet is a necessity in order to see the whole picture of how you look before stepping out into the world.
A 3-Paneled Mirror helps you see yourself from all angles to get the full 360 picture of how you're coming across in the world.
We love the multi-functionality of additional storage behind the adjustable side mirrors.
10 Must Have Kitchen Cabinet Accessories | by Sara Plaisted