If your Kitchen is ready for a remodel, check out these
10 Must-Have Kitchen Cabinet Accessories
that will 
maximize storage with the ultimate style.  Follow our most popular interior design tips and tricks that create beautifully organized drawers, cabinets and work stations for breakfast, tech, (even pets!) and make your cooking experience flow with ease.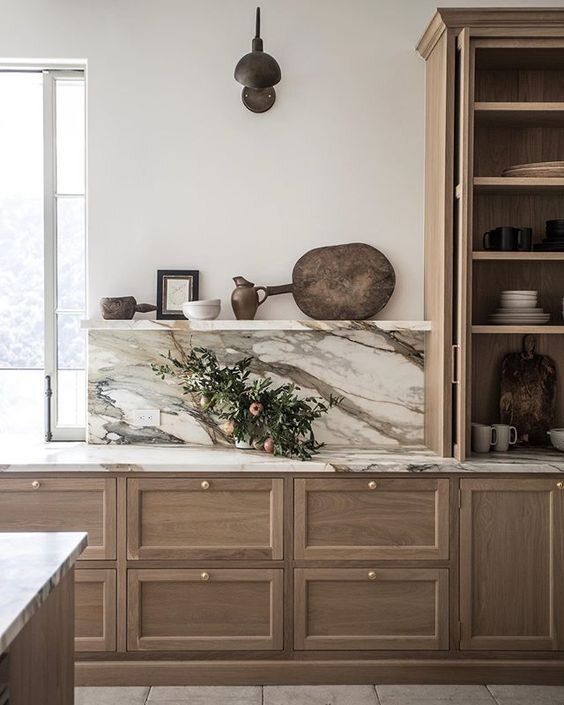 Image via Jake Alexander Arnold
1.  APPLIANCE + COFFEE TEA BAR GARAGE
Keep it classy and tuck your morning breakfast routine of coffee, tea and snacks into a cabinetry garage.
WHAT'S AN APPLIANCE GARAGE?
Just as you might think, an appliance (or coffee & tea) garage is a space that stores all those often used items that are best kept put away.
The kitchen will maintain a clean and clutter-free look with full height finished cabinetry. To save on space, opt for hidden pocket doors that easily open up and fold into themselves, and stay completely out of the way. 
We love the warm walnut wood contrast of the interior space, complete with pull out drawers, solid surface countertop, open shelving and small frequently used appliances like a toaster or espresso machine.
What a perfect home edit that hides the clutter and helps you stay organized!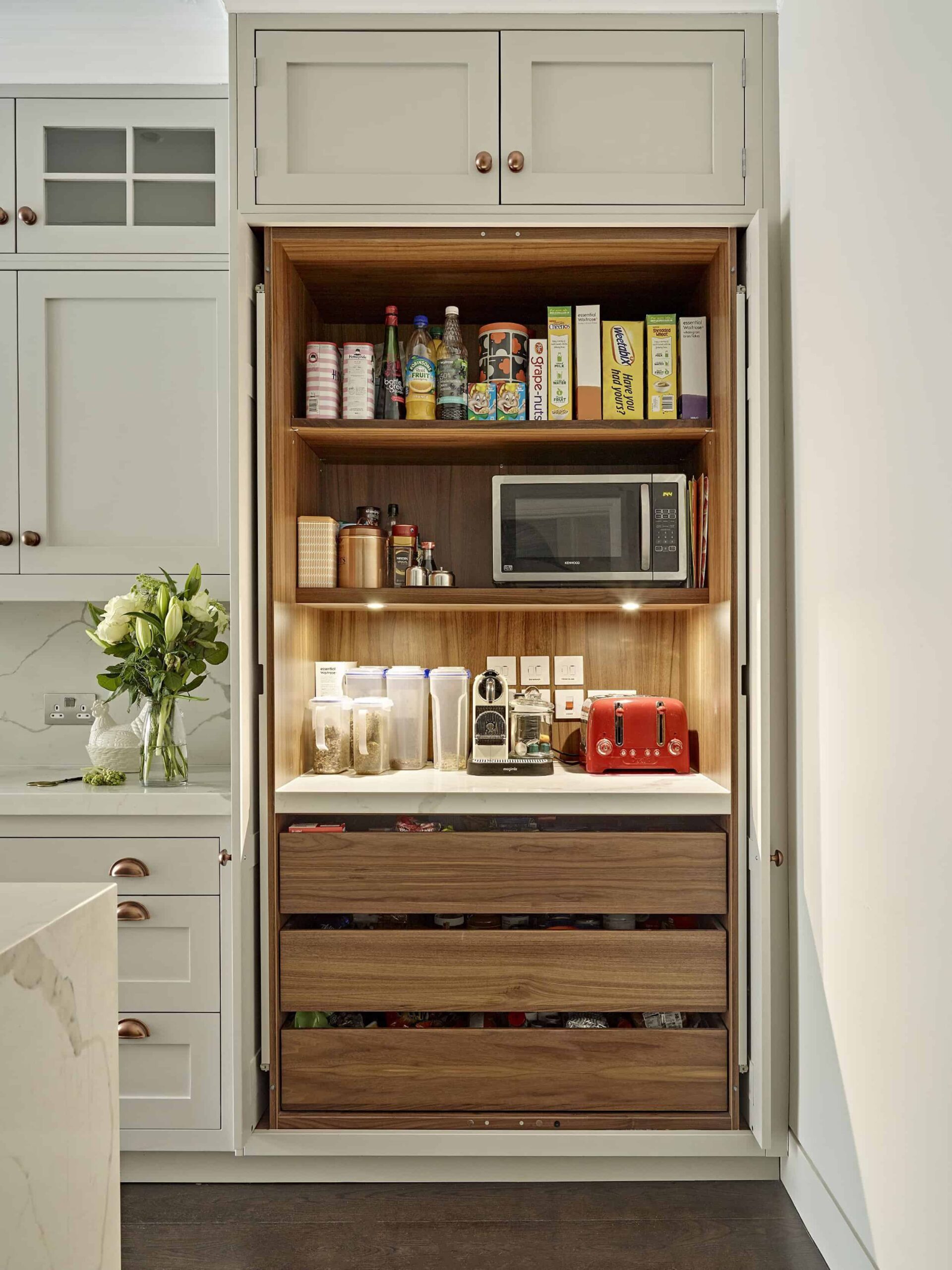 Image via Brayer Design UK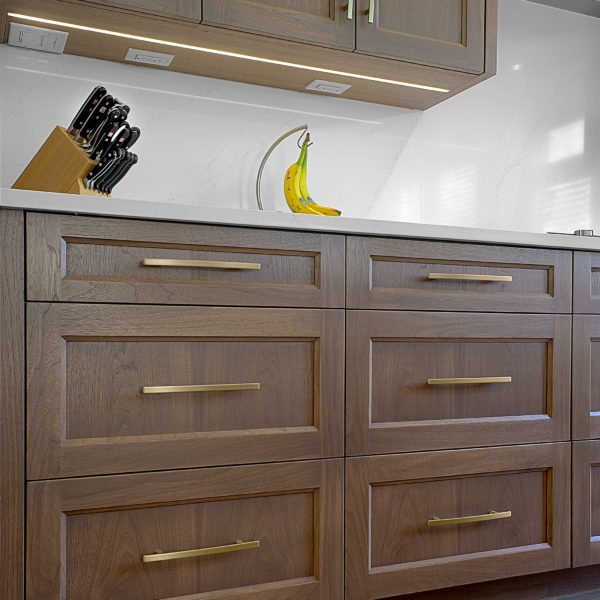 Image via Benvenuti & Stein
2.  HIDE PLUG OUTLET STRIP AND
     LINEAR LIGHT STRIP IN UPPER CABINET
Don't ruin a beautiful backsplash with a bunch of outlet plugs and light switches.
Instead, tuck those utility items up, hide them underneath the upper cabinets, and let it be your little secret that it's a working kitchen.
HOW CAN I HIDE THE LIGHTS UNDER MY KITCHEN CABINETS?
Design Tip: Either recess the electric plug and light strips into the upper cabinet, or make sure there is a trim piece at the edge that will hide them from direct view.  
3.  PULL OUT TRASH WITH A
     STORAGE DRAWER
A pull-out Trash and Recycling drawer is a must-have that keeps smelly messes tucked in and out of the way. 
For even more convenience, take it up a notch and include a drawer just above the waste area that stores easy to access towels and trash bags.
WHERE DO YOU PUT THE KITCHEN TRASH CAN?
In order to avoid dripping and dropping things, the best location for a trash cabinet is close to the sink.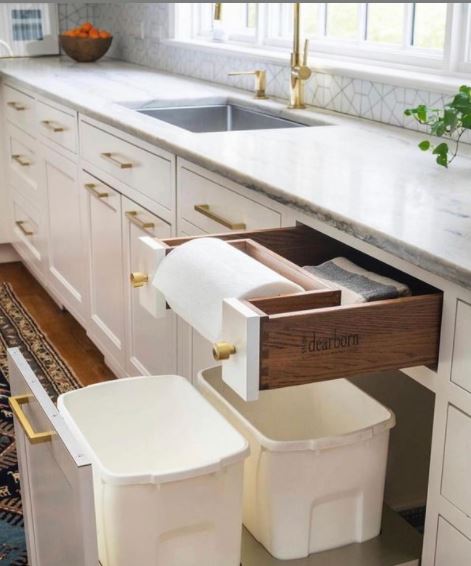 Image via Studio Dearborn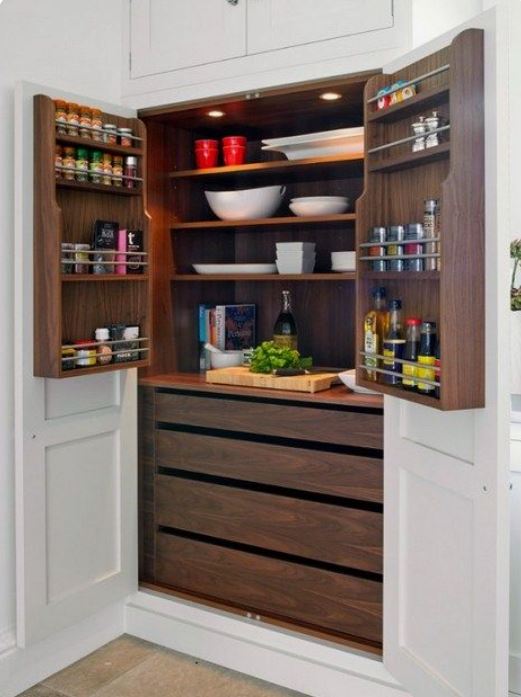 4.  MAXIMIZE STORAGE INSIDE
     CABINET DOORS
Full height pantry cabinetry doors are a perfect location to add just a pinch more storage opportunities.
All you need is a few inches (we recommend 4″ max) of interior shelving space to store cooking oils, herbs and spices, baggies, or rolls of foil, parchment and wax paper.
Find frequently used items in a flash, by storing them at eye viewing height, rather than stashing them into upper cabinets that are often hard to reach.
5.  PET FOOD + WATER STATION
     FOR DOGS & CATS
Creating a zone throughout the home is a great way to stay organized and efficient.  And don't forget your pets!
WHERE DO YOU PUT A PET BOWL?
A great way to keep dropped food and spilled water off your beautiful floors is to create a special zone for your pets.  Cats and dogs can pony up to a bar area tucked just below the island, complete with elevated food and water bowls.
Animals benefit from ergonomics just like humans.  Vets recommend lifted bowls for our four-legged family members, which help reduce strain on their joints, neck or back while eating.
Kick it up a notch with a wall mounted faucet that makes it easy to fill up the empty water bowl with fresh purified water.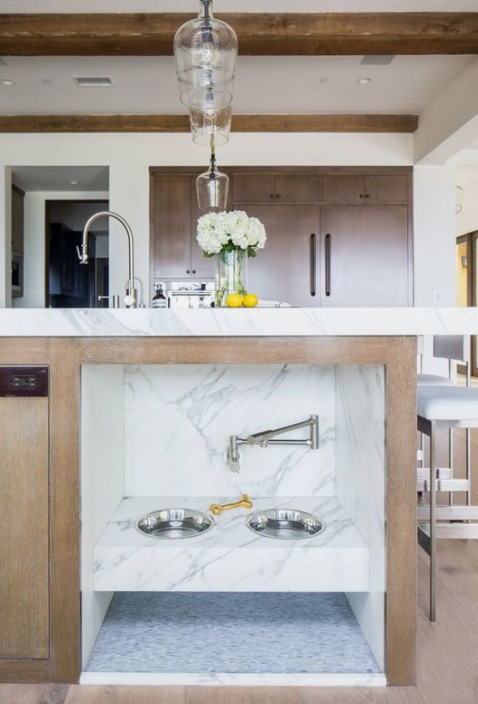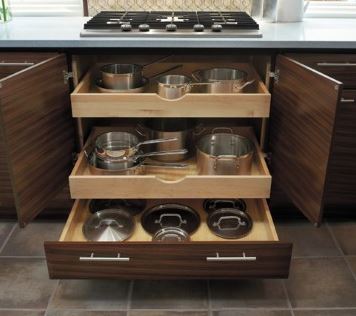 6.  PULL OUT LOWER DRAWERS
High up on the list of must have kitchen cabinet accessories are pull out lower drawers.  Easy slide interior cabinet shelves make it easy to find every pot, pan and lid you're looking for without having to pull out every last piece.
ARE DRAWERS BETTER THAN CABINETS?
Contemporary design styles opt for easy function and efficient pull out lower drawers.  We love this style for it's maximum use of space.  You can see absolutely everything.
However, if you prefer the more Traditional look of lower cabinets doors, simply hide the pull out shelves inside.
There are also plenty of cabinet organizers to help keep everything in it's place, like drawer dividers for lids, utensils and spices.
7.  BLIND CORNER OR  LAZY SUSAN
PULL OUT SYSTEM
Nothing is more frustrating than losing cabinet space to a dead corner, or having to get down on your knees to pull everything out in order to grab what you need.
WHAT CAN YOU DO WITH A BLIND CORNER CABINET?
Maximize your storage space by installing a pull-out Lazy Susan or blind corner system.
Blind Corner Systems are a popular choice because the storage capacity is awesome.  They are like (2) sets of double metal shelves that pull all the way out and into the Kitchen.  However we notice that they can be a bit more clunky and in need of repairs.
We love a good Lazy Susan because of the easy installation and smooth functionality.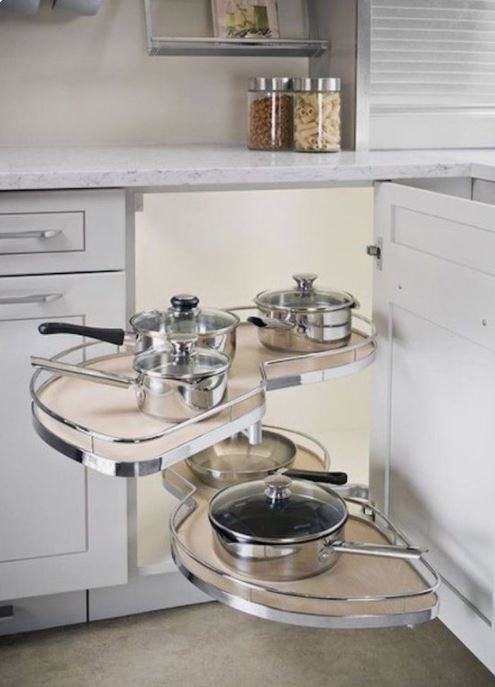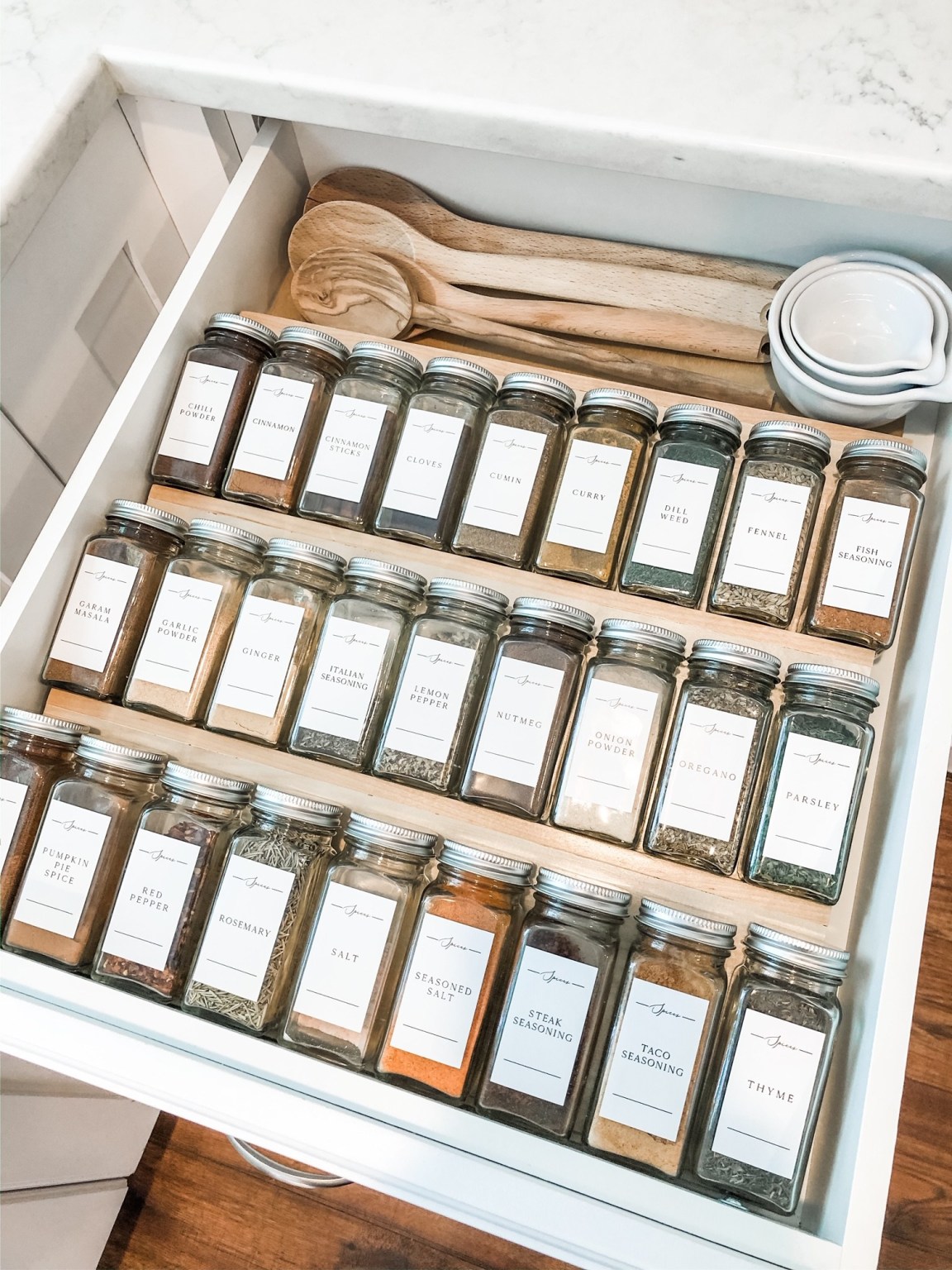 8.  SPICE DRAWER ORGANIZER
Skip the top junk drawer and go for a spice drawer instead!  Trust me, you'll thank me for it.
HOW DO YOU ORGANIZE KITCHEN SPICES?
There are plenty of options when it comes to storing cooking spices.  You can display them neatly on a small wall shelf or inside a cabinet door, or organize them on a step shelf or Lazy Susan inside an upper cabinet, pantry or Kitchen Island.
But our absolute favorite is inside a drawer because everything is right at your fingertips (and eye view).
A Spice Drawer Organizer makes it easy to find everything you need without having to search into the depths of an upper cabinet or pantry.  And it's much more comfortable to use than a pull out spice cabinet next to the range.
When we think about the comfort and flow of cooking, an organized and itemized drawer is lighter on your body when there's no bending and squatting to grab items that you need.
9. ELECTRONIC CHARGING STATION DRAWER
There's nothing that looks messier than a bunch of cords and wires all over the place, especially in the Kitchen.
HOW DO YOU HIDE A CHARGING STATION?
Rather than plug in your devises at the Kitchen Island or off to the corner of the counter, swap out that junk drawer for a tech drawer.
Make it a One Stop Tech Shop.
A docking drawer keeps all the electronic devises stored safely and out of the way of accidental drops or spills.
When we think about creating a zone, a tech station is the best way to keep everything in it's place so it's easy to find.
Neatly hide electronic accessory items like cords, headphones, ear buds or batteries in the same charging drawer.  Either place them under the docking shelf in a decorative box, or in a drawer organizer so it's easy to see.  This way you'll never be scrambling to find or unravel things again.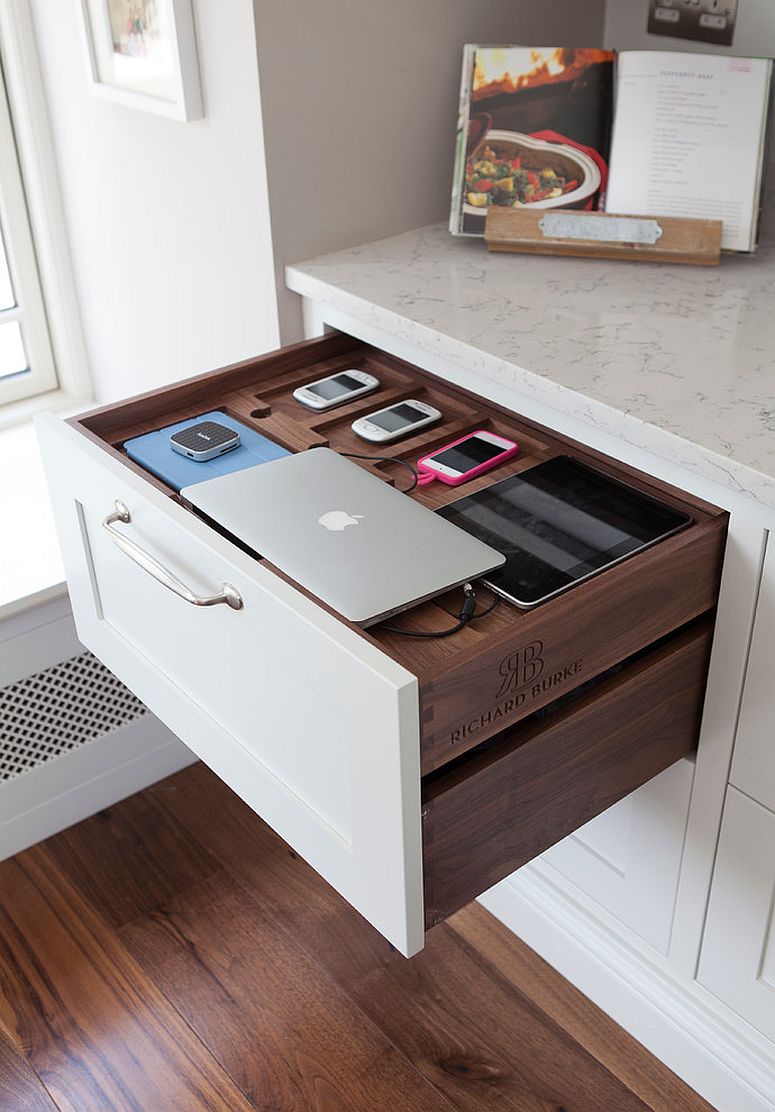 10. WINE STATION
OK OK,  this one may be a stretch but hear us out.
Although a wine fridge is technically a beautiful wish list appliance, we see it as an incredibly cool, chic and convenient premium wine storage organizer.  It's even better when installed just above a 24 bottle wine cooler.
A wine station preserves each bottle of wine up to 60 days, while displaying and dispensing up to 4 varieties to match your mood.
Design Tip:  If you'd rather not display your wino tendencies, keep it behind closed doors.  Just like a coffee bar, a wine station can be hidden inside full height cabinetry.  Add a wine rack in the open space above the dispenser so that glasses are easily accessible.  Then close the doors when you're done and no one will ever know!  Your secret is safe with me.
10 Must Have Kitchen Cabinet Accessories | by Sara Plaisted