Now that Spring is officially here and Summer is right around the corner, it's time to start planning for more outdoor living.  There are many things to consider before designing an Outdoor Kitchen in your backyard.  Follow these tips to help you decide the best kitchen layout, which bells and whistles to include and finishes to select.  Tie it all together with the perfect lighting, furniture and decor and you've got it made!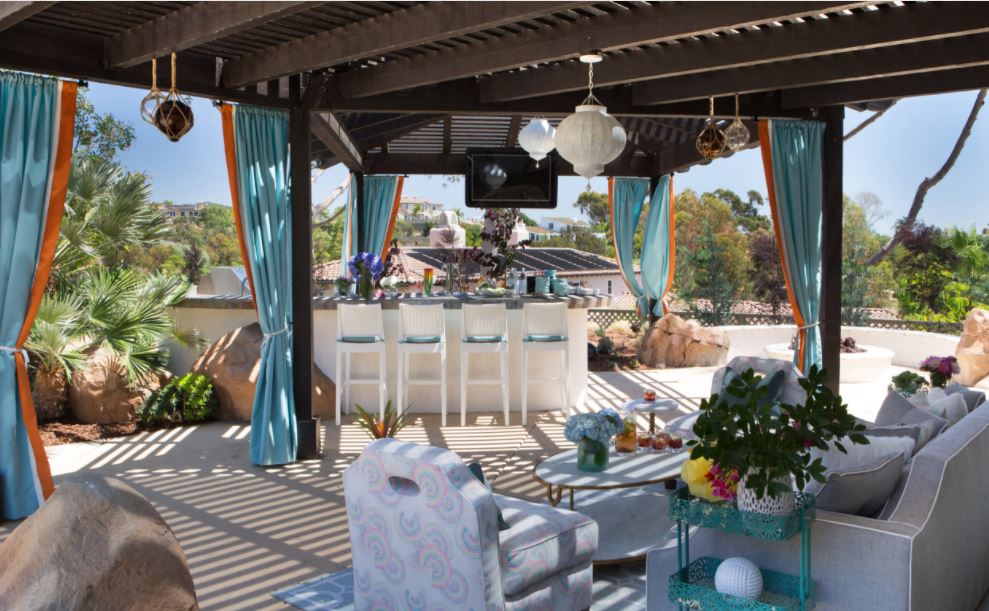 Thank you to
Outdoor Cooking Pros
for featuring us with our best advice on
How to Design an Outdoor Kitchen
.
We were inspired to share a few more images from some of our projects that go along with our pro tips.  Check out these must haves when starting to plan for your very own Outdoor Kitchen.
KITCHEN LAYOUT + LOCATION
Questions to Consider While Planning:
Where is the best place to put the Outdoor Kitchen and BBQ?

How much room is available for an Outdoor Kitchen space?

Which Plumbing and Appliances would you like to include?
The first thing to consider when designing the layout of an Outdoor Kitchen is Location Location Location. It's ideal to place the new kitchen as close to the house as possible because convenience is key.
Next, determine how much space you have to work with. Do you have just a few feet off to the side of the house?  Or do you have a big open space that can accommodate a variety of options?
Finally, decide what you'd like (or are able to include) in the Outdoor Kitchen.  Depending on the area, you'll know if you can only fit a BBQ and a small counter with a sink.  But maybe you have plenty of room for a full size outdoor kitchen complete with a bar for seating.  Which outdoor kitchen layout is right for you?
POPULAR KITCHEN LAYOUTS:
Single Wall
Galley: Two-sided
L-shape
U-shape or Horseshoe
Triangle
Peninsula with an Island
OUTDOOR KITCHEN APPLIANCES + PLUMBING
Now that you know how much room you have to work with, it's time to decide what types of plumbing and appliances you'd like to include.
Basic items would include a BBQ and perhaps a Sink and Faucet.
You may also like to include an undercounter Refrigerator, an Ice Machine or a set of Burners.  Other wish list items might include a Warming Drawer, Beer / Wine Kegerator, or a Dishwasher.  If you're big into the cooking appliances, go for a Smoker, Rotisserie or a Pizza Oven.
Don't forget about storage needs.  You'll definitely want an area for trash, or a place to store cooking utensils and entertainment items, like trays or beverage buckets.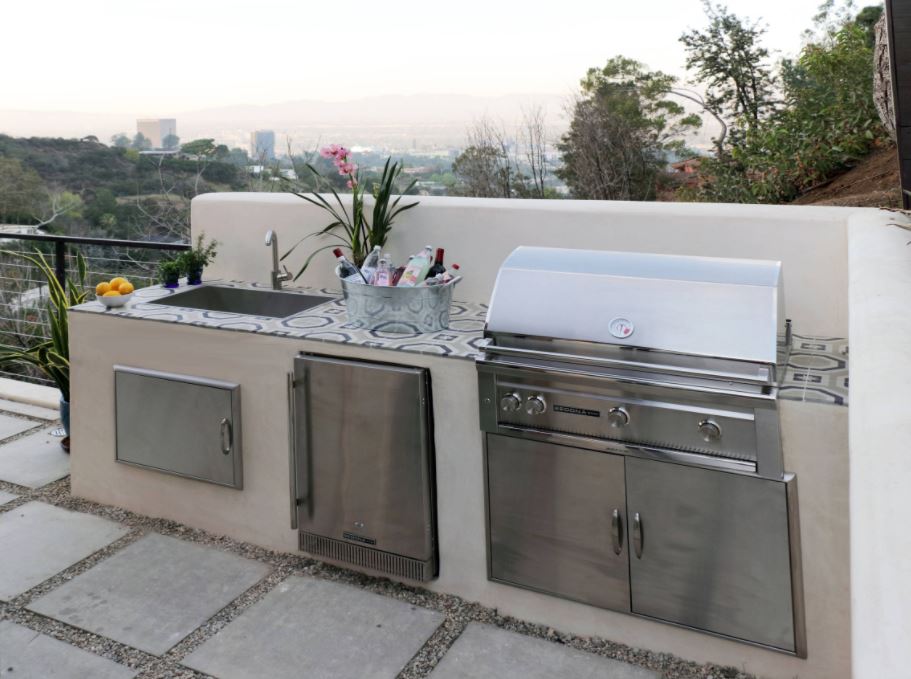 OUTDOOR KITCHEN COUNTERTOPS AND FINISHES
When selecting finish materials, it's important that the Outdoor Kitchen blends naturally with the style of the home, while feeling a little more relaxed and casual.
Durable Finish Materials that stand up to the elements include Smooth Plaster, Concrete, Brick, Tile or Stone.  For a soft and warm style, surround the kitchen area in Ipe or Teak Wood.  Just know that some woods will begin to age over time, which is part of the appeal.  Great outdoor kitchen countertops to consider are concrete, tile, plaster or a solid surface counter like Dekton.
Check out our previous post on Limewash, which includes more information on the beautifully clean and contemporary look of waterproof plaster finish of Tadelakt.
Outdoor Kitchen Cabinet Doors come in either stainless steel or durable wood.  For a more casual style, keep it open for a laid back easy access.
Create a wow moment with specialty floor tile that looks like a rug (easy to clean!), or a decorative backsplash tile.  If you have a little open space, opt for a beautiful wood ceiling or pergola that offers structure and shade during the sunny part of the day.  Add a string of bistro lights to create ambiance and mood at night.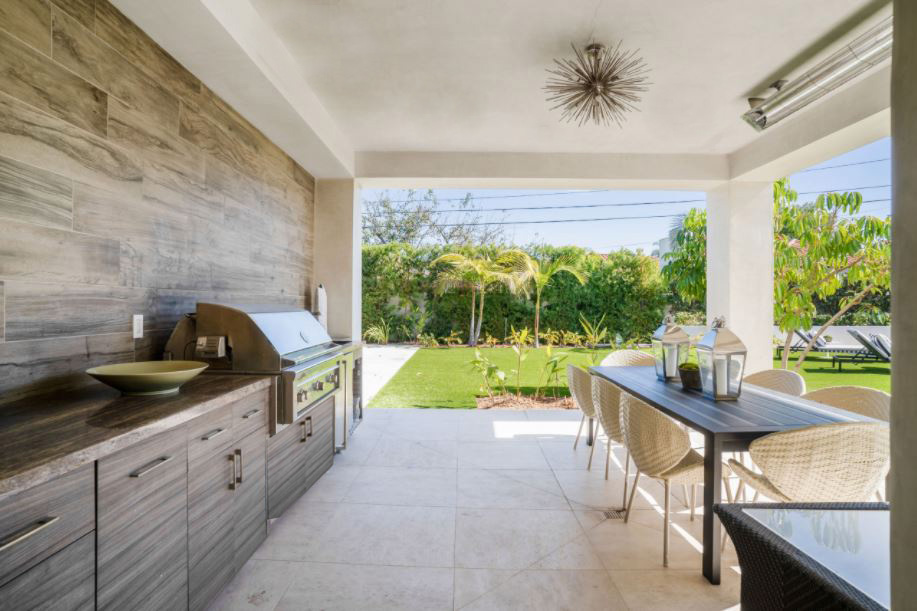 OUTDOOR KITCHEN LIGHTING + ELECTRICAL
Don't forget to plan for the times when you might be cooking at night.  Great places to install lighting would be in the ceiling above the work space, dining and lounge areas.  Wall sconces give the perfect amount of focused light just above the working counter area.
Other must have items that require electrical would be a TV, Speakers for music, a Ceiling Fan and Heater.  While you're at it, a few electrical outlets wouldn't hurt for those times when you need a charge.
BE SOCIAL WITH OUTDOOR KITCHEN FURNITURE
When you're doing all the work, it's nice to have a little company.  Providing outdoor furniture for for your friends and family to sit and relax will help them feel right at home.
Start with bar stools at the island to keep the conversation flowing and give guests a place to eat.  A sofa, tables and a couple chairs are a perfect way to create a lounge.  And for dining al fresca, an outdoor dining table surrounded by comfortable chairs is perfect!  Include a cabana or add drapery on the sides of a pergola to soften the space and make the area feel extra luxe.
For more ideas, checkout our popular posts Backyard Make-Over Ideas