Looking for furniture that will last you a couple decades instead of a couple years?  Just like Fast Fashion –  Furniture and Accessories are no exception.  We're here to give you the benefits of buying good quality furniture, what to look for when buying sustainable & non-toxic furniture that lasts, and where to shop.
Let's do it!
Have you heard the story of the 3-Legged Stool?  Each leg is either Cheap, Fast or Made Well.  You can only have two and you sacrifice one.  Which would you pick?
Over the years, we all have become more accustomed to buying things cheap and getting it fast.  Like, I need it in an hour, fast.  Furniture, accessories and finish materials are no exception.  But sooner or later, that comes at a cost.  The cost of our health and the environment.
When we purchase sustainable furniture, we help reduce environmental pollution and waste that happens during production, packaging and transportation.
Most furnishings today are made overseas in order to cut costs.  Unfortunately in many cases, the amount of toxins added to these  products would shock you.  There is little concern for health of humans or the environment, which includes the working conditions that the factory employees must endure.
A home is thought to be a haven, but if it is flooded with toxic materials, it's not exactly the idyllic retreat we image.
What Makes Furniture Toxic?
Typically, the wood, plastic and fabric in most furniture is made, or finished, with toxic materials.  So all the items selected to make your home feel comfortable, beautiful and livable, are actually creating indoor air pollution that is harmful to human life.  Not good.
Toxic chemicals are routinely applied to household furnishings and fabrics, and are suspected to cause cancer in humans and animals.  Ingredients like Formaldehyde, Polyurethane and Flame-Retardants that are used in paints, cushions, mattresses, bedding, paint strippers, and wood preservatives.
By selecting eco-friendly furniture and accessories, you are not only making your home and the planet safer, but you're also helping to make green products more available and affordable.  It's a whole supply and demand thing.
SHOP FOR SUSTAINABLE FURNITURE
Look for companies that make a statement and go by these standards:
Use Renewable or Sustainably Grown Non-Toxic Materials.
Follow an Environmentally Friendly Manufacturing Process.
Engage in Fair Trade Practices.
5 WAYS TO SHOP FOR SUSTAINABLE
AND NON-TOXIC FURNITURE
REUSE  WHAT  YOU  HAVE
Before you run out and buy anything new, consider using what you already have.
We call it SHOP AT HOME.
Look closely at what can be cleaned, refinished, painted, repurposed or reupholstered.
A client of ours recently moved into a new home with a significantly different interior style. By making alterations to her existing pieces, she was able to reuse 95% of her furniture. The other 5% was sold and donated to a women's shelter.
This client paid about 1/10th of what she would have to buy new things, and her house looks incredible.
She was happy, we were happy and the planet was happy!
SHOP  VINTAGE &  RECYCLE
We've never completed a project without searching in at least one of the following stores: Antique, Vintage, Consignment or Thrift.
We love to explore the local flea markets to see what we can find. If there isn't one near you, what a great excuse for a road trip!  Make some memories that will go along with the new piece you discovered along the way.
If you'd rather shop online, check out any of these sites:
BUY  THE  BEST  QUALITY
If you're looking for permission to splurge, here it is!
When selecting new furniture pieces, make sure to buy the best, most durable furniture you can, given your budget.
When it comes to furnishing a home, buying things that are made to last, things that don't have to be replaced often, is one of the greenest game plans you can have.
You know how the saying goes:
Buy Once Cry Once.
This goes for bedding too!  High quality duvet covers, shams and sheets feel incredibly luxurious and are made to last for years.
When a piece of furniture can be passed down through generations, it prevents the need for raw materials to take its place, as well as manufacturing and disposal.  Today's purchases should be tomorrow's antiques.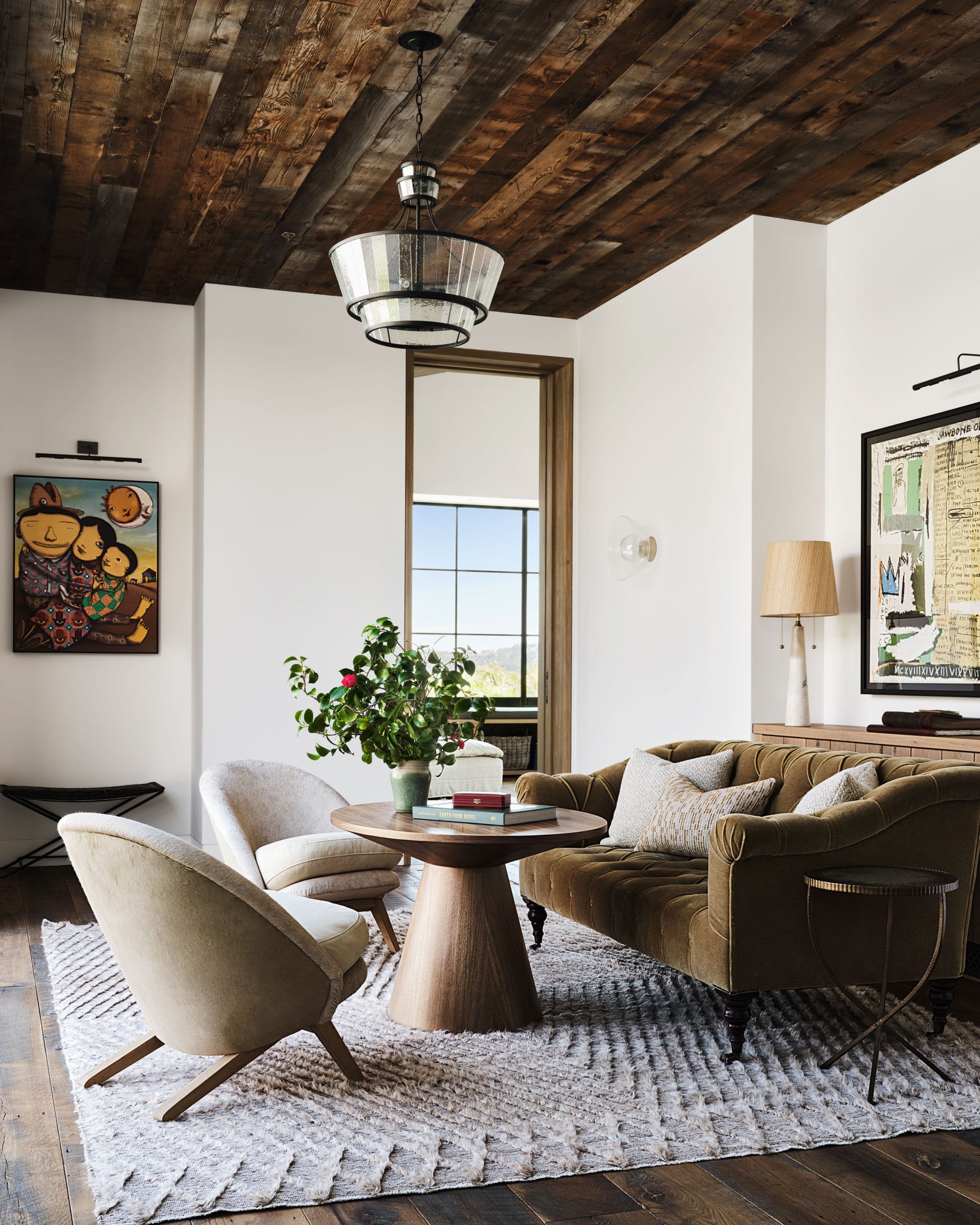 Image via Architectural Digest
NON-TOXIC  MATERIALS 
Think of the amount of time your skin touches the furniture in your home.  A healthy living space is one that contains furnishings with non-toxic finishes. Instead of solvent-based finishes, which off-gas for YEARS, choose water-based, and zero-VOC finishes where you can.
If you can, avoid pollutant ingredients like Formaldehyde, Polyurethane, Flame Retardants or Petroleum-Based Foams.
These sneaky toxins are often found in the wood frames, glues, webbing, springs, foams, and cushions to the fabrics.  And each piece needs to be examined for sustainability and potential health hazards.
In fact, they contribute to Sick Building Syndrome, which can cause dry or burning sensations in the eyes, nose and throat. Headaches, dizziness, fatigue, nausea or memory loss.
EASY  TO  CLEAN
Select furniture that is easy to keep clean. Well maintained items will last longer and reduce the need to be replaced.
Dirt and dust-free environments are also better for indoor air quality.  Smooth, hard surfaces will be easier to clean that heavily detailed pieces.
If you are in a humid climate, avoid furniture that will absorb moisture. Slipcovers and fabric window treatments should be made of washable fabric or materials.
Buy furniture and accessories that do no require routine application of toxic products.
LOOKING FOR MORE WAYS TO BE
SUSTAINABLE IN STYLE?
Green Interior Design is the most comprehensive guide to sustainable building, designing, and decorating on the market.
This beautifully illustrated guide covers every detail of your home—from the drywall to the finial on the curtain rod—and how to find the most environmentally friendly versions of products and décor.
This second edition of Green Interior Design is meant as much for the budget DIYer as it is for the luxury homebuilders looking to dip their toes into sustainability.
Purchase the 2nd edition book HERE.