Welcome to our latest project featuring a Luxury Home Tour of the Bedford House of Beverly Hills!  This is a new construction 3-level Modern Home with 7 Bedrooms, 10 Baths, at almost 10,000 square feet.  The custom home includes 2 Kitchens, a formal Living Room, a Family Room with a Dry Bar, 4 Fireplaces, 2 Laundry Rooms and Home Office.  At the centerpiece of the home sits an elegantly curved staircase that connects all floors from the private sleeping area to the lower Basement Lounge and Spa.  And a Full Basement complete with a Wet Bar, Game Room, Extra Large Home Spa with Wet and Dry Saunas, Fitness Center and a Home Theater.  Whooo!  Are you ready to get started?
We love how expansive it feels with a host of floor to ceiling windows and sliding glass doors that open directly to the backyard where 3 Patios overlook a Resort Style Pool, Hot Tub and Outdoor Kitchen. Talk about the ultimate experience in Indoor Outdoor Living!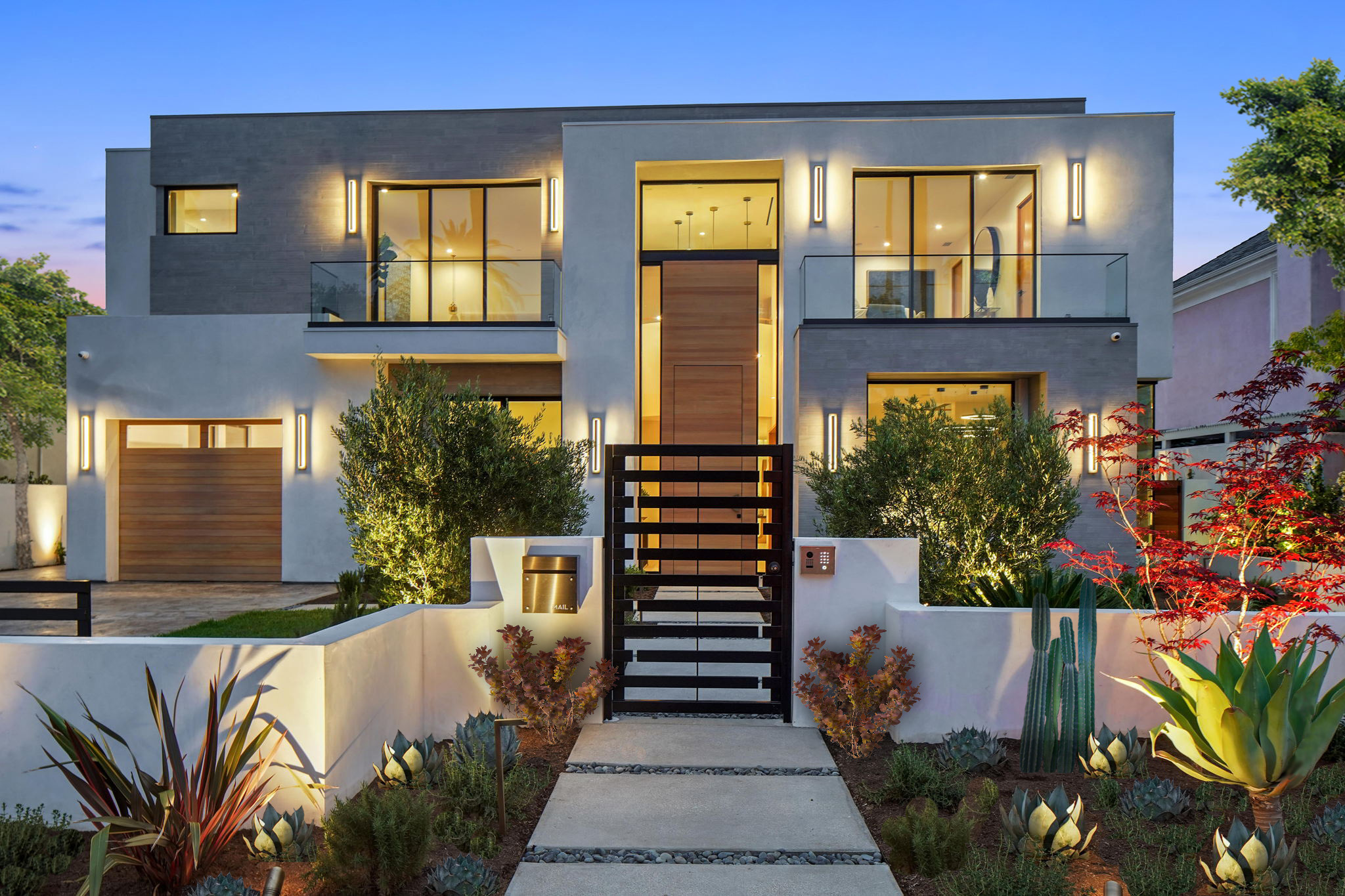 FRONT EXTERIOR
Some modern houses can feel cold.  Our philosophy has always been to design a home that feels warm, comfortable, and as close to natural living as it can be.  This contemporary home has a beautiful smooth white plaster finish.  To warm it up, we selected a wood garage door with high clerestory windows, and a double height pivot door, complete with extra tall narrow sidelights.
Light and glass is a key feature of the home with the fixtures, floor to ceiling windows and sliding glass doors throughout, along with glass panel railings at each patio.  Using warm grey tile to the facade adds a visual depth to the home's architecture, and stone pavers give the driveway a classic feel.
We do live in California, and drought tolerant landscaping is a must have to conserve water.  Olive Trees are a great way to elevate the front yard, bring some height and variety to the space, and add a bit of a Modern Mediterranean style.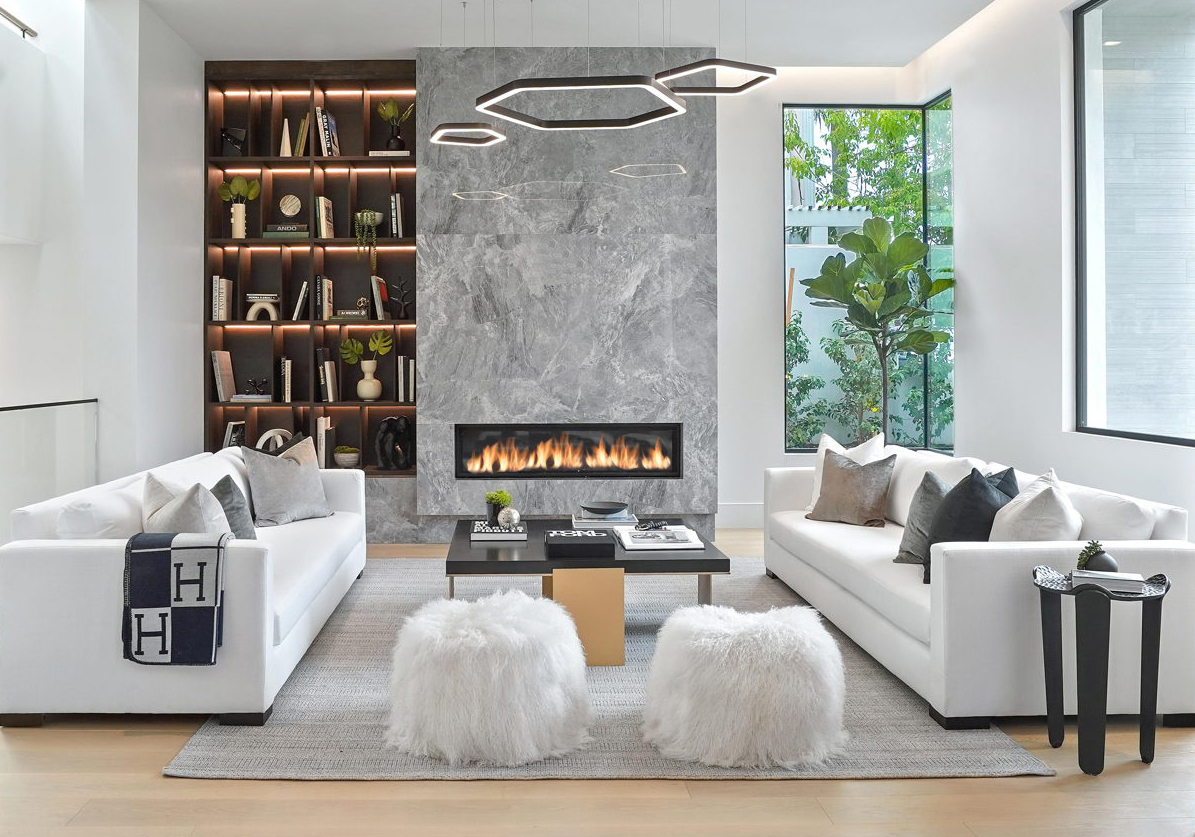 LIVING ROOM
Just as you enter through the 14 foot tall front door is the formal Living Room.  The stone slab face, floor to ceiling fireplace is the centerpiece of the room as picture windows flood the seating area with light.  Speaking of lighting, the modern chandelier and lighting within the built-in bookcase make the room feel cozy at any time of day.
You'll notice recessed perimeter lighting and light strips throughout the home.  Our goal was to create a soft glow and subtle ambiance in every space.  Having the right lighting and bulb temperature is more comfortable on the eyes, and is important to our circadian rhythm, especially as we transition from day into night.  Dim lights mean a better night's sleep!
In large spaces like this, placing two sofas that face each other is perfect for conversation.  It makes the room feel open and both sides are able to enjoy the warmth and beauty of the fireplace.  White sofas are grounded by a woven grey rug, a funky black side table, and a black and gold cocktail table.  And don't forget to have a little fun!  (I'm looking at you, shaggy glamour ottomans!)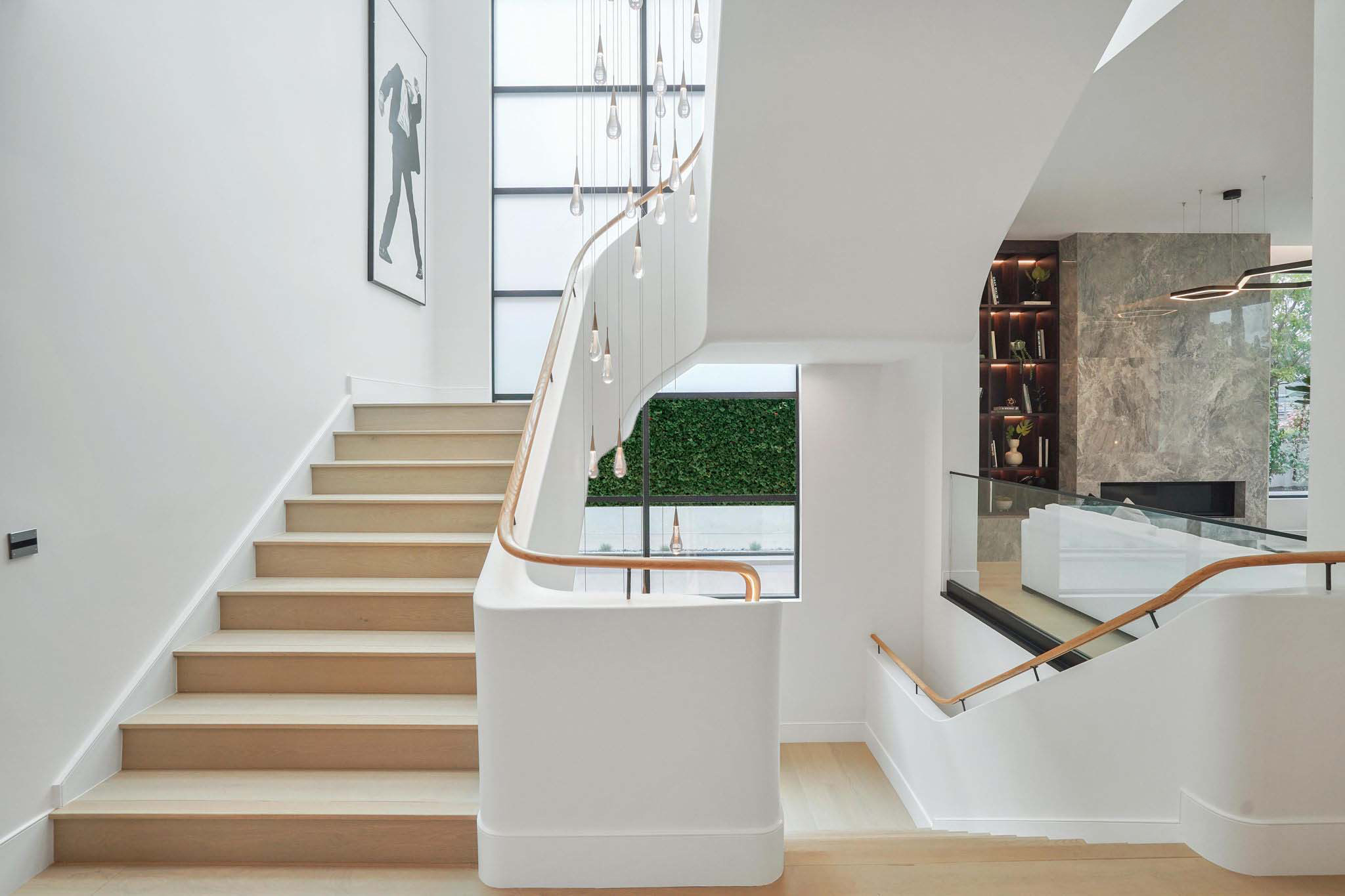 CURVED 3-LEVEL STAIRCASE
This staircase was definitely a challenge to design and build, but well worth it!  To balance the angular aspects of a modern home that might feel more masculine, we wanted to bring in some curvy elements here and there.
The inside of the tri-level wood staircase has softly rounded walls and a wood handrail than floats like a ribbon from the top floor to the basement.  A teardrop glass chandelier cascades down the entire length in the center of the stairs.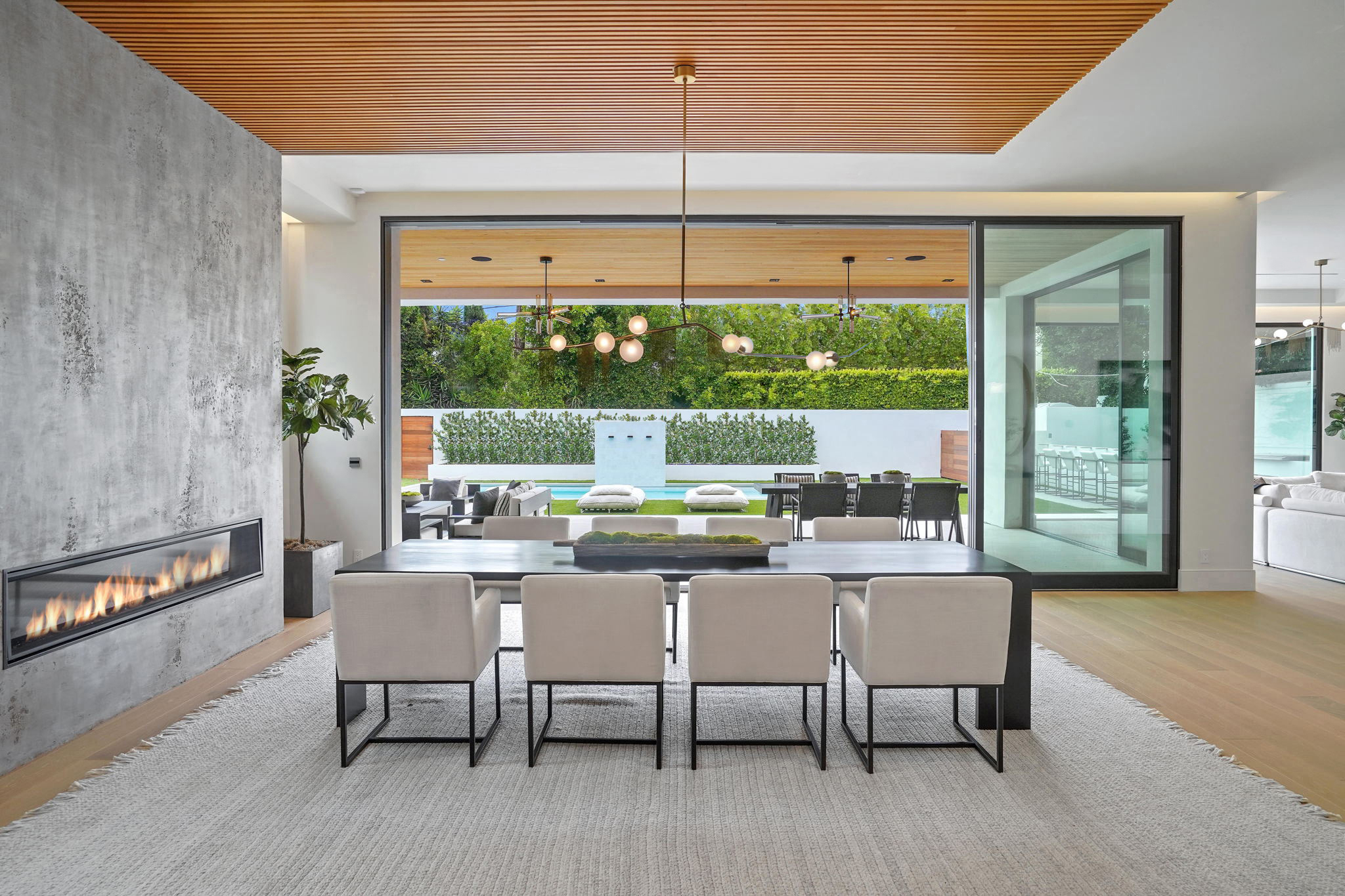 DINING ROOM
Shall we dine in or out?  The Dining Room is located in an open floor plan, and sits between the Great Room, Kitchen and Outdoor Patio.  We took this moment to add organic elements to the home by finishing the fireplace with distressed grey plaster.  To mirror the wood ceiling in the Patio, we added textured wood slats above the dining area to make it feel extra warm.  Full height sliding glass doors completely open onto the backyard lounge to extend the living space to the luxury pool, outdoor dining room and patio seating.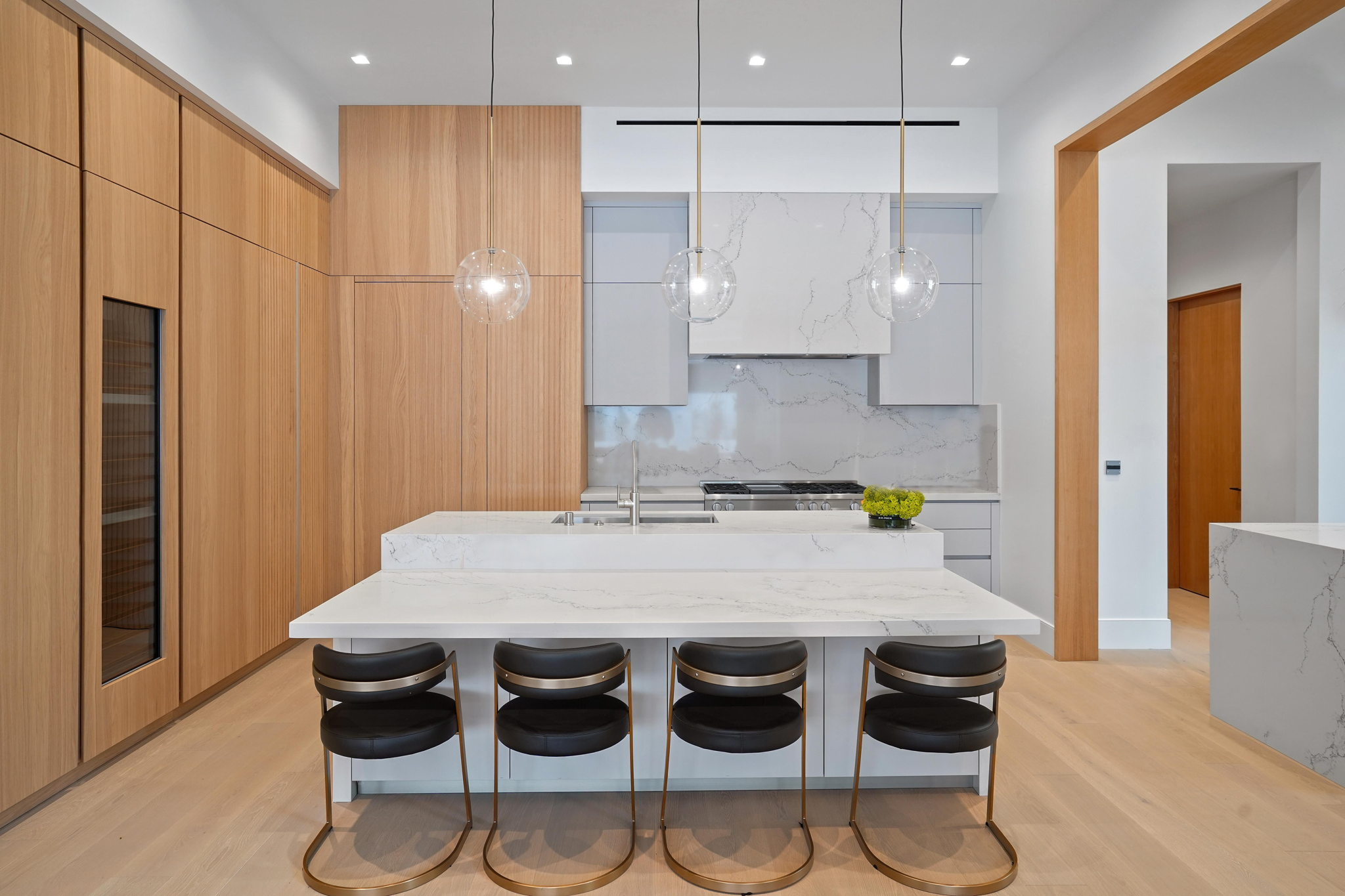 CLEAN & DIRTY KITCHEN DESIGN
According to Home & Gardens, there's a (maybe not so) new Must-Have Kitchen Trend on the rise: The Dirty Kitchen, or historically called the Back Kitchen.
While open-plan Kitchens and Great Rooms are fantastic for creating an expansive space, it also means that the messes tend to be right in the middle of everything.  What's great about a dual Kitchen design is that the beautiful version is the focal point for everyone to see, gather around and enjoy, while the messy Kitchen is tucked around the corner, hidden away from view.
We worked with the incredible team at DOCA Beverly Hills for all the custom cabinetry work in the home, including the Kitchens, Bathrooms, Closets and specialty items like wood slat accents on ceilings and walls.  All Plumbing and Miele appliances were sourced through our friends at Ferguson.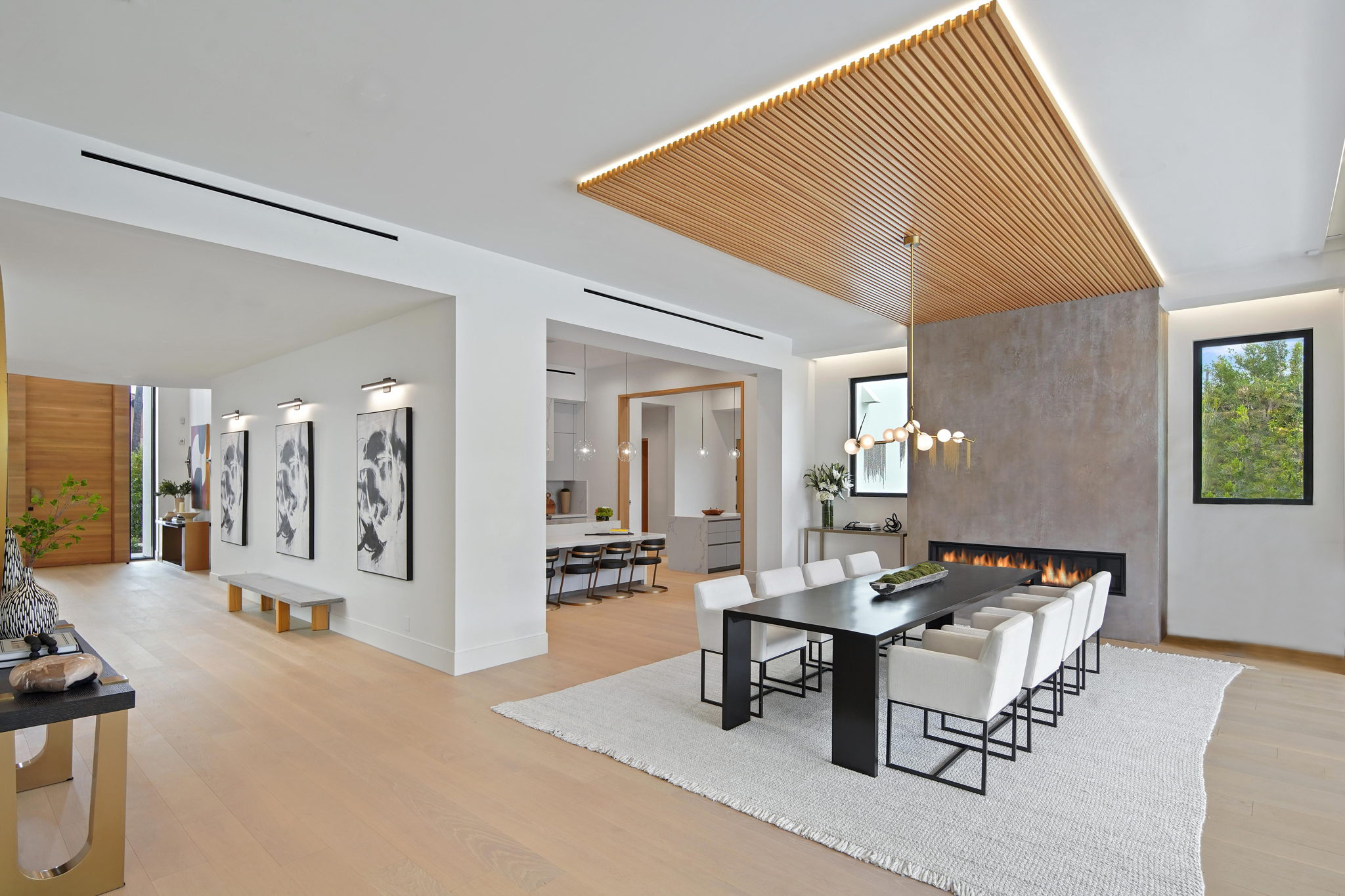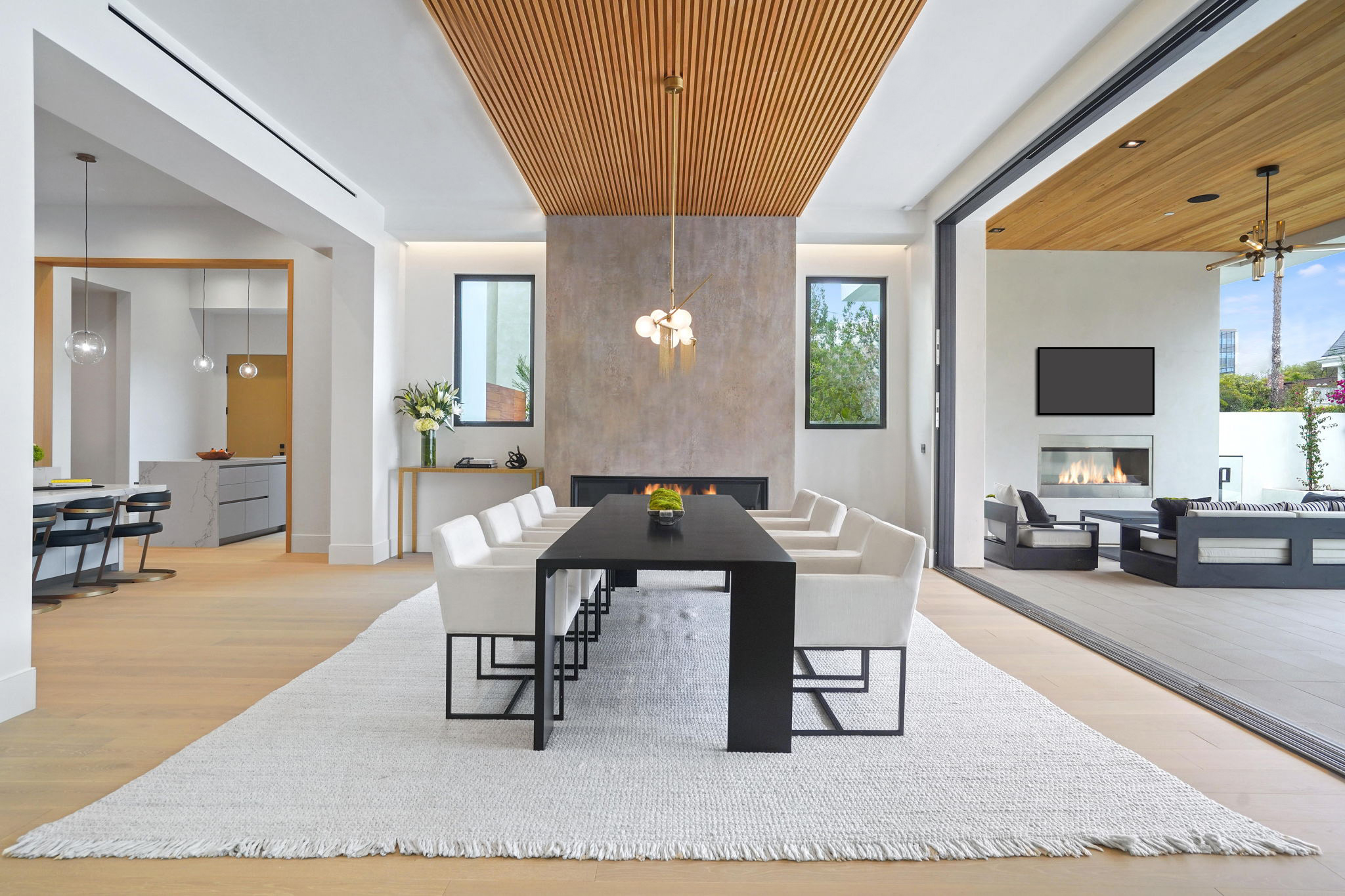 OPEN CONCEPT KITCHEN DINING ROOM
The Dining Room sits at the heart of the open floor plan, in between the Kitchen, Outdoor Patio and Great Room.  We love the idea of the social flow between the rooms, from food preparation to dining together, to relaxing outside near the fire.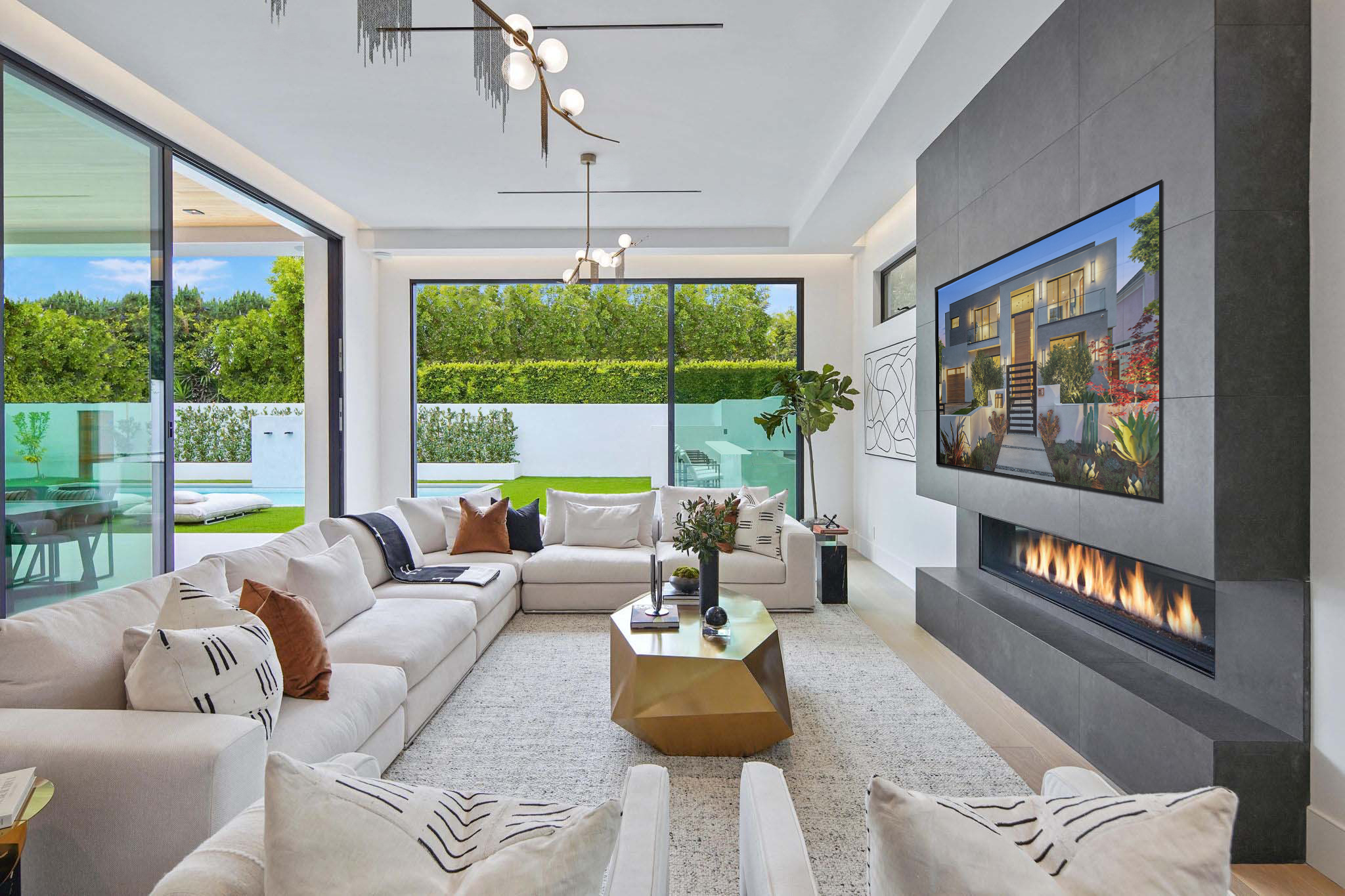 GREAT ROOM
Just off the Dining Room sits a large Great Room featuring a dry bar (off camera).  Again, we have a floor to ceiling modern fireplace with a sexy black tile finish.  3 sets of full height sliding glass doors lead to a world-class pool and backyard entertainment haven.   Of course, we always work with Lion Windows and Doors.  They have the best customer service everything we need, including door hardware.
To connect the Dining and Great Rooms together in the large open space, we selected the same chandeliers of white glass, gold and black chain.  Adding accents of black to any space instantly feels grounded, balanced and rich.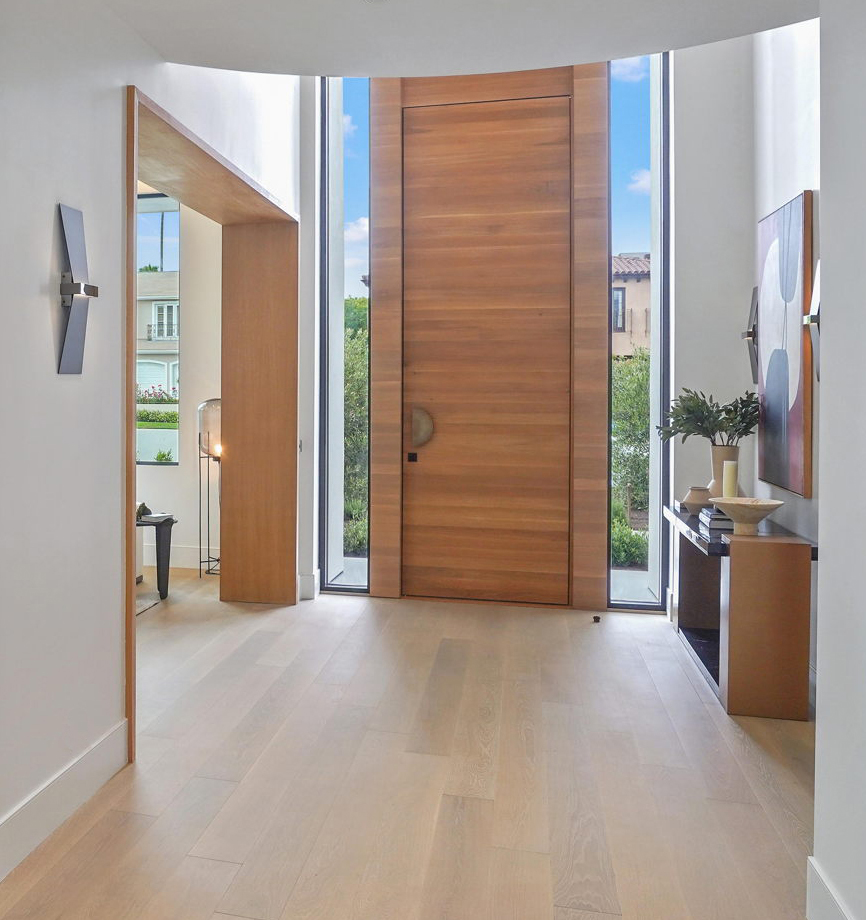 ENTRY and POWDER ROOM
Swinging back around to a view of the 14 ft tall wood pivot door and double height sidelight windows.  What a way to make an entrance!
The Powder Bath has a floating vanity of white marble and warm wood, along with a focal wall of Moroccan Tiles.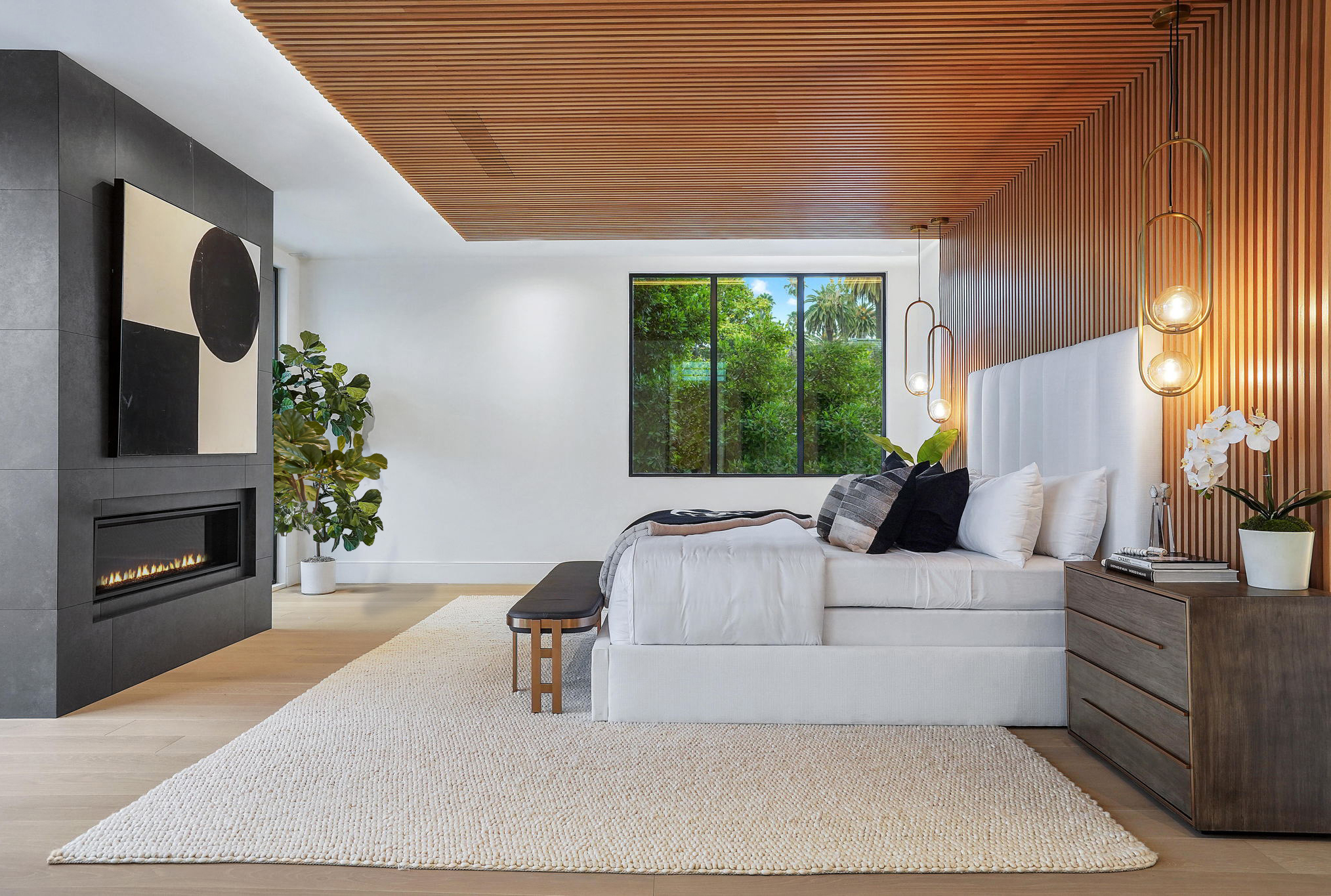 PRIMARY BEDROOM
The Primary Bedroom Suite is the ultimate retreat space in the home, which includes a small sitting area, floor to ceiling windows, fireplace and a private terrace that overlooks the backyard pool.  We created a warm cocoon using wood slats on the headboard wall and ceiling, along with the rich black finish of the fireplace.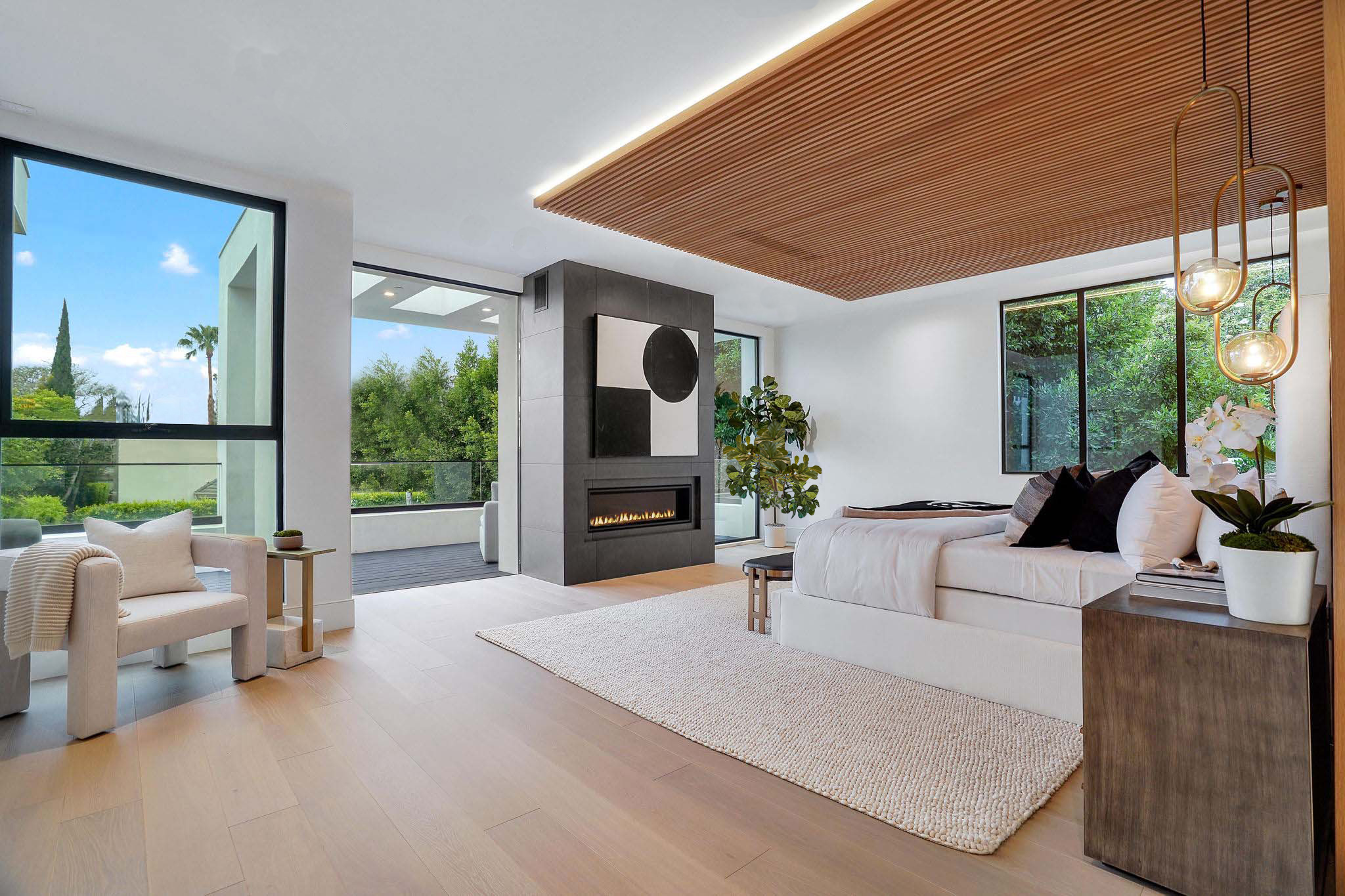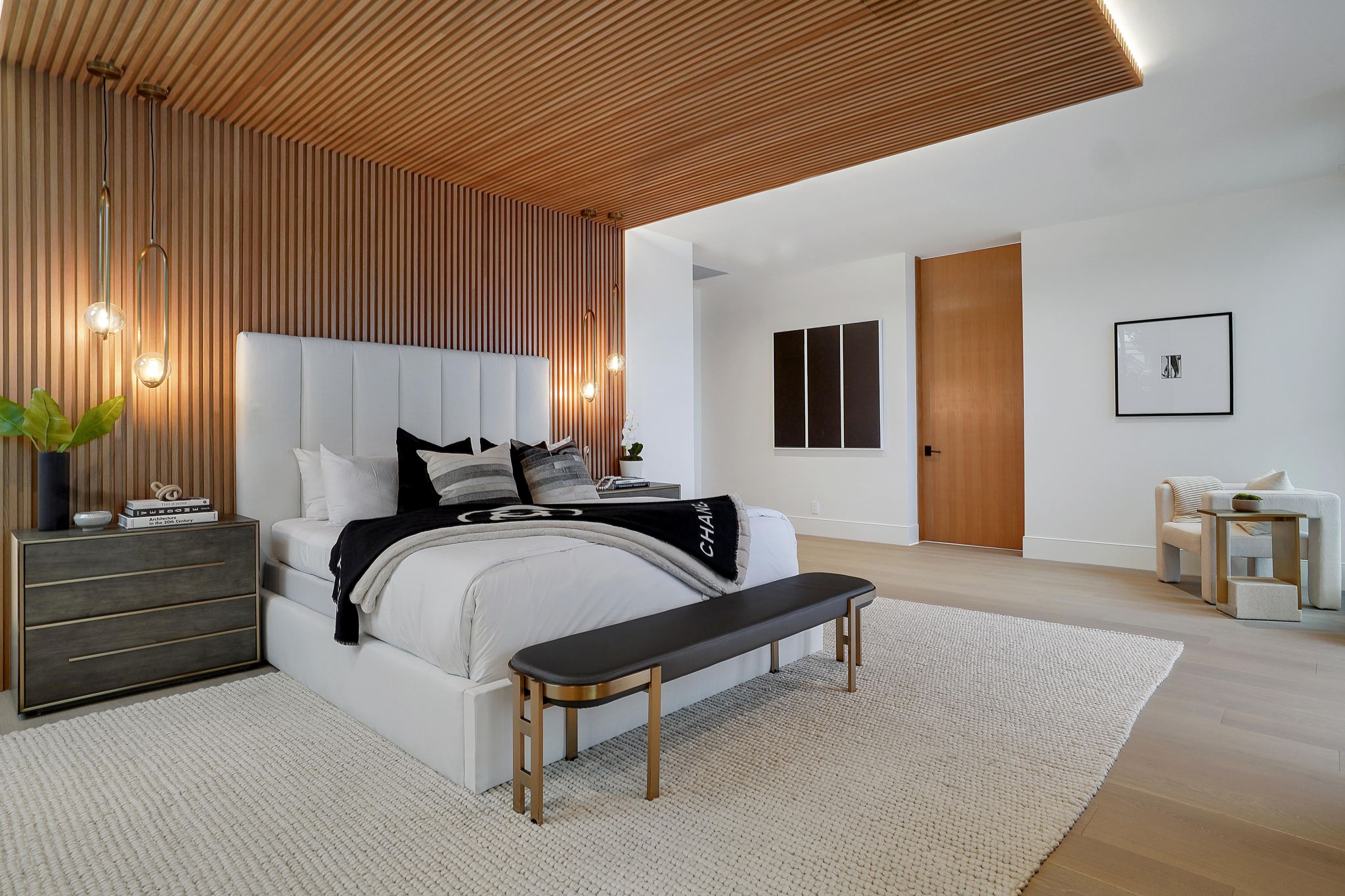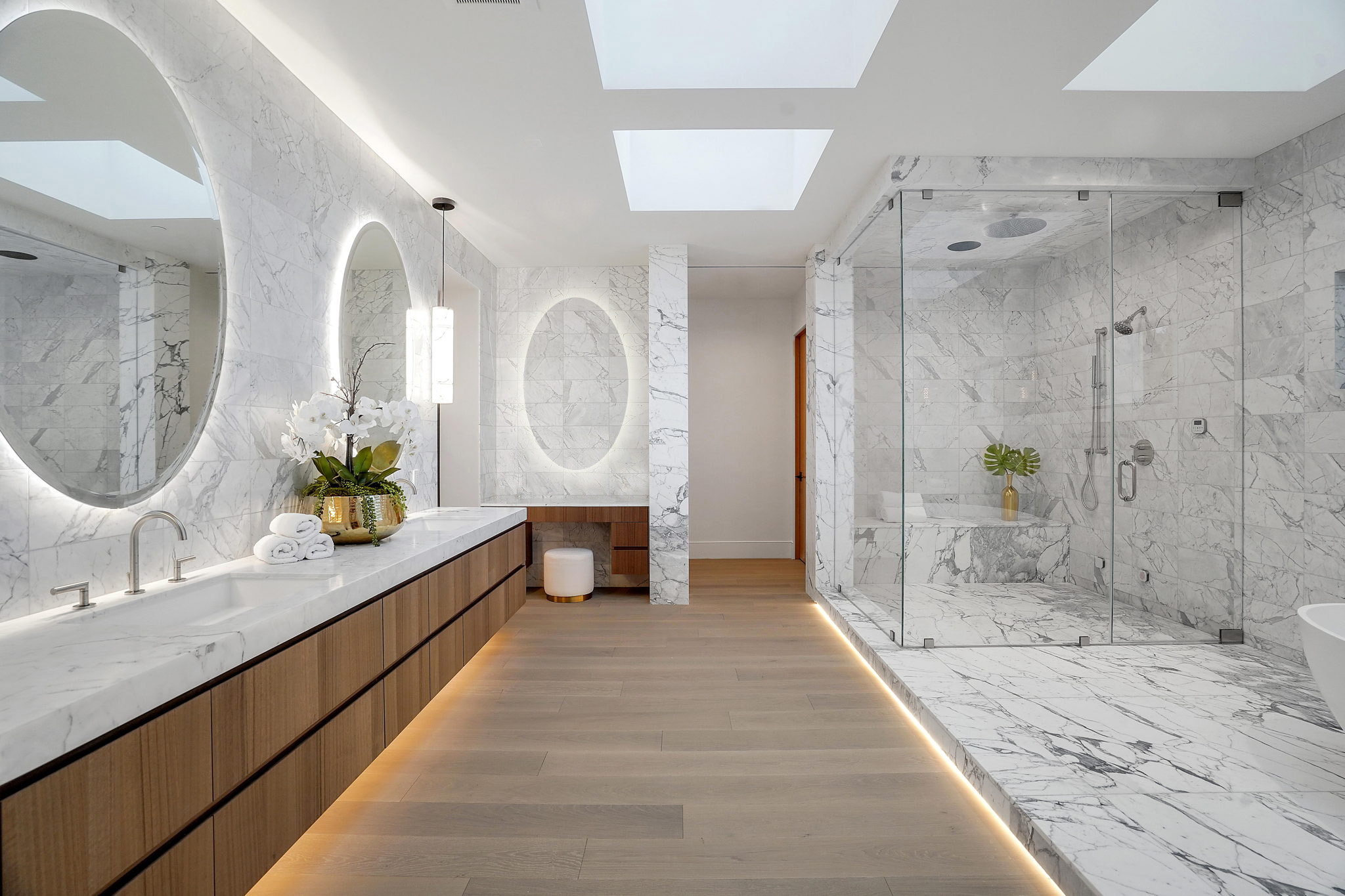 PRIMARY BATHROOM
This Primary Bathroom is any spa lovers dream!  The all-white marble bathroom has radiant flooring and a runway of light hardwood, which we continued from the bedroom.  Wood brings a naturally warm element to the all stone bathroom.  The raised marble platform deck adds dimension to the curbless Steam Shower and free-standing Bathtub.
Dual marble vanities and a small make-up vanity provide plenty of storage while maintaining a sleek modern design.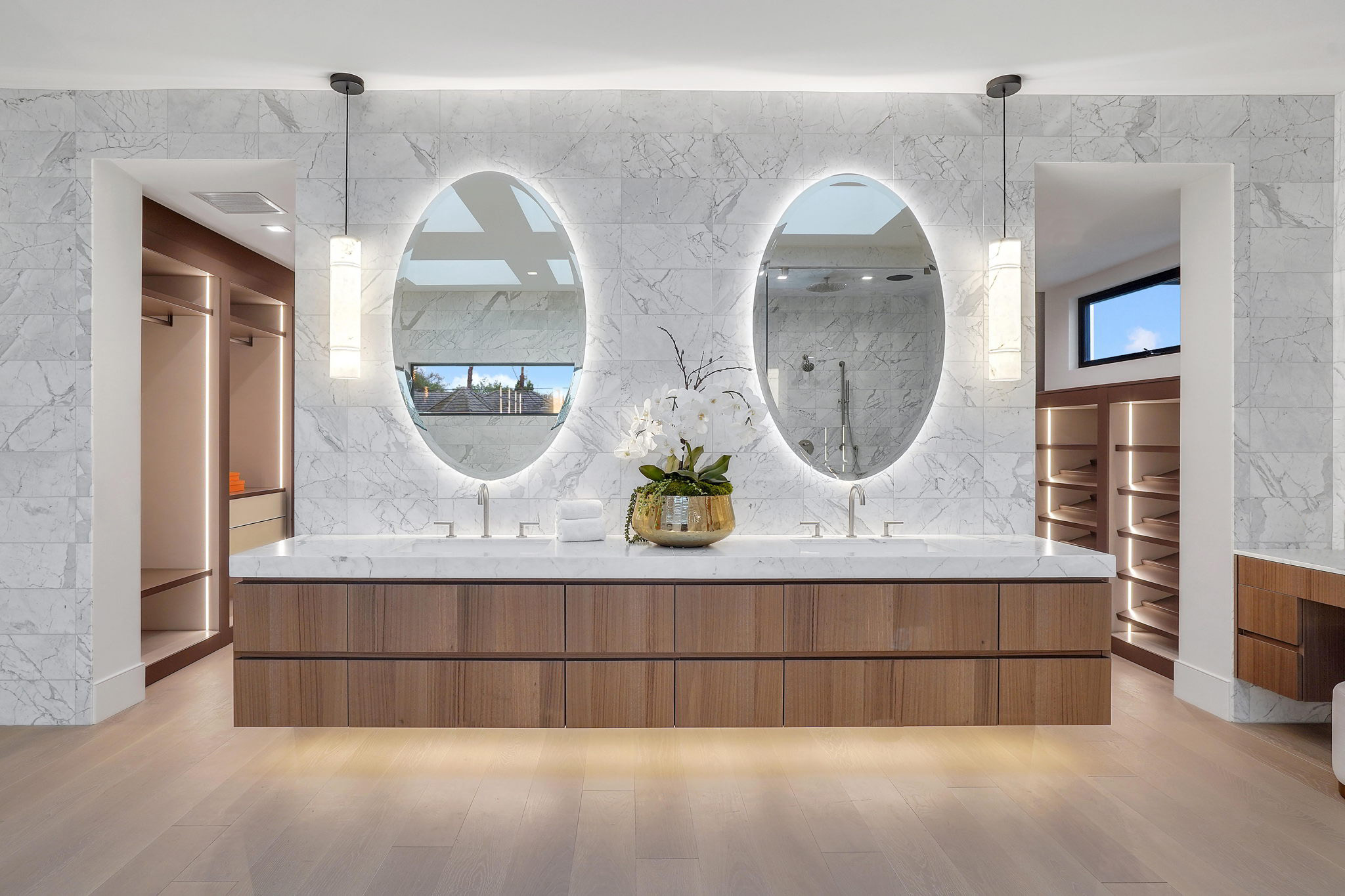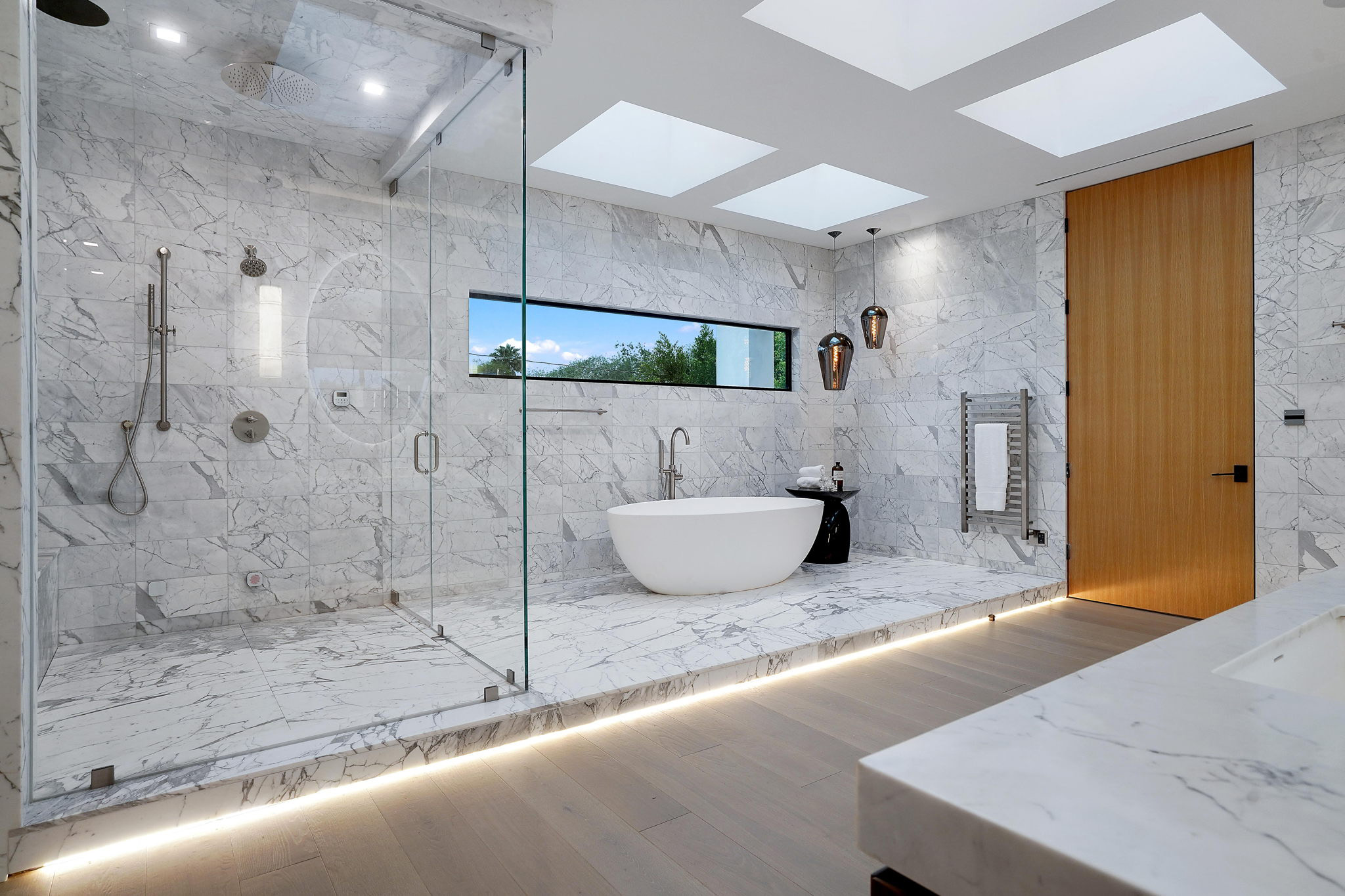 BASEMENT DESIGN
This is not your typical basement with one or two cool features.  Here we included a full size Wet Bar, Game Room, Home Theater, Extra-large Spa & Sauna, Home Gym Fitness Center, a second laundry room, en-suite guest room and staff quarters.  And it has plenty of light, which can be a concern when designing within a lower level part of the home.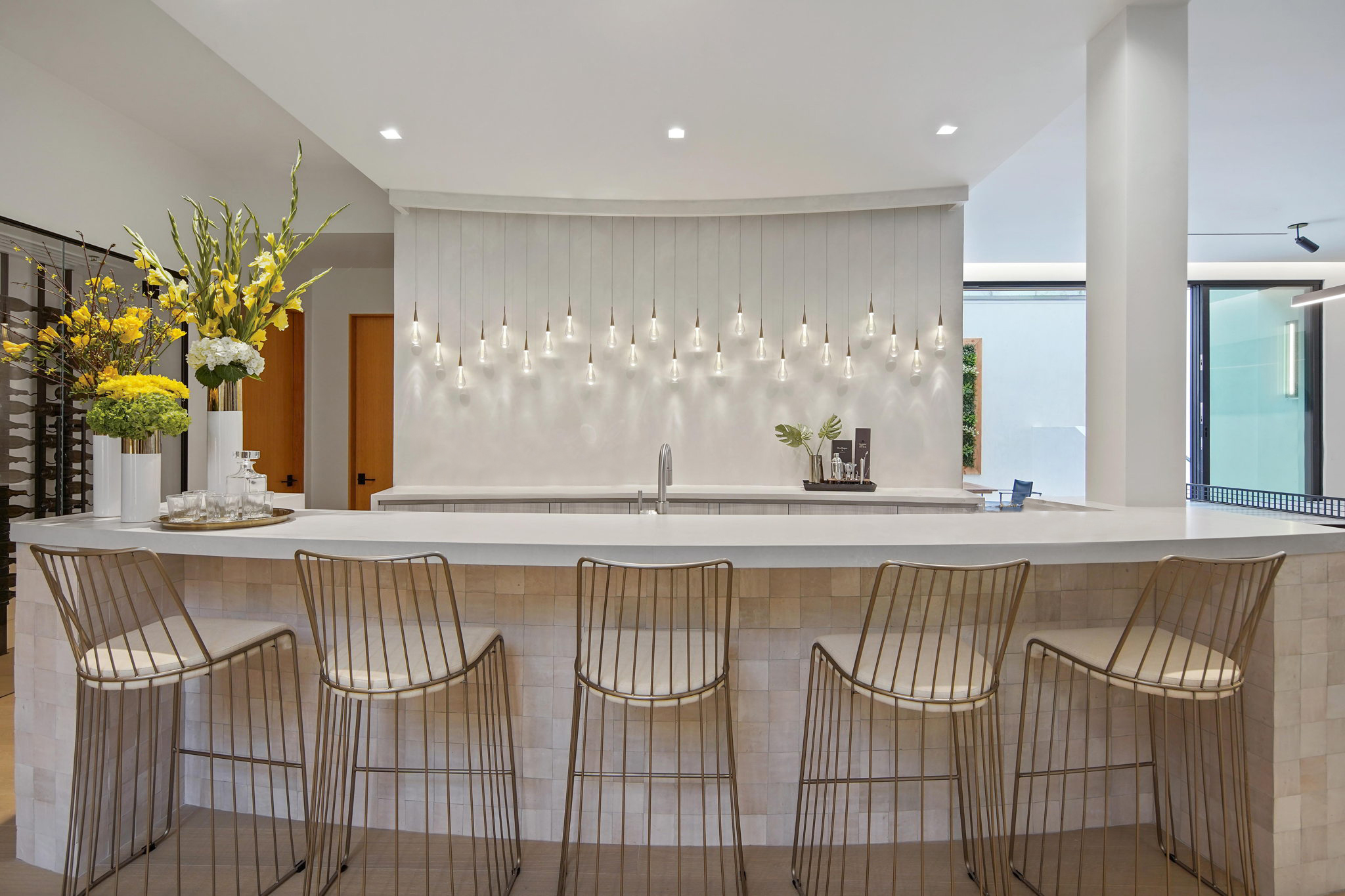 HOME BAR
Just as you walk down stairs, this stunning wet bar greats you.  Again, we added a soft curve to the island and covered it with 4×4 Zellige tiles.  To compliment the cascading chandelier at the staircase, we continued glass pendant lights along the back bar – which looks incredible at night!  Just beyond the bar is a built in wine room that keeps plenty of bottles chilled and ready.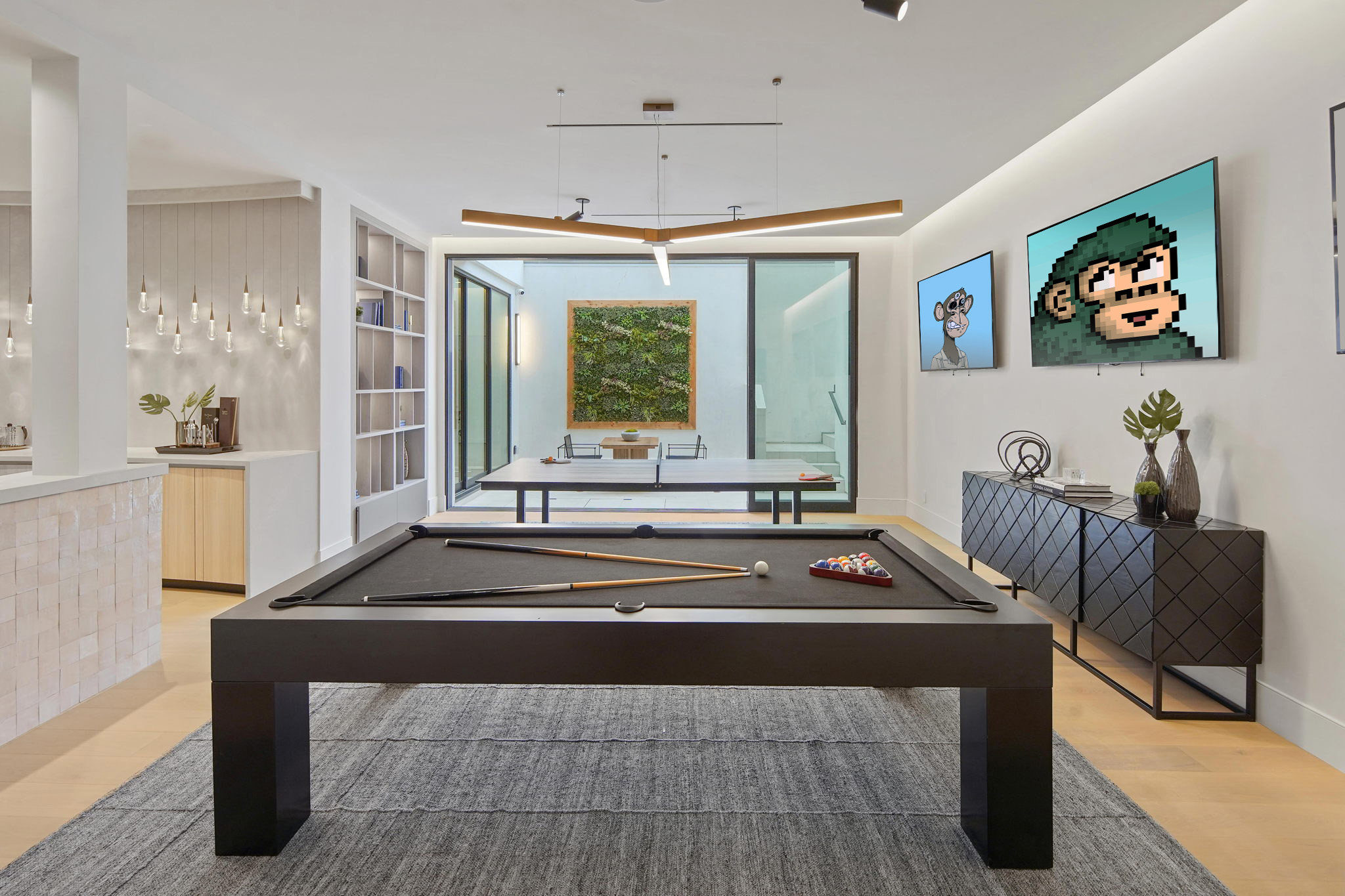 GAME ROOM
To the right of the Home Bar is the Game Room, which features a custom Pool Table and Ping Pong Table, and private patio beyond.  Our client is a young single bachelor  and requested an NFT gallery to complete the playfulness of the room.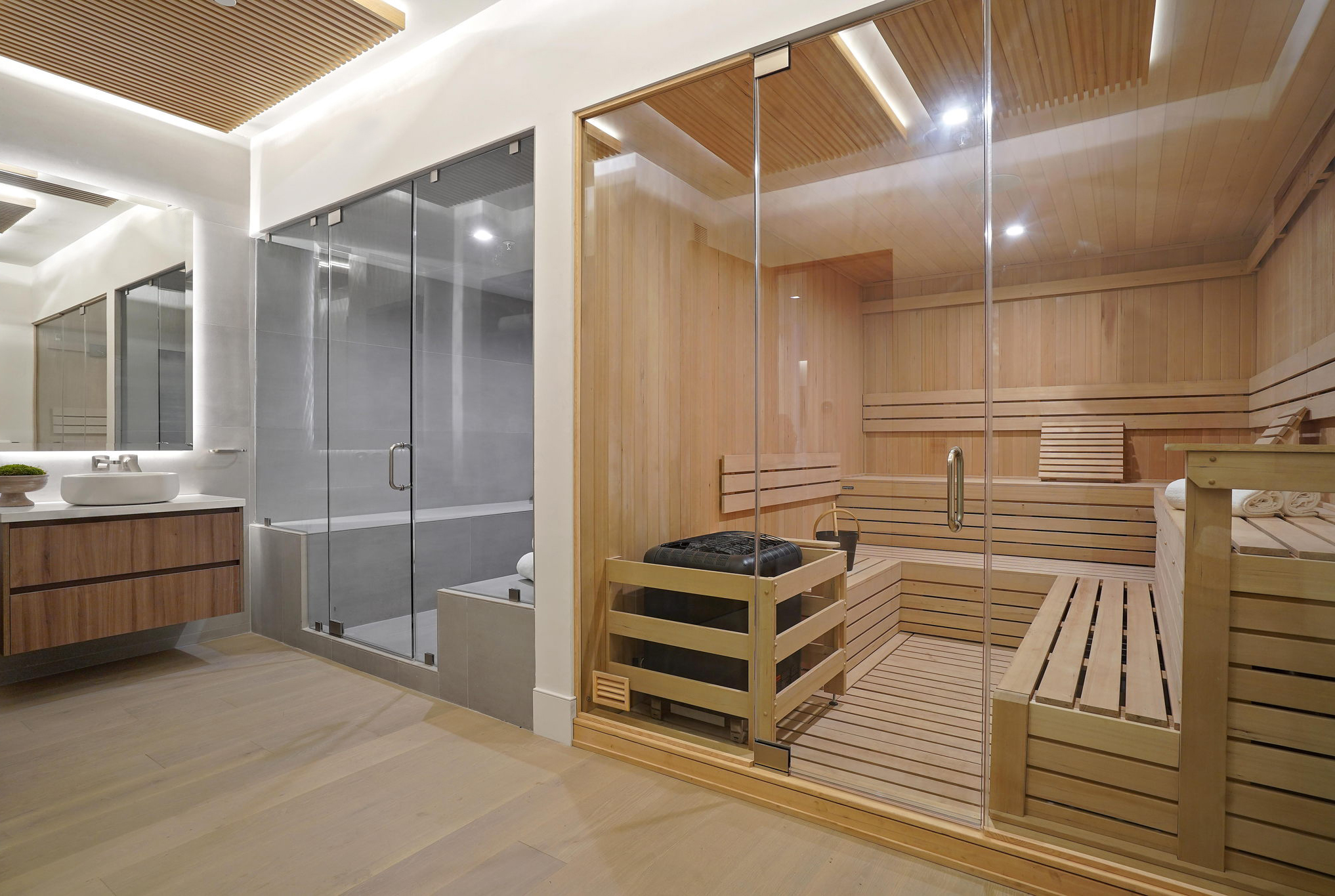 HOME SPA
A basement is a perfect location for a home spa because there are no windows needed.  This luxury home spa includes a extra large Wet Sauna, Shower with rainhead, and Dry Sauna.  Floor to ceiling glass walls extend the Home Gym Bathroom to feel the ultimate expansion of space.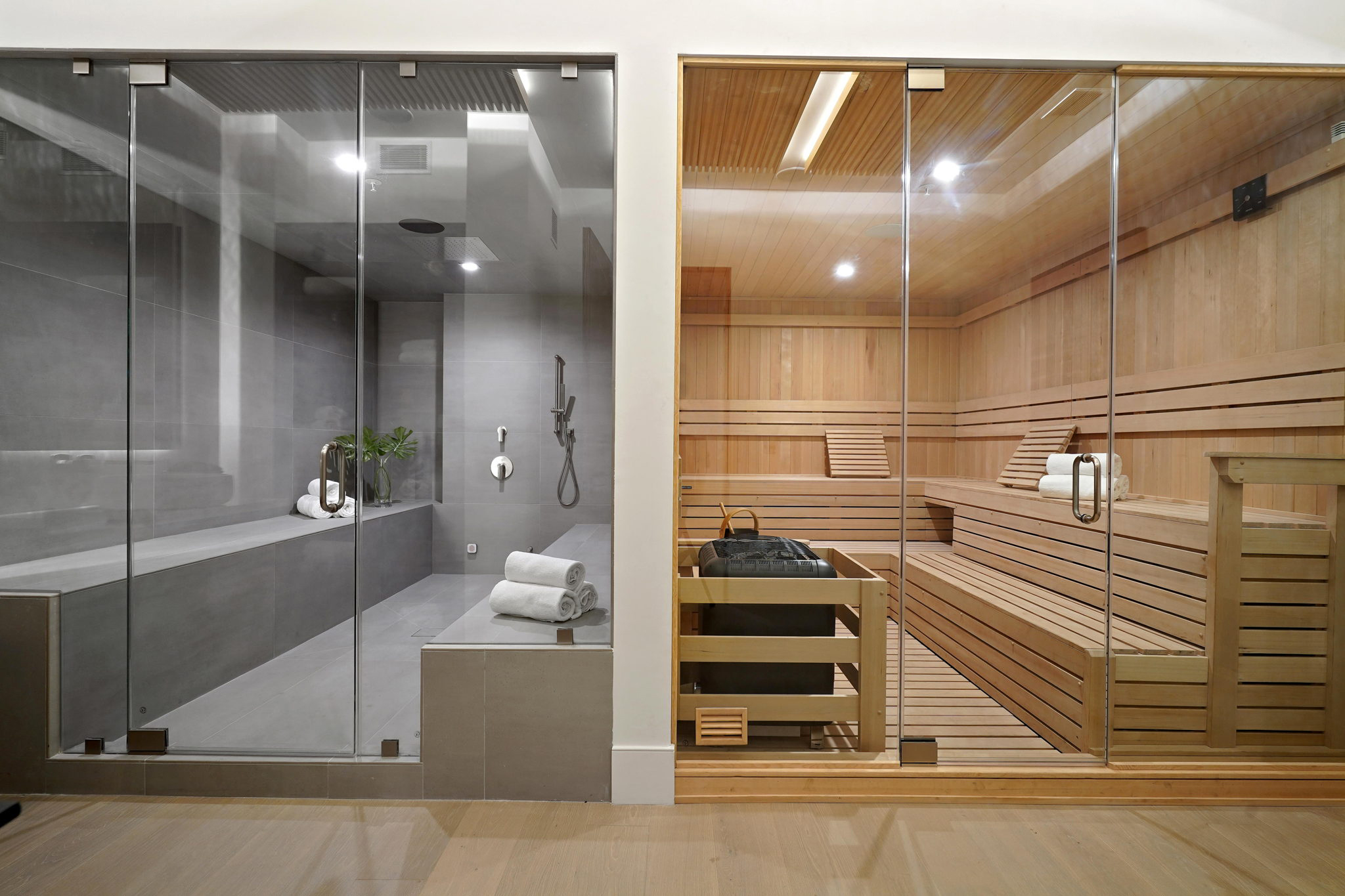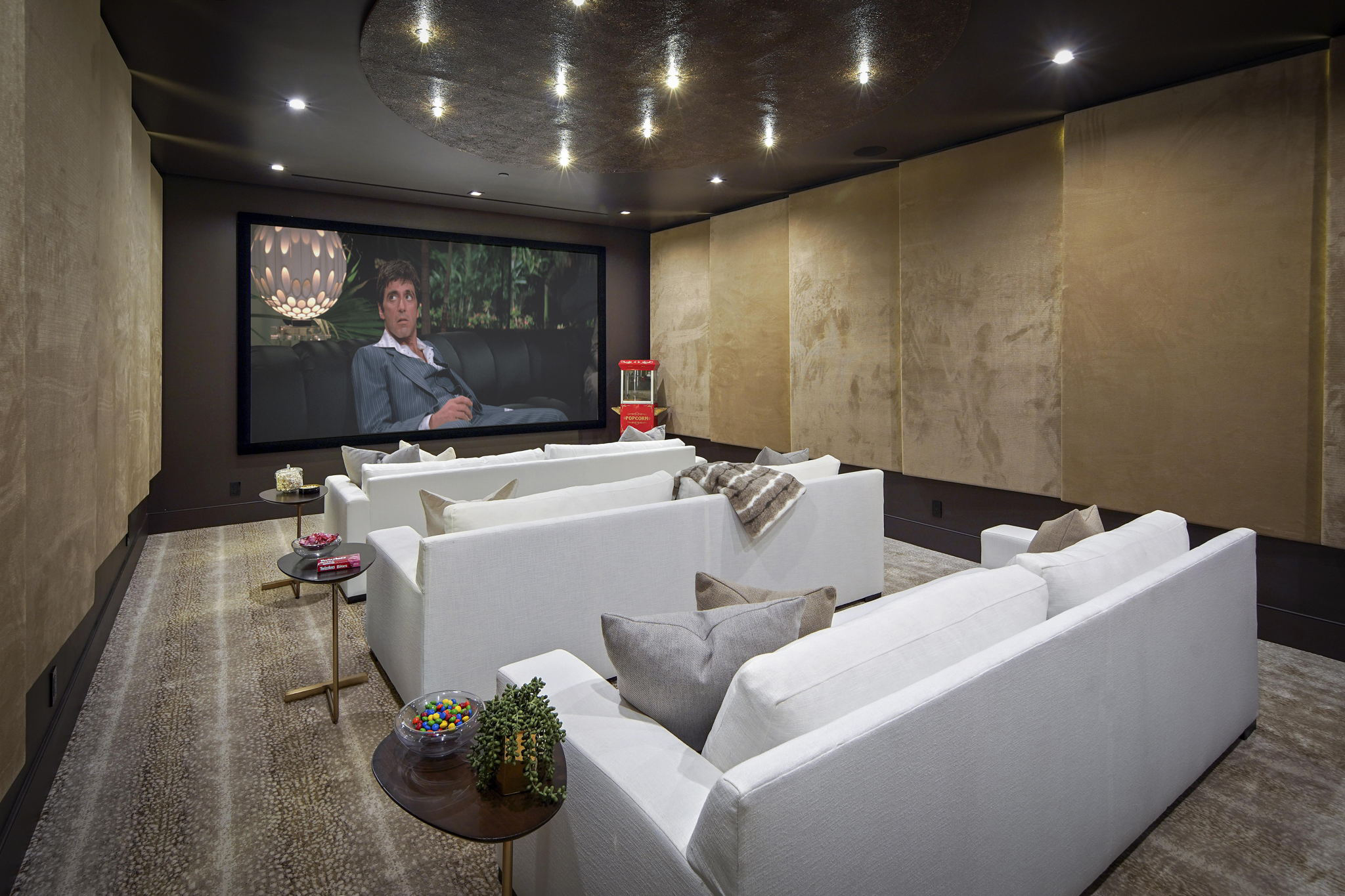 IN HOME THEATER MEDIA ROOM
The basement is another obvious place to design a Media Room. Upholstered acoustical wall panels, laser cut ceiling panels and sexy carpeting envelope this Dolby Home Theatre.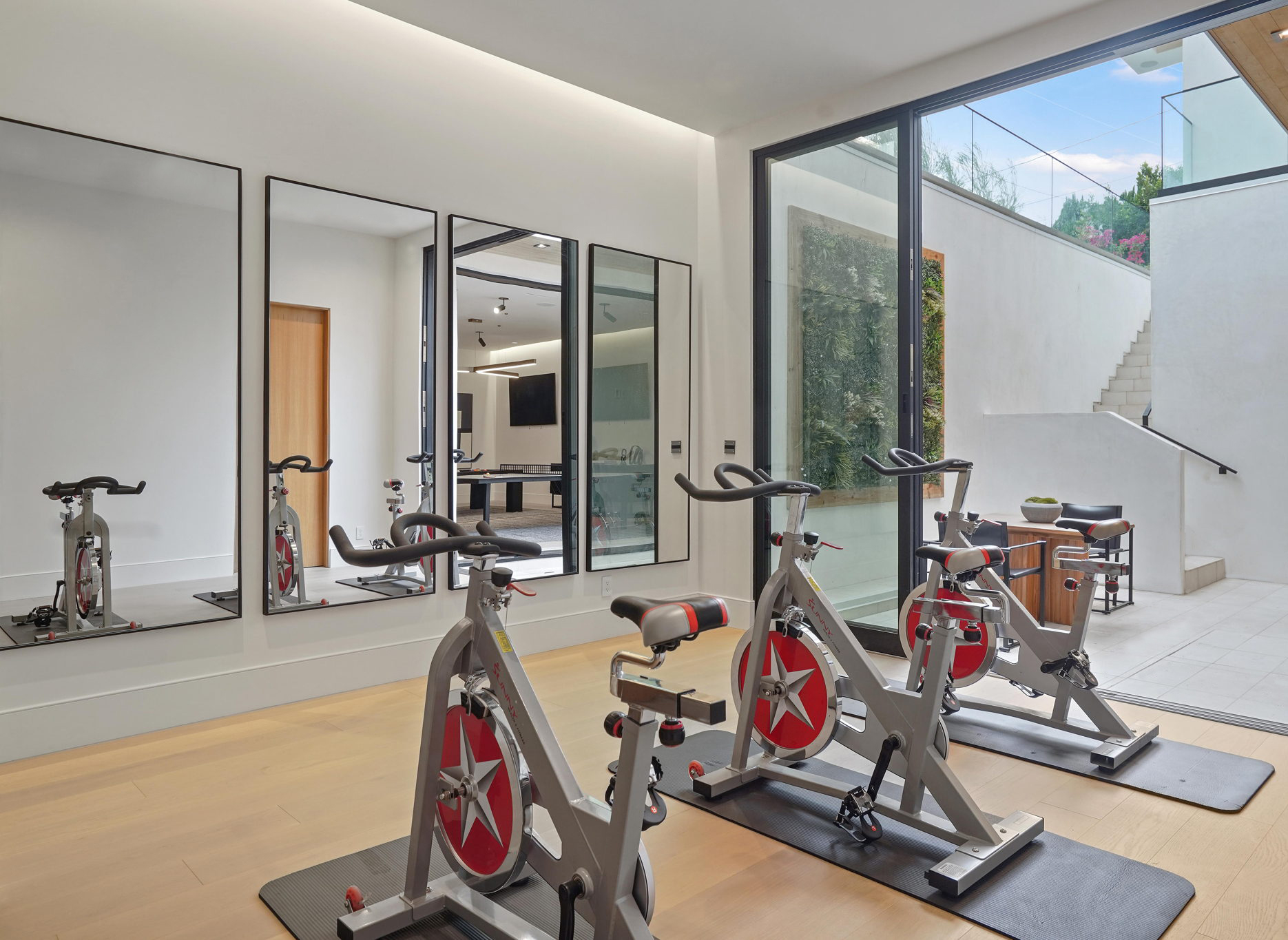 HOME GYM
The Home Gym Fitness Center features a window wall of sliding glass doors that open directly to a shared patio. A staircase leads directly to the upper patio Lounge and backyard pool.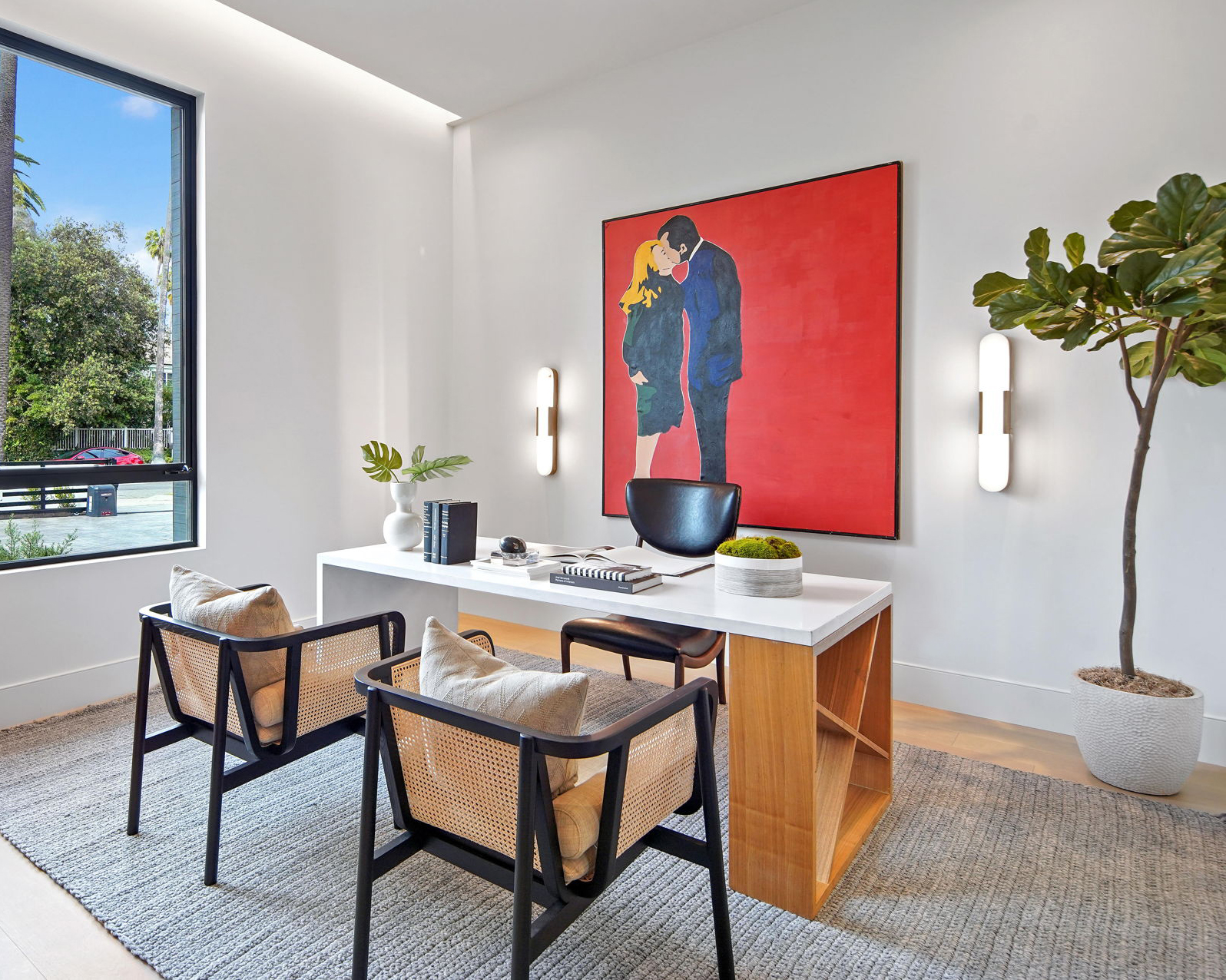 HOME OFFICE
Just off the front door entry is a personal Home Office.  This is a perfect location for guests to pop in and out without disrupting anything else in the home.  Again, the picture window floods the room with natural light, which helps reduce eye strain.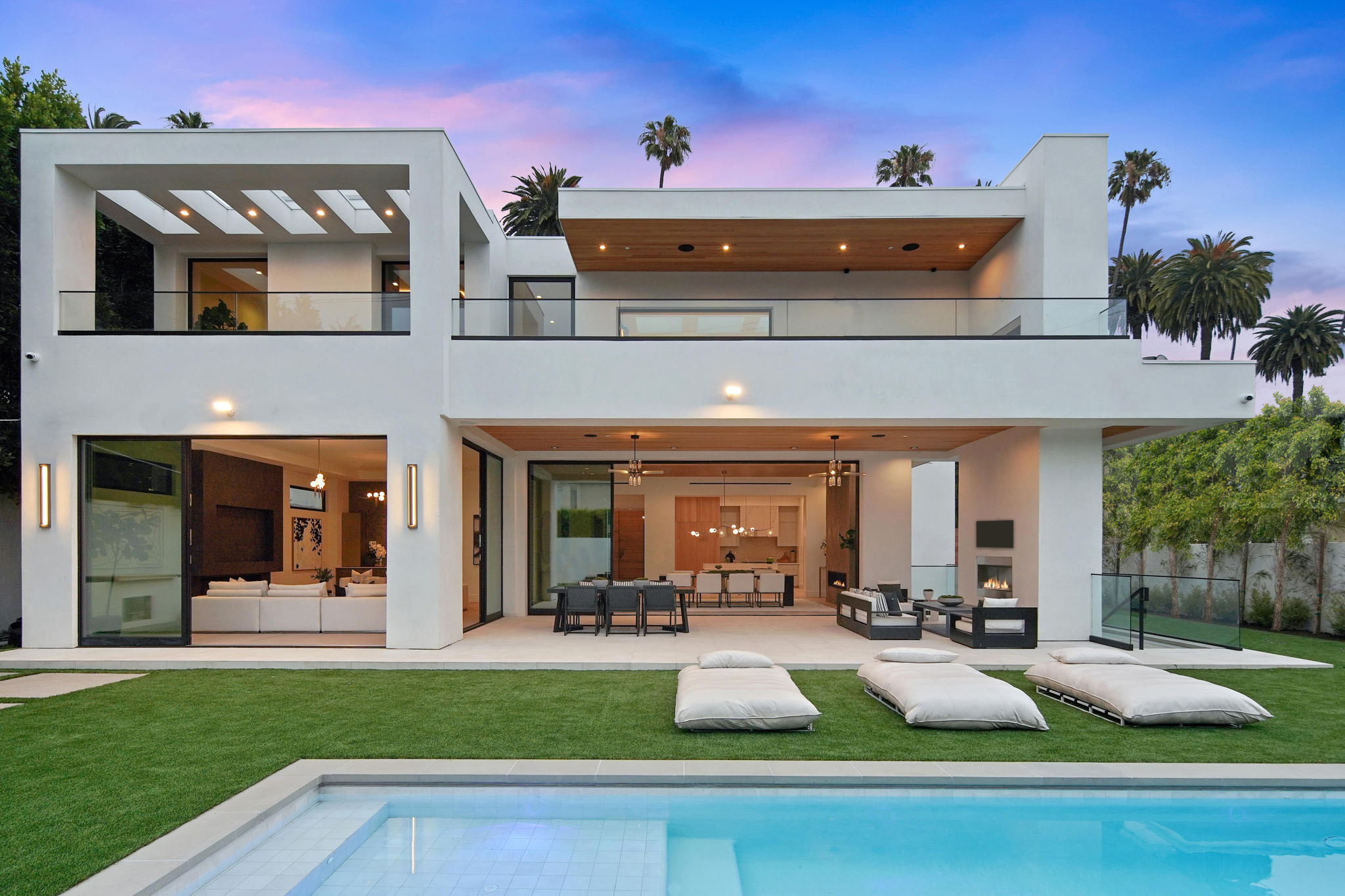 BACKYARD VIEW and POOL
Looking back onto the house, you can see how the Living, Dining and Bedroom spaces  effortlessly flow to the outdoors.  The luxury resort pool includes a beach style shallow lounge area, lap pool and hot tub.  And a trio of waterfall spouts offer soothing sounds to relax to while lounging poolside or dining indoors and out.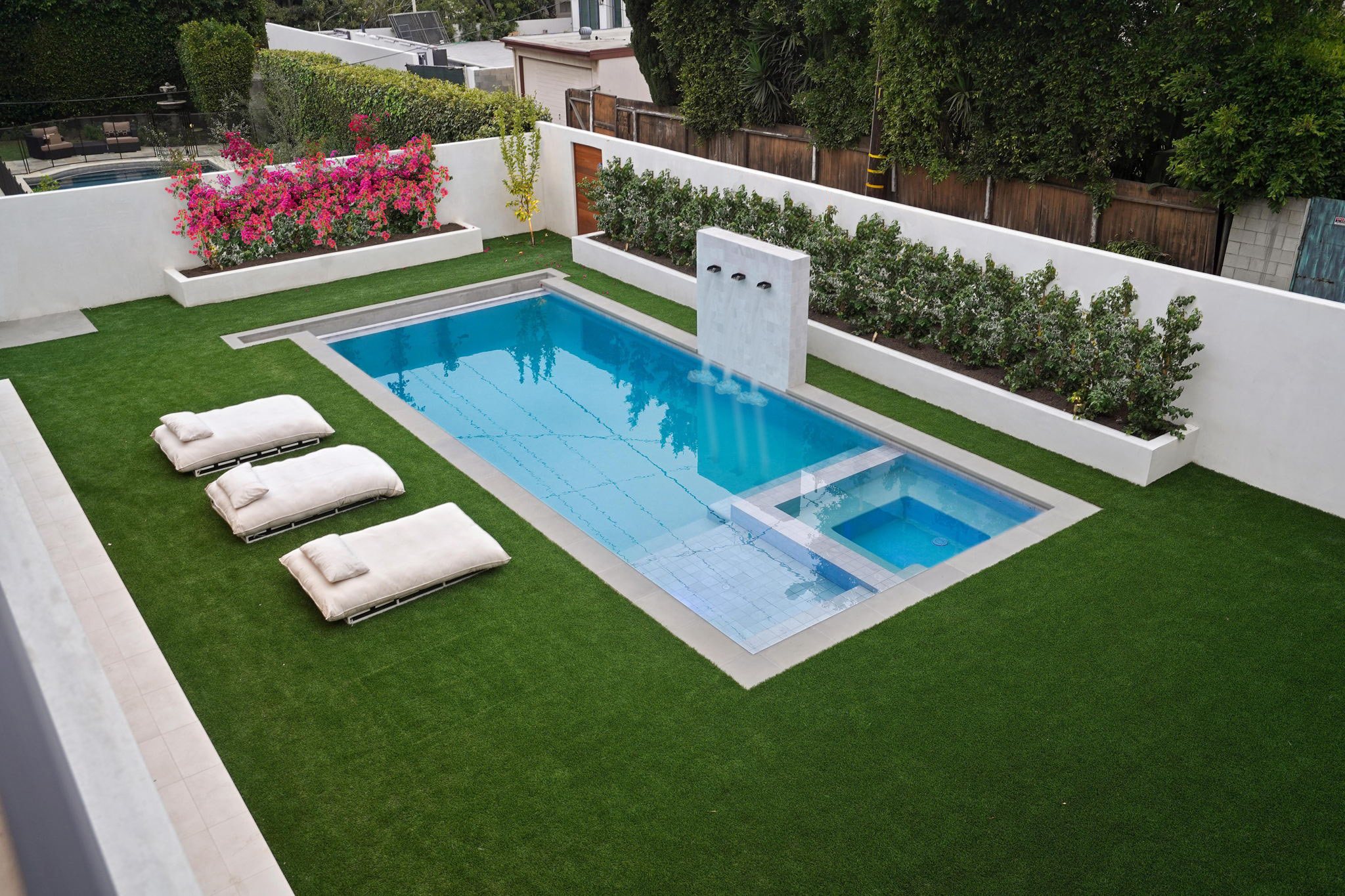 We hope you enjoyed the house tour as much as we loved designing it.  If you are planning a new construction or house remodel, we would love to talk with you and help you create the home of your dreams!
GREEN INTERIOR DESIGN
2nd Edition
How to Achieve Style and Sustainability
Green Interior Design is the most comprehensive guide to sustainable building, designing, and decorating on the market. This beautifully illustrated guide covers every detail of your home—from the drywall to the finial on the curtain rod—and how to find the most environmentally friendly versions of products and décor. This second edition of Green Interior Design is meant as much for the budget DIYer as it is for the luxury homebuilders looking to dip their toes into sustainability.
Purchase HERE.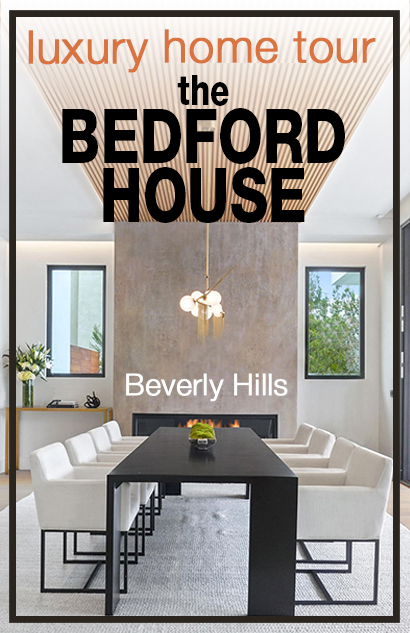 LUXURY HOME TOUR – THE BEDFORD HOUSE OF BEVERLY HILLS
Interior Design by Lori Dennis and Sara Plaisted