We've compiled a few of our favorite home gift ideas for the holidays.  Each thoughtful present, big or small, is sure to bring health and happiness all year long.
TEN OF OUR FAVORITE
UNIQUE HOME GIFT IDEAS
FOR THE HOLIDAYS
1. SHOP LOCAL
Before you start scrolling in search of the best holiday gifts, take a stroll around town.  You're bound to get some fresh air and plenty of inspiration!
One of the best parts of gift giving is the discovery story.  Where did you find it?  Who made this?  Finding something exciting and unexpected is so much fun for everyone.
When you support a small business, you're more likely to find something truly unique, and also help your local community. 
2. THE GIFT OF LIGHT
Candles are an instant way to brighten up any room and create a cozy amber glow.  And candlesticks add an additional layer of romance, luxury and elegance, especially in the Dining Room, Bedroom or Fireplace Mantel.
There are so many beautiful styles to choose from, whether they're ornate or simple, with materials ranging from glass to metal to wood.
Bring joy to someone's home through color, and get inspired by our latest post on next year's Color Trend Forecast.  We have a feeling you'll be seeing a lot more of these hues in the new year.
3. THE GIFT OF LUXURIOUS SLEEP
Nothing beats a deep and restorative night's sleep.  Having a comfortable pillow is key to maintaining neck support, comfort and optimal wellness.
Not to be a Debbie Downer, but standard mattresses and pillows carry the most toxic chemicals in the home.
We love organic latex mattresses and pillows because they're non-toxic, free of allergens and good for your health.  This may be a situation of One for You and One for Me!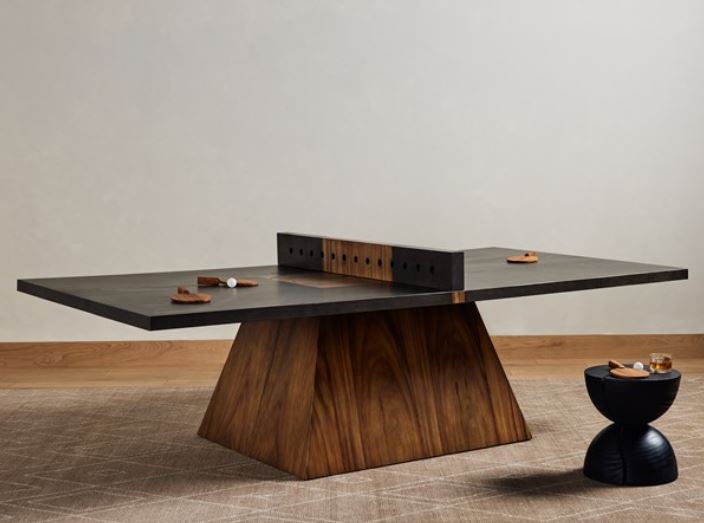 4. THE GIFT OF FUN
Play is such an important part of life. It keeps us feeling young, creative and present.
We're seeing a lot of game tables lately, and our favorite is this Ping Pong Table that converts into a Dining Table.  Win Win!
Did you know that ping pong is great for your brain?  The hand-eye coordination game strengthens the part of the brain responsible for problem solving, decision making and motor skills.
5.  THE GIFT OF WARMTH
An outdoor fireplace is an eco-friendly way to stay cozy all year round.  With instant ambiance, a fire pit brings warmth and style together in contemporary and chic way.
For those who value an indoor outdoor lifestyle at home, any size fireplace will feel like a luxury.
6. THE GIFT OF COZY COOKWARE
A beautiful dutch oven can do more than just make comfort food meals in the fall and winter.
It also steams, it simmers and it smokes.
In the summer, fill it with ice and beverages to create a mini bar.  Or use it as a wide vase to display beautiful floral or seasonal arrangements.
But of course, savory soups in the winter are the best.  Head over to our friends at Forks Over Knives for some fantastic recipes!
8.  THE GIFT OF PIZZA
Who doesn't love pizza?  Come on!  It's the best – so versatile and easy to make.
An outdoor pizza oven is an awesome addition to anyone's backyard and perfect for any season.  It brings friends and family together for laid back events like games, pool parties or warm winter nights.
9. THE SPLURGE GIFT OF
NEW WINDOWS
Talk about a gift that keeps on giving.  Let there be Light!  And energy savings, and better yet – increased home value!
New windows are a great investment in your home and overall quality of life.  We love working with our local window pros, Lion Windows and Doors because of their great prices and customer service.
Swap out windows in just a day or two, and you'll wake up in the new year so happy you did.
10.  DONATE TO CHARITY
The holidays are a time to find gratitude for the people and things you have in your life.
And it's also a time of giving, especially to those who are working tirelessly for whatever cause is close to their heart.
We encourage you to find a organization that speaks to you and offer what you can.
GREEN INTERIOR DESIGN
2nd Edition
How to Achieve Style and Sustainability
Green Interior Design is the most comprehensive guide to sustainable building, designing, and decorating on the market. This beautifully illustrated guide covers every detail of your home—from the drywall to the finial on the curtain rod—and how to find the most environmentally friendly versions of products and décor. This second edition of Green Interior Design is meant as much for the budget DIYer as it is for the luxury homebuilders looking to dip their toes into sustainability.
Purchase HERE.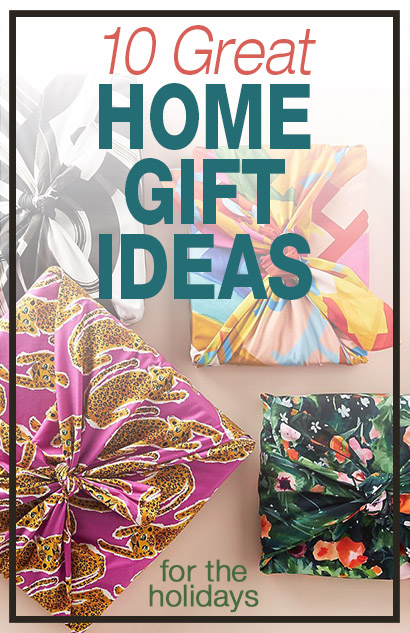 OUR FAVORITE HOME GIFT IDEAS FOR THE HOLIDAYS