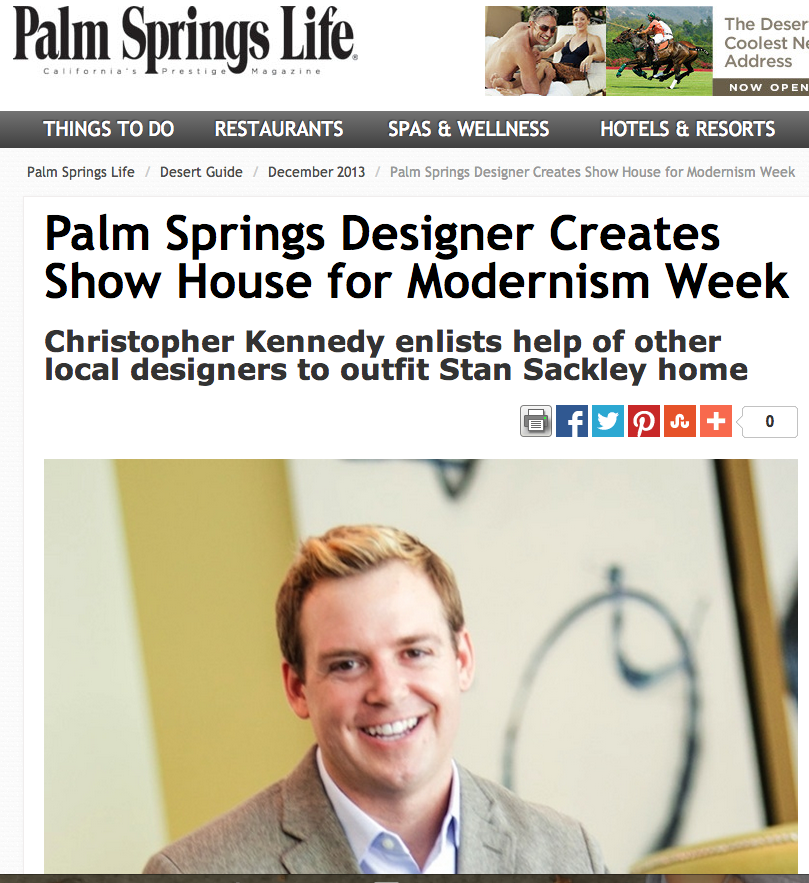 Palm Springs Designer Creates Show House for  Modernsism and enlists Celebrity Designer Lori Dennis.  The Christopher Kennedy Showcase house includes rooms by some of today's most respected voices in interior design and home furnishings including Celerie Kemble, Trina Turk and A-list interior designer Lori Dennis.
Palm Springs Designer Creates Show House For Modernism Week
Christopher Kennedy enlists help of other local designers to outfit Stan Sackley home
By Ethan Kaminsky | December 2013
Palm Springs designer Christopher Kennedy has created a show house featuring the work of other local designers for Modernism Week in February.
Palm Springs designer Christopher Kennedy never hesitates to credit Modernism Week for helping to put him on the map.
Now it's payback time.
Kennedy has created The Christopher Kennedy Compound, which will be open to the public for tours during Modernism Week, Feb. 13-23, 2-14.
"The Jet Set and Mid-Century Modern styles have a uniquely American Bent to them," Kennedy says. "While some of the architecture has Bauhaus and other European influences, I feel that the American architects had a unqiuely American interpretation, and that my brand is uniquely Californian/American at its core."
This architecturally significant Stan Sackley home, circa 1971, has been re-imagined by an unparalleled roster of celebrity designers for today's style of Southern California living.
"When I first conceptualized this Modernism Week Designer Show House more than a year ago, I knew it would take a global village. And it has," explains Kennedy. "I am humbled by how generously both the local and national design/build communities have stepped up to provide talent, time and product to reinterpret this iconic property in true Palm Springs-style.
"All along, my philosophy has been to go big by drawing on our local resources. Design show rooms and distributors from all over the Coachella Valley have brought the lines they represent on board to donate tens of thousands of dollars in furnishings and fixtures. The Modernist Community is in for a spectacular treat."
Team Design
The property includes rooms created by today's most respected voices in interior design and home furnishings, including Celerie Kemble, Jiun Ho, Trina Turk, Lori Dennis, Patrick Dragonette, Sammy Castro, Ron Woodson, and Jamie Rummerfield.
Their vision has brought to life by First Atrium Construction, in partnership with Cosentino Silestone Quartz, Aran Cucine, Neo Metro Fixures, Gessi Bath, La Cantina Doors, Crestron Home Automation, and more than three dozen local and national residential design resources like Pirch, Egg & Dart Showrooms, and Modern Home.