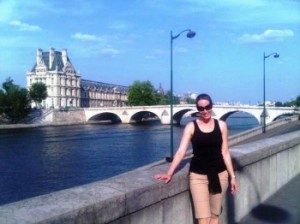 Hotel DeVille Paris
Two weeks ago I returned from a lovely holiday in France.  The SoCal Contractor and I were invited to a lady friend's 80th birthday celebration in Lyon, and there was no way we were going to miss that!  We began in Paris- where else?- and were wowed by the beauty that surprises me every time I step foot in the city.  What also surprised me and made me a bit sick were the hundreds of piles of empty, plastic,  water bottles in trash heaps all over the city. It was hot and there were TONS of tourists.  In California and many places I've visited there is a 5 or 10 cent value placed on these plastic bottles, so even when lazy people use them and chuck em, you have an army of people who collect them right out of the trash to redeem for cash.  It's a system that has always left me wondering how the beaches of Indonesia (have you seen those photos???)  can be filled with hundreds of thousands, if not millions, of empty, plastic, water bottles.  My thinking: they're worth money, if for no other reason, how can they be discarded on the beaches that way?  Well, there they were, all over  Paris, on their way to land fills, streams and oceans.  Not so green.  What was green and one of the best ways to see the city was the 10Pm-12AM bike ridethrough every arrondisement in the city, protesting Saudi oil.  There we were minding our business, eating chocolate and drinking wine in front of Notre Dame  when we saw about 200 bicycles cruise by us.  We weren't sure what was going on and thought possibly France had just won the World Cup. I had seen a similar scene when France won in 1998. (Funny thing, is that France had been long gone from the games at that point.) We grabbed our city bikes and caught up with the parade. A few blocks later we learned we were part of an oil protest, holding up traffic, waving banners and honking our horns at every cafe in the city. I saw parts of Paris,  I never knew existed during that two hours, cheered and exchanged greetings with every type of Parisian. Very Green.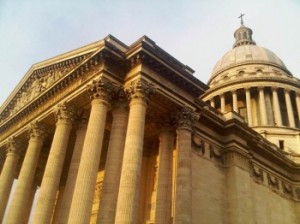 Pantheon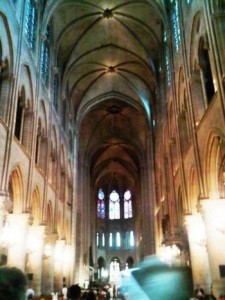 Notre Dame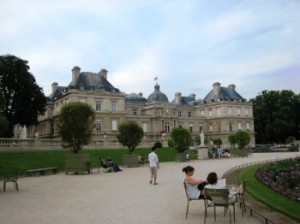 Luxemborg Gardens
We stayed in a great hotel a few steps from Musee D'Orsay and right across from the Louvre called Hotel Bellechasse.  Christian LaCroix just renovated it–super funky and right next to a public, bike station. Not too expensive, it's a great place to stay on a couple's trip.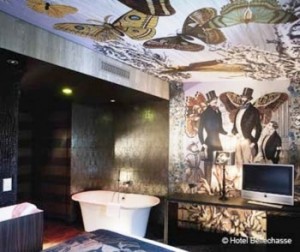 Hotel Bellechasse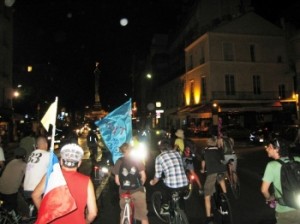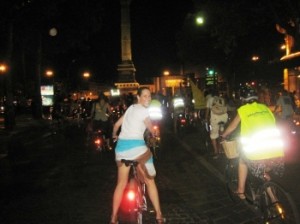 Lori Dennis Biking around Paris on an Anti Saudi Oil Protest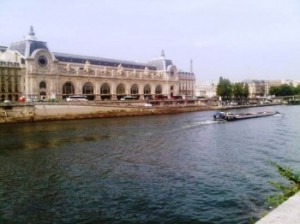 Musee D'Orsay
Loved Paris, but it was hot, dirty, crowded and we were ready to head to the culinary capital of the country- Lyon.  We weren't sure what to expect and after seeing the hotels on line, didn't expect much. There were only three nice ones. We booked one of them and hoped it would be ok.  After recovering from the shock of a $100 cab ride into the city from the airport, we fell in love with the place.  Our hotel, La Tour Rose,  was in the Vieux Lyon-the old city, every room in the hotel decorated  in a different  fabric of the prominent 18th century silk houses of Lyon.  I can not describe how luxurious and simply beautiful our room was with red velvet, silk covered walls, matching bedspread and floor to ceiling curtains.  It was a room befitting writer Alexandre Dumas and he actually stayed there when he wrote the Three Musketeers.    The town lived up to its reputation for cuisine (much more fairly priced than Paris food of lesser quality) and had two sparkling green rivers running through it: the Rhone and the Soane.  People were actually swimming in these rivers and the entire experience was all too civilized.  What was unexpected was that the majority of chefs, like Alain Aleaxnian, were  green food advocates, dedicated to promoting and supporting local producers and organic food and wine.   (Read the next three words in a French accent) But of course…  it makes total sense in a clean environment, surrounded by pristine waters and forests.  For a day, we ventured deeper into the countryside and visited Chamber, witnessing the fields of pure, white cows famous for so much of the region's delicious cheese. I am so happy to have been exposed to the fantastic wines of the Rhone, earthy and full bodied- yum!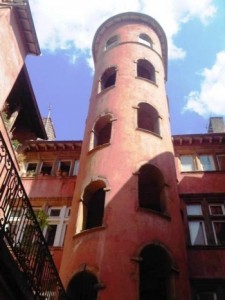 La Tour Rose Hotel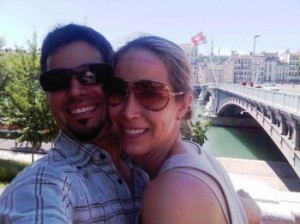 So Cal Contractor Roi Yerushalmi and Lori Dennis Rhone River, Lyon France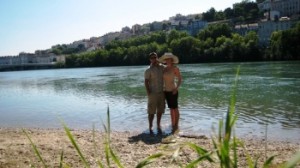 Cooling our feet at the Soane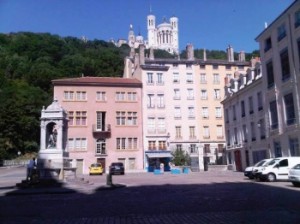 Beautiful Lyon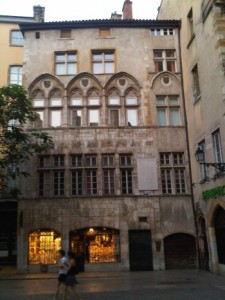 Lyon City Square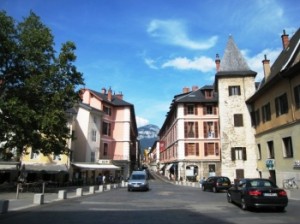 Chambery France
We wrapped up the trip with a two day layover in London- unfortunately most of it was in the airport due to faulty British Airways planes.  In Heathrow airport, terminal 5, green is alive and well.  On one of our last eating and drinking extravaganzas, we were served a bottle of Belu Water.  This company donates ALL of their profits to clean water in places where people don't have any.  Belu has successfully created the world's first carbon neutral bottled water, launched the UK's first plastic bottle made from corn not oil, promotes PVC-free bottle caps and provides over 40,000 people overseas with access to clean water.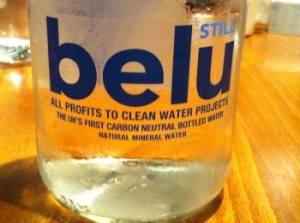 So we wrapped up the trip with a nice green, ribbon and came home to see our sweet little Elle Bell.