Earlier this week I went to an event at Epoxy Green featuring  the latest in  fully electric cars and product displays of materials that rival anything available at Ann Sacks.  Sasha, the owner, has really nailed "glamorous green".  My favorite was the collection of pearly laminates that are applied as tile.  It reminded me of the sublime Maya Romanoff wallcover introduced at Donghia a few years back- only it's eco friendly, made of recycled content.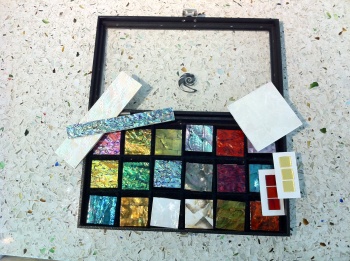 I also liked the bamboo wall tile, applied horizontally with a chocolately grout,  featuring the material in an entirely new light- mod and sultry. I've been weary about using bamboo because it's become  known as "a cheap flooring solution" .  Haven't seen a  comeback this noteworthy since  John Travolta in Pulp Fiction.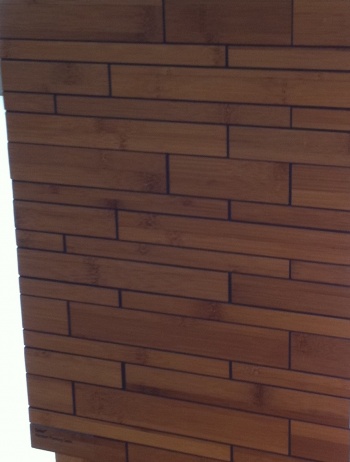 In the "I'm not sure if I like it, but it sure is interesting category" was Richlite's recycled paper counter tops.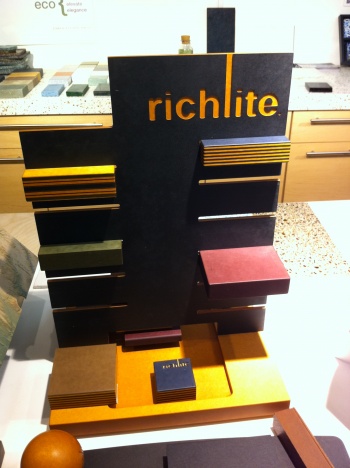 In a word -unbelievable.  How can paper be durable enough for a counter top.  They claim it can.  Has anyone used it?  I'd love to know.
Also impressive were two of the fully electric cars on the front patio.  Although pretty to see, Tesla models run at about $150,000… not really a solution for most of us.  But there was a BMWish looking model with a $30,000 price tag (after the gov rebate of $10Gs) , evidence that we are getting closer to ending dependence on fossil fuels for transportation.
Later I headed over to Santa Monica Place to see what ripping off the roof would do to the shopping center.  My first  high school job was in this mall (at the GAP) and it was always dark, dreary and cramped.  Post remodel and sans roof:  I witnessed loads of natural light and an abundance of fresh,  ocean air,  green roof tops, a showcase of recycled fashions from Otis students and plenty of people from the community and beyond enjoying the open air space and comfortable seating next to a fountain in the courtyard.  In a word- wow.