We're sick of being sold.  Traditional advertising has become blurry and quiet, we simply don't respond to it anymore.   Tivo's success exemplifies my point.  But I've seen the light, a better way to brand. Hours before the Academy Awards,  AlltheBest blogger and  SFERRA brand ambassador, Ronda Carman, hosted her own red carpet event at Tony Duquette's Dawnridge.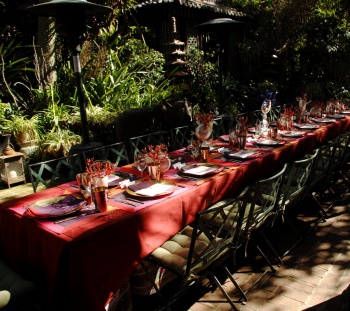 SFERRA's TABLE SETTING
In honor of  SFERRA's 120th anniversary, ten top bloggers and a sprinkling of design elite sat down to a one of a kind luncheon,  table styled by team SFERRA- Hutton Wilkinson and placed in one of the many magical outdoor spaces of the Dawnridge Estate.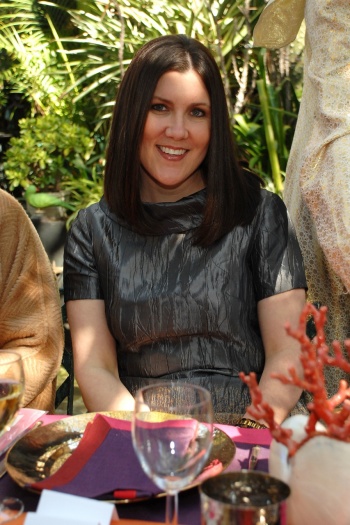 Brand Ambassador Ronda Carman
Being a spokesperson for Milgard Windows and a business owner, I am constantly faced with "designing" clever ways to market.  I hit the idea jackpot at Dawnridge.  Ronda nailed it.
Step 1. LEAVE AN IMPRESSION- If you haven't picked up a copy of Tony Duquette's More is More, you should because words will never describe the decadence of the estate.  ( Better yet, get yourself invited… somehow. )   No one who attended the event will ever forget the experience that afternoon or the gracious hosts who invited us.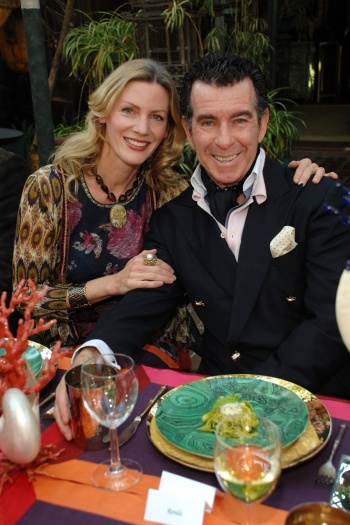 Tracy Porter and Hutton Wilkinson
Step 2. DON'T MARKET- INSTEAD INVITE and INSPIRE AS A BRAND AMBASSADOR- There was no tradtional marketing at the luncheon, not one piece of literature or signage- but the entire experience sang SFERRA- permanence, luxury, generational, fine, perfection.  The location, the setting and the guests left everyone in awe. SFERRA and Ronda treated us like honored guests instead of marketing targets. Being invited by a "brand ambassador" set the tone for a unique experience that would not be forgotten.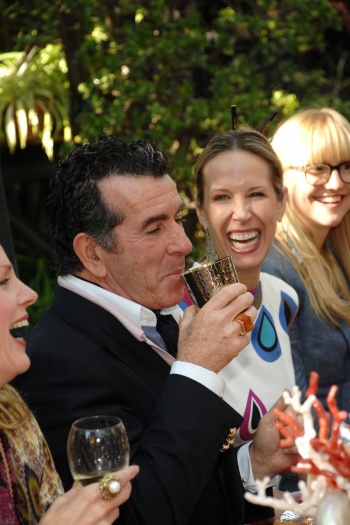 Hutton Wilkinson and Lori Dennis
Step 3. TAKE ADVANTAGE OF TIMING- Ronda coincided the event with the first annual Blogger's Convention, on calendar for the following day.  Since the best of the best were already in town, she made an offer no design affectionado could refuse.   Bloggers blog about the things they do and see.  Ambassador Carman made sure they saw something worth blogging.  And let's face it, when respected people say  positive (and unsolicited) things about your brand, it's the most valuable advertising there is.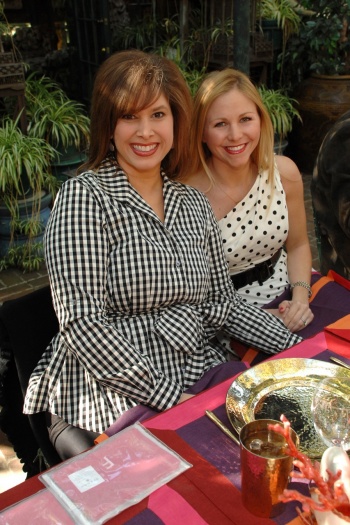 Tobi Fairley and Kyle Knight
Step 4. INVITE THE RIGHT GUESTS- Suzzane Rheinstein, Jan Showers, Barclay Butera, Hutton Wilkinson, Anne Sage, Ronda Carman, Lori Dennis, Tobi Fairley, Clinton Smith,  Tracy Porter… the list went on and on.   I read Tobi Fairley's blog religiously… and there she sat across from me -along with 9 other major leaguers. A mutual admiration society meeting is a good thing and makes for very happy guests.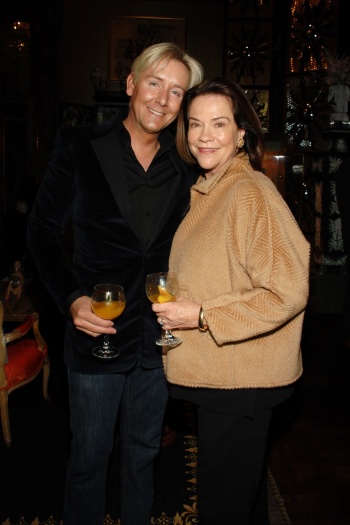 Barclay Butera and Suzzane Rheinstein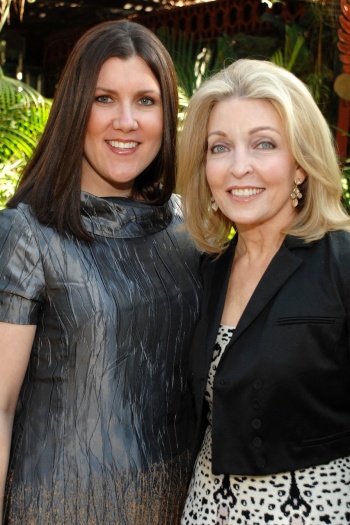 Ronda Carman and Jan Showers
Step 6.  GIVE GOOD SWAG- Each guest left with a boldly colored, personally monogrammed set of SFERRA cocktail napkins.  Think about this.  SFERRA makes heirloom quality linens that can be passed through generations.  Each time these exquisite cocktail napkins are pulled out for decades, it becomes an opportunity to tell the story of Ambassador Carman's luncheon for SFERRA's 120th Anniversary at Dawnridge.
That's a better way to brand.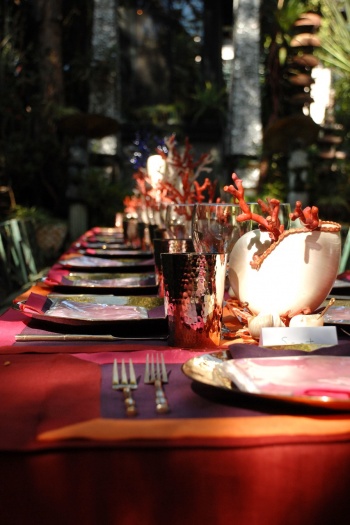 SFERRA's TABLE