Last night I was invited to a house party at celebrity Lisa Ling and Dr. Paul Song's home, the first Energy Neutral Home in Santa Monica with LEED for Homes Platinum Certification. The party was filled with the top  Los Angeles Interior Designers, Architects and Interior Decorators.  DJ Jilly Hendrix  was killing it, the food and libations were delish, but the thing that impressed me the most was that the project managed to recycle or reuse 100% of the old house that stood on the site.  Nothing went to landfill.
When you enter the gates you can immediately see that the owners have a sense of humor and you're about to have a good time.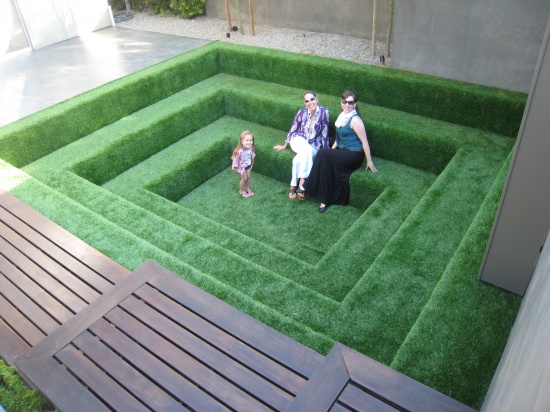 Lori, Sara and Elle took the opportunity to enjoy the Conversation Pit covered in faux Grass.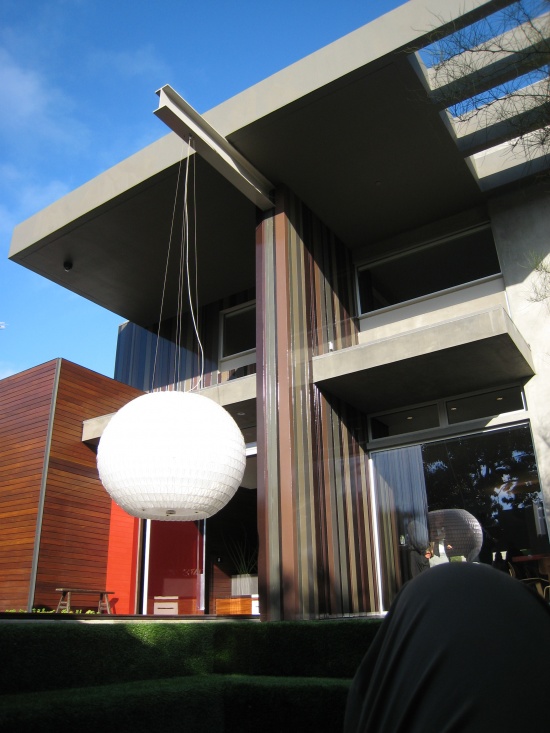 The design of this lantern is brilliant, glowing softly, like your very own moon.
Gently flowing water invites you into the home with the solar powered fountain.
Looks large, but it moves with the touch of a finger.
My kind of table, lots of room to entertain or work on projects.
Chinese art and personal momentos fascinate guests at every turn.
The house is worth 4-6 million dollars, but Lisa and Paul still believe it's better to buy something used and give it a new life.
I'm glad they did, this chair is gorgeous!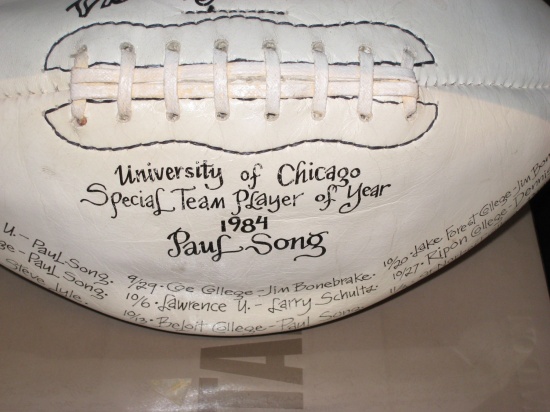 One of the many photos in the home of Lisa with Presidents Clinton, Obama and Oprah Winfrey.
Room for two makes romance and style go hand in hand.
Inspiration is all around you in this home, "You are alive." sprayed on an urban wall.
More pictures with presidents, here's one with Clinton, and a fabulous collection of anime comic books.
Love the desk layout and the accessories that demonstrate that Lisa and Paul are kids at heart with compassion for others.
Every where you look there are simple materials used in fantastic ways, attention to detail was obviously high on the design program.
Radiant heated floors are powered by the many solar panels cleverly installed on the home's second level.
The white wall also serves as a screen for outdoor movies.
Their energy bill was $1.09 last month. Sometimes the power company owes them money.
The house is a perfect example of being green without sacrifice and it epitomizes Los Angeles style.
I ran into Rachel Winokur, a fellow leading green interior designer in Los Angeles.  I had to laugh as I watched Rachel take copious notes on her iphone , while I was busy shooting the LEED Certified home.  It takes a lot of work and research to stay a  top interior design firm in Los Angeles.  I LOVE MY JOB!