Last night the Design Camp  Girls headed over to  Snyder Diamond ( Santa Monica) for the Dwell Magazine and Kalamazoo Outdoor Gourmet panel on the best in outdoor kitchens and interior design trends.  As we walked through the  showroom on the way to the Wolfgang Puck catered cocktail party, we couldn't help but notice the gorgeous bathroom displays.  Although the main goal of our field trip was to  meet with Kalamazoo's Russ Faulk to discuss online content for Design Camp,  we left with a firm understanding of the latest and greatest trends in bathroom interior design.   Here's what we saw: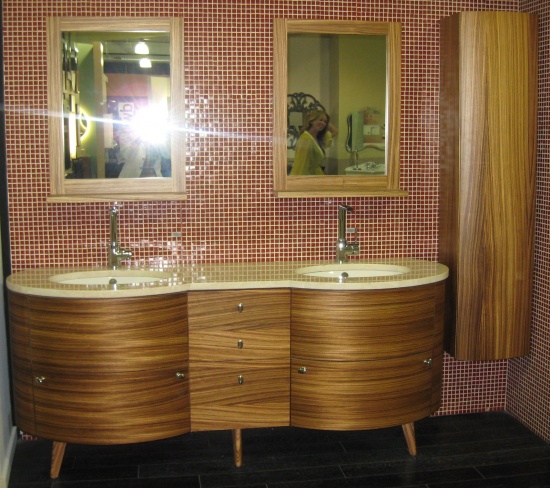 It was all about wood veneers in cabinetry. The shape of this number reminds me of the vanity in my grandparents bathroom, last remodeled in 1950.
Go retro.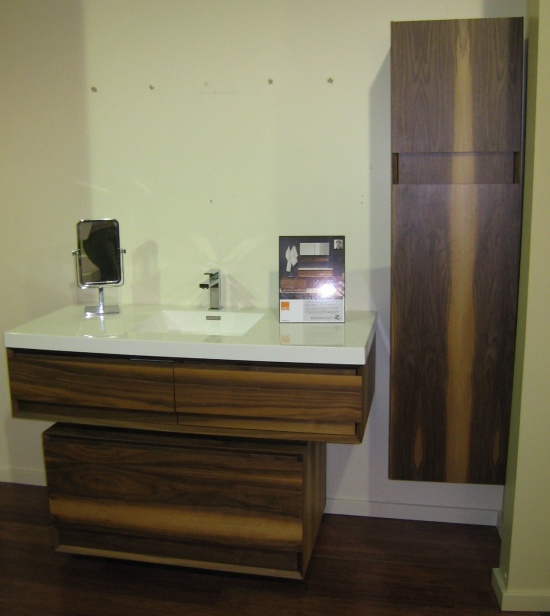 Clean lines and American Walnut topped with Caesarstone, a winning combination.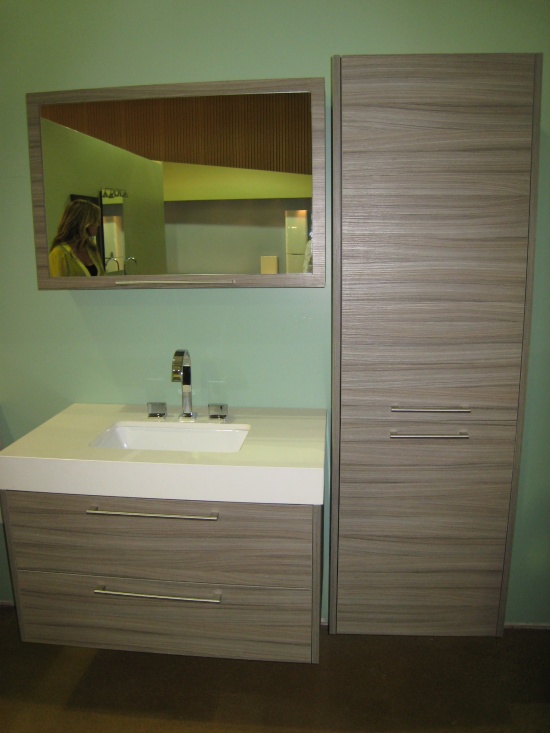 More wood,  in contemporary configurations, but this time softened with a French White Oak veneer.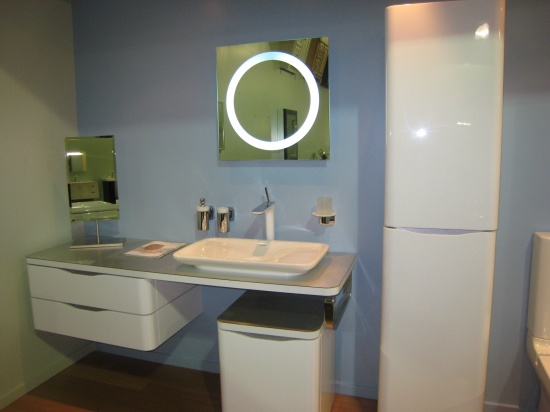 As one who travels the country on a regular basis, something about this high tech set up  reminds me of the WC s on Virgin Airlines.
Sleek and funky, you can't go wrong, unless you place it in a Tuscan home. (Don't do that.)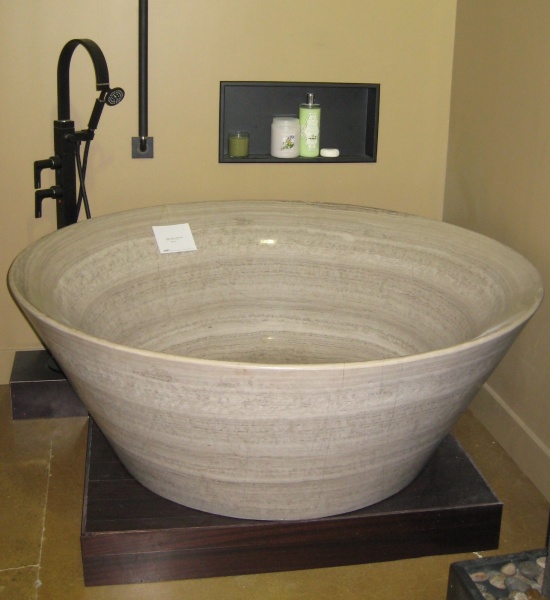 But this stone combination will work in Tuscan, transitional and contemporary.  Design Camp Counselor Kelli took a break on the coordinating stone lounger.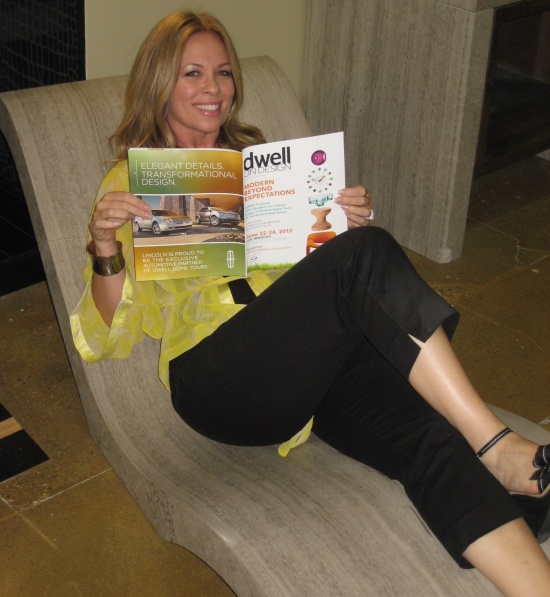 The vanity is gorgeous too! Contemporary lines+traditional materials = fabulous transitional!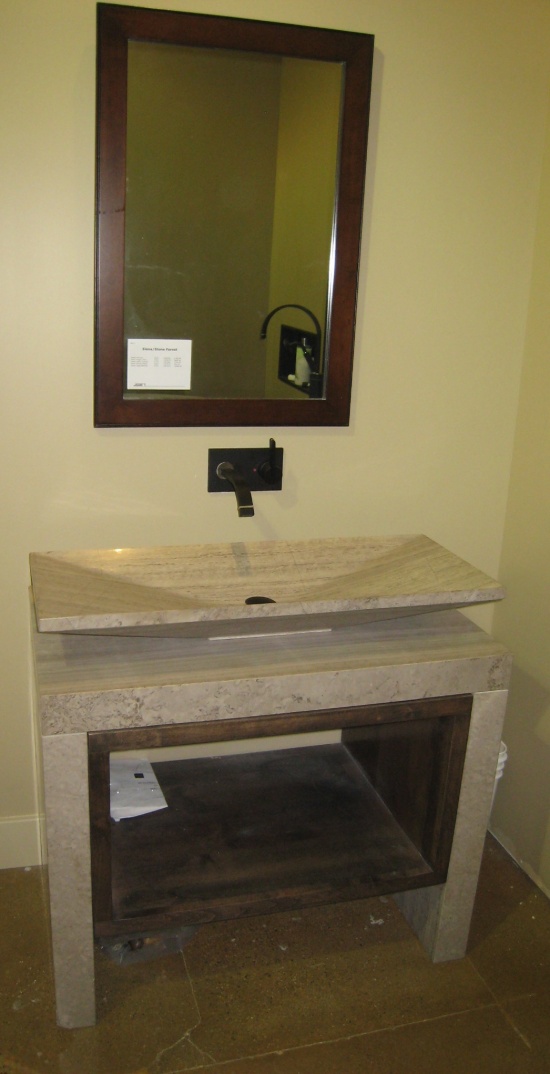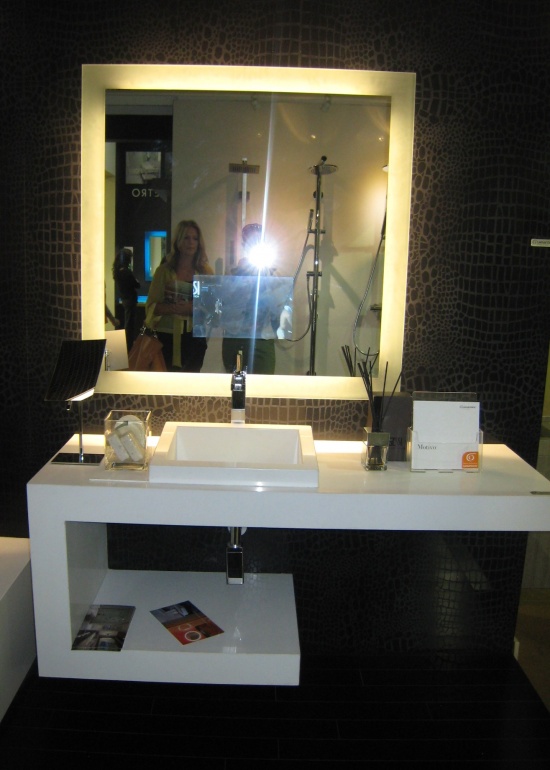 An entire backs plash wall covered in sexy, black, faux crocodile Caesarstone is stunning, the tv in the mirror isn't too bad either.
Partnered with the double spa tub, this combo  is pure luxury.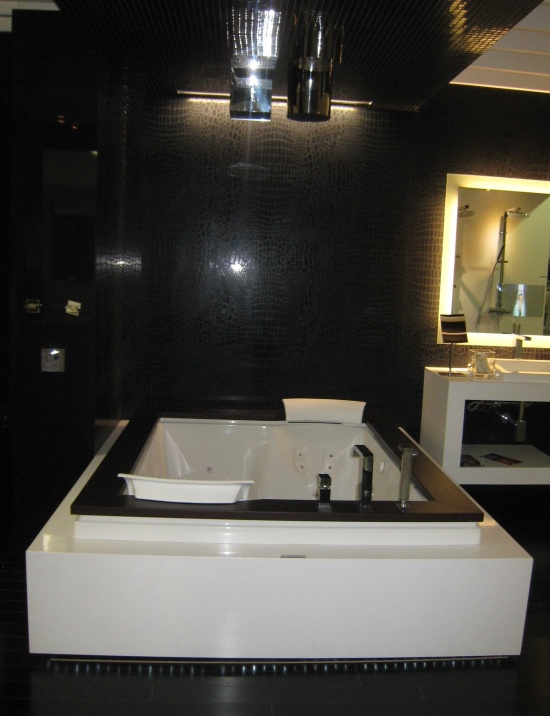 Glam is still giving rustic a run for the money,  the crystal knobs on lipstick red lacquered cabinets were quite spectacular,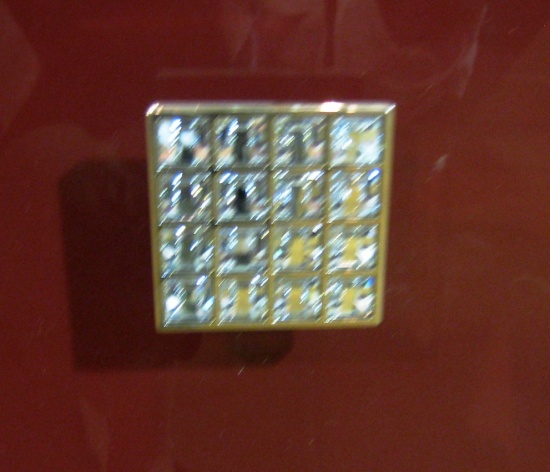 as were the legs on this pedestal from Devon and Devon.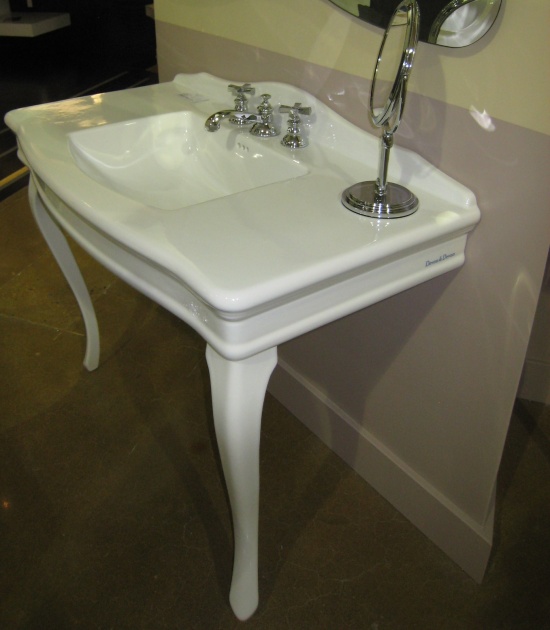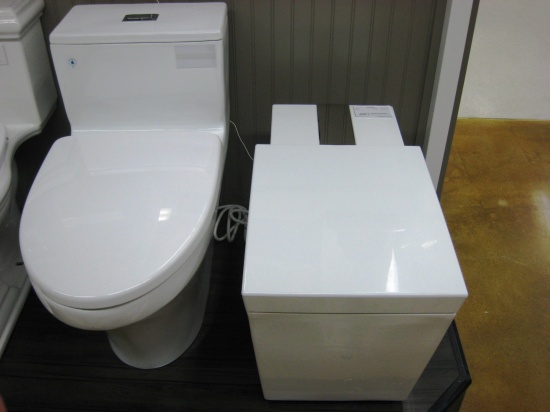 $4,000 toilets from Kohler do everything except the windows.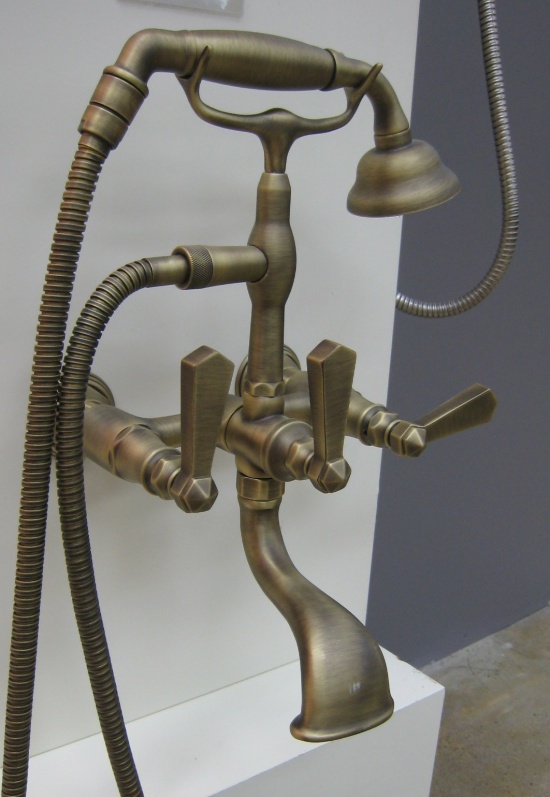 You'll continue to see white bronze in fixtures;  love this "old time telephone" faucet.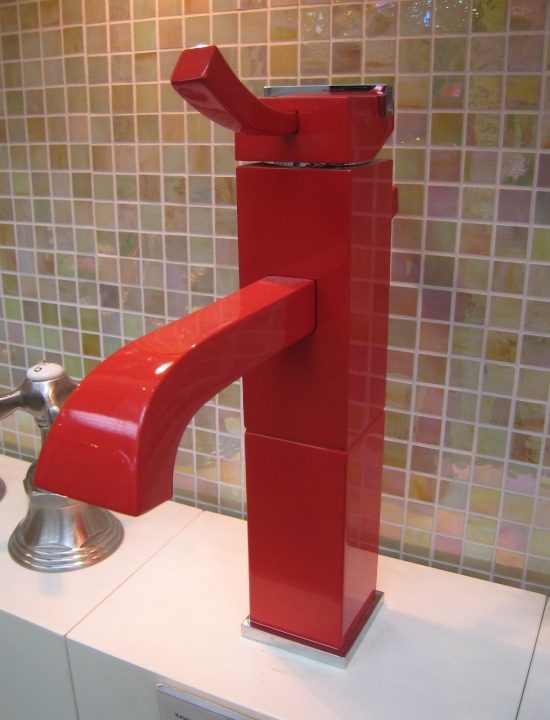 Kohler has  memorized us with their Jonathon Adler designed, colorful porcelain sinks,  now Rubinet takes the lead with a show stopping red "pump" faucet.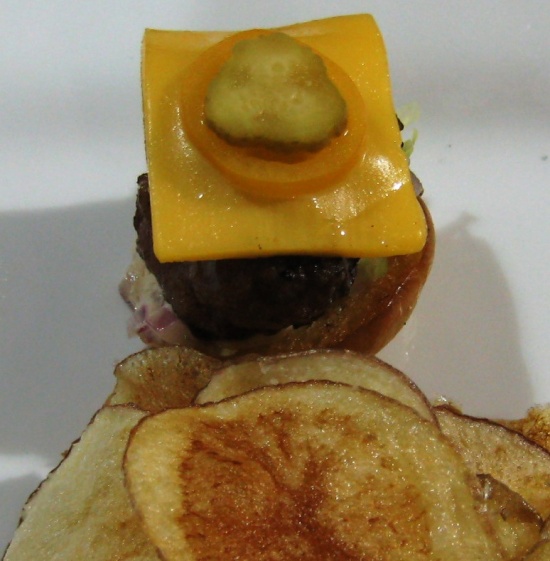 Have to give a shout out to Wolfgang, these were the cutest sliders I've ever seen. At 1″ diameter the "how much can I fit in my mouth, how do I eat this?" dilemma was solved with one neat, little bite.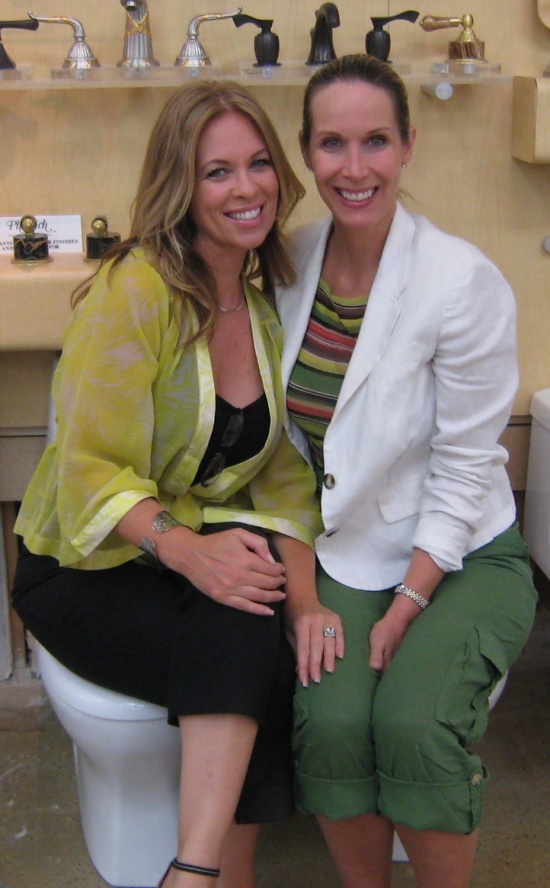 After two glasses of wine, we thought it would be fun to take a picture on the can.  Obviously two glasses too many.
We'll be at Dwell on Design tomorrow with leading interior designers, architects and vendors talking about the latest trends in bathroom design. Come visit us!