The ladies from Design Camp and Lori Dennis Interior Design made the rounds on the Thursday night, design party circuit.  Not wishing to be upstaged by High Point fever (opening next week), three Los Angeles  show rooms dazzled with world class designs & parties packed with the hottest designers in town.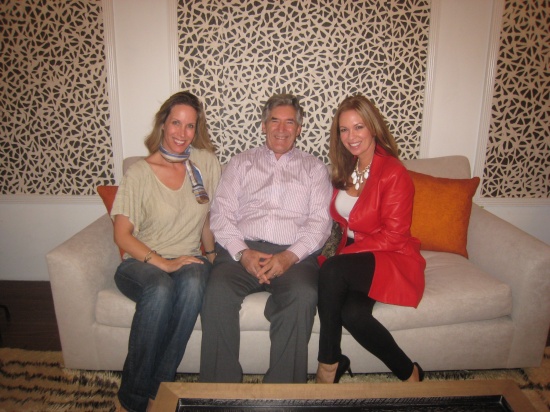 Egg and Dart revealed their new digs with a chic opening party, highlighting a Christopher Kennedy designed and curated gallery.   I especially loved his Art Deco inspired lucite chair .
Always on the lookout for the latest interior design trends, a few were spotted.
1. Art Deco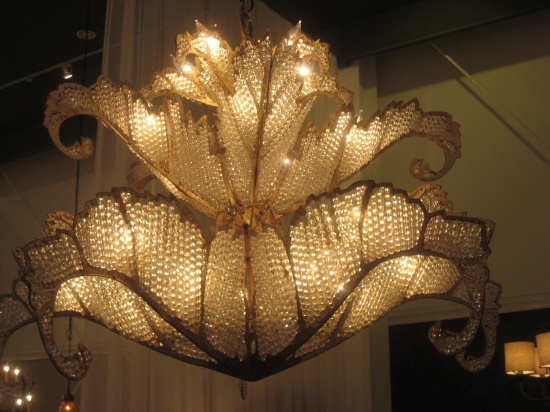 This Stunning chandelier in Egg and Deco reminded me of a 30's night club in Chicago.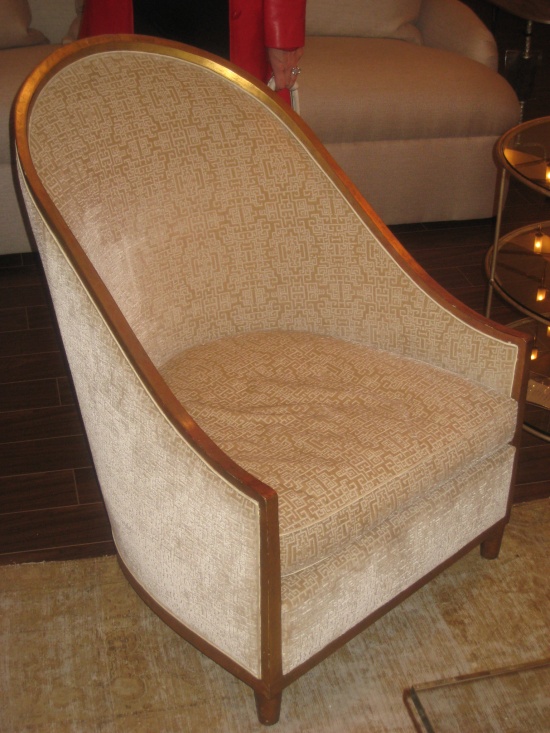 Egg and Dart dedicated the entire entry to pieces evoking the Art Deco vibe.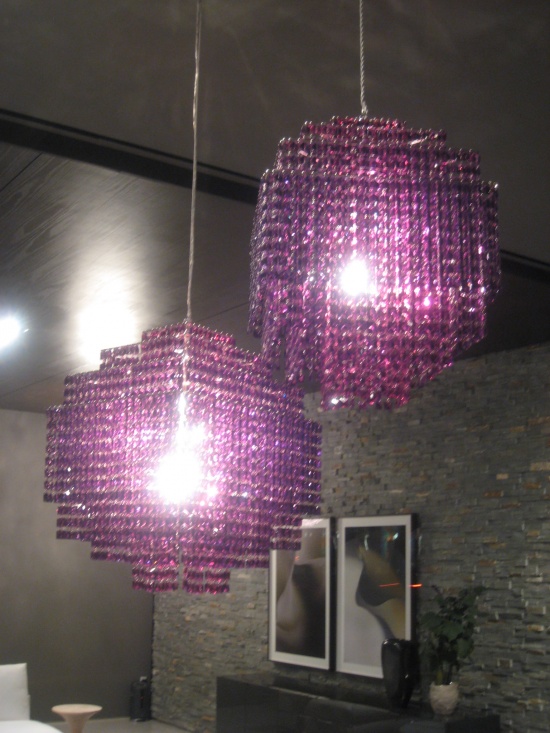 Design Camp Counselor Kelli Ellis, noted the prevelant mix of old and new, this purple pair of chandeliers a prime example. Predictable, centuries old Deco takes a dramatic turn when a bold purple is added to the mix.
2.  Bespoke
Seeing an embroidered pillow or drapery panel is nothing new, but the heavy, three dimension quality in which it is being applied certainly is.  Nothing demonstrates handmade quality more than fine embroidery.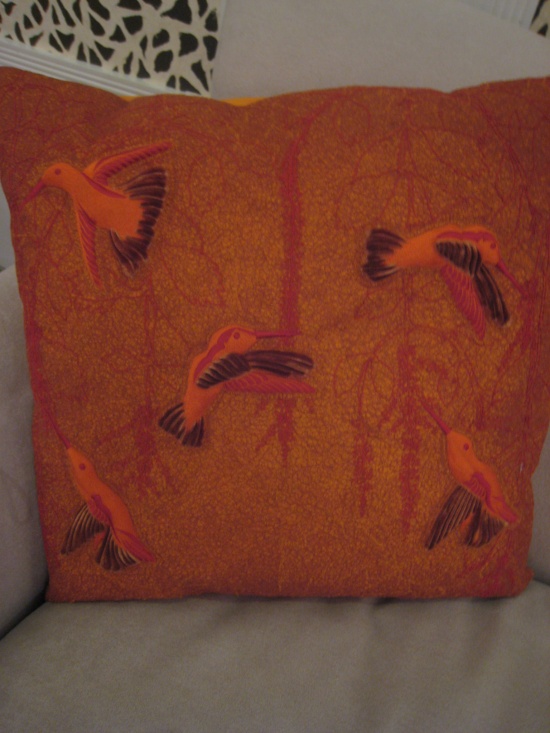 The embroidered birds on this pillow seemed to be flying toward you!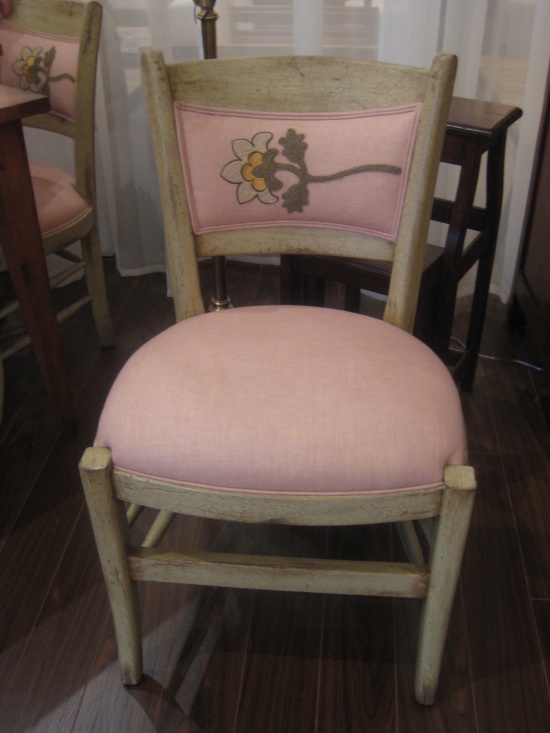 Along with embroidery, we're seeing pink, grey and yellow mature, moving from the nursery to other areas of the home,, with an overall  leaning to more feminine interiors.
3. Personalization
Monograms continue to be significant staples of home decor.
4. Gemstones, Jewel Tones and Metallic Finishes
We're still in a slow world economy and last year's fascination of all things "rich" continues with crystals in items from accessories to lamps to knobs and gold finishes everywhere.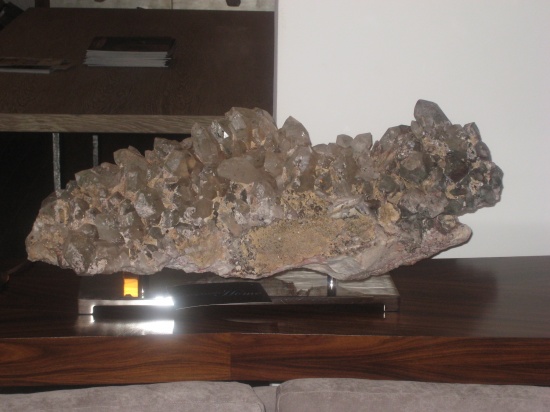 Crystals at Egg and Dart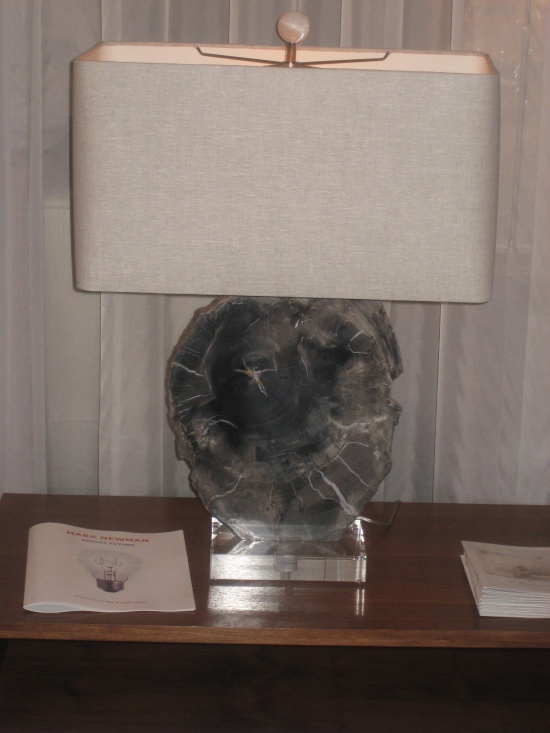 Geod Lamp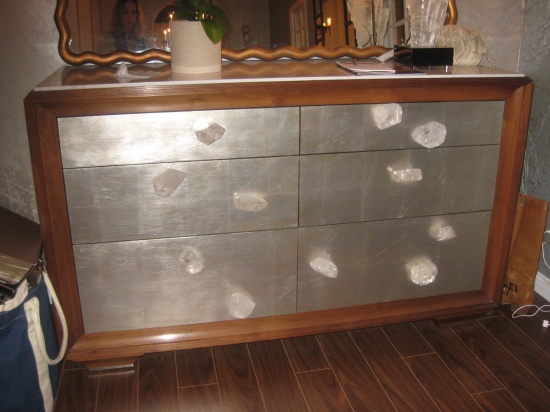 Crystal knobs anyone?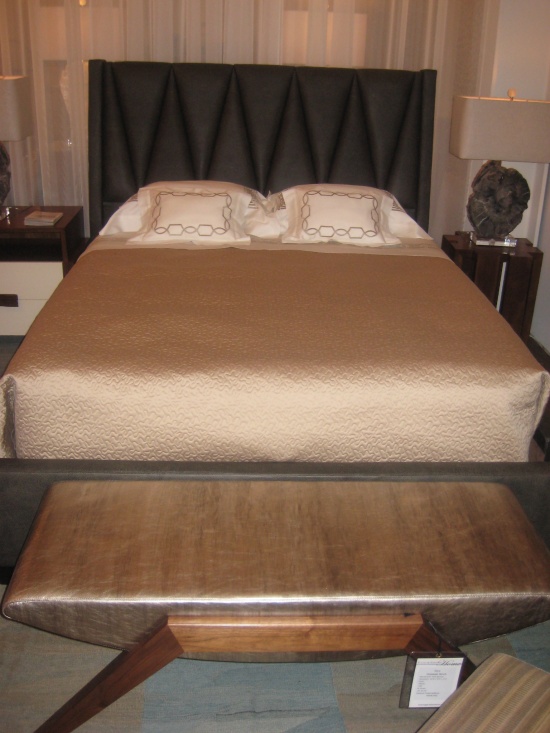 Gold bedding and ottoman fabric.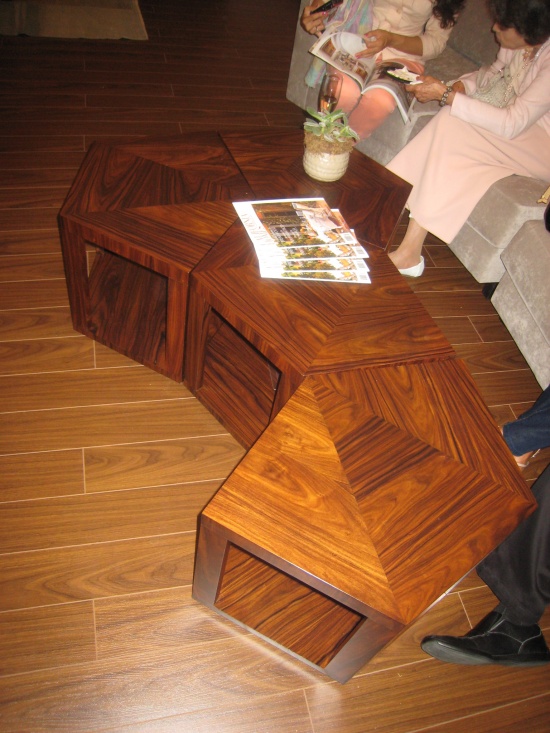 This man made table even resembles the gemstone cuts that are so popular right now.
5. Glamour
We've seen reclaimed, rough wood for 10 years now, it's time for some panache!   Moura Starr and Christopher Guy are the Queens of glamour with their perfectly applied shagreen card tables and  lacquered, wood ribbon back chairs.  Rooms oozing with sex appeal are all the rage.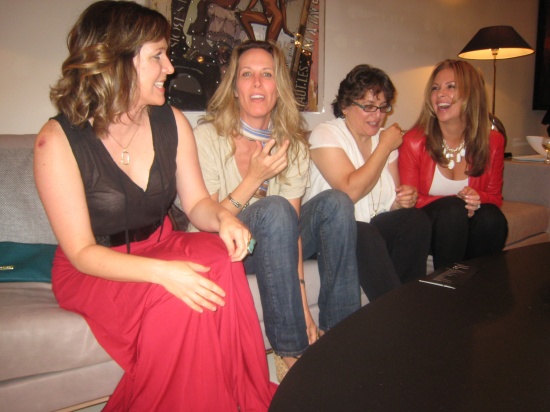 Having fun at Moura Starr.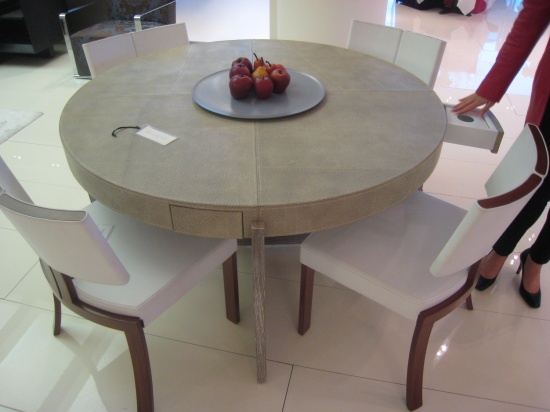 Gorgeous Shagreen Card Table at Moura Starr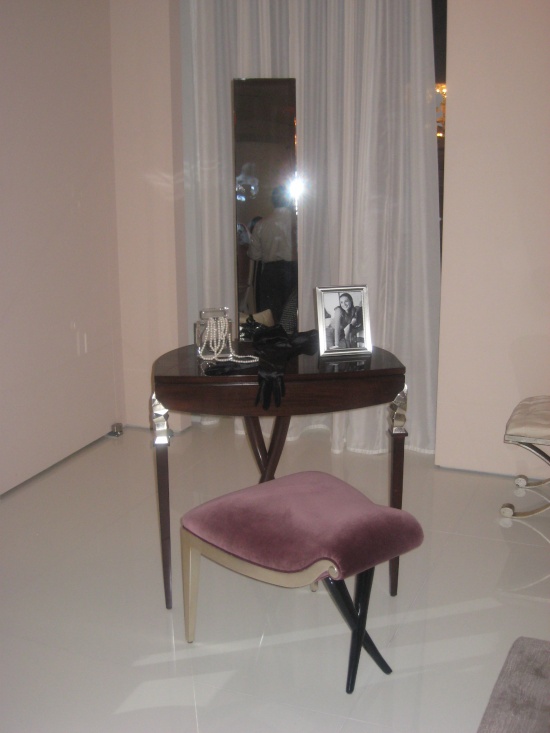 A perfect place to get ready for some drama!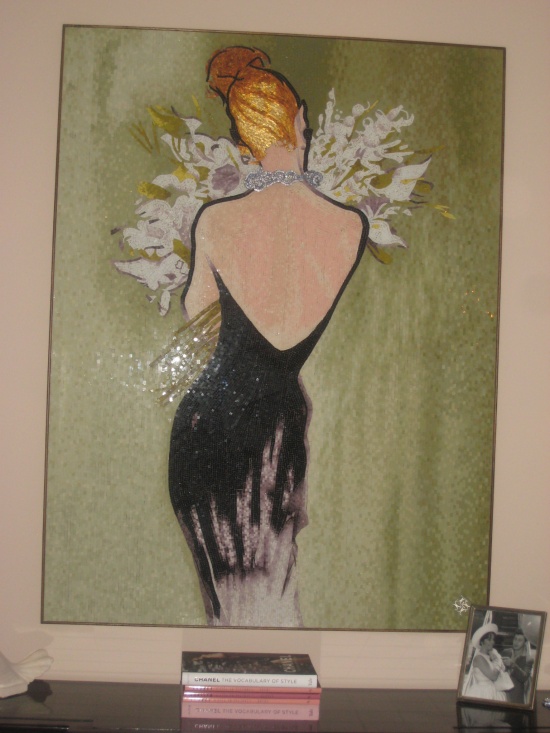 Oooh la la.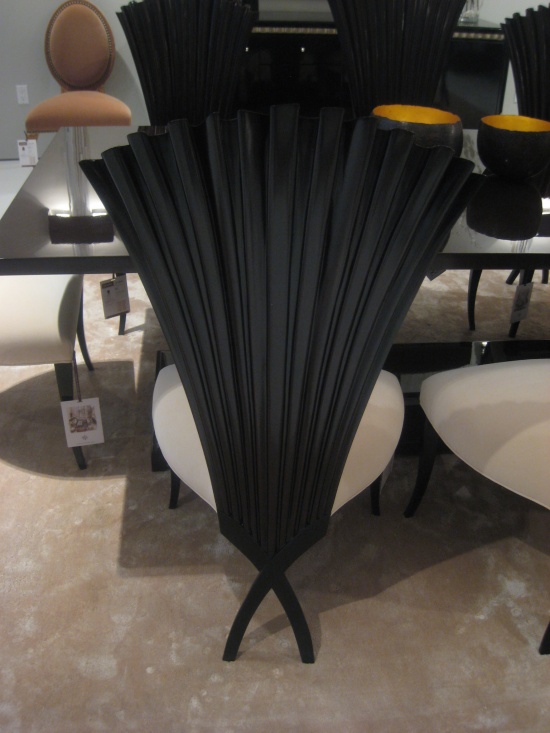 I would love to see how this was made?! Unreal beauty.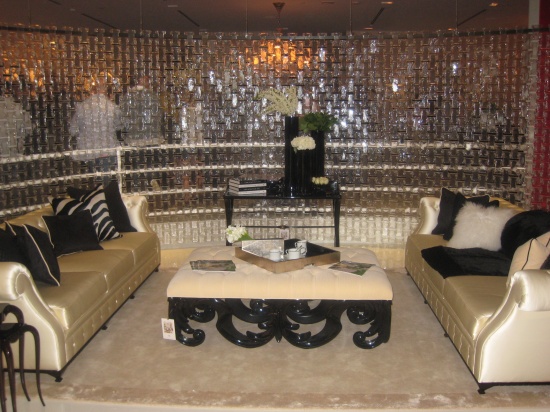 Silky sofas, chain link glass divider and lacquered wood at Christopher Guy.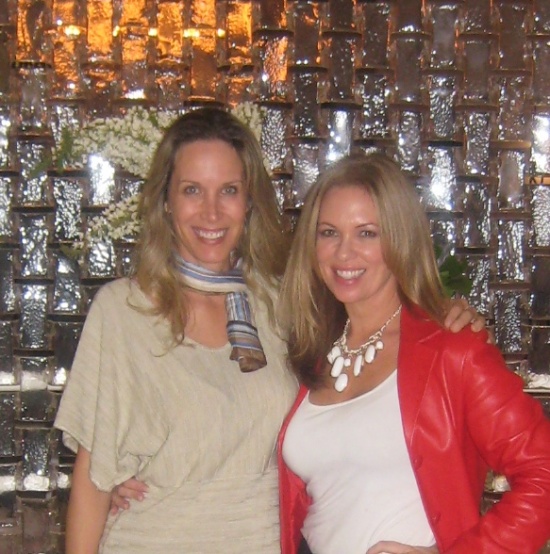 Design Camp Counselors Lori Dennis and Kelli Ellis loving the hanging, glass room divider at Christopher Guy.
And PS 2012 trends: chevron pattern,  ombre and menswear fabrics are going nowhere! Be sure to check out my Pintrest board for the latest trends at High Point Market next week, when I "Style Spot" the show!