Do you ever wonder how a company like Lamps Plus becomes a huge household name? Recently, I was given a peek behind the curtain at Lamps Plus ' corporate headquarters in Los Angeles along with my fellow design mavens: Courtney Allison, Roxy Sowlaty, Kristy Wicks, and Orlando Soria. Each of us has been chosen to join forces with the nations #1 lighting manufacturer and retailer, Lamps Plus, as one of their five brand ambassadors! 
The five of us share a love of the brand and have utilized their products in our projects for decades, but we had no idea a visit to their headquarters would result in so much more than simply seeing how pretty lamps get made.  Keep reading, I'm sharing major takeaways from my visit which I'm applying to my business, my designs, and my life overall:
---
Pretty & Practical: Lori Dennis Partners with Lamps Plus
But Lamps Plus manages to please both designers with their incredible trade program and retail customers alike. Most companies choose to focus on one of the other. Lamps Plus brings a designer's eye and a consumer's practicality to their home furnishing and curated collections, always keeping the end user in mind. Lamps Plus challenges the notion that 'you can't please everyone' because, well… they can!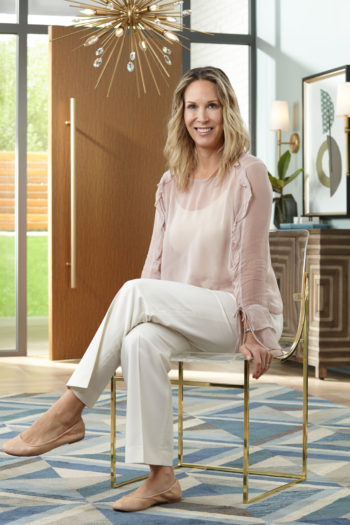 When Lori Dennis Partnered with Lamps Plus, She Didn't Know She Was Joining a Family
Lamps Plus has been family-owned since 1976 which means two things for customers and trade professionals like me: They've had a lot of practice at offering world-class customer service and decades of design expertise to curate their exquisite collections.
Company president Dennis Swanson led a private tour for us through their warehouse and we got to see how it's all done. It was fascinating, personal, and cultivated a level of accessibility, often impossible to achieve in a company this big. (That kind of warmth wasn't just emanating from the bulbs on the gorgeous chandeliers!) And who doesn't love a peek behind the scenes?
Varied and Diverse Lighting from Lamps Plus
I have used Lamps Plus lighting or furnishings in nearly every single one of my projects. Whether for a modern farmhouse with an industrial flair or a Bel Air mansion with traditional glamour, anytime I get stuck thinking about the best place to source a piece for a project, I know Lamps Plus has what I'm looking for.
The variety of their lighting, furnishing, styles and custom options originates with the points of view represented within the company: If you take a look at who's been selected to be their brand ambassadors you'll see diversity of design styles and perspectives represented.
The same applies at the corporate level, which creates an incredibly rich texture within the company's internal structure and that is reflected in the designs of their lighting and home furnishings. Thank you Lamps Plus for welcoming us into the Lamps Plus family! 
Meet the Lamps Plus Brand Ambassadors
Lori Dennis Partners with Lamps Plus alongside four other fabulous brand ambassadors and influencers – all leading voices in the interior design and home blogging industry!
WATCH Lori Dennis on Renovation Inspiration here.