Maybe you've been toying with the idea (or desperately needing!) a home renovation, but just don't know where to start.  Although it's exciting to daydream, when you really think about it, you may start to feel overwhelmed.  We get it.  With our years of experience in design and construction, we understand what it takes to get a project from start to finish, and what steps you need to take to prepare for a home remodel.
WHERE DO I START WHEN DOING A RENOVATION?
1.  PLAN THE OVERALL SCOPE, BUDGET + STYLE FOR YOUR REMODEL
This is the fun part!  Get inspired and start collecting images that resonate with you.  Jot down your list of must-have's and nice-to-have's to keep your priorities and budget in check.  Be realistic about finances and timeline, and add a buffer for any unexpected surprises that come up. Your budget will determine how much you're able to do, and with what amount of detail.  Most of our clients are unsure about what things may cost, and can be surprised.  In the early phase, your designer and contractor should be able to give you a rough idea of what you'll be able to do within your budget.
If you're unsure of where to find an experienced Interior Designer, head over to our post on How to Find an Interior Designer.
2.  FIRST, HIRE AN INTERIOR DESIGNER TO DEVELOP A PLAN
It's hard to know where you're going if you don't have a plan.  Hiring an expert Interior Designer from the beginning will streamline your home remodel, and will likely save you time and money in the end.
A designer will work with you to develop a cohesive design, draw a set of construction plans to build from, and provide you with a space plan, finish materials, hardware, windows and doors, and lighting fixture selections that fit within your style and budget.
If you're seriously considering a home remodel or are simply curious, you'll definitely want to understand the process of what it's like on How to Work with an Interior Designer.
3.  HIRE A CONTRACTOR FOR YOUR CONSTRUCTION PROJECT
With a full set of plans from an Interior Designer, a General Contractor will be able to bid your project effectively, specific to your needs.  They will understand the scope, detail of design, and quality of materials that help to avoid future change orders or costly mistakes.
Reviewing the renovation project and construction documents from the start will allow them to collaborate with the design team and make sure that everything works according to plan.  Of course, things often come up as soon as you open up walls and see what you're working with, but together, your designer and contractor will be able to creatively and effectively come up with a solution that follows the intent of the design.
4.  PROJECT MANAGEMENT FOR A HOME REMODEL
There are so many layers and moving parts to a home remodel, no matter the size.  An experienced Interior Design Project Manager will provide immense value to your experience during the construction and renovation process.  They will be meticulous about every detail from start to finish, so that your project has an organized flow.  With their clear communication and collaboration with your construction team, a designer will assure that the vision becomes a reality.
If you're looking for more of a deep dive into the renovation process, you need to read 10 Remodel Tips from a Pro Contractor from our go to team over at SoCal Contractor in Los Angeles.
5.  MAINTAIN YOUR MINDSET DURING RENOVATION
Deciding to go through a remodel is an investment – in time, convenience and money.  You may go through waves of emotions during this time, and it might weigh on you and your relationships.  But with open communication, curiosity, patience and understanding of process, it will all be worth it in the end.  Soon, you'll be able to sit back, look around at your beautiful and functional home, and be so happy you finally took the steps to create a space that works perfectly for you and your lifestyle.
But before you even start your journey on a home renovation, you'll want to prepare for what to expect.  Tips and Inspiration for a Successful Remodel will help guide you in the right direction.
GREEN INTERIOR DESIGN
2nd Edition
How to Achieve Style and Sustainability
Green Interior Design is the most comprehensive guide to sustainable building, designing, and decorating on the market. This beautifully illustrated guide covers every detail of your home—from the drywall to the finial on the curtain rod—and how to find the most environmentally friendly versions of products and décor. This second edition of Green Interior Design is meant as much for the budget DIYer as it is for the luxury homebuilders looking to dip their toes into sustainability.
Purchase HERE.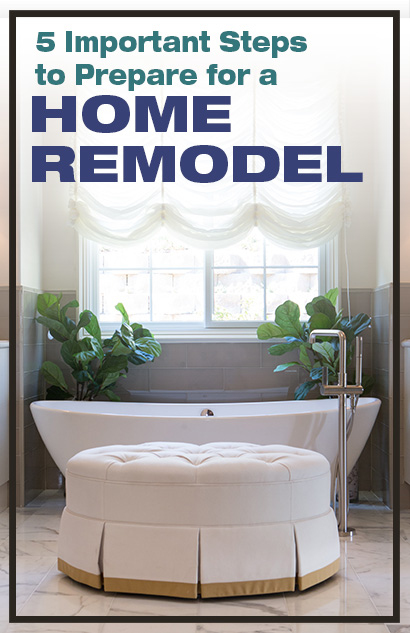 5 STEPS TO PREPARE FOR A HOME REMODEL | by Sara Plaisted
Interior Design by Lori Dennis and Sara Plaisted
Construction by SoCal Contractor